The digital world is constantly changing, and we want to help you and your customers keep up with it. That's why we're excited to introduce our new Universal Privacy Policy!
The General Data Protection Regulation (GDPR) is here! This new mandate brings with it a worldwide renovation to the way that consumer data is collected, processed, and shared. Since many of our users are affected by the regulation, we decided to make changes to our privacy policy generator to better accommodate businesses pursuing GDPR compliance.
Not only will compliance-concerned businesses reap the benefits of the Universal Privacy Policy, but we've made a slew of additions and adjustments that will help all our users more easily create a comprehensive and easy-to-understand privacy policy.
Check out the changes you'll find in the new Universal Privacy Policy as well as the policy generator:
1. Aesthetic Changes to the Policy
Not only are privacy policies a critical tool in your business's compliance efforts, but they also serve to build customer trust and encourage consumer engagement. We want to make viewing, navigating, and understanding your policy as easy as possible, so we've made some changes to the look and feel of your final product. Here's how the Universal Privacy Policy will look different from the former end result:
1. Table of Contents
Navigating an extensive legal policy can be a pain. Making the process easy for your customers demonstrates your commitment to being transparent about your relationship with their data.
We've added a table of contents to make navigating your privacy policy easier than ever.
2. FAQ Style Headings
Consumers visiting your privacy policy probably have a specific question in mind. We want to make sure they find the answer they're looking for with ease, so we've added FAQ-style headings.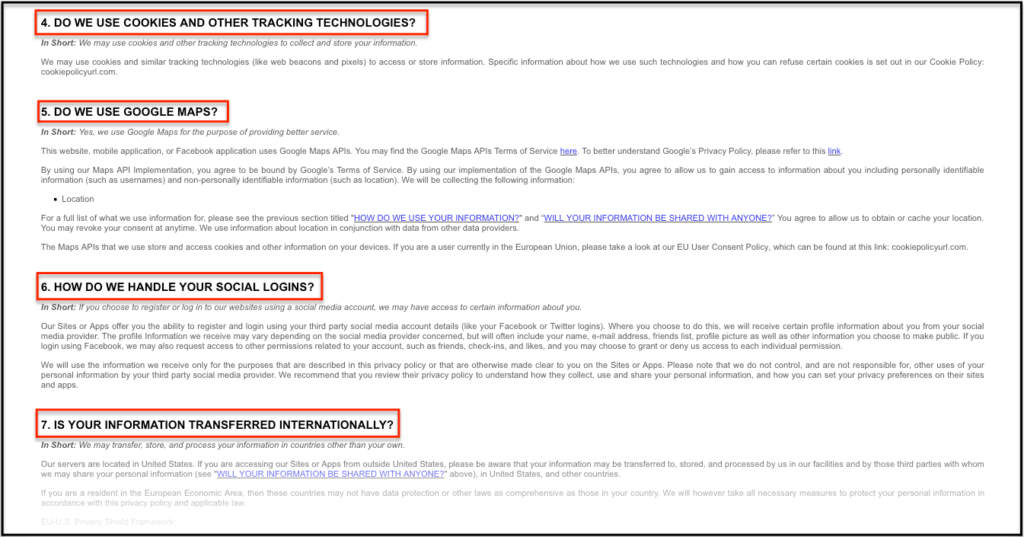 3. "In Short" Sections
Legal policies are all too often riddled with disconcerting legalese that baffles consumers and sparks suspicions. While some legal jargon and weighty language is necessary in your policies, it's important to offer your users a clear and concise explanation of what your policy outlines.
To do this, we added brief summaries under each section heading titled, "In Short," that give the lowdown on that section using plain and clear language.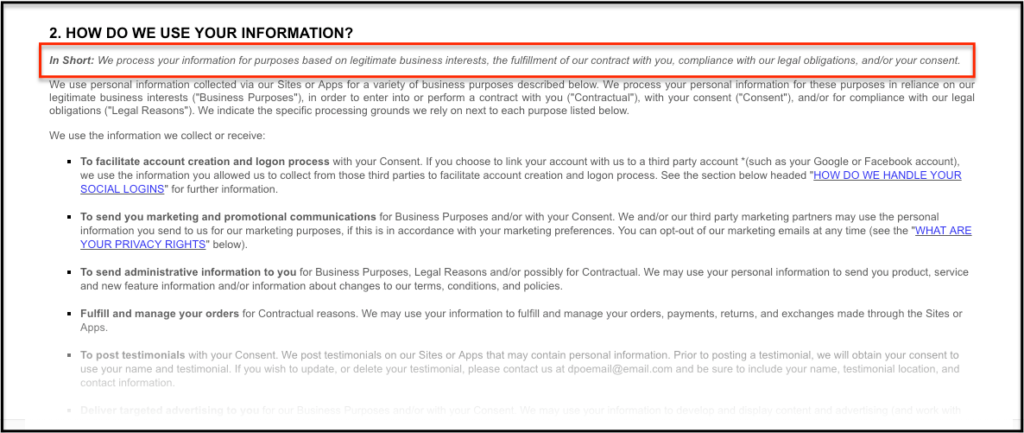 4. Adjusted Language and Formatting
In our efforts to make your policies easy to read and understand, we've gone through and cleaned up our language and formatting in order to optimize the privacy policy that you offer to your users.
5. Expanded Contact Information
As part of our changes aimed at making more GDPR-friendly privacy policies, our Universal Privacy Policy includes a more expansive contact information section. In it, we include the contact details of your important privacy personnel, such as your EEA representative and Data Protection Officer (DPO), if your company employs these positions.
2. Policy Content Changes
1. 3-in-1 Platform Accommodation
Instead of trying to keep track of multiple policies for your various platforms, business types, and end users, we've condensed all the needed privacy policies into one! Now, the Universal Privacy Policy is outfitted with privacy policy requirements for websites, mobile apps, and Facebook apps.
2. GDPR Considerations
We know how critical GDPR compliance is for a lot of businesses — both in and outside of the EU. One of the primary goals of our Universal Privacy Policy is to make those compliance efforts easier by adding GDPR-centric measures.
To this end, we've added a section to our privacy policy generator titled "European Considerations." For companies who target EU citizens or residents, additional questions will be presented so your policy can better reflect your efforts to stay in line with the guidelines of the GDPR.
These questions address such topics as:
International Transfers

Retention of User Data

Users' Privacy Rights

DPO's contact info

EEA Representative Info

Legal Basis For data processing activities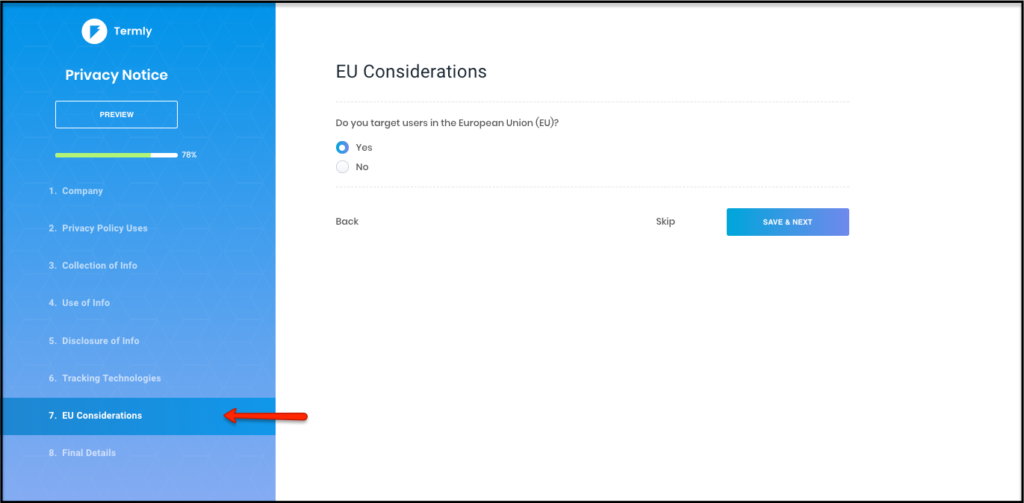 If you're feeling overwhelmed by the complex requirements of the GDPR, check out our GDPR overview for a summary of the rules your business must abide by.
3. Additional Information & Disclaimers
Keeping up with all the ever-changing laws and regulations surrounding user privacy and business operations is a difficult task. We've taken extra steps to make sure that you're informed of the legal implications of particular data practices by adding informational disclaimers to specific questions. By doing this, we hope to better protect both your business and your users.
4. Optimized for Ease and Clarity
Building your privacy policy shouldn't be an overly confusing or complicated task. To ease the process even more and ensure that you understand each question, we've added clarifying FAQs and subtext throughout the generator.
3. Final Thoughts
Our team is always working to keep ourselves, our policy generators, and you up to date with the latest changes in data privacy and business protection. If you've already made your privacy policy with us, you should have received an email detailing how to migrate over to the Universal Privacy Policy.
If you don't have a policy yet, now's the best time to protect your business by using our privacy policy generator to build a universal privacy policy.