Having a website disclaimer is vital to protect your business from liability if you conduct business online. A disclaimer can be your defense against legal claims from your content or product users.
We've put together this guide to help you create a comprehensive disclaimer on your own, using our free disclaimer generator or with our disclaimer template.
What Is a Disclaimer?
A disclaimer is a legal statement that can help reduce a business's legal liability. For example, they may protect a business from legal claims arising from users and third-party risk.
Your disclaimer serves as a warning notice when people visit your blog or website. It informs readers that following your advice, purchasing your products, or using your services may harm them and that you are not liable.

Types of Disclaimers
Depending on the nature of your business and the information you share on your website, you may need one or more of these types of disclaimer:
Affiliate Disclaimer
An affiliate disclaimer lets your website users know you may earn affiliate commissions from products you recommend. If you have affiliate links in any part of your website, the 2009 Federal Trade Commission (FTC) 2009 Guides Concerning the Use of Endorsements and Testimonials in Advertising mandates that you inform your site visitors.
A good example of this type of disclaimer is the Amazon affiliate disclosure, which is required by the Amazon Associates program, one of the most popular affiliate programs on the internet.
Testimonial Disclaimer
A testimonial disclaimer is a statement that informs readers that the experience they'll have when using your products or services may differ from what they see in your testimonials or reviews. See our testimonial disclaimer examples if you're unsure what kinds of testimonials need to be disclosed.
Legal Disclaimers
If you run a legal website, you may need to include some important legal disclaimers to comply with various professional rules and ethics and protect yourself from liabilities or misconceptions.
No Attorney–Client Privilege: This disclaimer states that when a client contacts you through your blog, it does not create an attorney–client privilege. In other words, it tells clients that any emails, contact forms, or chats submitted through your site are not confidential.
Attorney Advertising: You also need to include the phrase "Attorney Advertising" on a prominent page on your legal site. Some jurisdictions have different requirements — to make sure your site complies with the law, you should check your state's regulations.
Misleading Information: Your attorney advertising cannot contain false or misleading information that would deceive clients. Advertising must be based in fact, and shouldn't promise specific results or make claims that would lead a client to have unreasonable expectations concerning a case's outcome.
Specializations: Don't claim or suggest you're an expert in any areas of the law on your legal site unless you're aptly certified. Using the correct legal disclaimer language is critical so you don't mislead your users.
Identify Attorneys: Most states require you to identify which attorneys are responsible for your site. This implies that you should also include your firm's name and address.
Liability for Costs: Are your clients responsible for costs, no matter the outcome of their case? Whether payment depends on a case's outcome is up to you, but you need to clarify on your website what your policy is.
Medical Advice Disclaimer
If you run an online business or app that offers medical advice — such as a health website — you need to inform users that the information on the site is only meant to educate and is not intended to replace medical advice from a healthcare provider. This is known as a medical advice disclaimer.
You may also include that using your site or application does not establish a doctor-patient relationship.
Professional Blog / Services Disclaimer
If you run a professional blog or have a professional service platform, you need to state that the content on your site is strictly for educational purposes and does not amount to professional advice.
Product Disclaimer
A product disclaimer helps you protect your business against any liability that may come from the use of your product. For example, product disclaimers often state that the seller does not offer any warranty for the products.
You can also use it to protect your business from claims that arise from injuries sustained by misusing your products.
Copyright Disclaimer
A copyright disclaimer informs your site users that the site's content — text, images, and video — are subject to copyright protection. In addition, you can state the rules guiding the use of your content.
On the other hand, if you use any copyrighted content on your website without permission, identify it clearly, and include that you're using it lawfully under the principle of fair use.
Views Expressed Disclaimer
A views expressed disclaimer asserts that the opinions expressed in an article or any written material are those of the author and not the opinion of the website. Publishers usually use this to protect themselves from liability. Also, persons belonging to an organization use this disclaimer to clarify that anything they say is their individual opinion, not their organization's official stance.
Past Performance Disclaimer
A past performance disclaimer informs users that any past performance they know about does not guarantee future results. So you're letting them know that what happened previously won't necessarily happen again.
This disclaimer statement is popular among investment advisers or consultants that offer investment or financial advice to the public.
Use at Your Own Risk Disclaimer
If you have a site where you share tips on how people can achieve results in specific areas, you may want to include this disclaimer. For instance, if you run a website that shares recipes or skincare advice, a user may have an allergic reaction from following your recommendation. This disclaimer may protect you from any claim they may bring against you.
Warranty Disclaimers
Warranty disclaimers can help you protect your business from liability if your any of your goods or services don't meet the expectations of your customers or if your products are misused.
Confidentiality Disclaimers
A confidentiality disclaimer is commonly used in email to inform the recipient that the information in the email is for their eyes only and should not be shared with others.
Confidentiality is an especially important principle in education, law, and healthcare, which are industries that transfer lots of sensitive information via email.
The Health Insurance Portability and Accountability Act (HIPAA) requires persons sending protected health information to US medical patients to include a confidentiality disclaimer. So, you'll need a confidentiality disclaimer statement if you do this.
No-responsibility Disclaimers
A no-responsibility disclaimer, otherwise known as a no-liability disclaimer, is a statement that helps you prevent claims of civil liability by your customers.
Are You Legally Required To Have a Disclaimer?
While some disclaimers are not mandated by law, others, like affiliate disclaimers, are legally required. The FTC requires you to include an affiliate disclosure if you receive any compensation, whether in cash or in-kind, from a company for reviewing or recommending their product.
You should have a disclaimer on your website and any online platform you use.
Even if all you have is a platform where you share content for free, a website disclaimer helps you protect yourself from liability claims from people who get injured from using your content. A disclaimer can help protect your business.
Some affiliate programs, such as the Amazon Associates Program, require their affiliate partners to have an affiliate disclosure on their sites. So, having an affiliate disclaimer is both legally mandated and a best business practice.
An earnings disclaimer is another type of disclaimer that the FTC mandates for websites offering investment advice, financial advice, or money-making opportunities.
If you have a website where you share information on any of the above — especially if you use reviews or testimonials to promote your offerings — the FTC requires you to let users know that results are neither typical nor guaranteed.
In some professions, such as law, professional rules and ethics mandate the use of certain disclaimers. For instance, in some states, you must be clear that your legal site is used for advertisement. For example, according to Rule 7.1(f) of the New York Rules of Professional Conduct, lawyers in New York must include the words "Attorney Advertising" on their website's home page.
Does a Disclaimer Legally Protect You?
Yes, a disclaimer legally protects you in some instances. You should include disclaimers in different parts of your online platform because, when done well, they can protect you from liability claims.
Having a disclaimer on your website warns users of the risk involved with using your products, services, or content, which will help set your website users' expectations. A disclaimer may discourage them from bringing a civil action if they are injured by or dissatisfied with the information or products you offer.
However, it's important to note that you can't use a disclaimer to protect yourself from your own inappropriate behavior. For example, if you make false claims in your advertising or intentionally share misleading information, a disclaimer won't save you from the repercussions.
You also can't use a disclaimer to shield yourself from liability for defaulting on your legal obligation to your website users or customers.
While the laws governing the use of disclaimers may not be as clear cut as the use of a privacy policy — which is compulsory in many countries — or the use of terms and conditions, you can take certain steps — which we will discuss later in this guide — to give your disclaimers a stronger chance of being enforceable.
Do You Need a Disclaimer on Your Website
Most likely, yes, you need a disclaimer on your website. However, you also need one on any online platform you use in your business — such as your mobile apps or emails.
You'll see disclaimers everywhere. For example, your gym informs you in the membership form that you're responsible for any injury you sustain while working out in their facility. You can also see disclaimer statements on your TV screen and in your favorite novels, informing you that all the characters are fictitious and any resemblance is a coincidence.
Having a website disclaimer may not be one of the exciting parts of doing business, but it is one of the crucial things that may save your time, money, and business reputation down the line.
So, why exactly should you have a disclaimer on your website?
Reasons To Have a Disclaimer
Here are some reasons you should have a disclaimer:
Safeguard Your Rights
Having a disclaimer can help protect your rights. For example, a copyright disclaimer on your website will notify users that all the materials on your site are subject to copyright laws. So, it'll protect your copyright and discourage others from infringing on your intellectual property.
If you have a website where you use other people's copyrighted material under the law, a fair use disclaimer can help protect your right to do so.
By stating clearly your rights to use copyrighted materials without permission, you're notifying users and the owners of the materials that you're aware that the law protects your actions. This will help prevent you from being barraged with legal actions like cease-and-desist letters and litigation.
Limit Your Liabilities
Every business comes with risk, but a disclaimer can help you significantly reduce your risk exposure. Specific disclaimers like medical disclaimers and use at your risk disclaimers can protect you from liability claims from persons who may claim to have suffered injuries from following your suggestions.
Imagine a situation where anyone can visit your website, act on the information you share, and sue you if they suffer any harm because of it. Without these disclaimers, it would be challenging to run an online business successfully without being drowned by liability claims.
Disclaim Third-Party Liability
Disclaimers help ensure you are not responsible for the actions of others. By informing users that you work with third parties and you don't make any guarantee as to the effectiveness or accuracy of their content, services, or products, you can ensure you won't be liable for other people's failings.
Having a disclaimer on your website can prevent you from being held responsible for people's comments on your site or social media platforms.
Also, if you allow advertising on your website and social media pages, a disclaimer can shield you from being held responsible for any liability.
Protect Your Organization's Reputation
With disclaimers, you can prevent your actions from affecting the interest of any organization you're affiliated with. For example, if you own a blog where you share your opinions on issues, a disclaimer can help you clarify that your views are yours and not your organization's.
Similarly, if you publish guest posts or allow comments on your website, a disclaimer can help detach your business from other people's opinions on your website or blog. This can save your business from any backlash or liability that may come from such opinions.
Shift Legal Responsibility to Employees
Employers are often liable for their employees' actions because it is assumed that they're acting on their employer's directive. However, as a business owner, you can help protect yourself from liability for your employees' actions with a disclaimer.
For instance, you can include an email disclaimer stating that the views and opinions expressed in the email are those of the author and do not necessarily reflect the company's views and opinions. You can further state that employees are not authorized to make defamatory statements and that the company will not be responsible for such statements can save you from trouble.
So, if an employee defames a customer, you can rely on that disclaimer to shift the responsibility to the employee.
Build Trust with Site Visitors
Consumers appreciate it when a business is transparent in its dealings with them. Having website disclaimers helps show website visitors that the company is transparent.
In addition, disclaimers help to set the expectations of your users, which means you'll be less likely to disappoint them.
What's Usually Included in a Disclaimer
The content of your disclaimer depends on the nature of your business and the liability you want to protect it from.
The following are the most common disclaimer clauses you're likely to find in a disclaimer.
Accuracy
State that your business does not take responsibility for any inaccuracy in any information shared on your website. This clause is crucial because the information you believed was correct may actually be — or become — false.
This clause ensures that anyone who relies on the information stated on your website and suffers harm due to it cannot hold you liable for their losses or injuries. By including this clause, you place the responsibility on your site users to verify any information they see on your site before relying on it.
Liability for Tangible Goods
If you sell physical products, whether you are the manufacturer or not, warn users that they can't hold you responsible for any injury they suffer from using your product.
If you are a seller, be sure to include that you're not responsible for any product warranties or warranty-related claims.
You may also include that the product specifications on your site were provided by the manufacturer. This protects you from any defects or inaccuracies in the product specifications.
It's common to include the phrase "as is" to let customers know that the product they will receive is exactly as they saw it on your online store. This helps protect you from any misconceptions a customer has about your products.
Liability for Services
This clause is important if your business provides a service or an opportunity for your clients to use certain equipment, such as a gym. Your disclaimer should state that using your equipment carries inherent risks, and you won't be responsible for any injury clients suffer while using your equipment.
Copyright
A copyright notice informs users that materials shared on your website are protected by copyright law. And so, they can't use your content in a way that infringes on your copyright without your permission.
If you used other people's copyrighted content without their consent, acknowledge the use and state that the use of the content is under law.
Third-Party Liability
Explain that you don't take responsibility for information contained on third-party websites your website links to. If you allow other people's advertisements on your site, clarify that you don't endorse any advertisement. You can also include that your site reserves the right to remove any comment you deem offensive, and you're not liable for any opinion shared.
Multiple Content Providers
If your website publishes articles, guest posts, featured pieces, or opinions, state that the thoughts and opinions expressed are those of the authors. Specify that you're not responsible for any such opinion or thought. Having this clause may protect you from a libel suit.
If you also share your opinions on your site, you should state that the information you share is not a fact but your opinion on different issues.
Compensation Limitations
You can have a clause limiting the amount of money anybody can claim for any injury or loss they sustain from using your site, services, or product. Make sure you state the specific amount in simple terms.
Trademark
If you use other people's registered trademarks on your website, a disclaimer statement disavowing your business of any affiliation with them is proper. For instance, if you sell products from different manufacturers on your site, you may have their logos displayed on your website. State that there is no special relationship between you and them (if there is none).
What Makes a Good Disclaimer?
Having a good disclaimer is vital to help protect your business from liability. Follow these tips to create a good disclaimer.
Don't Copy a Disclaimer from Another Website
Your business is distinct from other businesses. So, what you need to include in your website disclaimer may differ from what another business needs.
For instance, if you have a website where you share health and fitness tips, and you recommend health and fitness products, you'll probably need, among others, a medical advice disclaimer informing people that information shared does not amount to medical advice.
You'll also need an affiliate disclaimer to notify users that you earn a commission if they purchase the recommended products with your link.
In contrast, a website selling health and fitness products may not need to include a medical advice disclaimer or an affiliate disclaimer, but they'll definitely need a product disclaimer.
If you copy another website's disclaimer, you will have a disclaimer that doesn't cater to your needs.
It's also not advisable to copy the legal disclaimer of a website offering similar services or products as your business because you're not sure that their disclaimer offers all the protection you need. At most, they can inspire you in creating your legal disclaimer template.
Write in Clear Language and Avoid Legalese
Unless you have a business that caters only to lawyers, most of your website users are normal, average human beings to whom legal jargon won't make much sense. So, in all cases, avoid legalese and write your disclaimers in simple, everyday words that a person of average intelligence can understand.
Seek Legal Advice from an Attorney
You may hire a lawyer to write or review your website disclaimers or advise you on the disclaimers you need to have on your website. However, you should consult with a lawyer with some level of experience in your industry, not just any lawyer. An attorney with industry experience understands your business and knows what liability you most need to protect yourself from.
Use a Disclaimer Generator
Disclaimer templates may give you an idea of what you are aiming for, but they are a one-size-fits-all approach, which rarely works. Your business is unique and has particular needs. Therefore, something as important as a disclaimer deserves to be given the appropriate attention.
A disclaimer generator is a better alternative to a disclaimer template. A disclaimer generator helps you create a disclaimer tailored for your business.
Termly's disclaimer generator can help you create a legal disclaimer for your blog, website, mobile app, Facebook app, Google AdSense, or SaaS business. We designed our tool to be fully customizable. You can choose a style that matches your business's overall look.
Where To Post Your Disclaimer
You can put your website disclaimer in a few parts of your website. Often, the type of disclaimer determines the appropriate place to post it.
A common practice with disclaimers is to post them where they are conspicuous. Some of the most common places you can post your website disclaimer include:
Inside Current Legal Policies
Websites need to have various policies intended to protect both the site owner and the visitors. You can include your disclaimer inside your relevant legal policies.
For example, you can include a third-party disclaimer in your terms and conditions and a product disclaimer in your refund policy.
Informational Menu or Section
You can include disclaimers as part of your menu. For example, you can build a webpage, state your disclaimers on the page, and make it accessible from your menu.
Website Footer
Many websites display a link to their disclaimer in the website footer alongside other key website pages, such as terms and conditions and privacy policy. Having your disclaimer as part of your footer gives every web user ample opportunity to read your disclaimers.
Banners and Pop-Ups
You can post your website disclaimers as banners or pop-ups. Displaying your disclaimers in one of these ways gives them more chance of being seen and read.
Since a website user often has to click to close a pop-up, when your disclaimers are displayed as pop-ups, it will be harder for your visitors to claim that they didn't see it.
End of Content/Articles
Some disclaimers, like an opinions expressed disclaimer, can be added at the end of the article. After they read the article, you can immediately let the user know that the views expressed are not necessarily yours, so they know who to look for if they want to sue.
Sign-Ups
You can display your disclaimers where users will encounter them while signing up to use your website. For instance, you can add a link to your disclaimers on your sign-up page so every user has the opportunity to view them before they go ahead.
During Checkout
You can post your disclaimers at the checkout point when users are about to purchase a product. Disclaimers like product liability may be especially effective at this point.
Advertisement
If you run advertisements on your site, the best time to show your third-party disclaimer may be before or after the visitor watches or reads the ad.
Good Website Disclaimer Examples
We rounded up some examples of disclaimers that we think are great and explain why.
Rich, Intelisano, and Katz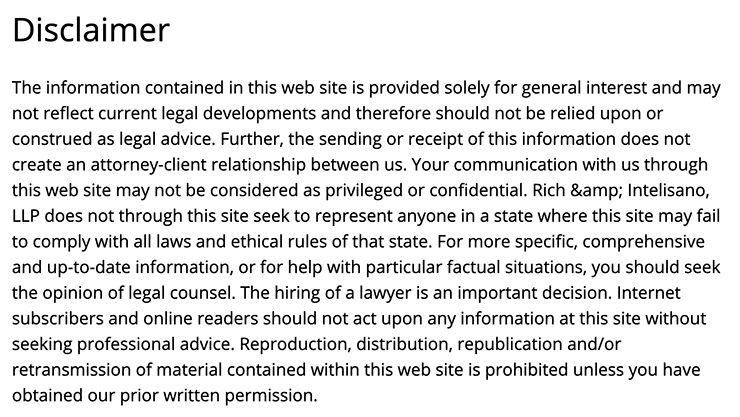 This law firm's website complies with the New York requirement of including the phrase "attorney advertising" on their home page.
They have this phrase plus their disclaimer in their website footer, which means both the phrase and their disclaimer policy are visible on any page.
Their disclaimer explains to the reader that the information contained does not amount to legal advice and strongly urges the reader not to rely on any information contained on the site without legal advice.
The disclaimer goes further to protect them in case anyone from a state with more stringent rules than New York's visits their website.
Their disclaimer is short but quite extensive and uses clear easy-to-understand words. It also includes a copyright disclaimer, states that there is no attorney-client relationship, and informs readers their communication via the site is not confidential or privileged.
This disclaimer is a great example of covering your bases without being wordy.
Bites of Wellness

Every article on this website states clearly that the site owner is an Amazon Associate and may earn a commission for every purchase via the link. This affiliate disclaimer is placed in a way that all site readers will see it.
Another thing we like is that the affiliate disclosure includes a link that leads to their privacy policy, which is where they have their other disclaimers, such as advertising disclaimers and third-party disclaimers.
BCS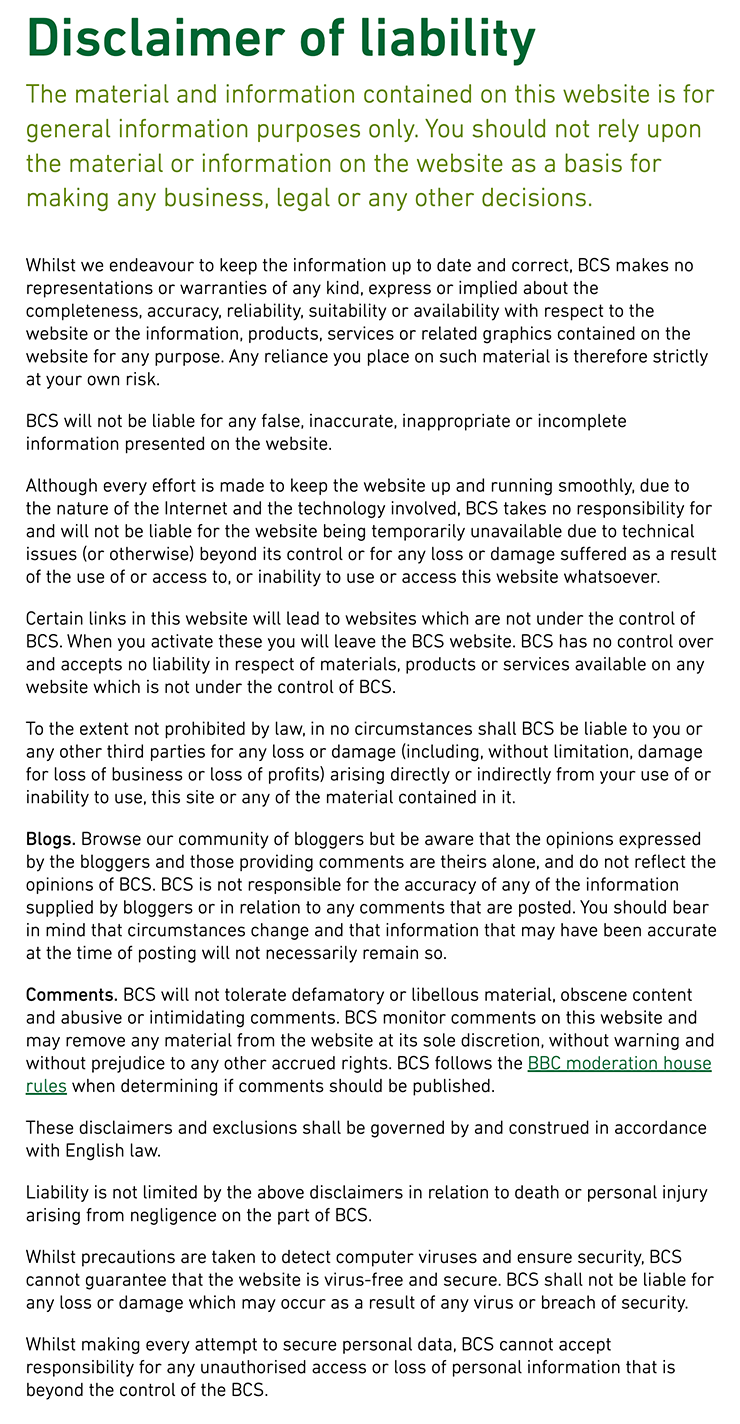 The BCS website's disclaimer of liability is wide and covers lots of disclaimer types. The organization, among other things:
States that information on their site should not be construed as advice and should not be relied on
Disclaims liability for any inaccurate statement on their website
Specifies that they won't bear responsibility if anyone suffers damage because their site is temporarily unavailable
States that they link to third-party websites and are not liable for any information contained on those websites
Maple Leaf Funds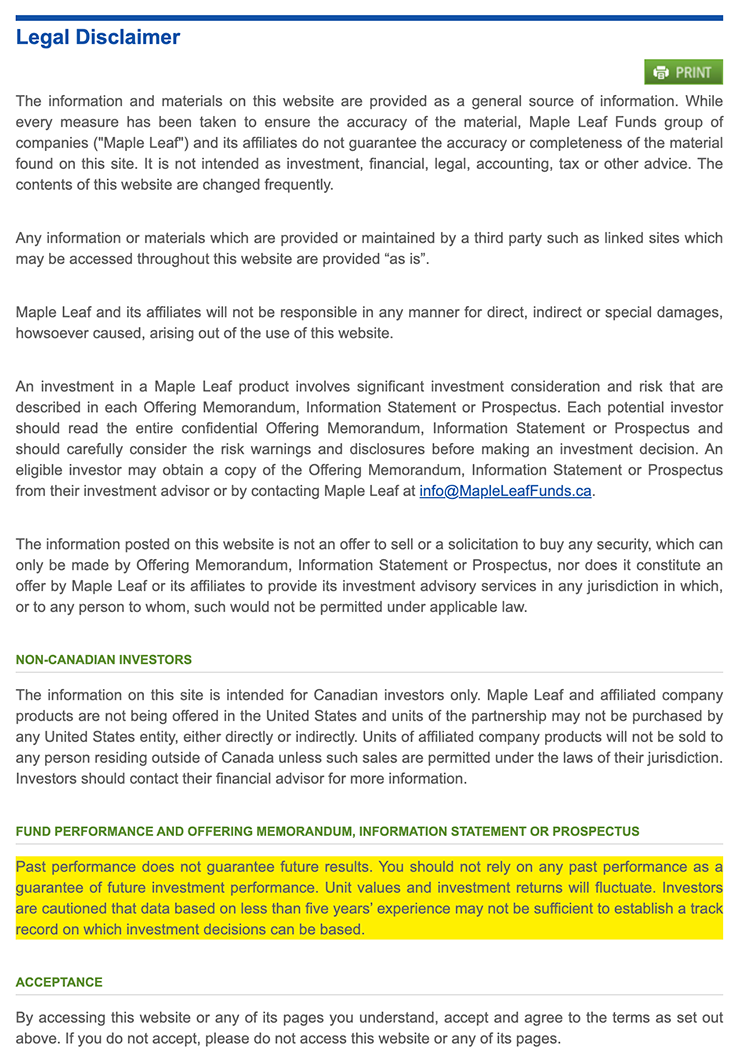 Maple Leaf Funds' past performance disclaimer is straightforward and advises visitors not to rely on past performance as a guarantee of future earnings. It also provides reasons that visitors should not have that expectation.
Sample Disclaimer Template [Free Download]
You can download our free disclaimer template below in Word Doc, PDF, or Google Doc format. You can also just copy & paste the HTML directly to your website.
Before using it, read through the entire disclaimer template – fill in all of the [brackets], remove any sections that do not apply to your app, and tweak any language as needed.
Generic Disclaimer for a Website [Text Format]
Last updated [Date]
INTRODUCTION
The information provided by [business entity name] ("we," "us" or "our") on [website name] (the "Site") [and our mobile application] is for general informational purposes only. All information on the Site [and our mobile application] is provided in good faith, however we make no representation or warranty of any kind, express or implied, regarding the accuracy, adequacy, validity, reliability, availability or completeness of any information on the Site [or our mobile application].
Under no circumstance shall we have any liability to you for any
Full View

Disclaimer Template HTML
You can copy our disclaimer template HTML code or download it using the options below.
Additional Template Download Options
Our disclaimer templates are designed to offer legal protection for websites in the US and Canada, as well as those globally — from the UK, all the way to Australia and South Africa.
Generate a Legal Disclaimer Instead
Here's how you can use Termly's generator to create a comprehensive and compliant legal disclaimer for your website or app.
Step 1: Go to Termly's disclaimer generator.
Step 2: Answer a few simple prompts and questions, and go through all of the steps until you reach "Final Details."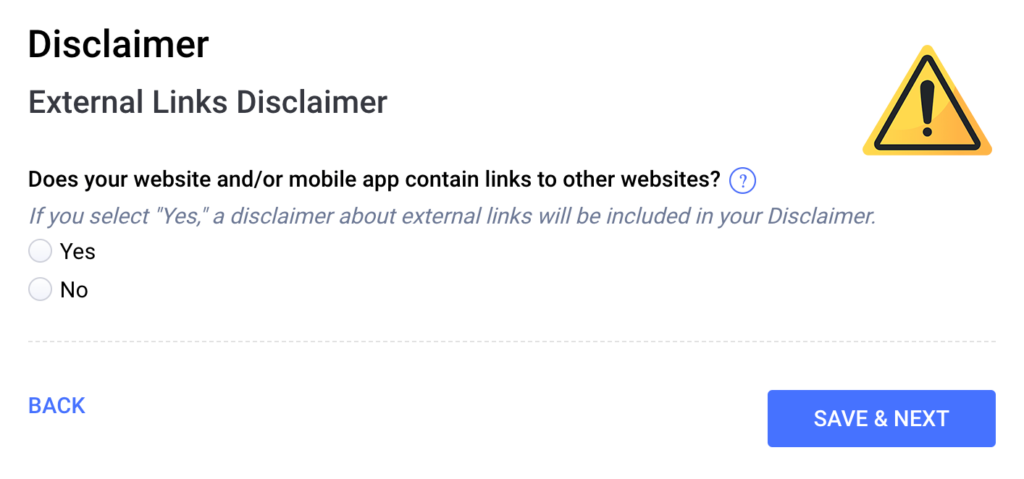 Step 3: Once you've filled in everything and you are satisfied with the preview, click "Publish." You will then be prompted to create an account on Termly so you can save and edit your legal disclaimer further.
Disclaimer FAQs
Summary
Disclaimers help businesses minimize their risk exposure and enable site visitors to have the right expectations. You may not be able to control who visits your website, but you can influence how they use your content, services, and products, or at least what they can hold you responsible for.
Having the proper disclaimers on your website and online platforms is not optional but a must-have if you want to protect your business interest adequately. Our disclaimer generator can help you create your disclaimers without hassle.