When the General Data Protection Regulation (GDPR) entered into action in 2018, it changed how businesses worldwide track and manage customer relations, impacting the available management tools and software solutions.
As the European Union's (EU) leading consumer data privacy legislation, the GDPR outlines several data processing and storage requirements.
If you use a Customer Relationship Management (CRM) solution and monitor the online behaviors of anyone in the EU, you must use one that complies with the GDPR.
We made a list of 10 of the best GDPR CRM solutions to help you choose the right GDPR-compliant tool for your business needs.
The 10 Best CRM Solutions With GDPR Compliance
Here are our top 10 picks for CRM software that support GDPR compliance requirements:
1. Zoho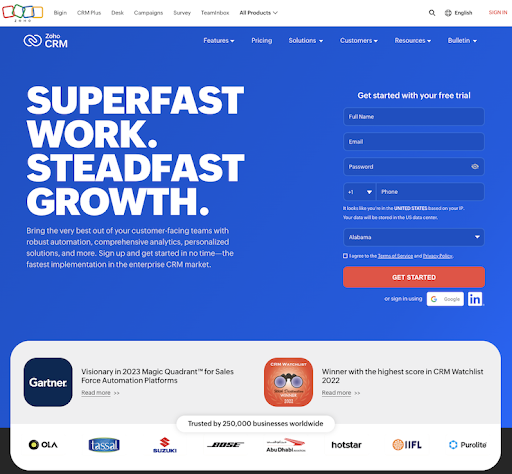 Overview
For small and medium-sized businesses looking for an all-in-one CRM solution, consider Zoho.
Zoho is a multichannel CRM that allows companies to manage customer contacts via email, telephone, chat, or social media.
Their suite of features helps businesses streamline their sales, marketing, and customer support efforts, and they implement data management, consent tracking, and access controls to assist with GDPR compliance.
Features
Zoho's CRM offers several features depending on which plan you choose, like:
Lead, deal, and contact management
Workflow automation
Canvas Design Studio
Sales process builder
Processing rules
Review process
Journey Builder
PathFinder
Omnichannel
Customer portals
Analytics
Performance management
Predictive Sales
Zia Voice AI assistant
Customization
Mobile app
Businesses can choose from the following four Zoho CRM plans and get more features based on the tier they choose:
Standard
Professional
Enterprise
Ultimate
How Zoho helps with GDPR compliance
When processing your customers' personal data, Zoho's CRM aims to comply with the GDPR.
The CRM solution helps businesses follow different facets of the law, including:
Identifying and establishing your legal basis for the data processing and categorizing the data under each basis.
Providing you with a customizable consent form you can email to customers if consent is your chosen legal basis.
Allowing you to mark fields that contain personal data and determine if the information is sensitive or not, and restrict these fields from being processed.
Protecting your customer data by using robust Advanced Encryption Standards (AES) to help keep data anonymous even if a data leak or breach occurs.
Maintaining an audit log so you can keep track of your customers' records, deletions, and modifications.
Helping you follow through on customer requests to act on their rights to access, rectify, restrict the processing of their data, delete their data, and data portability.
If you're not yet familiar with the strict requirements of the GDPR, check out our GDPR overview for a clear introduction to this privacy law's key concepts.
Price
Zoho's CRM costs between $14 to $52 per month per user when billed annually and offers a free trial option without requiring a credit card.
You can add lite users to the Enterprise and Ultimate level plans for an additional $12 per user.
2. Pipedrive
Overview
If you're looking for a CRM solution designed by salespeople for salespeople, check out Pipedrive, now available in more than 179 countries and 22 languages with an impressive international presence.
Businesses can choose from various add-ons to curate and customize their CRM solution.
The company offers several additional sales and email products for businesses besides their CRM and commits to following the values and requirements of the GDPR.
Features
Pipedrive offers many CRM features which are available in their different plan, including:
Visual sales pipeline
Customizable pipeline
Collaboration with your team
Scheduled activity reminders
Filtered, categorized lead segments
Full contact history log
Web forms
Key activity reporting from your dashboard
Revenue forecasting based on your pipeline
Mobile app
The features you get depend on the plan you choose, of which there are currently five:
Essential
Advanced
Professional
Power
Enterprise
How Pipedrive helps with GDPR compliance
Pipedrive explains their commitments to the GDPR in a support article and clearly describes your responsibilities under the law as the business owner.
As the data controller, they help businesses comply with the GDPR in the following ways:
Their Data Processing Addendums, Terms of Services, and Privacy Policies help make a data processing contract that meets the contractual standards outlined by the GDPR.
They keep an up-to-date list of their sub-processors and ensure international data transfers follow the EU-US Data Privacy Framework or obtain signed contractual clauses.
Access to client data they process is strictly limited, and they keep internal logs to meet the GDPR accountability requirements.
They can support and respond to any data subject request to act on any rights outlined by the GDPR.
Price
Pipedrive CRM costs between $14.90 and $99 per month per user when billed annually, and they offer free trials on all of their options.
You can also choose from various add-on features, which come with an additional charge:
LeadBooster add-on
Web Visitors add-on
Campaigns add-on
Smart Docs add-on
Projects add-on
3. Copper
Overview
If your business relies on Google's comprehensive suite of products and solutions, look into using Copper CRM, formerly called Prosperworks.
It was one of the first CRMs built for Google and is designed for rapid adoption, so it integrates seamlessly with all aspects of the G-Suite.
You can use most of its features directly from Gmail, making it easy to use and familiar.
Features
Copper CRM offers plentiful features that are ideal for various types of businesses, including:
Full Google Workspace integrations
Minimizes manual data entry
Email templates
Lead scoring
Customizable pipelines and fields
Sales automation
Deal management
Custom reports
Activity insights
Single sign-on
Data import and export
Live chat support
Mobile app
You get more features depending on which of the following plans you choose:
Basic
Professional
Business
How Copper helps with GDPR compliance
Copper posted a Help Center Article explaining how they align with the GDPR, which includes:
Following all GDPR data processing requirements
Requiring necessary third-party entities to sign contracts obliging them to support the GDPR
Publishing a list of the third-party providers they work with who might have access to customer data
Implementing the proper safeguards to keep customer data secure
Training their employees on privacy information
Maintaining a security incident response program
Regularly being audited by a third party to search for vulnerability risks
Price
Copper CRM costs between $25 to $119 per user per month and offers a free trial period for all their plans.
4. HubSpot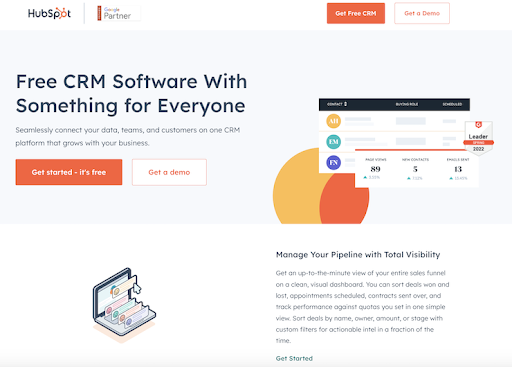 Overview
If you're looking for a company with plenty of options, check out HubSpot's CRM.
They offer a free version of their CRM software capable of supporting up to 1,000,000 contacts, with unlimited users and data — plus they impose no time limit or expiration date.
They also provide several different paid plans and suits for more robust CRM options.
Features
The features you get using HubSpot's CRM depend on whether you go for the free version or a paid plan, but here are some notable attributes:
Product library
Design manager
Local website development
Forms
Multi-language supports
Drag-and-drop style editor
Analytics
Custom reporting
Email health insights
Campaign management
Predictive lead scoring
Single sign-on
Mobile app
You can choose from the following CRM plans:
To unlock more features, you can choose from the following CRM suite levels:
How HubSpot helps with GDPR compliance
Because of their broad offering of business tools and international consumer base, HubSpot has a comprehensive overview of their GDPR-compliance efforts.
For example, their CRM assists with the following GDPR requirements:
Establishing a lawful basis for data processing and tracking
Collecting, tracking, and managing user consent and withdrawal of consent
Facilitating access, correction, deletion, and portability requests via machine-readable format exports
Implementing strong safeguards to adequately protect consumer data
Price
HubSpot offers plans ranging in price from free to up to $5,000 per month when billed annually.
The higher price range comes with all of HubSpot's features and is ideal for large and enterprise-level businesses.
5. Sales Cloud by Salesforce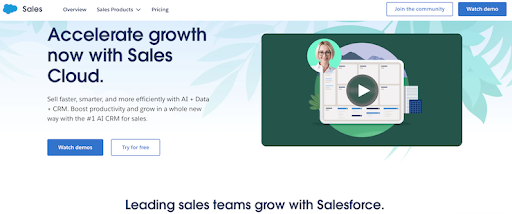 Overview
If you're looking for modern CRM solutions with a built-in AI feature, try Sales Cloud.
Their CRM product line integrates sales, marketing, and customer support into one platform for B2B or B2C usage, and because it's been around for years, it has a strong market presence.
Features
Sales Cloud has plenty of features that sales teams look for in a CRM, including the following:
Lead management
Account and opportunity management
Customizable reports
Customizable dashboard
Pipeline management
Advanced permissions
Workflow approvals
Developer sandboxes
Built-in AI
Mobile app
You have the option to choose from the following available plans:
Starter
Professional
Enterprise
Unlimited
Unlimited+
How Sales Cloud helps with GDPR compliance
Salesforce reassures consumers about using Sales Cloud to accelerate GDPR-readiness in a post on their website, which says they assist with the following:
Respecting your users' consent choices and maintaining a proper log in case of a privacy audit
Allowing you to set up processing restrictions as necessary
Ensuring follow-through with data subject requests to access, delete, amend, or obtain a portable copy of their information
Implementing adequate safeguards, like platform-level encryption, to protect user personal data
Price
Sales Cloud CRM offers five packages that range in price from $25 to $500 per user per month when billed annually.
You can try out all packages besides their Unlimited+ plan for free.
6. Freshsales CRM
Overview
Freshworks offers a solution called Freshsales CRM that tells you everything you need to know about your leads on one screen, with a free option available for up to three users.
They also have a convenient and well-rated mobile app, so your customer data is always as close to you as your cell phone.
Features
Depending on what level of plan you choose, you can get some or all of the following features using the Freshsales CRM solution:
Customer activity timeline
Highlight cards
Table view of data
Email and chat campaigns
SMS integration
Automated workflows
Territory management
Auto-route conversations
Custom sales pipelines
Freddy AI for deal insights
Custom sales activities
Multi-currency and language supports
Mobile app
Businesses can choose from the following different levels of CRM plans:
Free (for up to 3 users)
Growth
Pro
Enterprise
How Freshsales CRM helps with GDPR compliance
Businesses that use Freshsales CRM can comply with the GDPR by following the advice on their website, which suggests:
Ensuring all sales reps are informed and trained on the implications of the GDPR.
Implement an opt-in processing for bulk and cold emailing individuals.
Follow through on individuals' rights to access, delete, correct, or obtain a portable copy of their data in a single click through your Freshsales dashboard.
Establish a lawful basis for processing the personal data collected from your customers.
Price
Freshsales CRM costs between $15 and $69 per user per month when billed annually, plus there's a free option for up to 3 users.
7. NetHunt CRM
Overview
Another strong option for businesses who want to fully integrate their CRM with their Google Suite is NetHunt.
Their CRM solution is great for email-centric workflows, remote teams, and any business looking for a user-friendly tool.
Features
NetHunt CRM provides several features depending on the plan you choose, including the following:
Automatic data entry
Pipeline insights
Lead management
Sales activity reports
Omni-channel communication
Mobile app
Businesses can choose from the following different CRM levels:
Basic
Basic Plus
Business
Business Plus
Advanced
How NetHunt CRM helps with GDPR compliance
The company explains in a blog post how NetHunt CRM tools support GDPR compliance, which includes:
Making information security a pillar of NetHunt and storing all data securely within the Google Cloud.
Ensuring that the legal basis for data processing is clearly communicated to your customers.
Helping you comply with your customer requests to follow through on the rights over their information under the GDPR.
In their privacy policy, NetHunt says they act as your data processor under the GDPR, and you're the data controller, meaning you're subject to following all necessary guidelines outlined by the law.
Price
NetHunt prices range from $24 to $96 per user per month when billed annually.
You can also do a free 14-day trial for any of their available plans.
8. Ontraport
Overview
For growing businesses looking to scale up, look into Ontraport CRM.
They offer a customizable platform to store and display data in funnels that make the most sense for your business.
Features
Ontraport CRM provides the following essential features:
Customizable CRM
Mobile app
Advanced CRM with Deals and Companies
Custom roles and permissions
Field-level permissions
Card view for pipeline tracking
Lead scoring
Customize navigation by role
Task automation
Affiliate partner programs
Unlimited custom fields available
Lead routing
Lead source and conversion reporting
Calendar and Google Calendar sync
Default roles and permissions
Self-scheduling
You have the option to choose from several different plans, including:
Basic
Plus
Pro
Enterprise
How Ontraport CRM helps with GDPR compliance
To help businesses use Ontraport CRM in a GDPR-compliant way, they posted a brief walkthrough that describes the following:
Include unticked checkboxes on all Ontraport CRM forms.
Update and post a link to your privacy policy.
Describe how Ontraport uses cookies in your cookie policy.
Use the 'export' feature to provide a user with a copy of their personal data.
Delete contact records to respond to user requests to have their information deleted.
Price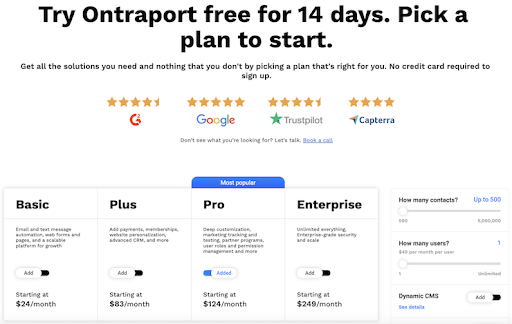 Ontraport CRM plans ranges from $24 per month to $249 per month when billed annually.
They also offer a 14-day free trial period and four levels of dynamic CMS add-ons.
9. Nimble
Overview
For smaller businesses that want an easy-to-use, no-fuss, straightforward CRM solution, try out Nimble.
It's also compatible with Gmail or Outlook.
Features
Businesses who use Nimble CRM get the following features:
Contact management
Data enrichment
Activity tracking
Unified contacts
Workflow automation
Custom pipelines
Revenue forecasting
Sales team management
Mobile app
To keep things clear and simple, they offer a single plan ideal for small businesses looking to scale up.
How Nimble CRM helps with GDPR compliance
Nimble describes their GDPR-compliance efforts in a support article, which says that they:
Act as your data processor, and you are the data controller.
Allow you to access, delete, or correct your customer data directly in their account.
Use Azure servers for data storage.
Price
With Nimble CRM solutions, there's only one price highlighted on their website: $24.90 per month per user when billed annually.
You get a 14-day free trial period, with no credit card required.
You also have the option to upgrade your account by purchasing add-ons and other enhancements.
10. Nutshell
Overview
For business-to-business (B2B) sales teams who want a customizable dashboard, consider trying Nutshell CRM solutions.
It might not have all the bells and whistles of other CRMs, but they understand that not every business needs those.
Features
You'll get the following features if you use Nutshell's customer data platform:
Sales Automation
Reporting & Analytics
Email Marketing
Web Form Collection
Team Collaboration
Contact Management
Pipeline Management
Mobile app
Businesses have the choice between the following plans:
Foundation
Pro
Power AI
Enterprise
How Nutshell CRM helps with GDPR compliance
Nutshell explains in a support article how they help their customers with GDPR compliance, which includes the following:
Prioritize security and implement proper measures to keep your user data safe using Amazon Web Services (AWS) servers.
Describe how their tools allow you to fulfill requests from your data subjects to follow through on their access, correction, deletion, and data portability rights.
Offer EU or standard contractual clauses for international data transfers to the U.S. upon request.
Price
Nutshell CRM ranges from $16 to $67 per month when billed annually, and they offer a 14-day free trial period.
On their payment screen, you can calculate how much it might cost you based on your number of users, taking some guesswork out of budgeting for these tools.
What Is CRM Software?
Customer Relationship Management (CRM) software helps businesses handle customer relations by managing contact activity and connections with current and prospective consumers.
CRM applications help you track, monitor, develop, and leverage these relationships to drive revenue to your business.
There are three basic types of CRM solutions:
Lead and Deal CRM – focuses on turning leads into deals (closed sales) and keeps track of the progress and interactions along the way.
Contact CRM – centers on gathering information about contacts and logging interactions. These are the easiest to use, lowest cost, and least complex CRM solutions.
Conversation CRM – tracks conversations between your business and your customers and prospects and is essentially a robust email app.
Using a CRM can help you operate within the confines of GDPR regulations while optimizing your customer relations.
Some CRM solutions come with GDPR data mapping capabilities — an essential process for GDPR compliance.
What Is the GDPR?
The GDPR is Europe's leading consumer data privacy legislation that protects information from data subjects within the European Union (EU) and European Economic Area (EEA).
It outlines several strict guidelines that covered entities must follow, including:
Having an adequate legal basis for the collection and processing of data
Presenting users with a privacy notice
Providing a way for users to follow through on their rights to access, correct, or delete their data
Providing a way for users to follow through on their opt-in and opt-out rights
Using CRM software for GDPR compliance can help your business meet some of these requirements in several ways, including:
Tracking and implementing GDPR-compliant policies
Managing consent at all points of contact (online, email, and via phone)
Defining and controlling access to data
Overseeing data security (encryption, anti-hacking measures, multilevel security, etc.)
Facilitating their right to erasure
Summary
When it comes to choosing the right GDPR-compliant CRM solution for your business, verify that the platform you choose meets the following requirements:
Helps you obtain adequate consent from users and allows them to change their minds at any time
Maintains a log of your users' consent choices
Allows your users to request to access, correct, or delete the data collected about them
Is willing to sign a GDPR-compatible data processing agreement
Meets international data transfer requirements, if applicable
Implements adequate security measures to keep your customer data safe
Luckily, getting your business on the right side of the GDPR doesn't need to be as costly or complex as you may believe.
Plenty of resources at your disposal, like the CRM software we explored above, GDPR WordPress plugins, and compliant GDPR form tools.
Just add a privacy policy and use a compatible consent management platform, and you'll be ready for all facets of the GDPR — Termly can help with that.
Disclaimer:
The state of GDPR compliance with the proposed solutions/tools was checked at the time this article was written. Please do your own due diligence when choosing GDPR-compliant vendors/tools, and always sign a Data Processing Agreement ("DPA") with your processors/sub-processors.