The EU's new privacy law, the General Data Protection Regulation (GDPR), came into force on May 25th. As you probably know by now, it was developed to protect the online privacy of EU citizens to allow them greater rights and control over their personal data – including how it's collected, stored, handled, and used.
At its heart, the regulation was developed and instituted to enhance relations between consumers and businesses, specifically when it comes to user data. However, business-to-user relationships go well beyond the transmission of data. In fact, data practices and the effects of the GDPR are only one facet of customer relationships.
One of the keys to how businesses handle customer relations is Customer Relationship Management (CRM) software – tools that manage contact activity and relationships with current and prospective customers. CRM applications help you track, monitor, develop, and leverage relationships to drive revenue to your business.
There are three types of CRM solutions:
Lead and Deal CRM – focuses on turning leads into deals (closed sales) and keeps track of the progress and interactions along the way.
Contact CRM – centers on gathering information about contacts and logging interactions. These are the easiest to use, lowest cost, and least complex of CRM solutions.
Conversation CRM – tracks conversations between your business and your customers and prospects, and is essentially a robust email app.
Because 92% of companies utilize databases to store information on customers and prospects, the GDPR is a reality for most organizations that interact with anyone from the EU in the course of conducting business. Using a CRM can help you operate within the confines of these rigorous new regulations while optimizing your customer relations.
CRM software for GDPR compliance can help your business in several ways including:
Tracking and implementing GDPR compliant policies
Managing consent at all points of contact (online, email, and via phone)
Defining and controlling access to data
Overseeing data security (encryption, anti-hacking measures, multilevel security, etc.)
Facilitating Right to Erasure
Here are our top six picks for CRM software applications to consider that can assist you in your GDPR compliance efforts:
1. Zoho
Overview
Zoho is a multichannel CRM that allows companies to manage contact that takes place via email, telephone, chat, or social media.
Features
Organize emails in the CRM pipeline
Click to connect customer calls
Capture leads from social media
Chat live with website visitors
Portals for customer, vendor, and partner access
SalesSignals real-time analytics
Zia, the conversational AI sales assistant
Sales automation and pipeline management
Team collaboration and automation
Mobile app
How Zoho helps with GDPR compliance
Data source tracking
Denotes personal data fields
Data subject access requests
Price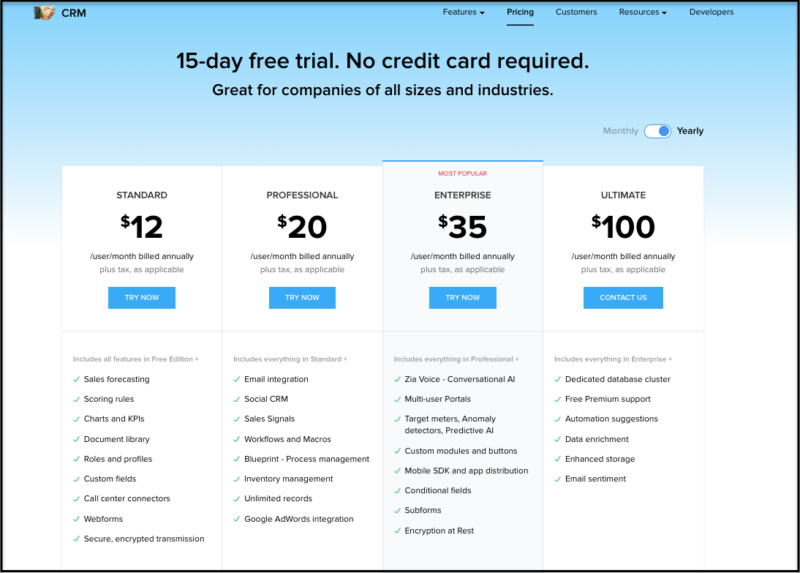 Zoho's CRM costs $12-$100 per month per user (when billed annually), but offers a free option with fewer features, limited to three users for very small businesses. You can also try Zoho on a 15-day free trial.
2. Pipedrive
Overview
Pipedrive is a CRM solution designed by salespeople, for salespeople, and is now available in more than 170 countries and 16 languages with an impressive international presence.
Features
Visualized sales process, from prospect to closed
Drag-and-drop functionality to easily update customer status
Multiple customizable sales pipelines
Prioritize initiatives and set reminders
Email integration into CRM pipeline
Sales reporting, forecasting, and analytics
Activity integration with Google calendar
Sync contacts to Google contacts
Connects with an array of third-party tools
Mobile app
How Pipedrive helps with GDPR compliance
EU data management
Secure data transfer
Deletable data
Price
Pipedrive CRM runs $12.50-$62.50 per month per user, or in groups of six users, priced at $75-$375 per month. There's a 14-day free trial available.
3. Prosperworks

Overview
Prosperworks is the only CRM built for Google, designed for rapid adoption, and that integrates seamlessly with all aspects of the G Suite.
Features
Fully integrates with Google Docs, Sheets, Calendar, Mail, Slides, and Hangouts
Minimizes manual data entry
Alerts sent when leads fall out of process
Seamless, instant Google sync
Easy to use because it looks and works like G Suite tools
Custom report builder
Available Chrome extension for Gmail and Inbox
Real-time tracking as emails are opened and viewed
Smart bot sends CRM notifications to Hangouts chat
Mobile app
How Prosperworks helps with GDPR compliance
GDPR compliant incident response plan for security incidents
EU Privacy Shield certified
Proactive, periodic vulnerability and penetration tests of system security
Price
Prosperworks CRM costs $19-$119 per month, with limits on fields, records, storage space, and support in lower-cost subscriptions. You can try the software on a 14-day free trial.
4. HubSpot

Overview
HubSpot is a robust CRM that's priced free forever and offers features for which you'd pay monthly per user with other applications.
Features
Queue and send email sequences on a pre-defined schedule
Auto-tracks customers sales and interactions across multiple channels
Real-time notification of customer/prospect engagement
Initiate calls from inside the CRM (15 minutes per user per month)
Display availability so prospects can auto-schedule time with you
Analytics dashboard
Five email templates per account
Five canned snippets per account
Some features are quantity limited – others are bottomless
Includes free, but limited, version of HubSpot Sales
How HubSpot helps with GDPR compliance
Lawful basis of processing tracking
Collection, tracking, and management of consent and withdrawal of consent
Facilitates access and portability requests via machine-readable format export
Price
HubSpot CRM is FREE, with no limit on users or contacts. They offer the software, at no cost, to entice users to adopt their Marketing Hub, Sales Hub, and Service Hub products, which are fee-based per user.
5. Sales Cloud by Salesforce
Overview
Sales Cloud is Salesforce's CRM solutions product line that integrates sales, marketing, and customer support into one platform for B2B or B2C usage. It's been around for years and has a strong market presence.
Features
All versions include account, contact, opportunity, and task management
Einstein Activity Capture to eliminate manual data entry
Real-time sales insights
App builder
Download pre-integrated apps via AppExchange
Custom self-development of apps with drag and drop tools
Partner lead registration
Collaborative forecasting
Configurable reports and dashboard
Mobile app, offline functionality, and Inbox mobile app
How Sales Cloud helps with GDPR compliance
Individual Object process to link consolidated preferences for one contact across records
Enhanced deletion of all associated records based on a single request
Platform-level encryption via Salesforce Shield
Price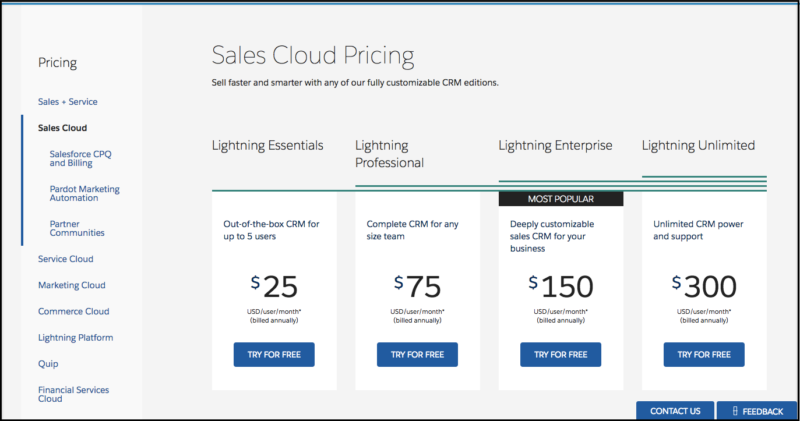 Salesforce Sales Cloud offers Lightning Essentials for as little as $25 a month per user, as an out-of-the-box CRM solution, for up to five users. Lightning Professional runs $75 per month per user for any sized team. The Lightning Enterprise solution costs $150 per month per user and is deeply customizable. For $300 a month per user, the Lightning Unlimited comes with unlimited support and power. You can try it with a 14-day free trial.
6. Freshworks CRM
Overview
Freshworks CRM (formerly Freshsales) is a powerful CRM tool that tells you everything you need to know about your leads, all on one screen.
Features
360° customer view with auto profile enrichment
Email integration with 2-way email sync
Automated workflows that reduce manual tasks
Visual sales pipeline for forecasting sales
Built-in phone to call customers
Sales campaigns email metrics
Customizable sales reports
How Freshworks CRM helps with GDPR compliance
Enable opt-in for web forms
Enable opt-in and opt-out for emails
Store consent details
Export data easily
Delete (forget) leads or contacts
Restrict users from sending emails to contacts who've unsubscribed
Restrict users from exporting customer data via reports
Restrict users from permanently deleting (forgetting) leads or contacts
Delete users
Disable auto profile enrichment
Price
Freshworks CRM costs between $29 and $125 per user per month. You can get the hang of it by signing up for a 21-day free trial or requesting a demo.
Conclusion
With fines of up to 20 million euros, or 4% of your annual revenue (whichever is higher), the penalty for failing to comply with the GDPR is potentially disastrous. Luckily, getting your business on the right side of the GDPR doesn't need to be as costly or complex as you may believe. With online resources like the CRM software above, GDPR form tools, and a wealth of GDPR WordPress plugins, there are plenty of tools at your disposal for getting your business compliant with the GDPR.
Disclaimer:
The state of GDPR compliance of the proposed solutions/tools was checked at the time this article was written. Please do your own due diligence when choosing GDPR-compliant vendors/tools, and always sign a Data Processing Agreement ("DPA") with your processors/sub-processors.