A return and refund policy outlines how, when, and under what conditions your customers can return purchased goods and services.
Not only do customers expect to find this policy on your site, but it's required by various US laws.
Download our refund and return policy template below, and read our guide with examples to learn to make your own. If you need a quick and comprehensive policy, build one for free with our return policy generator.
1. Standard Return & Refund Policy Template (Word)
Expand the box below to view the standard return policy template in its entirety, which you can then copy and paste onto your own site for FREE! Alternatively, you can click the button beneath it to download the policy in Microsoft Word and PDF file formats.
Return / Refund Policy [Text Format]
Last updated [Date]
---
Thank you for your purchase. We hope you are happy with your purchase. However, if you are not completely satisfied with your purchase for any reason, you may return it to us for [a full refund], [store credit], or [an exchange]. Please see below for more information on our return policy. Please see below for more information on our return policy. This template was created using Termly's Return Policy Generator.
RETURNS
All returns must be postmarked within [#] days of the
Full View
2. Why Do I Need a Return Policy?
There are three big reasons your business needs a return and refund policy:
1. Safeguard against legal backlash — Rules regarding store policies (including online / ecommerce stores) are determined and upheld by two bodies in the US: individual states and the Federal Trade Commission (FTC).
Laws regarding returns and refunds vary from state to state. Some states leave return disputes to the jurisdiction of the retailer, while some state legislation — like the California refund law — outline requirements for clearly displaying a return policy to your customers.
2. Increase customer satisfaction — Customers expect clear refund and return policies. With the marketplace shifting toward online shopping, consumers need to know if and how they can be refunded for a product or service purchased entirely over the internet.
Even if you operate a brick-and-mortar store, return policies are so ubiquitous, that failing to present one to customers could send the wrong message to your consumers.
3. Protect your business from complaints — Your business's policies are important to your customers as well as yourself. Mitigate the potential for claims of dissatisfaction, false advertising, or an unclear store refund policy by clearly presenting your shop's return policy.

Use Termly to Save Time on Your Return Policy
‌Now that you have a clearer idea of why you need a return policy, here's how you can use Termly's generator to easily create a comprehensive return policy:‌
Step 1: Go to Termly's return policy generator.
Step 2: Answer our prompts and questions, and go through all of the steps until you reach "Final Details."
Step 3: Once you've filled in everything and you are satisfied with the preview, click "Publish." You will then be prompted to create an account on Termly so you can save and edit your return policy further.
3. Things Included in a Return Policy
No two return policies should look the same. Determine your business needs and customer demands to decide how best to craft your own return and refund policy from scratch, or how best to fill in the template above.
Here's some tips for how to write a return policy and a breakdown of the main sections a return policy includes:
Returns
As the name implies, a return policy should clearly indicate if customers are allowed to return purchased products or claim refunds on paid-for services.
Elaborate on this further by detailing how customers have to return an item, what items your returns policy does or does not apply to, and what condition an item must be returned in.
If you don't allow returns, you should still make this clear to your customers by offering a no return policy.
Refunds
When accounting for the refunds section of your return policy, there are two main approaches: refund and no refund policies.
No refund policy — If you don't allow refunds for purchased goods or services, state this explicitly.
Refund policy — If you do allow refunds, indicate the conditions and time limitations of the refund process, how customers can get their refunds, and what type(s) of refund(s) you offer, including:
Full refund / partial refund
Store credit
Replacement product / service
Another item of similar value
Lastly, state how long it will take for a customer to receive their money back or a replacement product. This is especially important for ecommerce returns, since you need to factor in mailing and shipping, as well as the online transfer of funds.
Exchanges
Many businesses offer an explicitly-named return and exchange policy. Exchange policies are simply a specific form of refund policy. As mentioned earlier, refunds can include replacement goods or goods of similar value.
If you offer one or both of these options, you should have a dedicated exchange section or exchange policy to detail your guidelines for trading in products.
Shipping
Your shipping policy should be written into your return policy whether you have an ecommerce business or a brick-and-mortar store.
Outline if users have the option to return items via mail, who is responsible for shipping costs, whether you have specific shipping guidelines, and what shipping address customers should use.
Warranty
If your products include warranties, detail how a customer can act specifically when dealing with a warrantied good.
Many businesses choose to include their warranty policy directly in their ecommerce terms and conditions. While this is a good practice, make sure that the details of your warranty policy or warranty disclaimer are also available in your return policy.
4. Return Policy Examples
Checking out how other companies approach return policies can give you extra guidance on creating your own. Here are some return policies samples that can help you get inspired.
Small business return policy
For small businesses, refunds and returns are especially important to master, as SMBs rely heavily on a loyal customer base.
One of the most important factors to consider while writing a small business return policy is that you need to account for both your business's and your customers' needs.
Depending on your profit margins and operational abilities, your small business may not be able to offer the same leniencies in refunds, returns, and exchanges as big companies. Be strategic in determining your business's needs, and laying them out clearly in your return policy. Avoid using any legalese that can confuse customers about the extent of your return policy.
The important thing is that your policies are justifiable, fair, and easily accessible to your customers.
A good sample return policy for small business comes from Polkadots and Moonbeams in Los Angeles. Their shipping and returns policy clearly states the boundaries surrounding a valid refund request:
All exchanges must meet the following requirements:
Merchandise exchange process must be initiated within 5 days of receiving order.
Merchandise must be unworn, unaltered, undamaged, unused, and unwashed.
Merchandise must have all tags, accessories, and original paperwork.
Footwear must include the original shoe box in its original condition, without postal labels.
Final Sale and Special Order items may not be returned.

Not all businesses can afford to loosen the reins on returns, refunds, and exchanges. It may be in your best interest to implement a no refund policy instead. Just make what works for your small business clear in your return policy.
Ecommerce return policy
Ecommerce return policies can be especially tricky to navigate. Not only do ecommerce entrepreneurs need to factor shipping costs into their returns and refunds, but studies show that online consumers place a particular value on the online shopping returns experience.
92% of consumers surveyed said that they will buy again if product return process is easy.
One of the keys to optimizing your ecommerce return policy is to make clear your returns and exchange processes.
Take, for example, Walmart's return policy: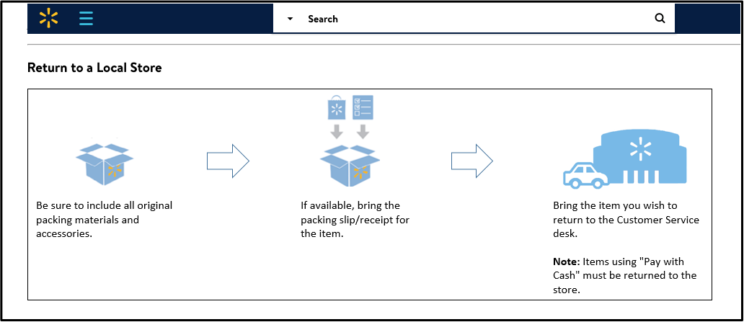 Walmart gives detailed instructions on how customers can return or exchange an item purchased online, and provides user-friendly diagrams to illustrate the process.
Ensuring your customers are well-informed of and can easily navigate your ecommerce returns policy may be the key to keeping those visitors coming back to your site.
Another great ecommerce example is Amazon's return policy:
Amazon adds an interactive element to its return policy with a one-question survey feature at the bottom of the policy.
Hosting a return and refund policy on an online platform allows for this kind of customization and consumer feedback.
Store return policy
Store return policies largely take the same considerations, whether that store is located on a street or on the web.
However, some physical stores may need to consider unique factors — like restocking fees.
Take a look at Best Buy's return policy:

Their policy clearly and concisely notes what products are subject to a restocking fee, and exactly how much that restocking fee will cost a customer.
Furthermore, they detail exceptions and special cases to the rule directly below it.
5. Infographic: Return Policy Basics
For some fast stats on returns, and a visual breakdown of your return policy's essential components, check out our infographic below:

In today's global marketplace, return policies are agreements that any business — big, small, online, or otherwise — can't afford to go without.
Download our return policy template and fill in your business's refund policy information to create a customer-friendly policy.
6. Return Policy FAQs