Implementing a no refund policy can be a great way for businesses to prevent return fraud, save money, and simplify customer service processes.
In this guide, we'll cover everything you need to know about no refund policies, then we'll look at some real-life no refund policy examples and teach you how to write your own using our free no refund policy template.
What Is a No Refund and No Return Policy?
A no refund, no return policy explains that your business does not accept returns after a customer finalizes a purchase and that you will not provide compensation or a replacement item.
You can typically find no refund policies on a business's return and refund policy page, which outlines the requirements, costs, and timeframes for customers to return merchandise or services.
Some no refund policies are very strict, while others provide more leniency.
For example, check out a few variations of no return policies with varying degrees of rigidity:
All sales are final policy: Once customers make a purchase, they will not be able to return that item for a replacement or refund. These policies typically apply to clearance and sale items.
No cash refund policy: No monetary refunds will be given for any reason, though alternative refunds may be offered, such as store credit or exchanges
No refund, exchange-only policy: Customers may exchange items they wish to return, but they cannot get a monetary refund
This policy is the polar opposite of a money-back guarantee, which guarantees that customers unhappy with a purchase will receive a full refund.
Returns vs. Refunds vs. Exchanges
Even though returns, refunds, and exchanges are intrinsically connected, each one technically refers to a different customer service:
Returns: the act of accepting goods back from a customer after they've finalized a purchase but no longer want the item
Refunds: the act of giving the customer back their payment for an item they purchased and no longer want
Exchanges: the act of giving the customer a new item in exchange for the original item they purchased and no longer want
No matter how strict your no refund policy is, your customers will likely still have questions about all three terms. So it's in your best interest to put clauses in your no refund policy that clearly explains your return, refund, and exchange processes.
Can You Have a No Refunds Policy?
No refund policies are allowed in some parts of the world and are illegal or heavily regulated in others, but it also depends on what industry you work in and the type of products you sell.
So let's discuss how regional laws impact whether or not your refund policy can state no refunds and then look into no refund rules by the product or industry.
No Refund Laws Around the World
In the following sections, we'll look at how laws from the following regions dictate if you can or cannot use a no refund policy:
The United States
Australia
The United Kingdom
Canada
China
United States
While there are no federal refund laws in the US, different state laws regulate if you can or can't implement a no refund policy.
Specifically, if you intend to refuse refunds, you must conspicuously post a policy stating as much, or else customers are entitled to a refund in the following states:
Remember that state laws change often, and the regulations vary depending on whether you own an ecommerce shop or a brick-and-mortar store. So also consider how any other regional customer protection laws in the US may impact your business.
Australia
In Australia, you cannot have a true no refund policy because, under Australian Consumer Law, consumers have the right to get replacements or refunds for faulty items, merchandise, or services.
They're also within their right to cancel a service for the same reasons.
However, the law does not provide the right for Australian consumers to return an item simply because they have changed their minds.
So if you want a no return policy for Australian consumers, consider putting a clause stating that you do not accept returns due to a change in the customer's mind.
United Kingdom
Similar to Australia, you cannot have a true no refund policy in the UK because, according to UK laws, refunds and returns are mandatory if the products are faulty or don't match the product description.
But unlike Australia, laws in the UK give consumers the right to return products simply because they change their minds. Specifically, customers can cancel and request refunds for online, mail, and telephone orders for a limited time after purchasing something for any reason, even if the goods are not faulty.
What is that timeline?
You must refund UK customers if they've told you within 14 days of receiving their goods that they want one. They then have another 14 days to return the goods to you. You can read up on the UK refund requirements for more information.
Canada
It is legal to have a no refund policy in place in Canada.
According to the Government of Canada, there is no legal requirement for businesses to offer refunds or returns. However, you do have to clearly post your policy in a place where your customers can easily see it, ensuring they're aware of your protocols.
Otherwise, you are within your right to set your own refund — or no refund — policy.
China
You cannot have a proper no refund policy in China, as customers have the right to return goods within 7 days of purchase unless the items pose a health risk or are perishable. This is known as the unconditional return policy.
Specifically, Article 25, Chapter III of the Law of the People's Republic of China on Protection of Consumer Rights and Interests grants consumers the right to return any item purchased online, on TV, over the phone, or through the mail.
No Refund Rules by Product
As we previously mentioned, refund rules also differ depending on the types of products or services you offer, like:
Subscription services
Digital products
Perishable items
Other non-returnable items — i.e. personalized items, beauty, and health products
For example, no refund policies are typically allowed for products and services that are difficult to return or are simply non-returnable, like virtual subscriptions and digital products.
Next, let's go over how to implement no return policies for each of these products and services.
No Refund Policy for Subscription Services
If you offer subscription services, which typically require consumers to make advanced payments, your refund policy can state no refunds.
No refund policies for subscriptions typically specify that users will not get refunds for payments already made.
So if the subscription service you provide requires recurring payments over a set period, make sure your refund policy addresses how cancellations work and explains whether your consumers can expect to be refunded for their advanced payments.
For example, the Google Play Pass refund policy states that you can cancel your monthly subscription at any time, and your ability to still access services until the end of the payment period depends on how close to the start of the month you chose to end your service, as shown in the screenshot below.
No Refund Policy for Digital Products
Refund policies for digital products are typically allowed to state that no refunds are granted due to the non-returnable nature of digital products once they're downloaded.
You might consider offering a limited refund policy, where digital items become non-refundable only after they've been accessed or downloaded, giving users a little more wiggle room.
Whatever protocol you choose, ensure you post your no refund policy somewhere accessible for your customers so they know if no returns or refunds apply after buying your digital item.
No Refunds for Perishable Items
If you sell perishable items, like food and baked goods, you might not be able to accept returns in the traditional sense and should state those details in your no return policy.
You should also explain how your business responds if a customer receives incorrect goods, items that have spoiled, or if they feel like there's a problem with their order.
No Refunds for Other Items
Some additional items that may benefit from a no return policy include:
Cosmetics and beauty products
Personal items
Bath products
Health-related products
Personalized items
Or anything that could pose a health risk after being opened by the consumer, which you can explain directly in your no return and no refund policy.
For example, if you own a clothing store and sell swimwear or undergarments, you might have a no-return or exchange policy for those items to protect the health and safety of your customers.
The same can be said for makeup, medicines, bath items, personalized or engraved goods, or other beauty-related products.
However, if you want to avoid a strict no return policy, consider providing your customers with an exchange policy or store credit to replace the items they can't return but are unsatisfied with.
Pros and Cons of a No Refund Policy
Let's discuss the pros and cons of having a no refund policy so you can make an informed choice about what return process works best for your business and customers.
The Pros of a No Refund Policy
A no refund policy can be beneficial for businesses for some or all of the following reasons:
Reason #1: No refund policies may help you save money because you don't have to pay the overhead of having a system in place for managing returns, refunds, and exchanges
Reason #2: A no refund policy prevents return fraud because you don't accept them anyway, so no one can try to lie or take advantage of your processes
Reason #3: If all sales are final, it's much easier for you to predict your revenue and cash flow
Reason #4: Because no refund policies are usually pretty straightforward, you're properly setting your customers' expectations, potentially minimizing confusion and disputes
The Cons of a No Refund Policy
Despite the potential benefits of a no refund policy, there are also several consequences for implementing such a strict policy, including:
Con #1: New customers are less likely to purchase something from you if you have a strict no return policy in place
Con #2: People may choose to shop from one of your competitors with a more lenient return policy instead of buying something from your store
Con #3: Because strict no refund policies are pretty rare, some customers might think it's suspicious or odd and may choose not to buy from you
Con #4: No refund policies are not legally allowed in all locations, like in the UK and Australia
Remember when we promised to talk about the controversial side of no return policies? Take a look at these alarming statistics which imply that consumers these days don't respond well to strict no return and no refund policies:
69% of items get abandoned by shoppers in their digital shopping carts
12% abandon their cart specifically because they find the return policy unsatisfactory (Baymard Institute)
49% of shoppers check the return policy before making a purchase (Invesp)
A no return, no refund policy can be like a double-edged sword. It may save you time and prevent some fraud, but it also might cause you to lose sales.
Rather than risk scaring away customers because your return policy is too strict, consider providing users with a store credit or other alternate exchange option, potentially leading to higher customer retention rates.
No Refund Policy Samples and Examples
A no refund policy will vary depending on legal requirements and business preferences.
But to help inspire you, we compiled several no refund policy examples from different types of businesses, so you can get ideas for what to include in your own.
Kobo — No Refund Policy for Digital Products
Kobo, a Canadian company selling ebooks, audiobooks, and e-readers, has a return policy that states that all digital product purchases are final sales by default.
Although Kobo is a North American company, their refund policy also caters to their European Union (EU) customers.
As shown in the screenshot below, their policy considers European refund laws because Kobo has many customers in the EU.

This no refund policy sample specifies that EU residents can ask for refunds within 14 days of their purchase if the digital product has yet to be accessed or downloaded.
When creating your no refund policy, take a page from Kobo's book and be aware of how international refund laws affect your business.
Muji — All Sales Final Policy
Muji, a retail company from Japan that sells household items and consumer goods, has a traditional return policy in place that clearly outlines what specific purchases are considered final sales and are not eligible for a return or exchange.
Below, see how they clearly explain the return process and any associated non-refundable fees in their policy. They also list the items that are not returnable.

If you sell any items that are part of an all sales final policy, be sure you express that in your refund policy, similar to how Muji does it.
Keep it simple and list the types of items that are considered final sales so customers have a clear idea of what is and isn't returnable.
The Time Hotel — Hotel No Refund Policy
The Time New York is a hotel that offers prepaid reservation services that are non-cancellable and non-refundable, as shown for you in the screenshot below.

Their hotel policy clearly states prepaid reservations will be charged the total amount at the time of booking, and they're not eligible for cancellations or refunds.
If your customers' book reservation times or appointments, consider addressing cancellations and no-shows in a similar way as the Time New York Hotel in your refund policy.
Nova Hair Salon — Refund Policy For Services
Businesses that offer specific services, like salons or various classes, often vary in the strictness of their refund policy.
For example, the screenshot below shows Nova Hair Salon's studio policy which discloses that all services are non-refundable, but they'll offer free corrective services for technical mistakes.

Further in the policy, they go into detail about their no cash refund policy for products and explain that they only give in-store credit.
If your business provides services, consider adding alternative refund options or incentives to your no refund policy, like the store credit option from Nova, to maintain customer satisfaction.
How to Write a No Refund Policy and What To Include
Now that you understand what a no refund policy is, how refund laws can vary, and tips on writing it for your business, it's time to make your own.
Let's cover some general clauses you should put in your no refund policy as well as tips to consider when writing your own no refund policy.
Be Upfront About Your No Return Policy Conditions
Include an obvious clause in your policy explaining that you don't accept returns or refunds, and list out specific items and services that do not qualify for refunds, returns, or exchanges.
By being clear about your no refund conditions up front, you're setting the expectations for your customers and answering key questions such as:
What products or services does the no refund policy apply to?
When does the no refund policy take effect (i.e., are purchases only non-refundable after a certain period)?
Are there exceptions to the policy (e.g., faulty products, technical errors)?
This clause doesn't need to be too complicated. In the example below from Wayfair, you can see how they clearly list non-returnable items for their customers.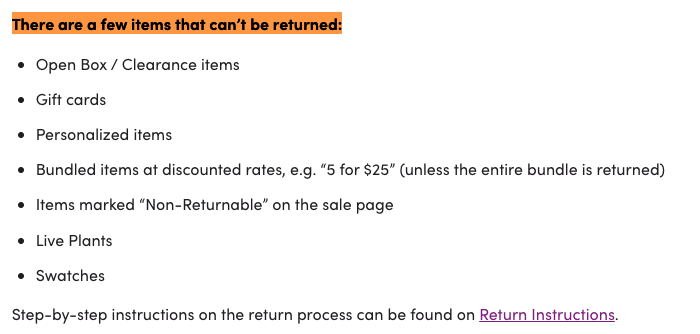 Ensure that you explain what items fall under your no refund policy as precisely as Wayfair so your customers can be properly informed before finalizing a purchase.
Describe Any Refund Alternatives You Offer
As a business, you're always striving for a high level of customer satisfaction, but a no refund policy may harm the customer experience, so consider offering alternatives to refunds, such as:
Store credit
Exchanges
Rescheduling options for services
For example, the Michael Kors return policy has an alternative exchange option in place for customers who are returning items bought from third party apps, pictured below.

Even though these customers bought items using third party platforms, Michael Kors provides them with the option for store credit or an exchange, helping them retain customers.
It's your no refund policy, so customize the incentives to suit the needs of your customers, and help encourage more people to finalize the sale.
Be Aware of Refund Laws
Depending on where your business operates and who you're serving, you need to determine the conditions and limits of your refund policy based on applicable consumer laws.
You can explain any regional exceptions directly within a clause in your policy.
In the example below from FabFitFun, a lifestyle subscription box service, you can see how they clearly reference the UK's return policy laws and even explain the rights those customers have regarding returning products.

Your Policy for Defective or Faulty Goods and Products
Put a clause in your no refund policy that sets your customers' expectations for how you respond if they receive a faulty, defective, or broken item or if their product does not work as advertised.
Not only will a clause like this help resolve potential customer disputes, but you can also point to it as evidence if any customers try to claim that you weren't transparent about your protocols.
See an example of a clause like this from Wayfair in the screenshot below.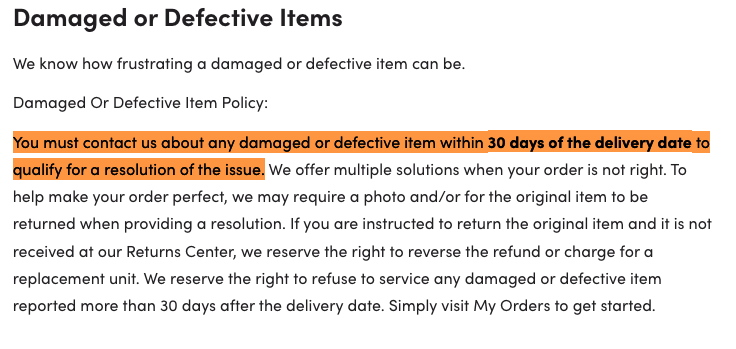 Remember, customers in certain countries have the right to receive refunds for products that are broken or don't work as advertised, like in the UK and Australia.
Use Plain Language
When it comes to wording your no refund policy, keep it as simple and straightforward as possible.
Avoid confusing jargon and unnecessary legalese, so the refund process is easy for your customers to understand.
A great example of an easy-to-read no refund policy comes from the gaming company Nintendo, which we've screenshotted for you below.

Display Your No Refund Policy Conspicuously
It's essential that you display your no refund policy in places where your customers can easily see it, like near the cash registers in a physical store or your website footer for an ecommerce business.
You want your customers to know about your policy and understand what they agree to before they finalize a purchase, which means they need to be able to find it effortlessly.
Plus, clearly posting your no refund policy helps prevent unauthorized returns in the form of chargebacks. A chargeback is when customers dispute a charge with their bank, and the bank takes money from your business to return to customers.
But keep reading because we cover all of the best places to put your no refund policy in greater detail a little later on.
Why Use a No Refund Policy Template?
Instead of starting this document from the ground up, we recommend you use a no refund policy template for the following reasons:
Reason #1: Templates are typically free to download and customize, saving you money
Reason #2: A good no refund policy template will have some of the writing done for you, saving you time
Reason #3: Most refund policy templates also include the most common clauses, like ours, which helps ensure your policy is thorough and doesn't leave anything out
But if you're short on time or require more support, check out our Refund Policy Generator.
Just answer a few questions about your business, and our generator will create the perfect no refund policy for any:
Ecommerce store
Service provider
Brick & Mortar Store
Shopify vendor
Marketplace vendor
How and Where to Display Your No Refund Policy
You should plan to put a link to your no refund policy in some or all of the following locations:
The footer of your website
On payment or purchasing pages
On new user sign-up pages, if relevant
In your terms and conditions document
Within your shipping policy
Let's go over why each of these spots are important places to post your no refund policy:
Website Footer
The footer of your website is a great place to link to your no refund policy because users can access it no matter what part of your site they end up on.
Check out an example of a no refund policy in the footer of the Michael Kors website:

On Payment or Purchasing Pages
It's a good idea to provide a link to your no refund policy on payment pages that your users see before finalizing their purchase. This is especially important if you don't allow any form of exchange or alternative returns.
Just imagine how a customer would feel if they purchased something from you only to find out after the fact that you don't allow for returns or refunds.
Rather than risking experiencing such a negative customer interaction, make it very clear before the point of purchase that the sale is final.
This is how Wayfair does it, shown for you below in the screenshot.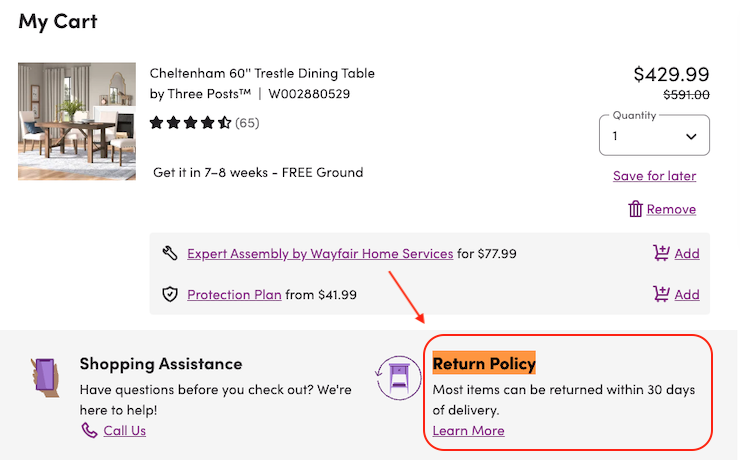 On New User Sign-Up Pages
If you sell digital products, subscriptions, or other services and require people to create new user accounts, it might be worthwhile to link your no refund policy directly on the new user creation page.
This way, you can prove that you're giving all potential new customers a chance to read and learn about your no refund protocols before they actually sign up for your service.
Or, if you include your no return policy in your terms of conditions agreement, you could link to those terms instead. See an example of this from meal kit delivery service, Blue Apron, pictured below.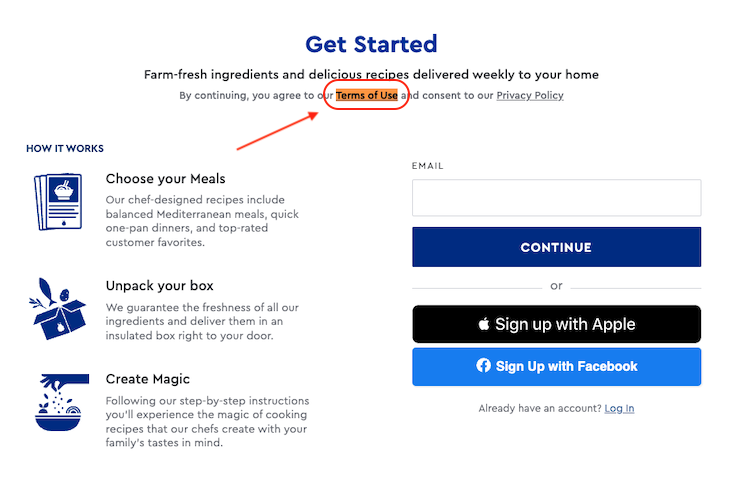 We'll show you the actual return and refund clause within BlueApron's terms and conditions document in the next section.
In Your Terms and Conditions Document
Because your no refund policy is technically one of the terms associated with using your services or buying your products, you should link to it directly in your terms and conditions document, like in the Blue Apron example above.
You can then create a clause that briefly outlines your policy and add language stating that agreeing to your terms of use also means that users agree to your no refund policy.
In the screenshot below, see Blue Apron's example of a clause included in their terms and conditions:

Within Your Shipping Policy
Finally, you should link to your no refund policy within your shipping policy because these support services are intrinsically related.
You can also do the opposite and put a shipping policy link within your no refund policy.
By combining these agreements, you're making it much easier for users to find answers to any questions they may have about your customer service protocols.
Below, see an example of a return policy linked in the menu on the shipping policy page from the clothing store ASOS.

How To Enforce Your No Refund Policy
As long as the no refund policy you have in place abides by the regional laws where you do business and is posted in the proper locations, then it's technically enforceable.
However, assuming you have a website, you might consider linking to your no refund policy within your terms and conditions agreement, as we briefly touched upon earlier in the article.
Usually, users agree to your terms when they enter your website through the clickwrap consent method, which refers to when users select checkboxes to express agreement.
You can include language in your policy stipulating that anyone who agrees to your terms and conditions also agrees to the terms within your no refund policy. This way, if an issue occurs, you can prove your users knew and consented to your policy.
For more information, check out our guide on how to write your own terms and conditions.
No Refunds Policy FAQ
Below, learn even more about returns, refunds, and exchanges by reading through some of the most frequently asked questions we get about no refund policies.
What is a no refund policy?
A no refund policy is a statement explaining to your customers that, once a purchase is finalized, they cannot return the item and expect a refund or replacement item.
How do you explain a no refund policy?
You can inform your customers that you don't offer refunds within a no refund policy, which is a document you can host on a URL and share in multiple places throughout your ecommerce store, like:
The footer of your website
On payment or purchasing pages
In the footer of any emails you send to customers
On new user sign-up pages, if relevant
In your terms and conditions document
Within your shipping policy
Is it legal to offer a no return policy?
It is legal to offer no return or refund policies in the US and Canada, but in Australia, the UK, and parts of Europe, returns are required by law for faulty products.
In the UK, returns are legally required on certain products for a set number of days for any reason.
Should I have a no refund policy?
It's up to you if you use a no refund policy, as it may help you save money or prevent return fraud, but there are some risks involved with such a strict policy, including:
Customers are less likely to finalize a purchase on an item they cannot return
You might lose customers to competitors who have more lenient return policies in place
Strict no return policies are rare very, and some customers may find them to be suspicious
While rare, unhappy customers might confront you about strict no return policies
Summary
A no refund policy informs your customers that all sales are final, and they shouldn't expect a monetary refund or replacement item even if they're unsatisfied with their purchase.
It's important to post this information in a conspicuous place to ensure consumers can see it, read it, and are aware of your return and refund processes.
As long as your policy follows the applicable consumer protection laws, you can have as strict or as lenient of a no refund policy as you'd like. Just keep in mind that some customers may choose to shop elsewhere if they can find similar products from a business with more traditional return options.
Whether you want to inform your consumers that all sales are final, or make a more unique policy that fits your business needs, you can make a suitable policy in minutes using our Return Policy Generator.