Customers expect you to offer a refund policy that explains how, when, and under what conditions they can return purchased items or services.
However, refunds cost time and money. It may be best for your business to implement a no refund policy or a restricted refund policy.
1. What Is a No Refund and No Return Policy?
A no refund policy is a statement explaining that your business will not provide compensation for purchased products or services that customers return.
A no refund policy (also referred to as a no refund no return policy) is typically found on a business's return and refund policy page, which outlines the requirements, costs, and timeframes for customers to return merchandise or services.
Similar variations of no refund policies include:
All sales are final policy — states that once customers make a purchase, they will not be able to return that item for a replacement or refund. All sales final policies are typically applied to clearance sale items.
No cash refund policy — states that no monetary refunds will be given, though alternative refunds may be offered, such as store credit or exchanges.
No refund, exchange only policy — states that customers can only exchange items they wish to return, rather than get a refund.
2. Can Your Refund Policy State No Refunds?
Whether or not your refund policy can state no refunds will depend on your local laws and your industry's standards. Let's look at how no refund rules are impacted by some countries' laws, as well as some common product and service offerings.
No Refund Laws
Consumer laws dealing with refunds will vary from country to country and state to state, so it's important to be familiar with the laws in your jurisdiction. Here are examples of refund laws from around the world.
United States
While there are no federal refund laws in the US, many state laws don't legally require refunds, instead allowing businesses to set their own refund policy.
In some states, not conspicuously displaying a no refund policy means customers are entitled to refunds.
Australia
In Australia, you are not allowed to have a no refund policy. Under Australian Consumer Law, consumers have the right to get replacements or refunds, cancel a service, or receive compensation for damages from faulty merchandise or services.
United Kingdom
According to UK law, refunds and returns are mandatory if the products are faulty or don't match the product description.
Additionally, online, mail, and telephone order customers have the right to cancel their order for a limited time after making the purchase, even if the goods are not faulty.
Canada
According to the Government of Canada, it is not legally required for businesses to offer refunds or returns. Businesses can set their own refund or no refund policy.
No Refund Rules by Product
Refund rules also differ depending on the types of products or services you offer. No refund policies are allowed for products and services that are difficult to return or non-returnable, such as subscriptions and digital products.
No Refund Policy for Subscription Services
If you offer services that require making advance payments, such as subscriptions, your refund policy can state no refunds.
No refund policies for subscriptions typically specify that users will not get refunds for payments already made. Because subscriptions require recurring payments over a set period of time, refund policies should also address how cancellations work.
For example, Google Play Music's refund policy states that there are no refunds for payments already made, but if users cancel the subscription, they can still access services until the end of the payment period.
No Refund Policy for Digital Products
Due to the non-returnable nature of digital products once they're downloaded, your refund policy is allowed to state no refunds. An option is to include a limited refund policy, where items become non-refundable once they have been accessed or downloaded.
If you offer digital products, it's common to specify no returns, no refunds. However, you need to be very clear in detailing the circumstances under which no returns, no refunds apply.
3. No Refund Policy Samples
The terms of no refund policies will vary depending on legal requirements and business preferences. Check out no refund policy examples from different types of businesses, so you can get ideas for what to include in your own.
Kobo — No Refund Policy for Digital Products
Kobo's terms of sales states that digital products are final sale by default. The policy also takes European refund laws into account, because Kobo has customers in the European Union (EU).
This no refund policy sample specifies that EU residents are allowed to ask for refunds within 14 days of their purchase, as long as the digital product hasn't been accessed or downloaded.
When creating a no refund policy, be aware of international refund laws that apply to your business based on the regions you're serving. Although Kobo is a North American company, their refund policy also caters to their EU customers.
Muji — All Sales Final Policy
Muji's return policy clearly explains the return process and any associated non-refundable fees. They also list items that are considered final sale, which are not eligible for refunds or exchanges.
Like the example, you can include your all sales final policy in your refund policy. List the types of items that are considered final sale, so customers have a clear idea of what's not returnable.
The Time Hotel — Hotel No Refund Policy
The Time New York's hotel policies state that prepaid reservations are non-refundable. It also includes instructions for cancelling reservations.
If your business involves customers making reservations or appointments, address cancellations and no-shows in your refund policy like in the example.
Nova Hair Salon — Refund Policy For Services
Businesses that offer services often vary in the strictness of their refund policy. Nova Hair Salon's studio policy discloses that all services are non-refundable, but they'll offer free corrective services for technical mistakes.
They also have a no cash refund policy for products, and give in-store credit instead.

If you provide services, consider adding alternative refund options or incentives to your no refund policy (like in the example) to maintain customer satisfaction.
4. How to Write a No Refund Policy
Much like when writing a return policy, the details of a no refund policy will vary between businesses. However, here are some general tips to consider when writing your own no refund policy:
Be Upfront About Your Policy Conditions
Set expectations for your customers by being clear about your no refund conditions and answering key questions such as:
What products or services does the no refund policy apply to?
When does the no refund policy take effect (i.e., are purchases only non-refundable after a certain period of time)?
Are there exceptions to the policy (e.g., faulty products, technical errors)?
Consider Offering Refund Alternatives
As a business, you're always striving for a high level of customer satisfaction. As a no refund policy may harm the customer experience, consider offering alternatives to refunds, such as store credit, exchanges, or rescheduling options for services.
Including these incentives in your no refund policy could help maintain good customer relations.
Be Aware of Refund Laws
Depending on where your business operates and who you're serving, you need to determine the conditions and limits of your refund policy based on applicable consumer laws.
Use Plain Language
When it comes to wording your no refund policy, keep it as simple and straightforward as possible. Avoid legalese and forceful language such as "you must" or "you need to." Make the refund process easy to understand for your customers.
Display Your No Refund Policy Conspicuously
Display your no refund policy in places where your customers can easily see it. For example, if you own an ecommerce business, include it in your terms and conditions, checkout page, and FAQ page.
Clearly posting your no refund policy will also help prevent unauthorized returns in the form of chargebacks, which is when customers dispute a charge with their bank and the bank takes money from your business to return to customers.
5. Create Your No Refund Policy
Now that you understand what a no refund policy is, how refund laws can vary, and tips on writing a no refund policy for your business, it's time to make your own. Download and customize our return policy template to detail your no refund policy.
Use our free return and refund policy generator to create a refund policy in minutes that suits your business.
The refund policy template and generator are best for:
Ecommerce businesses
Service providers
Stores
Shopify vendors
Marketplace vendors
Having a clear and accessible no refund policy will make for a smoother customer experience and protect your business.
Use Termly to Create a Refund Policy
Here's how you can use Termly's generator to easily create a comprehensive refund policy that outlines everything you need:‌
Step 1: Go to Termly's refund policy generator.
Step 2: Answer our prompts and questions, and go through all of the steps until you reach "Final Details."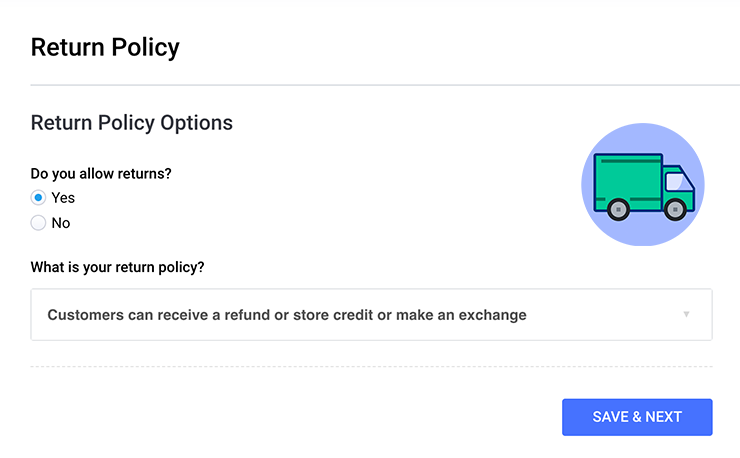 Step 3: Once you've filled in everything and you are satisfied with the preview, click "Publish." You will then be prompted to create an account on Termly so you can save and edit your return policy further.
6. FAQs About No Refund Policies