A money back guarantee, also known as a "satisfaction guarantee," is a statement from a seller that promises refunds for customers who are dissatisfied with their purchases.
They are commonly used as a marketing technique, as they provide customers with a sense of safety when purchasing a new product.
A standard money back guarantee addresses which items or services the guarantee applies to, and the timeframe for returns.
Learn more about if your business needs a money back guarantee and how to create one.
1. When Do You Need a Money Back Guarantee?
Contrary to popular belief, money back guarantees are not legally required. However, you can use one as a sales technique to attract customers, by showing confidence in your own products.
A money back guarantee may be especially beneficial for new stores or businesses, as the reassurance of refunds will encourage more customers to try your product.
Although consumer protection laws don't require money back guarantees, many do require that companies honor their money back guarantees if they offer one.
Here are some consumer laws from different countries and regions that address money back guarantees.
Money Back Guarantee Laws in the US
In the US, money back guarantees are not required by law. However, a seller may only advertise a money back guarantee if they offer a full refund of the purchaser's money, and make clear all requirements and limitations that apply.
Some states have additional regulations that are more strict than federal law, so companies doing business in the US should check applicable state laws before offering a money back guarantee in all 50 states.
Money Back Guarantee Laws in the UK
According to UK law, customers have 14 days to inform the seller that they no longer want an item, and then 14 days to return it. Sellers have another 14 days to issue refunds once they receive the returned item.
In the UK, refunds are also mandatory for damaged goods.
Money Back Guarantee Laws in the EU
EU regulations state that customers have a "cooling off" period of 14 days to return a product or cancel a service with no questions asked.
However, products such as customized items, edible items, and digital content are non-refundable. If you offer such items and want to exclude them from a money back guarantee, make it clear to customers that those products fall under your no refund policy.
2. How Do You Create a Money Back Guarantee?
You can create a money back guarantee by using any of the following methods:
Online policy generators — Use a return policy generator to create a return and refund policy that includes money back guarantee information.
Custom templates — Use a return policy template as a framework for your policy, then add in or customize the money back guarantee details.
Google Docs / MS Word templates — Many word processors, such as Google Docs, MS Word, and Apache Open Office, have templates for producing business-related documents, including guarantees and policies.
Legal document prep services — Having a legal expert prep or review your money back guarantee policy can help ensure it doesn't have any legal loopholes.
Write a money back guarantee from scratch.
A money back guarantee should include clear and specific language about what qualifies a customer for a full refund, and any obligations they must fulfill before receiving their payment.
It's highly recommended that the guarantee be in easy to read, plain language format, to avoid customer confusion.
What to Include in a Money Back Guarantee
There are three basic parts to a money back guarantee:
1. Returns process and timeframe
This section should answer the following questions:
Does the item need to be returned to receive a refund?
How many days does the customer have to return it?
Do the days start counting from time of purchase, or time the item is received?
Can the item be damaged in any way?
Does the customer have to give a reason or justify why they're returning the item?
2. Type of refund
Specify what type of refund you offer. Types of refunds you can offer include:
Store credit
Replacement item/item of equal value
Full refund
Partial refund
Keep in mind that if you offer a "100% money back guarantee," this indicates that you will refund the full price of the product or service the customer is returning.
3. Shipping costs
If you offer shipping returns, your money back policy needs to specify the shipping responsibilities and requirements, or link to a shipping policy that outlines this information.
Some questions you need to answer when deciding on your money-back shipping process include:
Do you offer free shipping?
Is shipping only free if within the same state/province/region?
Does the customer need to pay for shipping?
Does the item have to be returned in the box it came in?
3. Where Do You Put a Money Back Guarantee?
Once you've created your money back guarantee, you need to display it so customers can easily find your policy. Here's where you should put your money back guarantee:
On Product Pages
Add money back guarantee links to any pages dedicated to products that the guarantee applies to.
To benefit from the marketing angle of money back guarantees, consider adding a stamp or icon to applicable pages that says "Money Back Guarantee."
Make sure you link to the full policy somewhere on the page, so customers can read the details of the refund policy and process.
On Your Checkout Page
Once again, add a clearly labeled link to you money back guarantee to your shopping cart or checkout page. Not only will this provide customers with the details they need, but it can reduce cart abandonment rates by promoting consumer confidence.
In Your Return Policy
Whether you offer money back guarantees or not, any store or ecommerce business should have a return policy.
You can include your money back guarantee clause directly in your return policy, or have a separate money back guarantee, and link to it within your return policy.
4. What Are Some Money Back Guarantee Examples?
Money back guarantees can come in many different forms. Here are some examples of money back guarantees from various websites, so you can get inspiration for your own:
Heineken's Money Back Guarantee
Heineken beer has a straightforward money back guarantee form where customers can submit an image of their receipt and an explanation of why they're unsatisfied with the product.
Not only does this form make it easy for customers to request money back, but Heineken can use this form to connect with their customer base and generate feedback.
ClassB's 21-Day Satisfaction Guarantee
ClassB's money back guarantee promises a full refund within 21 days of a purchase if a customer isn't satisfied:
Rather than presenting their guarantee as a formal policy, they present it as a certificate. This is a clever marketing strategy, as it's easy to read and looks more customer-friendly than many official policies.
Dell's Limited Money Back Guarantee
Dell Computers has a limited money back guarantee that only applies to specific items. Items must have been purchased directly from Dell (or an authorized retailer), and the policy does not apply to certain product lines.
Xfinity's 30-Day Money Back Guarantee
Xfinity has a 30-day money back guarantee on most of its home services such as cable TV, internet and home security, as well as a 14-day guarantee on its mobile services.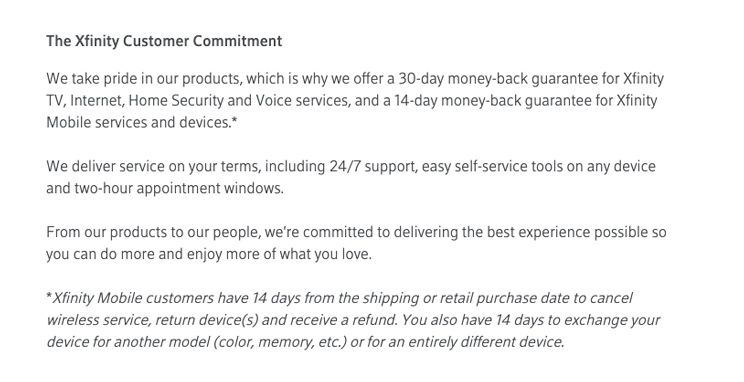 Like Xfinity, you can offer different versions of a money back guarantee for different products or services.
5. Create Your Money Back Guarantee Today
If you want to build more customer trust and boost your checkout rates, you need to offer your customers a money back guarantee. We make this easy with our refund policy generator.

Use Termly to Create a Refund Policy
‌Now that you have a clearer idea of why you should have a money back guarantee, here's how you can use Termly's generator to easily create a comprehensive refund policy that outlines your money back guarantee:‌
Step 1: Go to Termly's refund policy generator.
Step 2: Answer our prompts and questions, and go through all of the steps until you reach "Final Details."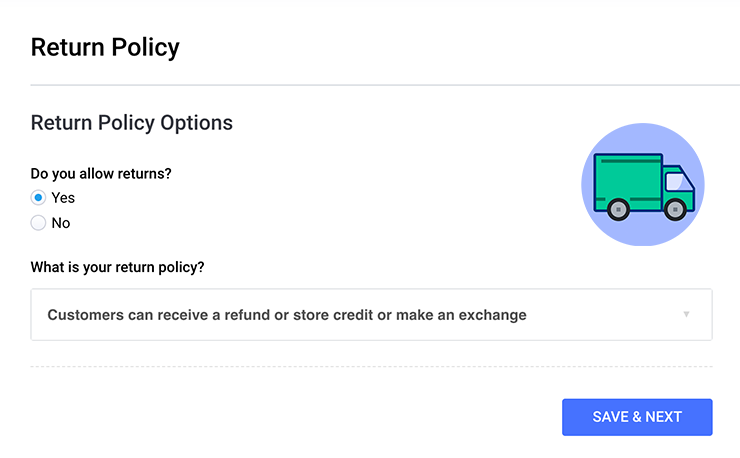 Step 3: Once you've filled in everything and you are satisfied with the preview, click "Publish." You will then be prompted to create an account on Termly so you can save and edit your return policy further.
Regardless of how strict or generous your returns and refunds process may be, the most important thing is that you're transparent about it with customers.
Generate a return policy today that covers all the details consumers are looking for about your returns and refunds process — including money back guarantees.