Website terms and conditions are vital to the long-term success and security of your online business, as they outline the rules by which you and your users must abide. Without terms, you could be subject to abusive users, intellectual property theft, and unnecessary litigation.
Our free terms and conditions template will help provide your business with the legal protection it deserves. Download the standard template below, or simply copy and paste the text onto your site.
Alternatively, keep reading to learn more about what a terms and conditions agreement is and how to start writing your own.
1. Website Terms and Conditions Template [Sample Text and Free Download]
Expand the component below to view our standard terms and conditions template in its entirety, or click the button to download the sample in Microsoft Word and PDF file formats. Both template formats can be easily added to the HTML of your site.
Our terms and conditions sample text is suitable for the following websites and platforms:
Small business website
Online shop
Mobile app
Ecommerce / online store
Online store
Affiliate program
Retail website
Online payment
Subscription
Free trial
Online sales
Forum
Blog
Desktop app
Software as a Service (SaaS)
Facebook app
Looking for a specific terms and conditions sample? View our library of free templates.
2. What are Website Terms and Conditions?
Terms and conditions are a binding set of rules that serve as a contract between you and the users who visit your website or use your app.
They are also known as terms of service and terms of use, and are abbreviated as T&Cs (or ToS and ToU, respectively).
Having terms and conditions isn't a legal requirement, but they are critical to maintaining your rights and protecting your business. Therefore, it's in your best interest to create a terms and conditions template for your services, and display the agreement on your site.
What is a Terms and Conditions Agreement?
A terms and conditions agreement outlines the website administrator's rules regarding user behavior, and provides information about the actions the website administrator can and will perform.
Your terms and conditions text is a contract between your website and its users. In the event of a legal dispute, arbitrators will look to this agreement to determine whether each party acted within their rights.

Creating the best terms and conditions page possible will protect your business from the following:
Abusive users — Terms and conditions allow you to establish what constitutes appropriate activity on your site or app, so you can remove abusive users and content that violates your guidelines.
Intellectual property theft — Asserting your claim to the creative assets of your site in your terms and conditions will prevent ownership disputes and copyright infringement.
Potential litigation — If a user lodges a legal complaint against your business, showing that they were presented with clear terms and conditions before they used your site will help you immensely in court.
In short, terms and conditions give you control over your site and legal reinforcement if users try to take advantage of your operations.
Do Websites Need Terms and Conditions?
Terms and conditions are not required by law, but are extremely important to the long-term success and viability of your website.
Having website terms and conditions is considered standard business practice in the US, Canada, the UK, and just about everywhere else — from South Africa to Australia.
If you plan to grow your business or expand your user base, a simple terms and conditions agreement will provide your website with an additional layer of legal protection, and allow you to maintain your rights.
Does the GDPR Affect the Terms & Conditions of Your Website?
The General Data Protection Regulation (GDPR) — Europe's strict privacy law that applies to companies worldwide with EU users — does not directly affect the terms and conditions of your website.
Although the GDPR doesn't regulate what your terms and conditions must include, it mandates that you create a separate website privacy policy, as does the newly enacted California Consumer Privacy Act (CCPA). See our CCPA vs GDPR infographic to understand the differences between these two laws.
If you target users in the EU, the GDPR affects you and threatens crippling fines for noncompliance. You may have noticed many sites now visibly disclosing browser cookies as a result of GDPR, but this is far from the only requirement. Read our What is GDPR guide for a plain English introduction to this law's strict compliance requirements if you're unsure where to start.
3. What Should I Include in a Standard Terms and Conditions?
Even a short terms and conditions agreement should include several key clauses to safeguard your business. For example, if you're selling online and incorrectly price an item, your terms and conditions are what will enable you to cancel the order.
The following are some of the most important sections of your terms and conditions for ensuring user clarity and preventing misunderstandings:
Disclaimer
A disclaimer states that your site is available on an "as-is and as-available basis," and that users use it at their own risk. A basic disclaimer template should include these terms are others, as well.
Corrections
We're all human. If you make errors on your site, you need to show that you're not liable. This section covers your back just in case there are any mistakes in your content, allowing you to update it with the correct information at any time.
Term and Terminations
Particularly useful if you offer software as a service (SaaS) applications, this section protects you from abusive users by giving you the right to suspend user accounts and delete any content they post.
Prohibited Activities
Explicitly listing prohibited activities is another way to stop visitors misusing your site. This section should include a special clause regarding user-generated content in forums and comments. For example, to help you remove offensive usernames.
Modifications and Interruptions
By reserving the right to change or delete anything on your site, as well as stating that you may encounter hardware problems and downtime, you limit your liability if users claim any loss or damage because of an inability to access your site.

Digital Millennium Copyright Act Notice and Policy
Terms and conditions also explain the rules the website administrator will abide by. This section specifies that you will remove any material that infringes users' copyright according to the Digital Millennium Copyright Act.
Privacy Policy
To comply with international privacy laws and avoid being fined, your site needs a privacy policy. It must be a separate document, but you can include a link in this section of your terms and conditions.
Tips for Writing Terms and Conditions
Writing terms and conditions can be difficult — the final agreement must be legally sound, but also easy for users to understand. If you're going to tackle writing this agreement yourself, here are our top two tips:
1. Don't copy terms and conditions text from another website
A small blog or website will be safe using a generic terms and conditions template, but businesses need to include clauses specific to their operations. Copying terms and conditions from a reputable company won't help you emulate them — instead, it could confuse users and potentially land you in legal trouble.
Likewise, copying from a smaller or unknown website opens you up to the risk of having incomplete terms that aren't viable in a court of law.
2. Write in clear language and avoid legalese
If users don't understand your terms, they can't be expected to agree to them. Writing in simple language, instead of complicated legalese, makes life easier for your visitors and strengthens your defense if legal action is taken against you.
Just to illustrate the power of clear language in legal documents, it's important to note that the recent Google GDPR fine of €50 million (~$63 million) was levied because the tech giant made vital information inaccessible to users in its agreements and was not transparent in its practices.
Where to Display General Terms and Conditions
Once you've created terms and conditions for your website, you can choose where to display them. There are two common and effective ways to present your terms and conditions where they can be easily found by users:
In your footer — Most terms and conditions appear in the footers of websites. Visitors will know to look there first.
As a pop-up — As well as including them in the footer, you can have a pop-up appear when users access your site for the first time. This gives you an advantage in the event of a legal dispute, because you can demonstrate that the user was made aware of your terms before they browsed your site.
4. Terms and Conditions Examples
You won't find a major company without at least a basic terms and conditions for its online store or website.
Agreements tend to vary from site to site — what works for Facebook would not be suitable for Uber or PayPal. Although it's important not to copy another policy, it's still valuable to take inspiration from the specific clauses that prominent companies include in their terms.
McDonald's Free WiFi / Online Services Terms and Conditions
McDonald's requires users to click "I agree to the terms and conditions" in order to use their free WiFi in stores, as well as to their terms and conditions for online services when using their website. The latter is a good general terms and conditions example that other businesses can learn from.
First, McDonald's terms and conditions is easy to find on their site, since it's in the footer: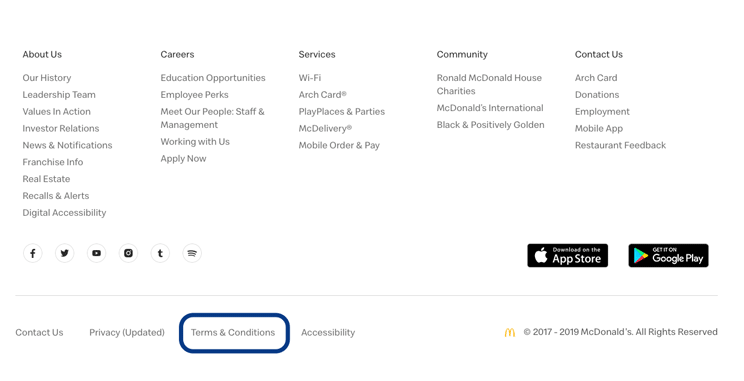 Next, the terms and conditions text for McDonald's website is particularly easy to understand. Any user can go online and get a clear picture of what they're agreeing to. Although it's written in friendly language, the terms are still explicit and legally rock-solid.
If you're writing your own, make sure your terms and conditions content strikes the same balance.
AT&T Terms and Conditions
The world's largest telecommunications company, AT&T's terms and conditions are detailed and comprehensive. To make them easier to navigate, the company includes a clickable table of contents, which is a practical terms and conditions format to follow.
As the company collects substantial personal data, there is special consideration for passwords and security:
While there is no such thing as "perfect security" on the Internet, we will take reasonable steps to help ensure the safety of your personally identifying information.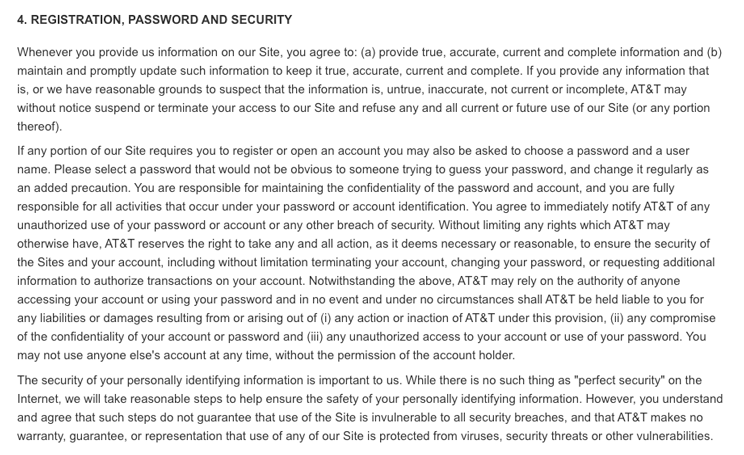 The company also waives responsibility for screening user-submitted content in comments and forums, while establishing its right to use and license any such material as it sees fit.
If your site allows users to post content that is accessible to the public, you may wish to include a similar section in your terms.
Apple Terms and Conditions
Unsurprisingly, Apple's terms and conditions have been very carefully crafted by its legal team. The terms clearly define what is considered acceptable use of Apple's services, and importantly, what is not.
Apple also conspicuously designates the governing law that will be used to arbitrate all disputes. The company decided to use the laws of the State of California to dictate arbitration, which is where Apple is located. However, your governing law doesn't necessarily need to be your company's physical location.
If you're looking for GDPR terms and conditions examples, try searching the European homepages of major companies. Here's how Apple's UK terms and conditions include the site's privacy policy in order to meet the GDPR's requirements:
5. Key Takeaways
Even though a website terms and conditions template is not a legal requirement, it's still extremely important to include such an agreement on your site.
It may sound dramatic, but having one could mean the difference between the long-term success of your operation and financial ruin due to avoidable litigation.
To protect your business, simply download our free terms and conditions template and tailor it to suit your specific needs by referencing our writing terms and conditions guide.
Or, if you're looking for a different type of terms and conditions, check out our other template pages to find what you need:
6. Terms and Conditions FAQ