A Terms and Conditions agreement outlines the rules that your website or mobile app users must follow. They usually cover topics such restricted behavior, payment terms, acceptable use, and more that we cover below.
Read on to learn more about terms and conditions agreements, why you should have one, and how to implement one using our sample terms and conditions template.
What Is a Terms and Conditions Agreement?
A terms and conditions agreement outlines the website administrator's rules regarding user behavior and provides information about the actions the website administrator can and will perform.
Essentially, your terms and conditions text is a contract between your website and its users. In the event of a legal dispute, arbitrators will look at it to determine whether each party acted within their rights.
Creating the best terms and conditions page possible will protect your business from the following:
Abusive users: Terms and Conditions agreements allow you to establish what constitutes appropriate activity on your site or app, empowering you to remove abusive users and content that violates your guidelines.
Intellectual property theft: Asserting your claim to the creative assets of your site in your terms and conditions will prevent ownership disputes and copyright infringement.
Potential litigation: If a user lodges a legal complaint against your business, showing that they were presented with clear terms and conditions before they used your site will help you immensely in court.
In short, terms and conditions give you control over your site and legal enforcement if users try to take advantage of your operations.
Is a Terms and Conditions Legally Required on My Website?
Technically, no. You aren't legally required to have a terms and conditions agreement.
However, having terms and conditions for websites is considered standard business practice in the US, Canada, the UK, and just about everywhere else — from South Africa to Australia.
If you plan to grow your business or expand your user base, a simple website terms and conditions page will provide your site with an additional layer of legal protection.
Reasons to Have a Terms and Conditions
Besides giving your business more legal protection, you should also have a terms and conditions agreement on your website for the following reasons:
To Set Liabilities Limits
Almost every terms and conditions agreement has a warranty or limitations of liability disclaimer. We'll cover it in more detail in our section about what clauses to include in your terms and conditions, but this clause essentially limits what customers can hold you liable for.
Most companies restrict liability for:
Inaccuracies and errors
Lack of enjoyment
Product or website downtime
Viruses, spyware, and product damage
To Outline Policies and Avoid Abusive Behavior
Many companies use their website's terms and conditions to lay down the rules that users must agree to and follow before accessing your website or service.
Most of these rules revolve around how users should interact with others and what they can and can't post or do.
To Terminate Abusive Users' Accounts
Your terms and conditions agreement is also a great place to list when and why you can terminate the accounts of abusive users. Most companies, for instance, will ban users if they're using the platform or site for illegal activities, bullying other users, and unauthorized web scraping.
Keep Others From Copying Your Content
Another reason for having a terms and conditions agreement is to disclose and protect your intellectual property rights.
Adding an intellectual property disclosure clause to your terms and conditions text informs users of your intellectual property rights, such as your logos, content, and other protected ideas and marks.
If you catch your users copying your content, you can take legal action against them since your terms and conditions agreement is legally binding.
To Outline Governing and Applicable Laws
Finally, you should have a terms and conditions agreement to inform users which federal or state laws — or both — govern your agreement.
If a dispute arises between you and your user, the court will use the governing law to interpret the terms and conditions agreement and its effects.
Information To Include in Your Terms and Conditions
Terms and Conditions agreements contain a broad range of guidelines for how you and your users can use your service or site.
Even short terms and conditions agreements should include several vital clauses to safeguard your business. Otherwise, your website's terms and conditions agreement will be incomplete, exposing you to many legal risks.
Here's what you should include in your terms and conditions agreements to prevent such misunderstandings and others:
Introduction
Your terms and conditions agreement should start with an introduction that lets users know they're reading a terms and conditions agreement.
You should also mention that anyone using your service, platform, or site must follow the terms.
Here's an example of how Apple introduces its Terms and Conditions:
Governing and Applicable Laws
As touched upon above, you need to establish what national or state law governs the agreement between you and the users. Most companies choose the law of their state or country or the country where users access their site or app.
Most governing law clauses are short and straightforward. Spotify, for instance, consists of only four lines.

Disputes and Indemnification
You should establish that if someone were to distribute your website or its products/services, it would get handled by the proper courts or arbitration.
Outline that you have a right to and will use appropriate legal counsel
Contribution Clause
If your site or application allows users to create content, you should include a contribution clause telling users what rights they have to the content they create through your application or website.
Contribution clauses can be quite lengthy, particularly if the platform allows users to create many types of content and join different community activities, such as contests and media programs.
For example, YouTube's contribution clause — which they call "Your Content and Conduct" — has eight sections for addressing the following:
Uploading content
Rights you grant to YouTube and other users of the service
License to YouTube
License to other users
Duration of licenses you grant
The right to monetize
How to remove your content
How YouTube can remove your content
Third Parties
This clause tells users that you are not responsible for any third-party services or sites to which your site links.
You should also tell users that they are solely responsible for reading the legal policies, rules, and terms and conditions of third-party sites and services.
This is how Vox discloses third-party links:
Disclaimer and Warranty
A disclaimer states that your site is available on an "as-is and as-available basis" and that users use it at their own risk.
Essentially, this clause states that you are not responsible for any damage that your service, product, or website may potentially cause a user.
This is an example of a disclaimer warranty from the popular video game Minecraft:
User Registration
If your site allows users to create user profiles, add a user registration section.
This section will limit your liability by reminding users that:
Their user credentials should always be kept confidential.
They are responsible for keeping their usernames and passwords safe from others.
They need to contact you immediately if their credentials get stolen, or they believe someone has gained unauthorized access to their accounts.
Acceptable Use
An acceptable use clause outlines what user actions and behaviors are acceptable, including following other policies and terms.
It also outlines what may be inappropriate and what actions you may take if a user does not comply. You can further outline this in the "Prohibited Activities" and "Suspension and Termination" sections (discussed below).
Check out how the popular travel app Hopper informs users of acceptable use:

If it makes sense for your business, you can also separate these rules into a standalone acceptable use policy (AUP) document.
Prohibited Activities / Restrictions
Explicitly listing prohibited activities is another way to stop visitors from misusing your site.
This section should include a special clause regarding user-generated content in forums and comments so you can remove offensive usernames and posts.
If your company has extensive user guidelines, you can create a separate user guidelines page and link to it here. For example, that's what Spotify did.
To give you a better idea of what this section should address, here are some of the prohibited activities in Spotify's User Guidelines:
Removing or changing any trademark, copyright, or any other intellectual property notice
Using any other user's username or password
Posting user content or registering usernames that are abusive, pornographic, offensive, obscene, discriminatory, or advocate violence
Using Spotify for illegal activities
Using the service to expose proprietary or confidential information of a third party or yourself that's not intended to be shown to the world
Copying or importing local files that you don't have the legal rights to copy or import
Scraping or crawling, whether by automated means or manually, to access, view, and collect information
Reverse-engineering, dissembling, decompiling, modifying, or creating derivative works unless this restriction is specifically prohibited by applicable law
Blocking advertisements or creating or distributing tools for blocking advertisements
Term and Termination
A term and terminations section protects you from abusive users by giving you the right to suspend user accounts and delete any content they post.
This clause is particularly useful if you offer Software-as-a-service (SaaS) applications.
For example, Etsy has a termination clause that outlines the circumstances and consequences of termination either by Etsy or the user.
Suspension and Termination
Explain when you can suspend and terminate users for inappropriate behavior.
Most companies will ban users for the following:
Advocating violence
Posting discriminatory, abusive, threatening, pornographic, or offensive content
Using the platform or site for illegal activities
Sending junk mail, spam, or chain letters
Exposing another user's personal information, including username(s) and password(s)
Limitation of Liability and Warranty
Every company that manufactures and sells products uses this clause to limit what customers can hold them accountable for.
Most startups will restrict liability for the following:
Lack of enjoyment, since it's subjective and prone to change.
Damage caused by viruses, spyware, or software damage.
Damage caused by third parties.
Modifications and interruptions — while you can include them as a separate clause as covered below, many companies choose to have it as part of their limitation of liability and warranty clause.
Errors and inaccuracies — as with modifications and interruptions, you can choose to include errors and inaccuracies in a separate "corrections" section. However, most companies choose to include it under this clause.
Also, remind customers from certain jurisdictions that these limitations of liability may not apply to them and that they may have additional rights.
Some jurisdictions, such as Quebec, have consumer protection laws that don't allow limitations of certain damages.
If your business is related to anything high-risk, consider having a specific section or disclaimer about this to protect yourself.
Modifications and Interruptions
This clause limits your liability if users claim any loss or damage because they can't use your site.
It accomplishes this by giving you the right to change or delete anything on your site and states that users may encounter hardware problems and downtime.
Here's a good example — taken from our own Terms and Conditions — of how to phrase this section:
Corrections
We're all human. If you make errors on your site, you need to remind users that you're not liable.
This section covers your back just in case there are any mistakes in your content, allowing you to update it with the correct information at any time.
Here's a great example from our Terms and Conditions:
Site Management or Support
Add a site management or support clause to tell users how you run your site or service. This clause will give users a better understanding of how your service works.
Companies typically include clauses that detail:
When they provide updates
When they monitor the site or service
When they perform routine inspection or system administration
Situations when they can refuse service or access to existing users and individuals
When they provide the service (i.e., 24/7/365)
When the help desk is available
If you offer complex services, you may want to include more clauses to explain how your service works.
For example, GBG — an identity verification and fraud prevention service provider — has a long site management or support clause that addresses the above as well as the following:
When they allow users to access reports on service usage
How long they maintain old versions of the web service interface
How fault reporting works and when process updates occur
How service restoration works for different service levels
Pricing
If your service sells memberships or products, you need to include a section on how you charge customers.
Use phrases such as "as available" for services and "as provided" for items to lower the chances of disputes.
To demonstrate that you are dedicated to transparency, you also need to list:
How you will handle transactions. For example: How long does it usually take to ship items? Or, how can customers get refunds?
All shipping costs. Consider linking to your shipping policy if you're running out of space.
Acceptable payment methods.
Deliveries
If products or services are delivered, outline specifics like what happens if:
There are shipping delays
Products get damaged during shipping
Packages get stolen after delivery
Services are faulty
Returns and Refunds
This section can be included under the pricing clause or be on its own. It should outline under what circumstances a customer may receive a refund (if at all) and what form of payment they may receive money back (product replacement, cash refund, site or store credit, etc.)
You can also include what happens in the case of damaged and defective goods or services.
Intellectual Property Notice
An intellectual property notice tells users about your intellectual property rights, such as your copyrighted and trademarked logos, photos, copy, and other protected ideas and marks.
This section is pretty straightforward and doesn't need to be lengthy.
Simply state that by agreeing to your website terms and conditions, users are agreeing that:
You own these marks and ideas.
They will not sell, modify, rent, loan, share, or distribute your content in any way.
They will not use your material in any manner except for noncommercial, personal uses.
Digital Millennium Copyright Act Notice and Policy
Your website's terms and conditions should also explain the rules the website administrator will abide by.
This section specifies that you will remove any material that infringes users' copyright according to the Digital Millennium Copyright Act.
Contact Information
Finally, you need to inform readers how they can reach you if they have any questions or concerns about your service and policies.
Most companies include at least two contact methods, which can include:
Email address
Online chat service
Postal address
Email address
Telephone number
Fax number
Privacy Policy
A privacy policy must live as a separate document, but it's sometimes part of the terms and conditions.
It keeps you in compliance with governments' privacy laws and prevents you from being fined.
Tips for a Good Terms and Conditions Agreement
Creating a terms and conditions agreement can be tricky — the final agreement must be legally sound and easy for users to understand. If you're going to tackle this on your own, here are some of our best tips on how to write a terms and conditions agreement:
Don't Copy Terms and Conditions Text from Another Website
Although it's tempting to copy your terms and conditions text from another site, this is a surefire way to get in trouble.
Firstly, terms and conditions always need to be tailor-made for your site.
While most terms and conditions use similar language, many clauses are highly specific to the site for which they are created. Therefore, you can't just copy terms and conditions text from another site and expect it to work for your site.
Secondly, you may end up with an incomplete terms and conditions agreement if you just copy it from another site. Unfortunately, many sites — especially smaller ones — have incomplete or plagiarized terms and conditions that don't sufficiently insulate them from legal and financial risks.
What's more, copying another site's terms and conditions may also land you in legal trouble for plagiarism. This is particularly true if you copy your terms and conditions from a reputable company.
Use Clear Language and Avoid Legalese
You can't expect your users to agree to your terms and conditions if they don't understand them.
Use simple language instead of complicated legalese makes life easier for your visitors. It also strengthens your defense if users decide to take legal action against you.
Here's a case that illustrates the power of clear language in legal documents: In 2019, Google received a GDPR fine of €50 million (~63 million USD) because its agreements weren't accessible to users and it wasn't transparent enough.
Seek Legal Advice From an Attorney
Consider seeking help from an experienced corporate attorney when working on the more legal sections and clauses of your terms and conditions.
If they're willing — and you have the budget for it — you can also ask your attorney to read through your whole agreement to see if anything needs fixing.
Consider If Minors Use Your Service
You should also think about the target market of your site.
If your target market includes minors, you need to have a "Children" or "Youth" section that outlines how the parents of the minors can consent before letting their children use your site.
Use Your Brand's Voice
Your terms and conditions are part of your site and brand. Use the same style, sentence length, and tone as other pages on your site. Otherwise, your users may get confused.
Use a Managed Solution
Including so many sections in your terms and conditions can be overwhelming. That's why you should consider using our automated terms and conditions solution.
Instead of coming up with each clause from scratch, all you have to do is answer a few questions about your company and your user base, and we'll do the rest.
Where to Post Your Terms and Conditions
Once you've created a terms and conditions agreement, you need to display it in a prominent area of your website or app.
Here are the top six places to put your terms and conditions:
Inside Current Legal Policies
Link your terms and conditions in other legal documents on your site, such as your End-User License Agreement (EULA) or privacy policy.
Since users typically read all of your site's legal notices in one go, these links will make it easier for them to understand what they're agreeing to by joining your site.
Informational Menus or Sections
Placing your terms and conditions in informational menus and sections throughout your site will remind users that they can read your terms and conditions at any time.
It will also make it easier for them to access your website's terms and conditions as needed.
Website Footer
Most companies put their terms and conditions in the footers of their sites. So that's where visitors typically expect to see a link to your site's terms and conditions.
Banners and Pop-Ups
You should also put a link to your terms and conditions on a pop-up or banner that appears whenever users access your site for the first time.
This placement will give you an advantage in the event of a legal dispute because you can demonstrate that you showed the user your website terms and conditions before they started using your service.
During Sign-Up
Another great place to link to your terms and conditions agreement is during the sign-up process.
As with banners and pop-ups, placing a link to your terms and conditions during the sign-up process will give you an advantage in court.
During Checkout
Last but not least, you should link your terms and conditions during checkout. Doing so will shield you from legal and financial risk, particularly if your terms and conditions have detailed pricing disclosure and site support clauses.
For example, let's say you run a laptop store and accidentally send a customer the wrong item. You can point to your site support clause to cancel the order to avoid miscommunications and liabilities.
How To Enforce Your Terms and Conditions Agreement
Merely having a terms and conditions page and placing links to it throughout your website isn't enough to get agreement, at least in the eyes of the court.
In most jurisdictions, including the US, and the UK, you need clear evidence that users have read and consented to your terms and conditions. That's why you should consider clickwrapping your terms and conditions.
Clickwrap forces users to manually click a button or checkbox to indicate that they've read and accepted your terms and conditions before they can use your site or service.
Terms and Conditions Examples
Most companies, at minimum, have a basic terms and conditions agreement for their website, app, or online store.
Although it's important to avoid copying another policy, taking inspiration from other sites' terms and conditions can help you kickstart your terms and conditions creation process.
Create Your Free Terms and Conditions Using Termly
Here's how you can use Termly's generator to create comprehensive and customized terms and conditions like the examples below:
Step 1: Go to Termly's terms and conditions generator.
Step 2: Answer a few simple prompts and questions, and go through all of the steps until you reach "Final Details."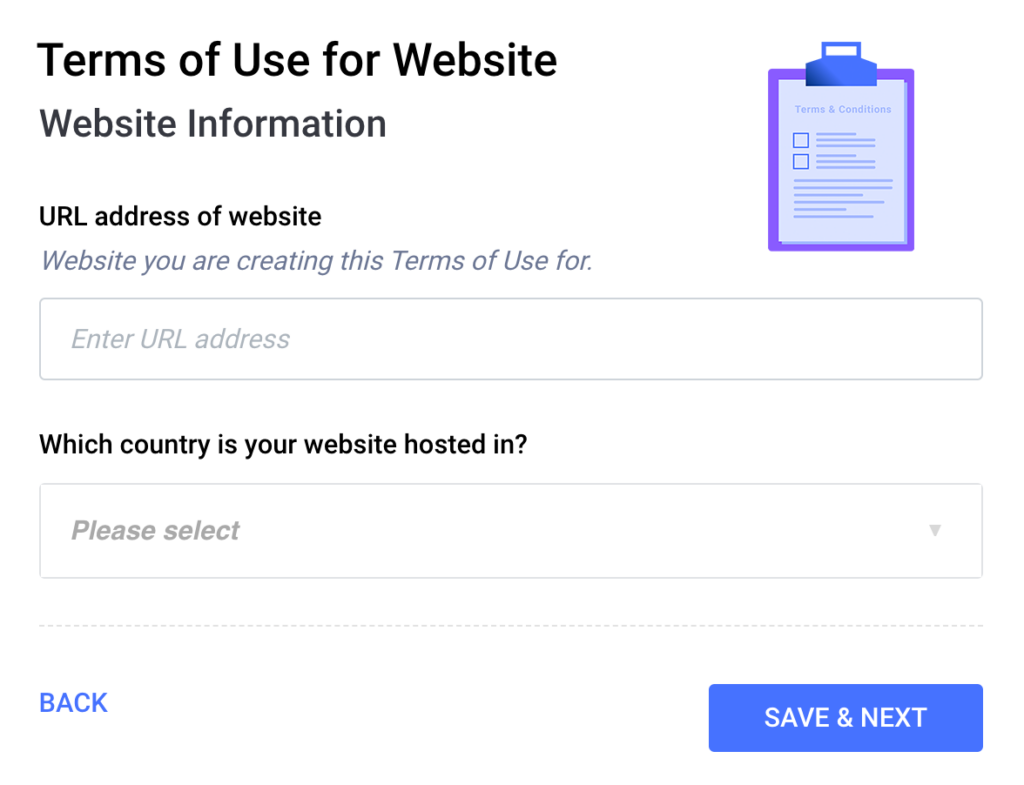 Step 3: Once you've filled in everything and you are satisfied with the preview, click "Publish." You will then be prompted to create an account on Termly so you can save and edit your terms and conditions further.
Here are some great examples of terms and conditions agreements:
McDonald's Online Services Terms and Conditions
First, let's take a look at McDonald's terms and conditions.
The first thing you'll notice when you go on their site is that McDonald's terms and conditions link is easy to find on their site since it's in the footer:
McDonald's terms and conditions text is also easy to understand. It's written in a simple, straightforward way that matches their brand and general tone, so anyone can get a clear picture of what they're agreeing to.
At the same time, the terms are still explicit and legally rock-solid.
A great example is its limitations on liability and disclaimers clause:
As you can see, McDonald's has bolded the parts to which users need to pay attention. Although most sites typically have legalese-heavy limitations on liability and disclaimer clauses, they've also made each sentence short and to the point.
AT&T Terms and Conditions
Another great example comes from one of the world's largest telecommunications companies, AT&T.
AT&T's terms and conditions are incredibly detailed and comprehensive.
The company includes a clickable table of contents to make them easier to navigate. Consider doing the same if you have lengthy terms and conditions.
AT&T has given special consideration to passwords and security because it collects a substantial amount of personal data from customers.
At the same time, it protects itself from liability by controlling user expectations. Specifically, it says that there is "no such thing as 'perfect security.'" However, the company will take "reasonable steps to ensure the safety of [users'] personally-identifying information."
AT&T also waives responsibility for screening user-submitted content in comments and forums while establishing its right to use and license any such material as it sees fit. If your site allows users to post content that is accessible to the public, you may wish to include a similar section in your terms.
Apple Terms and Conditions
Apple's terms and conditions have been very carefully crafted by its legal team. The terms clearly define what is considered acceptable use of Apple's services and, more importantly, what is not.
Apple also conspicuously designates the governing law that they will use to arbitrate all disputes. The company has decided to use the laws of the State of California to dictate arbitration, which is where Apple is located.
However, your governing law doesn't necessarily need to be your company's physical location. For example, some companies select the law of the state or country from which users are accessing their services.
Apple also has a solid user guideline section that outlines what constitutes impermissible behavior. For instance, it says that users may not:
Use "robot," "spider," or other automatic algorithms to copy, access, or monitor any part of Apple's site or content.
Try to gain unauthorized access to any feature or portion of the site or any networks or systems connected to the site.
Scan, probe, or test the vulnerability of the site or any network connected to it.
Breach the authentication or security measures on the site or any network connected to it.
Create headers or manipulate identifiers to hide the origin of any transmittal or message you send to Apple, through the site, or any service offered through or on the site.
Terms and Conditions FAQs
Is a Terms and Conditions agreement legally required?
You're not legally required to have a Terms and Conditions agreement. There are, however, many advantages to having one for you as well as for your users or customers.
As well as increasing your control over your platform, it will help your users understand your rules, requirements, and restrictions for using your site or app.
What are the benefits of having a Terms and Conditions agreement?
There are several benefits of having a Terms and Conditions agreement, but the main one is that you dictate and control how your website or app gets used.
You'll be able to list your rules and requirements, disclaim warranties, limit your liabilities, and maintain the right to terminate accounts that don't adhere to your rules.
Your users will also benefit from your Terms and Conditions agreement because your expectations will be clear from the beginning. For example, they will know what they are and are not allowed to do, how they can and cannot act, how you will handle certain situations such as arbitration, and how they can terminate their accounts.
Your Terms and Conditions will also save you the headache of having to constantly answer the same questions over and over again.
What clauses should be in my Terms and Conditions agreement?
Some clauses are specific to certain types of businesses and won't be found in all Terms and Conditions agreements. For example, you won't need a clause about subscription payment terms if you don't offer paid subscriptions.
There are some Terms and Conditions clauses that will only be applicable in certain situations. For example, you don't need a payment terms clause if you don't collect any payments.
However, just about every Terms and Conditions agreement should have the following:
An introduction
A clause indicating your right to make changes to the agreement
User rules, restrictions, and requirements (Guidelines)
A clause outlining your copyright and intellectual property
Governing law for arbitration and litigation
A warranty disclaimer clause
A limitation of liability clause
A clause outlining termination of accounts/service
Your contact information
The number of total clauses you have will depend on your website or app's complexity. Additionally, some more specific clauses are:
Some business-specific clauses include the following:
Payment terms
Canceling service or subscription
Refunds
User-generated content
Where do I display my Terms and Conditions agreement?
Display your Terms and Conditions agreement in the following places, where applicable:
You can display your Terms and Conditions agreement in a few places, such as:
A link to it from your website footer so that it's always accessible
In an information menu within your app
Your user account creation flow — is a good place to inform users of your rules, requirements, etc.
On a checkout page as a helpful reminder for customers
On any page where you feel users would benefit and need a reminder
Your Terms and Conditions should be accessible at all times and at various touchpoints with your users.
Are "terms and conditions" and "terms of use" the same?
Download Sample Terms and Conditions Template
You can download our free terms and conditions template below in Word Doc, PDF, or Google Doc format. You can also just copy & paste the HTML directly to your website.
Before using it, read through the entire terms and conditions template – fill in all of the [brackets], remove any sections that do not apply to your app, and tweak any language as needed.
Website Terms and Conditions [Text Format]
Last updated [Date]
AGREEMENT TO TERMS
These Terms and Conditions constitute a legally binding agreement made between you, whether personally or on behalf of an entity ("you") and [business entity name] ("we," "us" or "our"), concerning your access to and use of the [website name.com] website as well as any other media form, media channel, mobile website or mobile application related, linked, or otherwise connected thereto (collectively, the "Site").
You agree that by accessing the Site, you have read, understood, and agree to be bound by all of these Terms and Conditions. If you
Full View

Terms and Conditions Template HTML
You can copy our terms and conditions template HTML code or download it using the options below.
Additional Template Download Options
Our terms and conditions sample texSt is suitable for the following websites and platforms:
Small business website
Online shop
Mobile app
E-commerce / online store
Online store
Affiliate program
Retail website
Online payment
Subscription
Free trial
Online sales
Forum
Blog
Desktop app
Software as a Service (SaaS)
Facebook app
Or, if you're looking for a different type of terms and conditions template, check out our other options to find what you need:
Summary
Every company should have a terms and conditions agreement for its website, app, or service. You can unnecessarily expose yourself to legal and financial risks if you don't have one.
A comprehensive terms and conditions agreement will give you control over:
How your site gets used
Who gets to use your platform
How you manage your site or service
What constitutes acceptable and unacceptable user behavior
Your intellectual property
At a minimum, your terms and conditions agreement must include the following clauses:
Introduction
Governing and applicable laws
Disputes and Indemnification
Contribution clause
Third parties
Disclaimer and warranty
User registration
Acceptable use
Prohibited activities/restrictions
Term and terminations
Suspension and termination
Limitation of liability and warranty
Modifications and interruptions
Corrections
Site management or support
Pricing
Deliveries
Returns and refunds
Intellectual property notice
Digital Millennium Copyright Act (DMCA)
Contact information
Privacy policy
After you've finished your terms and conditions, put a prominent link to it in:
Your current legal policies
Informational menus or sections
Your website footer
Banners and pop-ups
During sign-up
During checkout