If you run an ecommerce store, overlooking your terms and conditions isn't an option. Your terms are an essential tool for avoiding customer disputes over product defects, payment methods, shipping fees, and more.
Our FREE ecommerce terms and conditions template will give you a head start toward creating your own. Scroll down below to download our template and view related terms and conditions examples.
1. Terms and Conditions for Online Store [Free Template]
Expand the accordion below to view the full text version, or click the button under it to download the template as a Microsoft Word doc and PDF.
Need terms and conditions for your blog or mobile app? See our library of terms and conditions templates.
2. Whats Special About a Terms and Conditions for Ecommerce?
An ecommerce terms and conditions is a legal agreement that explains the rules regarding things such as owner-customer responsibilities, pricing and payment, ecommerce returns, promotions, and shipping details. The terms for an ecommerce shop will also limit the business's liability for the accuracy of product descriptions, availability of products, and product defects.
As it's a legal contract between an owner and their customers, the goal behind creating a terms and conditions is to create an extra layer of protection for an online business. Furthermore, a clear and easily accessible terms and conditions can serve as a means of offering your customers a sense of clarity and trust in your business practices.
You may find that companies refer to their terms and conditions as:
Terms of Service (ToS)
Terms of User (ToU)
Terms & Conditions (T&C)
Terms of Agreement
User Agreement
Conditions of Use
3. Does your Online Store Need a Terms and Conditions?
Surprisingly, there is no law that requires an online store to present a terms and conditions agreement. With that said, dismissing your terms as an overly cautious, nonessential legal document is a huge mistake.
Your terms is a critical document because it will help protect your business by limiting your liability, preventing misuse of your site by customers, and establishing ownership of your content and intellectual property (IP).
While no laws explicitly establish the need for terms, there are some regulations that specify what a legally-binding terms and conditions should look like. Moreover, if you do have one on your website, it may be legally required – dependent upon your location – for it to avoid legalese and be written in plain language and fair to consumers. For example, in Europe terms can voided if they disadvantage consumers or are not grammatically clear and transparent.
Most ecommerce terms of service should, at the very least, cover the following:
Payment Terms
User Product Reviews
Prohibited Activities
Ordering & Delivery
Warranties
Third-Party Sellers
Special Promotions & Programs (e.g. gift cards, certificates)
Liability Limitations
Disputes
Copyright & Trademarks
4. Noteworthy Ecommerce Terms and Conditions Examples
Although no two terms and conditions are exactly the same, there are valuable lessons that can be learned from reviewing agreements from other online stores.
Let's examine some prominent examples from the top ecommerce websites to discover some features that you can apply to your own terms of service.
Amazon: Provide clear rules for promotions
Promotions and discounts are a great way to drive new customers to your site. However, if details regarding eligibility, time constraints, and qualifying items are not clear to consumers, your promotion can quickly become a customer service nightmare for your business.
Amazon's Coupon Terms & Conditions provides a straightforward outline of the criteria for applying coupons to purchases on their site: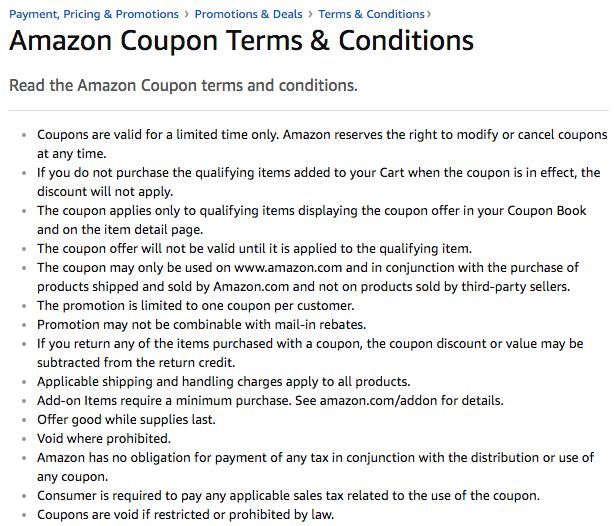 The bullet point format makes it easy for consumers to skim through the list and learn how and when the promotion can be used on Amazon. When completing this section, consider all the questions your customers may have regarding your special programs, and the different scenarios that may apply.
Ebay: Spell out the rules for user conduct
As mentioned earlier, prohibited activities for users is a key section of all terms and conditions. Ebay's user agreement presents an extensive list of forbidden actions that, if taken, can result in the cancellation or banning of a customer account.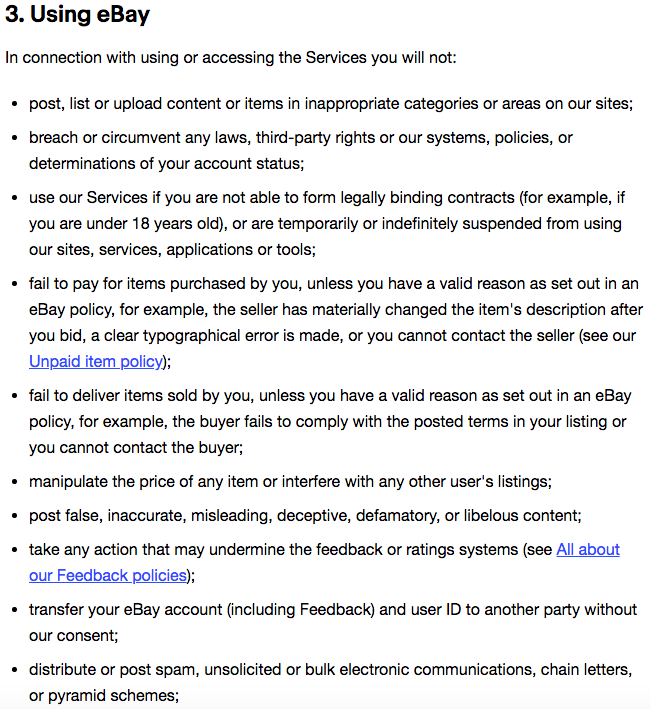 Your list will likely look different than Ebay's, but there are some common actions that most ecommerce sites will include in their prohibited activities list:
Inappropriate language or content
Late, or failed payments
Inaccurate or misleading product information
False reviews and ratings
Data mining
Bullying other users
Unlawful exporting of products
Infringing on IP or copyright
Etsy: Limit your liability
A terms and conditions agreement isn't complete without a detailed explanation of your product warranties and liabilities for things such as products, content, and third-party services. Without this section, you leave your business at risk to be sued for a long list of legal issues.
Etsy's terms of use gets a bit cheeky, but should be commended for how it presents the information in plain language and avoids confusing legalese.
Walmart: Outline delivery details
Shipping can be a sticky issue for ecommerce businesses. There's always a risk of losing a product in transit, additional shipping fees, and stringent delivery restrictions. To mitigate your business's liability for shipping mishaps, include clauses similar to Walmart's terms of use:
5. Final Words
Creating lengthy terms and conditions for your ecommerce website can feel like a burden, especially since they are not required by law. But without a thorough set of terms, you put your business in an unnecessarily risky legal position.
Instead of starting with a blank page, use the template above to give you a foundation to build off of and tailor to apply to your own business.
If you're looking for a different type of terms and conditions, check out some of the other terms and conditions templates that we offer: