Under copyright law, original works are given copyright protection in order to prevent theft and unauthorized use. Copyright examples include creative works with a tangible form, such as art, music, or literary works.
Continue reading to learn about copyright examples in more detail, whether you need a copyright notice, and how to write one.
What Is Copyright?
Copyright is a form of legal protection that gives you ownership rights to your original works. The moment you create a work of creative expression that falls within the scope of US copyright laws, it is automatically protected by law.
Copyright protects your original works, published or unpublished, in the event that they're stolen or plagiarized.
Copyright provides the creator with exclusive rights to:
Reproduce the work
Distribute or sell the work
Display or perform the work publicly
Create derivative works based on the original work
Copyright also allows the copyright holder to authorize or restrict others in exercising these rights.
To gain further protection of your works, you can register your copyright with the Copyright Office or add a copyright notice to your original works to help deter copyright infringement, the unauthorized reproduction, distribution, or display of copyrighted material.
Copyright Examples
According to the US Copyright Office, copyright applies to original works of creative expression that are captured in a tangible form. The copyright goes to the original creator of the work, who can choose to sell their rights to other parties.
Examples of works that can be copyrighted include:
Architectural works
Sound recordings
Audiovisual works, including motion pictures
Artworks
Dramatic works, including any accompanying music
Musical works, including any accompanying words
Literary works
Choreographic works
Copyright protection comes with exceptions. Under section 107 of the Copyright Act, copyrighted works can be used or borrowed without the creator's permission for "fair use" purposes, such as education or commentary.
There are also limitations to the types of works that copyright protection applies to. Examples of content not protected by copyright include:
Ideas, methods, systems, concepts, or discoveries
Works that don't have a tangible form (i.e. not captured in or using a physical medium)
Titles, names, slogans
Familiar symbols or designs
Variations of typefaces or lettering
Ingredient lists
Copyright laws only provide copyright protection to original, creative works with a physical form.
Do You Need a Copyright Notice?
No, you don't need a copyright notice, as it's not legally required, and copyright is automatically applied to original works. However, it's a best practice to put a copyright notice on all your published works as an extra layer of protection.
A copyright notice informs users that your work is copyrighted, thereby reducing the chances of copyright infringement. In the event that infringement does occur, having a copyright notice helps solidify your case in court as the infringer should've been aware that your content was copyrighted.
How to Write a Copyright Notice
You write a copyright notice by including three components in the following order:
The copyright symbol (©) or the word "copyright"
Year(s) of publication: A year or a range of years if your content gets updated.
Name of the copyright owner: This can be an individual, multiple individuals, an organization, or a business.
You can also add a statement of rights to clarify the rights you hold over your work, such as:
All rights reserved: You own all rights to your work.
Some rights reserved: You allow the use of your materials under certain circumstances.
No rights reserved: You release your work into the public domain.
This standard copyright format is often used for copyright footers on websites.
How to Display Copyright Notices
Your copyright notice should be displayed conspicuously so that anyone who views your work knows that the work is copyrighted. The placement of your copyright notice depends on the type of work or content you're putting your notice on.
For example, copyright notices are often displayed on websites as copyright footers, but some sites also include a dedicated copyright statement section or page.
Here are some other examples of common copyright notice placements for various works:
Books or ebooks often have a copyright page at the beginning or end of the book.
Photos and other forms of digital art often have a copyright statement near the bottom of the work or a watermark label.
YouTube videos often have a copyright notice in the video description or video credits.
Generate a Free Customized Disclaimer Using Termly
Here's how you can use Termly's generator to create a custom and legally compliant disclaimer for your needs.
Step 1: Go to Termly's disclaimer generator.
Step 2: Answer a few simple prompts and questions, and go through all of the steps until you reach "Final Details."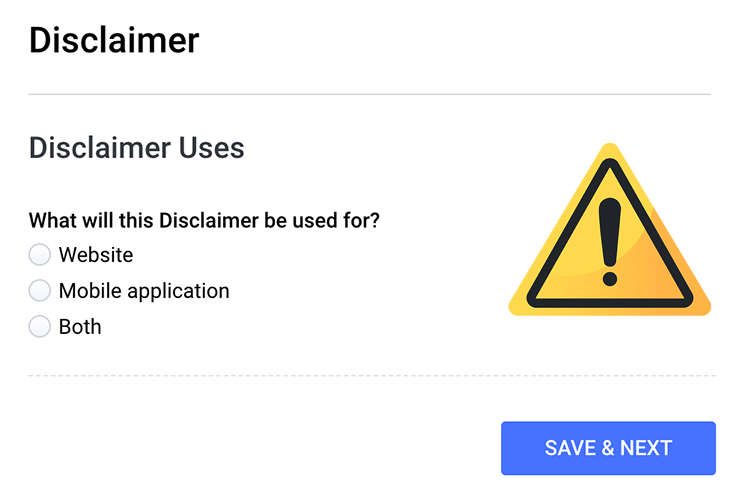 Step 3: Once you've filled in everything and you are satisfied with the preview, click "Publish." You will then be prompted to create an account on Termly so you can save and edit your legal disclaimer further.
Copyright Notice Examples
Copyright notices vary in wording and level of detail depending on the type of work they apply to and the creators' preferences. Let's go over some sample copyright notices for different types of content to see how it can protect original content.
Website Copyright Footer
Pixar's copyright footer follows the standard copyright format. After the copyright symbol, there's a range of years, from the year the corporation started to the current date, followed by names of the companies that own the copyright.

Like this example, your copyright statement can include a range of years if you've expanded or updated your content since the original publication date.
All Rights Reserved Statement
Affinity Art's copyright all rights reserved statement links to the art gallery's copyright statement page, which clarifies that they've received permission from artists to display their original artworks on the site.
The copyright statement specifies that the images and content from the site can only be used for fair use purposes, and any violations of the Copyright Act may lead to legal action.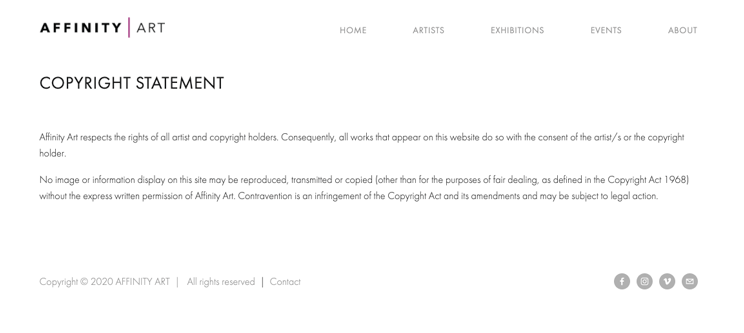 Like this example copyright notice, you can add an "All rights reserved" statement to your copyright footer to declare full ownership over your content. You can also link to a copyright notice, as the example does, to provide more copyright details.
Copyright Page Example
Architecture firm Henneman + Associates' copyright page states that the site content can't be copied or reproduced unless there's express permission from the site owners.
They also include a copyright disclaimer statement explaining that the site displays copyrighted photos and documents with the owners' permission.
If you allow the use or display of your copyrighted material under certain circumstances, outline the rules for use in your copyright page, as shown in the example.
Protect Your Work With a Copyright Notice
US copyright laws ensure that your creative works are copyrighted the moment they're created. This protects your content from theft and copyright infringement.
Strengthen the protection of your work by adding a copyright notice to let others know that your work is copyrighted and requires authorization for use.
Copyright Examples FAQs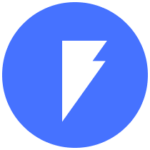 Try Termly for Free!
Termly is a an easy-to-use solution for data privacy compliance and consent management.
We know that keeping up with complex data privacy laws can be confusing and time-consuming; that's why we do the hard work for you!
Try our legal policy generators and cookie consent management solutions for FREE!