A YouTube disclaimer is a statement placed on a Youtube video or in the video's description that helps reduce legal liabilities or provide protection for original content.
You may need a YouTube disclaimer if:
your video provides advice.
your video features other people's intellectual property.
your video features your own copyrighted materials.
This article will explain what a YouTube disclaimer is, when you should use a YouTube disclaimer, and how to create YouTube disclaimers for various needs.
What Is a YouTube Disclaimer?
A YouTube disclaimer is a statement that explains the risks that might arise from using your content, or announces the presence of copyrighted work in your video. A YouTube disclaimer can help protect you from lawsuits and prevent undesirable use of your creations.
Types of YouTube disclaimers include:
Why Have a YouTube Disclaimer
A YouTube disclaimer can help protect you and your content. YouTube original work copyright disclaimers can discourage others from using your work without permission.
If your video borrows someone's copyrighted content for fair use purposes, a YouTube fair use disclaimer can help protect you from copyright infringement claims.
A YouTube liability disclaimer can also protect you from lawsuits that may arise from the use of any product, service, or advice you provide in your video.
YouTube Disclaimer Examples
Uploading content on mass media sites like YouTube comes with potential legal risks, so many creators put disclaimers on their videos to reduce liabilities.
Let's look at some examples of YouTube video disclaimers to demonstrate how different types of disclaimers can be applied to different types of content.
YouTube Copyright Disclaimer
A YouTube copyright disclaimer helps prevent unauthorized use of your creation by others. CBS's trailer for their original series comes with a copyright disclaimer in the video description.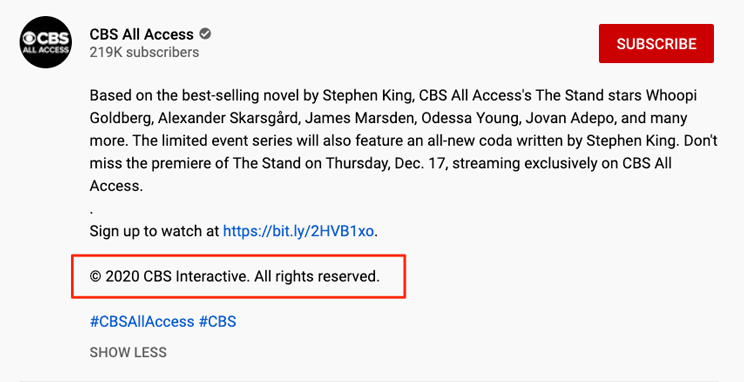 Although copyright protection is automatically granted as soon as the original content is created, a copyright disclaimer allows you to explicitly declare your rights, and deter copyright infringement.
Include a copyright statement or disclaimer for your video as an additional layer of protection for your original work.
YouTube Fair Use Disclaimer
Fair use principles under Section 107 of the Copyright Act allow the unlicensed use of copyrighted materials for fair use purposes, such as commentary, criticism, teaching, and news reporting.
If you use unlicensed material, ensure it's within the scope of fair use and cite the law in your disclaimer.
For example, The Cosmic Wonder's YouTube video features stills and footage from Marvel movies and includes this fair use disclaimer:
Copyright laws vary from one country to another, so if you use material from a non-American source, you should consult that country's laws.
YouTube Disclaimer For Music
Use a YouTube disclaimer for music when you cover or sample someone else's musical work.
A YouTube cover of Justin Bieber's "Never Say Never" includes the following YouTube music disclaimer: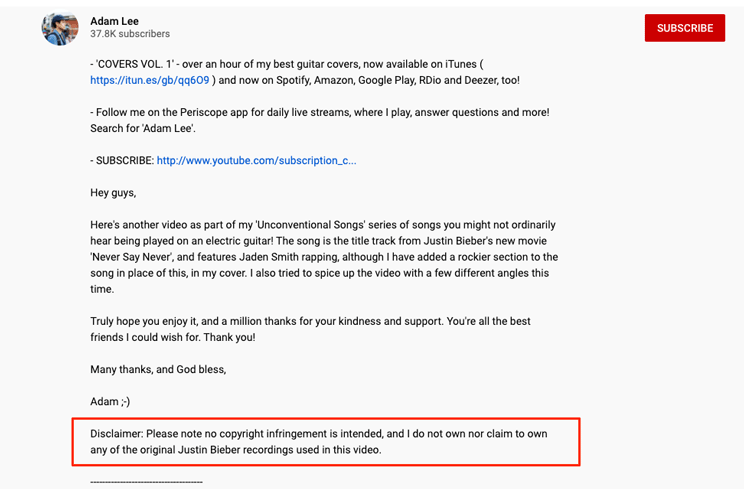 Use a YouTube disclaimer for music whenever you feature any form of music created by someone else.
YouTube Liability Disclaimer
You need a YouTube liability disclaimer if you post a video that provides any kind of perceived expertise or advice.
A YouTube liability disclaimer should explain that your information is not professional advice and should be acted on at the user's own risk.
This YouTube video about traffic laws and drivers' rights includes a legal disclaimer in the video description, specifying that the video content does not substitute a legal consultation.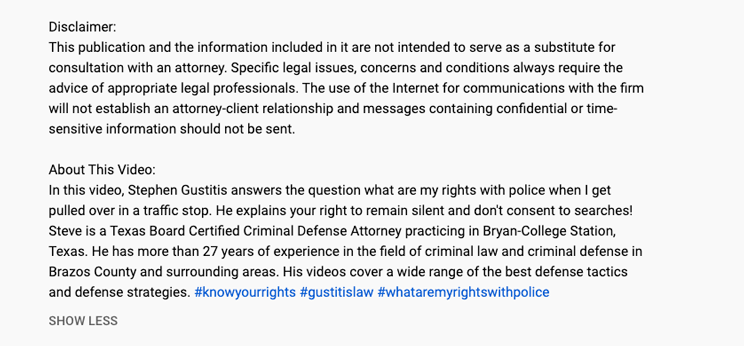 If your video presents legal advice, explicitly express that no attorney-client relationship is formed through the video, as in the example above.
If your video presents medical advice, include an additional medical disclaimer stating that your content does not substitute professional medical advice, and no doctor-patient relationship is formed through the video.
How to Write a Disclaimer For YouTube
You can write a disclaimer for YouTube from scratch or customize a disclaimer template to address relevant rights and liabilities.
Consulting legal counsel is always the best option if you post high-liability content or are vulnerable to copyright lawsuits.
Where to Display a YouTube Disclaimer
Display your YouTube video disclaimer in places where viewers can easily find it, such as in the video description or in the video content.
Your YouTube user page has all of your videos collected in one place. This user page is also a good place to include a disclaimer you wish to apply to all your videos, but should not take the place of disclaimers on individual videos.
Create Your YouTube Disclaimer Now
When posting videos on YouTube, include a YouTube disclaimer to protect yourself from possible lawsuits or protect your own content from theft.
If your videos feature any professional advice, include a YouTube liability disclaimer for disclaiming responsibility for how others act on your advice.
Additionally, it is best to review old material you've created and add a YouTube disclaimer where you don't already have one to strengthen your legal protection.
Generate a Free Customized Disclaimer Using Termly
Here's how you can use Termly's generator to create a custom and legally compliant disclaimer for your needs.
Step 1: Go to Termly's disclaimer generator.
Step 2: Answer a few simple prompts and questions, and go through all of the steps until you reach "Final Details."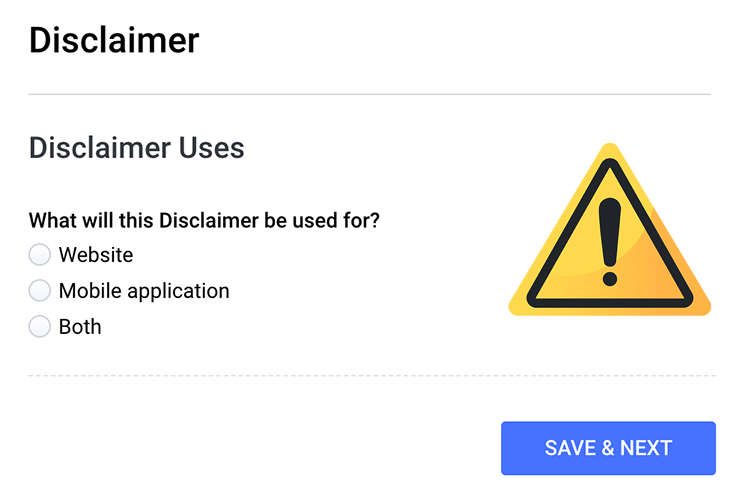 Step 3: Once you've filled in everything and you are satisfied with the preview, click "Publish." You will then be prompted to create an account on Termly so you can save and edit your legal disclaimer further.
YouTube Disclaimer FAQs