Customer testimonials are incredibly powerful for businesses. Data strongly suggests they can effectively persuade people to buy your product or service.
But if you don't post the right type of testimonial disclaimer, depending on regional laws, your business could face legal troubles, large fines, and public scrutiny.
This guide outlines everything you need to know about what a testimonial disclaimer is, why and when you need one, and what laws require it.
What Is a Testimonial Disclaimer?
A testimonial disclaimer is a statement placed on a website, app, or social media page to tell readers that their experience may not be the same as described in a review or endorsement.
It also lets people know if the reviewer was compensated in any way.
Testimonial disclaimers are required by law in certain situations and locations, and there are different types you might choose to use depending on what industry you're in, including:
Results may vary disclaimer
Patient testimonials
Advice disclaimers – i.e., medical, legal, financial
We'll discuss what goes into these disclaimers with real-world examples later in this guide, but first, let's discuss who needs one.
Who Needs a Testimonial Disclaimer?
Due to regional laws and regulations, most businesses need to publish testimonial disclaimers if they share user testimonials, customer reviews, or other endorsements on their:
Websites
Apps
Marketing emails
Across social media platforms
If your business uses endorsements in any of the following ways, you may be legally required to post a testimonial disclaimer:
Your website or app includes reviews or endorsements for your products or services
You pay people for reviews or testimonials
You pay people to make social media posts endorsing or recommending your product, business, or service
You give someone a free product in exchange for a review
Users are otherwise compensated for giving their opinions on the product or service — i.e., offering discounts, deals, or entering them into sweepstakes
In legal terms, this is considered a material relationship between you and the person providing the review because their opinions aren't organically generated. Therefore, you must disclose this information in a disclaimer.
Because reviews only describe one person's experience and are not a guarantee, promise, or reflection of the feelings of every user, you can also use disclaimers to state that the views expressed do not reflect your opinions and that you're not liable for what users say or do, which helps protect your business.
But if you give out free products to many people as part of a big promotion without requiring or expecting a review, and someone writes one after receiving the product, no disclosure is necessary.
Types of Testimonial Disclaimers
The types of testimonial disclaimers you use depend on what industry your business is in, so in the next section, we've outlined the most common types of relevant disclaimers regarding consumer testimonials and included screenshots of real-world examples.
Promotional or Endorsement Disclaimer
An endorsement or promotional disclaimer lets users know when someone reviews a product for someone they're in a material or contractual relationship with.
This is the most common type of testimonial disclaimer, and both brands involved in the endorsement should plan to post one to avoid trouble with consumer protection laws.
You'll often find these on social media posts, podcasts, or videos.

First, see how a business would post this type of testimonial disclaimer in the example screenshot below from College Baseball Insights — a website that helps families research sports colleges that also compensates some customers in exchange for reviews.
Product Review Disclaimer
If you repost customer product reviews on your site, include a product review disclaimer to let people know all of the following:
That the views and opinions don't represent those of your company
The their reported experiences are not promises or guarantees
How you receive the testimonials — i.e., text, audio, video
If and how you might edit or change testimonials — i.e., for grammatical purposes or to shorten the length
Use this space to also stipulate what guidelines you have for users submitting product testimonials.
Remember, you must clearly state if they received free products, discounts, or any other compensation benefits.

Here's an example of how to write this testimonial from the pet-sitting service Durango Pet Sitting.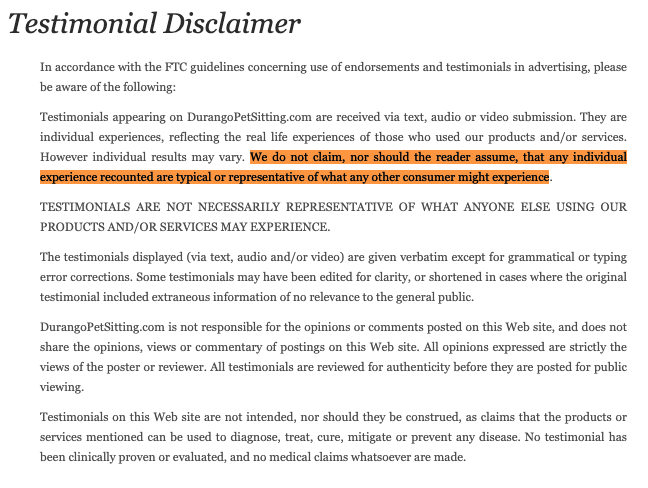 Results May Vary Disclaimer
If you provide a service or product that could be perceived as providing consumers with health, financial, or legal benefits, post a "results may vary" disclaimer to let people know that the reviews, comments, and endorsements reposted on your site don't reflect every person's experience.
Also called a "results not typical" disclaimer, this statement helps limit some of your liabilities and sets proper customer expectations.

Below, see an example of how to phrase this type of testimonial disclaimer from Heather Shultz Acupuncture, a health and wellness website.
Patient Testimonials Disclaimer
Use a patient testimonial disclaimer if you reshare endorsement posts from people who might be perceived as patients for medical services, health-related products, or anything similar.
This disclaimer helps you limit your liabilities because you can explain that patient experiences are individual and do not constitute real medical advice.

Below is a patient testimonial disclaimer from the Dean McGee Eye Institute, a vision correction facility in Oklahoma.

Benefits of Having a Testimonial Disclaimer
Using testimonial disclaimers benefits both your business and your customers by:
Protecting your business from legal issues
Building customer trust by showing you're an honest company
Limiting your liabilities
Let's discuss each of these benefits in greater detail.
Testimonial Disclaimers Protect Your Business from Legal Issues
Posting a testimonial disclaimer on your website, app, or social media page can prevent you from getting into trouble with consumer protection groups like the:
Various laws around the world — which we'll discuss in the next section — require businesses to publish testimonial disclaimers in order to post customer reviews, testimonials, or experiences on their website, app, or social media platforms.
The penalties for failing to adequately follow legal testimonial guidelines can be extreme, just take a look at some recent FTC crackdowns:
Teami (2022) — Sued by the FTC for more than $930,000 in 2022 due to deceptive marketing claims
Fashion Nova (2022) — Sued by the FTC for $4.2 million for suppressing and removing imperfect and negative customer reviews
iHeartMedia and Google (2023) — Publicly reprimanded by the FTC for having radio personalities promote the Pixel 4 as if they owned one despite no one ever actually receiving or using the device
Testimonial Disclaimers Build Customer Trust
Another benefit of using testimonial disclaimers is that it establishes your company as honest and transparent, which helps build and maintain customer trust.
Establishing yourself as a trustworthy company is essential for retaining sales. Just check out some of these mind-blowing customer statistics regarding personal data:
60% of users say they would spend more money with a brand they trust to handle their personal data responsibly. (Global Consumer State of Mind Report 2021)
88% of users' willingness to share personal data depends on how much they trust a company. (PwC)
54% of users say it's harder than ever for companies to earn their trust. (Salesforce)
Testimonial Disclaimers Limit Your Liabilities
Using testimonial disclaimers on your website or app can help prevent your business from being held liable for your customers' words, comments, or opinions.
You can stipulate in your disclaimer the expectations customers must follow when commenting or posting their testimonials to your site. This allows you to ban and remove abusive comments, excessive spamming, or illegal behavior.
Laws Impacting Testimonial Disclaimers
Several laws and regulations around the globe require businesses to post testimonial disclaimers to use, reproduce, and share customer endorsements, including the:
In the next sections, we'll discuss how these laws affect your use of customer testimonials on your site or app.
Federal Trade Commission Act
In the US, the Federal Trade Commission (FTC) governs the use of testimonial disclaimers through the Federal Trade Commission Act.
Failure to comply with this law can result in civil fines or criminal prosecution.
According to an endorsement guide released by the FTC, you must post conspicuous disclosures if there is a material connection between the endorser and the company.
In other words, if a user is obliged to submit a review or provide an opinion for your company — implied or otherwise — you must transparently disclose this connection.
There are a few guidelines you must follow to stay compliant with the FTCA:
Posting a full disclosure whenever customers are compensated or considered for compensation by providing a review
Publishing disclosures clearly and conspicuously — they must be easy to read and placed near the claim being made
Clearly disclosing if the experience depicted in a review is not typical
Revealing if a company employee gives a review
Only using endorsements written by people who actually used the product or service
Stating clearly if a paid actor performed the endorsement
Disclosing the credentials of any professionals who endorse your product or service
United States Copyright Act
User-submitted testimonials can be considered "literary works" under the United States Copyright Act, making it essential to get consent before publishing these comments on your site or app.
You can establish consent by following these two easy steps:
Put a clause in your terms and conditions agreement stating that you're allowed to reproduce, reuse, and publish the comments, testimonials, and other content users post to your website or app
Require users to agree to your terms and conditions by selecting a checkbox that states that they acknowledge and have read the terms, known as the clickwrap method for consent
Failure to do this could result in copyright claims, substantial civil fines, or even criminal charges.
Consumer Protection from Unfair Trading Regulations Act
In the UK, the Consumer Protection from Unfair Trading Regulations Act protects consumers from misleading and unfair practices. It applies to any websites or apps accessible to users within the United Kingdom and is enforced by the Competition and Markets Authority (CMA).
According to this act, misleading practices cause consumers to make transactional decisions they wouldn't have otherwise made, which includes testimonials given by users who were compensated in some way because the compensation creates a type of bias.
Additionally, deleting, editing, or omitting reviews and user-provided content can also be considered misleading practices under this law,
To stay safe and compliant, it's best to disclose any manipulation of these works and any connection you have with the endorsers.
Canadian Competition Act
In Canada, the primary piece of legislation protecting consumers against false or misleading testimonials is the Canadian Competition Act.
According to Section 74.02 of the act, businesses cannot publish testimonials unless:
The person who gave the original testimonial previously published it themselves, and
You have explicit permission from the person to reshare their testimonial
This act also prohibits posting any testimonials that are fake, false, or misleading. Violating the law leads to criminal charges and potential civil provisions.
California Online Privacy Protection Act
While California Online Privacy Protection Act (CalOPPA) relates more to privacy policies than disclaimers, it's essential to consider whether personal information is collected and published when users give reviews or testimonials.
Users often include their names, email addresses, and photos when submitting reviews. These are all considered personally identifiable information under CalOPPA.
If this kind of information is collected or published on your website or application — even by the users themselves — it must be disclosed in your privacy policy.
How to Create Testimonial Disclaimers
Now that you know why you need a testimonial disclaimer, let's discuss the three most common ways to create these documents for your website or app.
Managed Solution
Template
Do-It-Yourself
Managed Solution
The fastest and easiest method for creating testimonial disclaimers is to use a managed solution, like our Disclaimer Generator.
Our disclaimer generator walks you through creating any disclaimer your website or app requires and removes all guesswork, writing, and formatting from your plate. You only need to answer a few simple questions about your business.
Managed solutions typically come with a small annual or monthly fee. But our customers also gain access to our entire suite of consent management, privacy solutions, and website and legal policies.
Plus, if you sign up as a new user, you can try any one of our generators for free.
Templates
Another way to quickly make testimonial disclaimers is using a downloadable disclaimer template.
Templates are typically free but require more work than managed solutions like our generator. After you download the template, you'll have to fill in some blanks and update parts of the document with information about your business.
For example, if you post patient testimonials, customize our template, so the language reflects who the commenters are and why your company isn't liable for their words.
Do-It-Yourself
The most challenging way to make testimonial disclaimers for your website or app is to take the do-it-yourself approach and try to write them yourself.
We recommend separating the process into the following three steps:
Identify what disclaimers you need: Think about what laws apply to you and how you use testimonials. We listed out common disclaimers relevant to user testimonials for you to consider later in this guide.
Write the disclaimers: Make sure you use language that's easy to read and understand. Consider looking at real-life examples to inspire how you write your disclaimers.
Publish it in multiple easy-to-find locations: This helps ensure your users can easily find and read it. We'll show you all the best places with examples later in this guide.
FTC Guidelines for Testimonial Disclaimers
Whether you use a disclaimer generator or choose to write one yourself, in the US, whenever sharing a sponsored post, review, or affiliate link, you must follow specific endorsement guidelines outlined by the FTC.
These guidelines dictate how you write your testimonial disclaimers, where you post them, and how you share them with your audience.
Under those guidelines, the FTC requires you or the brand you partner with to:
Post the disclosure as close as possible to the claim being made on your site
Not require the user to scroll to locate the disclosure
Make any links to your disclosure visible, obvious, and close to the claim
Make the disclosure itself clear and conspicuous across all devices
Put a visible indicator for your disclosure in videos that remain long enough for users to read
Place the disclosure so that it appears before the customer gets to the shopping cart
Not use smaller fonts or lighter colors when formatting your disclosures
Post it in a language that is easily understandable for most of your audience
Repeat the disclosure so it can easily be found
Incorporate an audio disclosure in videos or podcasts
Disclose if an employee is leaving a testimonial — this also applies to your shareholders and anyone with a vested interest in your company
State if the reviewer received the product for free, in exchange for something, or if any other form of compensation or material relationship exists, including social media shares or discount codes
Note that if bloggers or influencers endorse a product you've given them for free on their own blogs, they still must follow the disclosure guidelines, or your business could be held responsible.
Always follow up and be sure people in your network comply with the law when endorsing your product or service.
Where to Display a Testimonial Disclaimer
You should display your testimonial disclaimers in multiple locations and always put them as close as possible to the actual review, affiliate link, or endorsement. Let's dive into the details together.
Website or App Testimonials
If you allow customers to post comments on your website or app, put a link to your testimonial disclaimer in a static section, like the website's footer or an app's menu bar.

Below, see an example of a testimonial disclaimer linked to the website's footer for the hot sauce brand RedBeards Hot Sauce.
Photo Testimonials
For photo testimonial disclaimers, post them at the top of the description box above any 'Read More' buttons. Also, ensure users don't have to scroll too far to view it.
Remember that if you pay other people to review your product on their social media pages or blogs, your business could be held accountable if they don't correctly follow the FTC guidelines.

Below, see an example of a testimonial disclaimer posted on the Instagram page of Well.LovedKnits, a yarn and knitting influencer.
Video or Podcast Testimonials
If you post a video testimonial or are under contract with someone to endorse your products in a video, make sure the disclaimer is shared in all of the following ways:
In the description of the video above the 'Read More' button
Vibily indicated on the screen in some way
Verbally stated out loud
Like with photo testimonials, businesses are typically the ones held accountable if a YouTuber or other type of influencer doesn't disclose the testimonial appropriately, so ensure anyone you partner with is aware of the laws and follows them.

Here's an example of a testimonial disclaimer posted on commentary YouTuber tiffanyferg's video.
In Your Terms and Conditions Agreement
You should also put your testimonial disclaimer in a clause in your terms and conditions agreement, so users can always easily find it.
Below, see an example of a testimonial disclaimer in the terms and conditions for the meal-kit delivery service Hello Fresh, where they explain that they can repost and redistribute social media content they're tagged in for promotional purposes.
Testimonial Disclaimer Examples
Now that you know what kinds of testimonial disclaimers you require and where to post them, let's look at a few notable real-world examples to help inspire you.
RedBeards Hot Sauce
First, let's look at the testimonials disclosure statement posted on the website for RedBeards Hot Sauce, a company that sells cayenne pepper hot sauces that we referenced earlier in the article.
They clearly state at the top of the disclaimer that past performances do not guarantee future results, as shown below.

In the following screenshot, you can see that ReadBeards Hot Sauce explicitly references the FTC guidelines directly in their testimonial disclaimer, something you should also do.
They even remove liabilities from their plate in their disclaimer by stating that they're not responsible for the comments or opinions posted to their site, screenshotted for you below.
Their disclaimer is written on one page of their site but thoroughly removes responsibilities and liabilities from their plates while still abiding by the relevant FTC endorsement guidelines. So if you sell products and post customer reviews and testimonials, consider using a similar disclaimer style.
Financial Mentor
Another great testimonial disclaimer page to look at comes from Financial Mentor, a financial advice website with a thorough disclaimer page.
They reference the FTC guidelines for endorsements right away:
They then describe how they receive the testimonials and outline when and if they ever alter or change the content for grammatical purposes or other necessary reasons, shown below.
This company does two things we recommend you also incorporate in your testimonial disclaimer, the first of which is outlining the rules and requirements they follow — and expect users to follow — when reposting testimonials.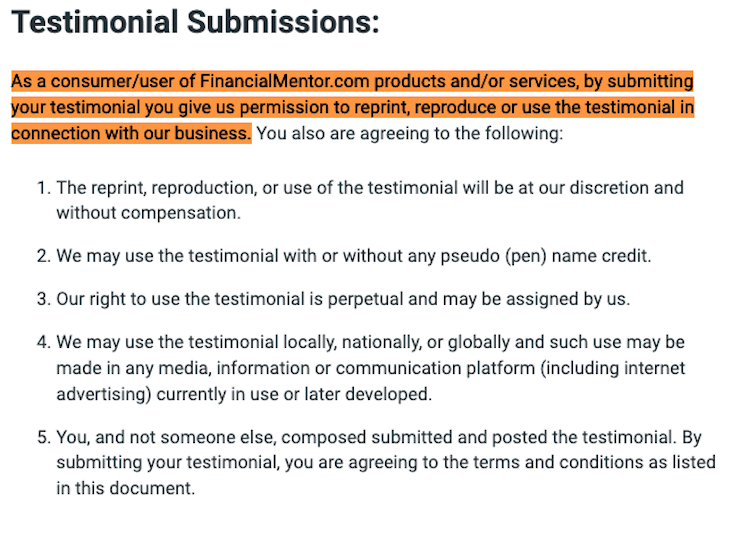 The second thing Financial Mentor does that you should also do is link to additional legal and web policies within your testimonial disclaimer, like your privacy policy, terms and conditions agreement, or other disclaimers.
Take a look at how they do it in the screenshot below.

Testimonial Disclaimers FAQ
Below are some of the most frequently asked questions we get about testimonial disclaimers.
What disclaimers are required for testimonials and marketing claims?
If you publish testimonials and marketing claims, you must post a testimonial disclaimer or disclosure statement that is clear and conspicuous, according to the FTC endorsement guidelines.
Do I need permission to use customer testimonials?
Yes, you need permission to use customer testimonials, which you can attain by stipulating in your terms and conditions agreement that you may redistribute any comment or post left by users for marketing purposes.
What should testimonials include?
The testimonials you use on your website should consist of the following:
A clear direction
Honest opinions about your products or services
A coherent purpose that helps guide other consumers toward making a purchase
Summary
If you share customer testimonials and affiliate links or work with anyone for sponsorships, you should post a testimonial disclaimer or risk getting in trouble with consumer protection agencies.
The US, the UK, and Canada all have legislation requiring businesses and their partners to follow specific fair market endorsement requirements when publishing testimonials.
Ensure your disclaimer is easy to find and read and posted as close to the testimonial as possible.

You can create testimonial disclaimers for your website or app by downloading our disclaimer template or using our free Disclaimer Generator.