Posting disclaimers on your website or app can help your company protect itself against legal claims by addressing liabilities specific to your operations.
Although businesses, websites, and apps in all industries can benefit from the legal protection a disclaimer statement offers, they're especially useful if your platform manages:
Affiliate relationships
Customer testimonials
Legal advice
Medical advice
Financial advice
Giveaways
Email newsletters
Sponsored posts
Entertainment
Offensive content/material
In this guide, we've put together the most common disclaimer statement examples and explain how they benefit your business.
If you're ready to download and customize a disclaimer, check out our disclaimer template or let us do the work for you with our free disclaimer generator.
What Is a Disclaimer Statement?
A disclaimer statement lets your website or app users know that you've limited what you can be held responsible for in certain situations they should be aware of.
Even though disclaimer statements do not necessarily prevent users from taking legal action against you, it's an easy and inexpensive way to limit what your company can and can't be held liable for in a court of law.
If there are any inaccuracies, vague statements, or misleading content on your website or app, even unintentionally, a disclaimer statement may help deflect or limit your legal responsibilities.
Some disclaimers appear as independent, stand-alone pages on your site. Other times they can be found as clauses within other legal agreements, including your:
When Do You Need a Disclaimer?
If you own a business that operates online in any capacity, it's in your best interest to have a disclaimer. This includes if you:
Run a blog
Own an ecommerce shop
Post legal information on your website
Talk about medical issues or give medical advice
Own and want to maintain your intellectual property rights
Make content that is considered commentary, criticism, or parody
Own a platform that allows your users to interact with one another
Allow your users to post and share content on your website
All in all, there aren't many websites that shouldn't use a disclaimer. You might find any of the following types of disclaimers useful for your website or app:
Benefits of Disclaimers
The benefits of using disclaimers for your business are that they limit your liabilities, are more affordable than legal fees, and are easy to create and add to your website.
Let's go over each of these benefits in a little more detail.
Disclaimers Limit Your Liabilities
Arguably the biggest benefit of using disclaimers on your website is that it can help limit what you're held liable for in a court of law if a user ever pursues legal action against you.
While disclaimers can't prevent someone from suing you or trying to take you to court, they act almost like a shield protecting your business from being held responsible for certain damages or harm users may experience while accessing your services.
Disclaimers May Help You Save Money
Another benefit of using disclaimers on your website is the cost — they're usually cheap or free to add to your site, and they can help you save thousands of dollars in legal fees down the road.
In 2022, corporate law firms charged an average of $350 per hour, while lawyers specializing in intellectual property rights charged an average of $342 per hour. (Statista)
You can save time and money by downloading and customizing disclaimer templates and adding them to your website or app.
Disclaimers Are Easy to Create
Even though legal disclaimers may seem intimidating at first, they're usually very easy and fast to make and add to your website, especially if you use a template or generator.
All you need to do is customize the disclaimer to match the needs and details of your business.
Still trying to figure out where to start? We're here to help. In the next section, we summarize some of the most common disclaimers relevant to your business, so take note of the ones you might need.
Disclaimer Examples
Below, we've put together a comprehensive guide explaining some of the most common disclaimers that you might need to protect your business, including:
Copyright Disclaimer
Fair Use Disclaimer
Confidentiality Disclaimer aka Email Disclaimer
Warranty Disclaimer
No-responsibility Disclaimer
Views Expressed Disclaimer
Investment Disclaimer
No Guarantee Disclaimer
Medical Disclaimer
Affiliate Disclaimer
YouTube Disclaimer
Social Media Disclaimer
Testimonial Disclaimer
Copyright Disclaimer
You can use a copyright disclaimer to protect original content on your website or app against user theft, explain that you own your website/app and everything on it, and show that there are legal repercussions for using your work without permission.
Copyright is a form of protection offered by US law for "original works of authorship," defined by the US Copyright Office as:
"…independently created by a human author and possesses at least some minimal degree of creativity."
As soon as a work is created and becomes reproducible, copyright protection automatically applies to it. Some copyright examples include creative works that come in a tangible forms, like:
Works of art
Literature
Music
Choreography
Designs
Branding
A detailed copyright disclaimer is not legally required, but it is a strong deterrent against copyright infringement by showing users that you know the law and will defend your claim.
Your business's copyright claim can be detailed in your terms and conditions under an intellectual property rights clause, like how we do it in our agreement, shown below.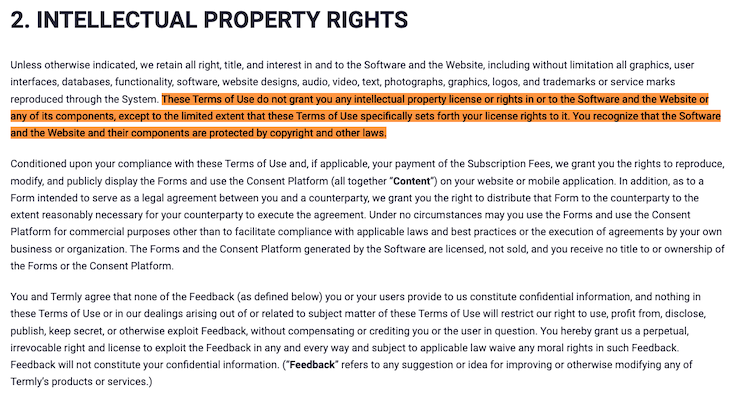 This sample disclaimer clause allows you to lay claim to your site's creative assets. However, notifying users of your copyright as soon as they access your site is also important.
One effective way to do this is to place a copyright notice in your site's footer. It should be comprised of the following four parts:
The copyright symbol
The year of publication
The name of the copyright owner
The rights you wish to retain
If you don't put what rights you wish to retain at the end of your notice, the legal assumption is that you're maintaining all rights.
In the screenshot below, see how the copyright notice looks on Instagram's homepage:

Putting this information in the footer of your website helps you prove that your users were aware of your intellectual property rights as soon as they accessed your site. By doing this, you will have a stronger case if a dispute goes to court.
Fair Use Disclaimer
If your site or app uses content from other sources, you must include a fair use disclaimer to prevent your business from being accused of copyright infringement.
Under the principle of fair use, copyrighted works can be used in certain circumstances without the permission of the copyright owner.
According to Section 107 of the Copyright Act:
"The fair use of a copyrighted work […] for purposes such as criticism, comment, news reporting, teaching (including multiple copies for classroom use), scholarship, or research, is not an infringement of copyright."
To protect your business from copyright infringement claims, follow these steps:
State that your site may contain content not authorized for use by its owner
Explain how your use of this material falls under the guidelines of fair use (e.g., comment)
Link to Section 107 of the Copyright Act
Below, check out an example of a fair-use copyright disclaimer from a YouTube video that meets these requirements.

You can defend your use of original content with similar disclaimer language based on the category of fair use you are using copyrighted work under and any applicable licenses.
Artificial Intelligence (AI) Disclaimer
If your company publishes content generated by artificial intelligence (AI) or machine learning models, consider adding an AI disclaimer to your site to differentiate it from your human-created content.
Over the past few years, AI technology quickly advanced and become more accessible to the everyday internet user.
For example, businesses can now use AI to create customized icons or quickly write blog posts using AI for their websites. And that's just a few examples from a rapidly-growing toolset.
As exciting as this is, the U.S. Copyright Office released an AI Policy Guidance in the Spring of 2023 stating that you must disclaim any purely AI-created materials from your copyright application. Plus, your consumers also prefer knowing the difference.
We suggest including a disclaimer on your website or app that explains what parts of your platform were created by people and the specific content, logos, or other features you made using AI.
Confidentiality Disclaimer aka Email Disclaimer
Confidentiality disclaimers, also known as email disclaimers, explain that some content is only intended to be seen by a certain audience — for example, private information in an email.
Digital communication offers more opportunities for confidential information to be exposed or intercepted. A confidentiality disclaimer states who the message is for, why the recipient should not forward it to others, and who they should contact if they receive it by mistake.
Email hosting company Zoho offers a sample disclaimer to include in an email signature:
This message contains confidential information and is intended only for the individual named. If you are not the named addressee, you should not disseminate, distribute or copy this email. You cannot use or forward any attachments in the email. Please notify the sender immediately by email if you have received this email by mistake and delete this email from your system. Company X, Suite# 1, Street, City, Country, www.company.com
Confidentiality disclaimers are commonly used in law, education, and healthcare — industries that rely on the transfer of sensitive information. For example, they're useful in situations where a business needs to ensure attorney-client privilege, safeguard sensitive personal data, or protect private health records.
If you send emails containing protected health information to US medical patients, a confidentiality disclaimer is required to comply with the Health Insurance Portability and Accountability Act (HIPAA).
The screenshot below shows a HIPPA email disclaimer sample from the University of Miami.

Standard disclaimer text like this can help meet HIPAA's list of precautions for emails.
If your business sends certain confidential information by email, add a confidentiality disclaimer to all electronic communications to comply with the law or just to ensure your messages are only seen by the intended audience.
Warranty Disclaimer
To explain that sellers and service providers are not bound by any implied promises about their products in the event of failures or defects, add warranty disclaimers to your website or app.
These statements vary depending on the nature of your business but typically explain that a product or service is offered "as is" — implying that the customer or user accepts it in its current condition, including any unseen faults.
For websites and apps, warranty disclaimers state that the company makes no promises about the accuracy and reliability of the content it publishes. Below, see an example from our warranty disclaimer template.

This standard disclaimer wording allows you to avoid responsibility for any mistakes, errors, or omissions that occur. This prevents users from taking legal action against your business because of a simple mistake.
Here's a screenshot of a good example from Tumblr's terms of service: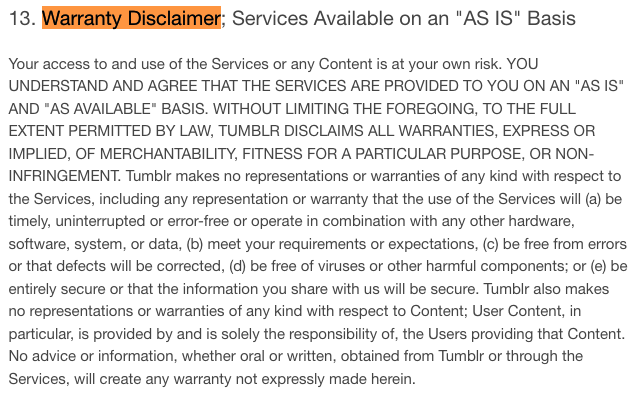 The disclaimer tells users that the service is provided on an "as is" and "as available" basis and that by using it, visitors accept that it may contain defects or not meet their expectations.
Another example we've included below comes from Amazon's disclaimer of warranties, a suitably comprehensive statement that applies to its services and products.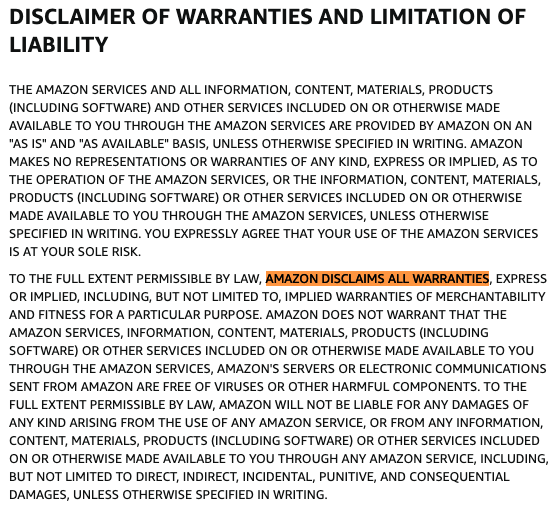 All sites and apps are subject to unforeseen technical issues, and warranty disclaimers limit your liability for problems outside of your control, such as viruses or general downtime.
No-responsibility Disclaimer
If you want to explain to users that your business will not be held responsible for any damages they suffer as a result of using your products or services, put a no-responsibility disclaimer on your site.
Because these agreements limit your liability, they are also often referred to online as "no liability" disclaimers or "use at your own risk" disclaimers.
No-responsibility disclaimers address both tangible and intangible damages — for example, physical harm caused by using a product, loss of profits or loss of data, and defamatory comments.
Pictured below is Twitter's terms of service, which includes a particularly detailed limitation of liability disclaimer.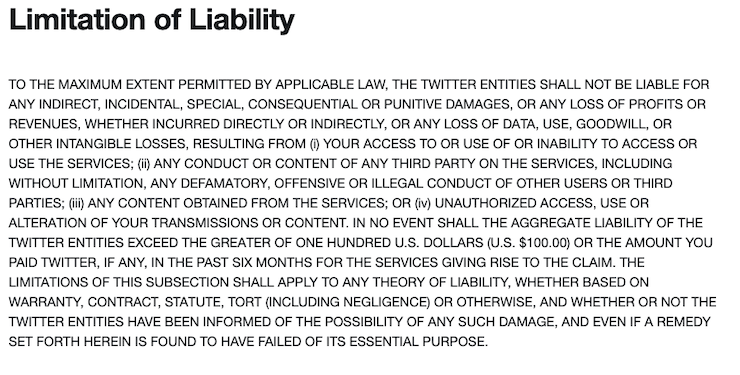 This disclaimer notice explains that Twitter will not be held responsible for the content its users choose to share, which may be offensive to others.
The Information Commissioner's Office (ICO), which enforces global privacy laws such as the General Data Protection Regulation (GDPR) in the UK, also has a disclaimer on its site, shown below.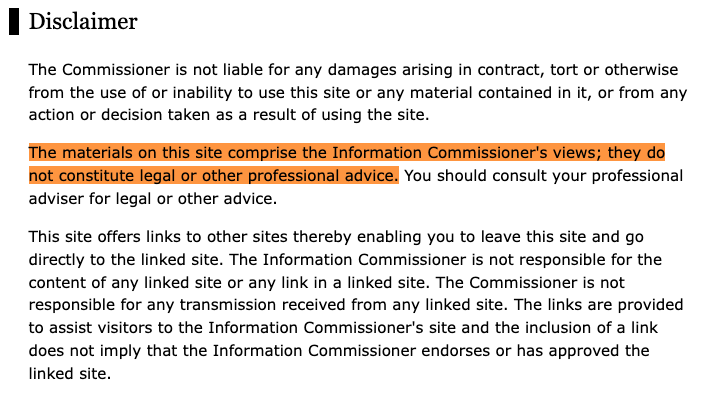 Because the ICO discusses privacy law compliance, it must inform users that the information it provides is not legal advice and that the external website links it provides are only for reference.
It's critical to limit your business's liability for all aspects of your operations — even for small things like linking to other websites.
Views Expressed Disclaimer
To state that the views and opinions on your site or platform by contributors are not the same as those of the business, add a views expressed disclaimer to your website.
This type of disclaimer is vital if your site allows contributions from others or provides a platform for users and guests to leave comments. It explains in legal terms that the opinion of an author you publish is not the same as that of your company or organization.
Below, is an example from the Federal Communications Commission (FCC) podcast disclaimer.

The FCC's disclaimer clearly explains to users that the podcast exists to offer guidance, not to provide a strict interpretation of FCC policy.
As another example, Fox News has a disclaimer that addresses user-generated content on its message boards and forums: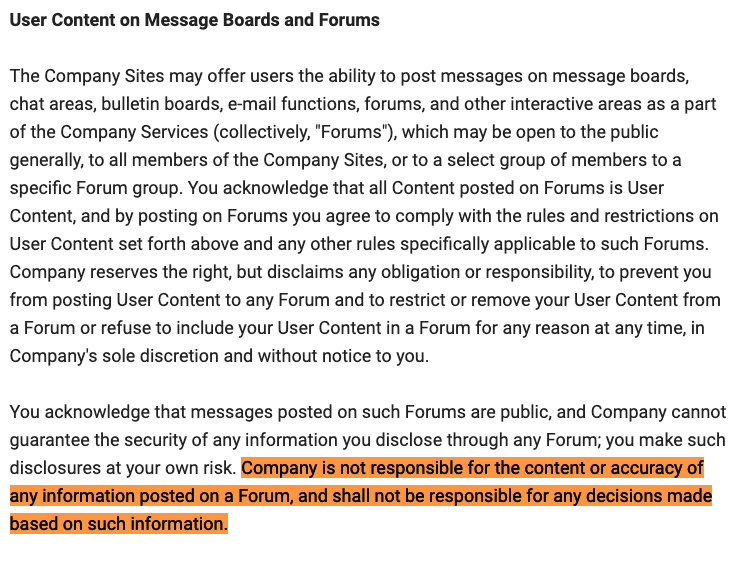 The Fox News disclaimer is a good example of how a news website can benefit from the discussion created by user-generated content but still distance itself from the views expressed.
If you allow contributors or users to share their opinions through forums or for marketing purposes, a views expressed disclaimer is a handy weapon in your legal arsenal.
Investment Disclaimer
Investment disclaimers explain that while a business may provide financial advice, it is not responsible for the consequences of acting on that advice. It can also act as a past performance disclaimer, which informs your users that past financial outcomes do not equal future results.
These disclaimers are suitable for sites that deal with all types of investments, from mutual funds to real estate.
Below, see Citigroup's terms and conditions for a good example: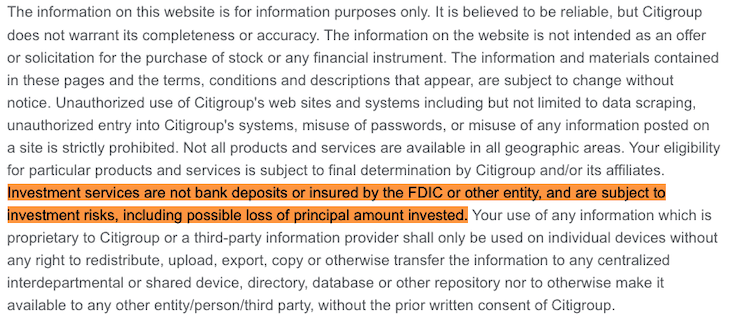 The clause above clearly states that Citibank will not be responsible for the consequences of using its investment products, such as losses associated with the risks of investing.
An investment disclaimer also explains that past performance is not an indicator of future results.
Similar financial disclaimers are found on cryptocurrency websites. For example, CoinDesk's terms and conditions includes the following investment disclaimer clause:

Although CoinDesk provides information about investing in digital assets, its disclaimer says no advice or information on the site guarantees any warranty of any kind. In a turbulent industry such as crypto, it's important for a company to fully disclaim all responsibility for decisions its users make.
No matter how professional your services are, you should not be responsible for how your users act upon them. Investment disclaimers are just one industry example of how you can protect your specific business interests.
No Guarantee Disclaimer
No guarantee disclaimers state that a business makes no promises regarding the outcome of using its product or service.
One of the best examples of this online comes from Wikipedia's disclaimer:

This disclaimer explains that although Wikipedia has a team of editors, it has no formal peer review and, therefore, cannot guarantee the validity of information contained on its site.
It includes a separate clause stating that while it covers various topics, it does not constitute advice in that discipline:

If you post any type of informational content, a standard no-guarantee disclaimer clause allows you to be a source of industry knowledge without any obligations to your users.
The US Equal Employment Commission's disclaimer is similar:

Whatever type of website you operate, it's valuable to include a no-guarantee disclaimer like the ones above to stop users from taking advantage — for example, suing for errors.
Medical Disclaimer
A medical disclaimer informs users that any content on your site is provided for informational purposes only and does not qualify as professional medical advice. These are useful for:
Hospitals
Pharmaceutical companies
Healthcare organizations
See the easy-to-understand medical disclaimer that St. Jude Children's Research Hospital includes on their website, stating that they are not a replacement for seeing a doctor:

Similarly, if you give advice or recommendations on your site that could lead to potential health risks, you might consider using a health disclaimer, especially if you run a:
Health blog
Gym website
Fitness service
Below, see how fitness and lifestyle blog Jenny J Fitness uses a health disclaimer to deny responsibility on their website.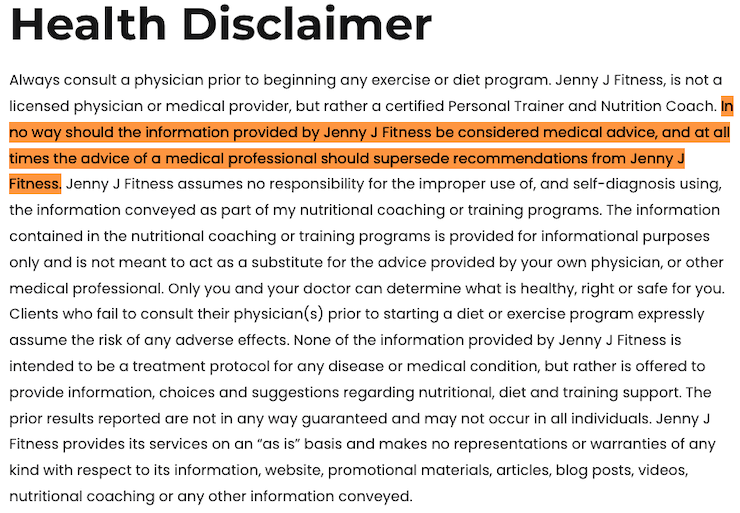 If you're posting any medical or health information on your website or app, include this disclaimer so your users know that your service does not replace seeing an actual doctor, and establish that you're not responsible for any harm that may occur if users follow your advice.
Affiliate Disclaimer
If you participate in any affiliate programs, adding an affiliate disclaimer to your website discloses your participation to your users so they cannot hold it against you or claim not to know that you've partnered with a third party.
Posting an affiliate disclosure is also legally required by the US Federal Trade Commission (FTC).
This disclaimer lets your users know if you're being compensated by the companies whose products you mention on your website or app, and it must appear on every page that includes a sponsorship, endorsement, or affiliate link.
This disclaimer is relevant for:
Social media influencers
Blogs with sponsored posts
Content creators who reference affiliate products
In the screenshot below, see how Casey, owner of the food and lifestyle blog Get On My Plate, uses a conversational tone for her affiliate disclaimer and clearly states that she gets monetary compensation whenever anyone uses the links on her site.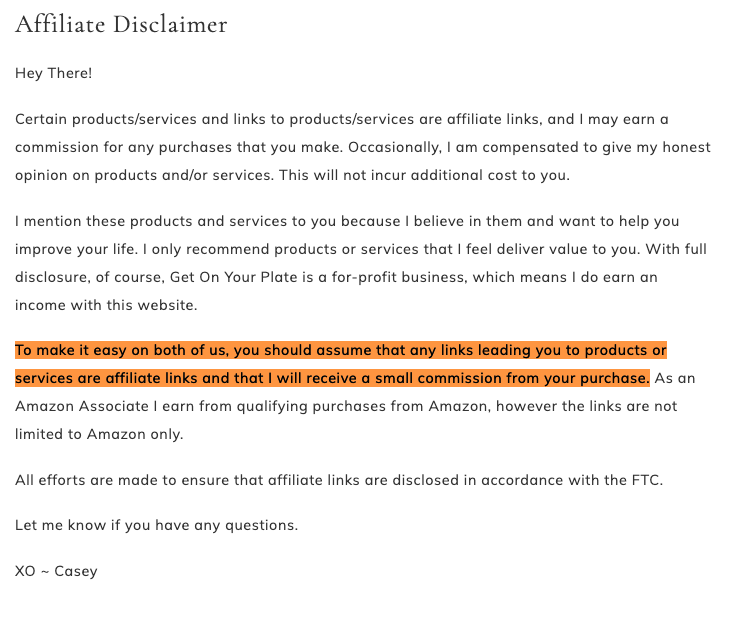 For more information relevant to blog owners and social media influencers, check out our blog disclaimers guide.
YouTube Disclaimer
If you post content on YouTube, you can add the appropriate YouTube disclaimers to the description of your video, like a copyright, no responsibility, music, or fair use disclaimer to limit what you can be held liable for doing, using, or showing in your content.
These disclaimers are especially important if your video:
Provides advice of any kind
Features other people's intellectual property
Features your own copyrighted materials
If your video features materials created by someone else, like movie clips, you should add a fair use disclaimer in the description.
Below, see a YouTube video disclaimer example from The Cosmic Wonder.

To present its fair use guidelines, YouTube includes a link to a copyright resource in its website footer, as shown below.

In their guidelines, YouTube includes a copyright and fair use disclaimer explaining that it receives many takedown requests under copyright law and strives to protect creators, as shown in the highlighted text below.

If your website or app relies on content created by others, you can learn from YouTube's open and accessible approach to fair use to build trust with your users.
Keep in mind that YouTube content creators and businesses that target children under 13 need to also comply with the Children's Online Privacy Protection Act (COPPA).
Social Media Disclaimers
If your business has a strong social media presence, post a relevant social media disclaimer covering topics like what is allowed to be shared on your website or app, how opinions shared by an employee do not reflect the company's beliefs, and any other relevant removal of liabilities.
In the screenshot below, see how St. Phillips College puts a social disclaimer on their website that clarifies that they're not responsible for anything shared or posted by third-party sources.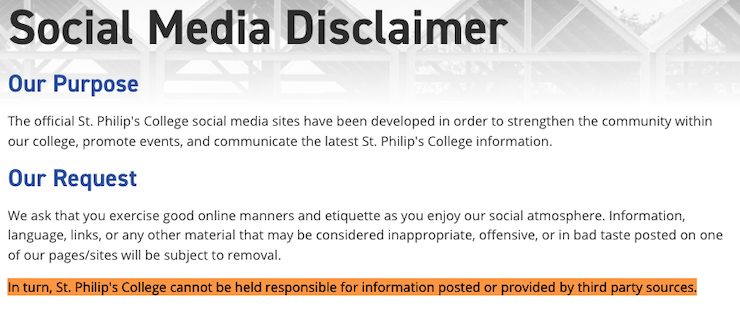 St. Phillip's College also uses this clause to dictate what users can and cannot post on their social media pages.
Consider adding a similarly phrased disclaimer on your website or app to prevent your company from being held responsible for things your users may post or share online.
Testimonial Disclaimer
If you allow users to share reviews about your services, post a testimonial disclaimer on your website to let people know that another person's review does not guarantee that every experience using your services will be the same.
This disclaimer states that the review or testimonial represents one person's experiences and transparently informs others if the poster was paid or compensated for their time and opinion.
In the US, you are legally required by the Federal Trade Commission to have a testimonial disclaimer posted on your site if you allow your users to share reviews or endorsements of your products.
Below is an example statement from Stillwater Acupuncture clarifying that not everyone using their services has the same experience.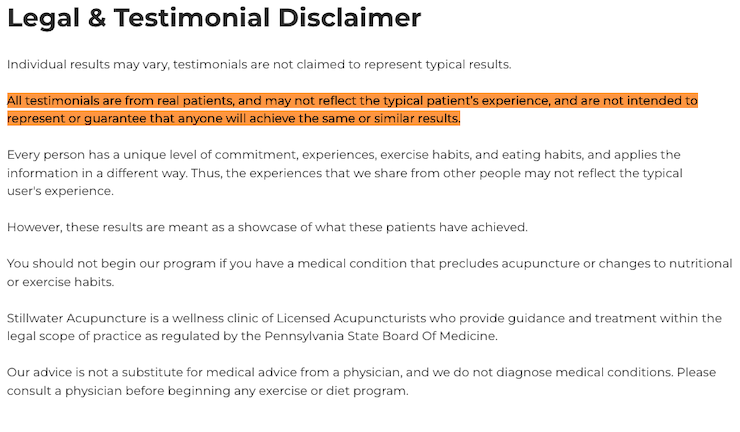 A testimonial disclaimer is important because it protects your business and builds trust with your users. This disclaimer helps properly set your users' expectations and reminds them that customer reviews and testimonials are not indicative of every person's experience.
Legal Disclaimer
If your website or app gives out any legal information, you should use a disclaimer to clarify that it does not qualify as real legal advice.
You can also explain to users that your website does not replace the services of an actual independent lawyer.
See a legal disclaimer example below from the National District Attorneys Association (NDAA) website.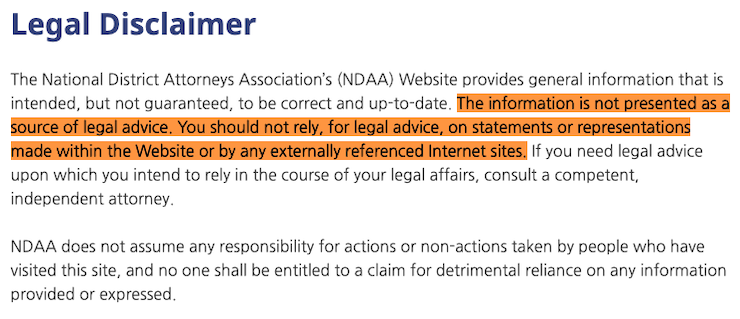 For law firm websites and lawyer blogs, posting this disclaimer prevents liabilities from falling onto you. It can also be used to inform your users that accessing your website does not mean they get any attorney-client privileges.
How To Write a Disclaimer
You can write your disclaimers entirely from scratch or save time by using free customizable templates or disclaimer generators.
Whatever method you choose, be mindful of how these clauses are written because you want as many of your users as possible to be able to read and understand them.
Our free, downloadable disclaimer template is written in simple language and can be easily modified to address the liabilities you have on your website or app. Rather than doing everything yourself, it provides you with the bulk of the information written by our legal team and data privacy experts.
Alternatively, you can quickly create a free disclaimer by answering a few simple questions using our Disclaimer Generator. Our generator is more in-depth and does as much work for you as possible.
Post your disclaimers in your terms and conditions agreement or share them in your website's legal section; that way, your users can always easily find the information.
Disclaimer FAQs
If you're looking for more answers, here are some frequently asked questions we get about disclaimers.
Do I need a disclaimer?
Yes, you need a disclaimer to protect your website against legal liabilities. Disclaimers inform users that your site will not be held responsible for any damages suffered from using your services.
For example, if you run a legal blog, a legal disclaimer will tell users that your content should not be taken as legal advice, and your site will not be held accountable for any legal actions the reader may take.
Whether you run an ecommerce site, blog, app, or general website, you need a disclaimer — or multiple disclaimers — to be transparent with users and protect yourself against legal claims.
Why should I use a disclaimer?
You should use a disclaimer to help limit the liabilities your business can be held responsible for and to establish and maintain your intellectual property rights.
Can I copy someone's disclaimer?
No, you cannot copy someone else's disclaimer, as this is plagiarism, and the information will not apply to your business. Instead, use a free disclaimer template or a generator to customize your own.
Where do I put my disclaimer?
Put your disclaimer where users can easily find it, for example, you can put your disclaimer or disclaimers on a separate page, then link to that page in your website menu, footer, or Impressum page, if you have one.
You should also put your disclaimers on relevant content. For example, if you promote an Amazon product in a blog post through the Amazon Affiliates program, you need to add an Amazon Affiliates disclaimer to that blog post.
What types of disclaimers are there?
There are many types of disclaimers that address liabilities for different industries, activities, and content, and the most common types of disclaimers are:
Fair Use Disclaimer: Discloses that you are legally using copyrighted materials on your website and with the appropriate permissions.
Warranty Disclaimer: Explains that sellers and service providers are not responsible for possible product or service failures.
Copyright Disclaimer: Lets site visitors know that your site contains copyrighted material.
No Responsibility Disclaimer: Informs users that you are not responsible for the actions they take based on content found on your website.
Confidentiality Disclaimer: Assures users that some content, such as contact information, is only intended to be seen by certain parties.
Affiliate Disclaimer: Discloses your participation in an affiliate program, such as Amazon Associates.
YouTube Disclaimer: Any disclaimer found in the description of a YouTube video. Commonly, copyright disclaimers and no responsibility disclaimers double as YouTube disclaimers.
Views Expressed Disclaimer: Specify that the opinions found on your website are not the views or opinions of your business.
Investment Disclaimer: Informs readers that your investment commentary is informational and should not be taken as official advice.
No Guarantee Disclaimer: Announces that your website or business makes no promises about the results of a product or service.
Use at Your Own Risk Disclaimer: Instructs your site's visitors to act on your content or recommendations at their own risk.
Email Disclaimer: Any disclaimer added to the footer of an email. Most often, confidentiality disclaimers act as email disclaimers.
Past Performance Disclaimer: States that previous results do not equal future results.
Medical Disclaimer: Informs users that the content on the site is provided for informational purposes only and does not substitute professional medical advice or seeing a doctor.
Summary
Disclaimers reinforce your company's legal defenses by specifically addressing certain liabilities that aren't explained in your other policies.
To recap, there are many types of disclaimers, and you need to pick the ones that best suit your needs. For example:
Copyright disclaimers help protect your original content
Fair use disclaimers help you avoid copyright infringement claims
Confidentiality/email disclaimers help maintain the confidentiality of private information
Warranty disclaimers prevent you from being bound by faults and defects
No responsibility disclaimers limit your liability for damages
Views expressed disclaimers allow you to distance yourself from others' opinions
Investment disclaimers state that you take no responsibility for how others act on your advice
No guarantee disclaimers explain the limits of your products or services
The benefit of all disclaimers, no matter the industry, is to safeguard your business interests. If you don't have a disclaimer, you're potentially leaving your business vulnerable to legal trouble.
The good news is we can help you start protecting your business better. Just use our free disclaimer template to get started writing your own, or create custom disclaimers in minutes using our comprehensive Disclaimer Generator.