If you receive product endorsements on your website, you need an affiliate disclosure. Having this disclosure is required by the US Federal Trade Commission (FTC).
An affiliate disclosure lets your readers know that you are being compensated by the companies whose products you mention in your content.
Read on to find out what an affiliate disclosure is, FTC requirements for affiliate disclosures, and how to write one.
What Is an Affiliate Disclosure?
An affiliate disclosure, also known as an affiliate link disclosure or affiliate disclaimer, is a statement on your blog or website that informs users that you are compensated by companies for promoting, reviewing, or recommending their products or services.
An affiliate disclosure alerts users to the presence of affiliate links, which are URLs that link to another business's products or services. Site owners typically earn commissions when users make purchases through the links.
Having affiliate link disclosures on your site is an FTC requirement and a best business practice. Product reviews or recommendations can influence users' purchasing decisions, so an affiliate disclosure is essential in establishing transparency with your users, and allowing them to make informed decisions.
Affiliate Disclosure Requirements
According to the FTC endorsement guide, you need to have an affiliate disclosure if you're being compensated — financially or otherwise — by companies to mention or review their products on your site.
An FTC-compliant affiliate disclosure should "clearly and conspicuously" describe the nature of your relationship with the company you're posting about, including the fact that you're being compensated by them.
In addition to the FTC, affiliate programs you participate in may require you to have an affiliate disclosure.
For example, the Amazon Associates Program's Operating Agreement requires Amazon Associates to include an Amazon affiliate disclosure on their site, stating that they earn commissions from qualifying purchases.

In order to operate your business website ethically and avoid legal action, you must abide by the FTC guidelines and any applicable affiliate program rules.
Where to Put Affiliate Disclosures
As per FTC guidelines, affiliate disclosures should be displayed conspicuously and as close to your affiliate links or endorsed product mentions as possible. You need to place an affiliate disclosure on every page that includes a sponsorship, affiliate link, or endorsement.
Although affiliate disclosures should appear on every page that includes affiliate links and content, you may also choose to expand upon your relationship with sponsors and affiliates with a dedicated affiliate disclosure page.
You can hyperlink to your affiliate disclosure page throughout your site, so long as there's still an affiliate disclosure in close proximity to any affiliate links or affiliate content. Some examples of places where you should link your affiliate disclosure page include:
Site header
Footer
Sidebar
Terms and conditions page
Privacy policy
You also need to disclose your relationship with affiliates on your disclaimer page.
Affiliate Disclosure Examples
Affiliate disclosures are found on many websites, as endorsements are a popular way to monetize content. Let's go over some examples of affiliate disclosures to see how they're incorporated into different websites.
Cookie and Kate
Cooking blog Cookie and Kate's affiliate discretion page features their affiliate disclosure. It explains how commissions are earned through affiliate links and lists the affiliate programs the site owner participates in.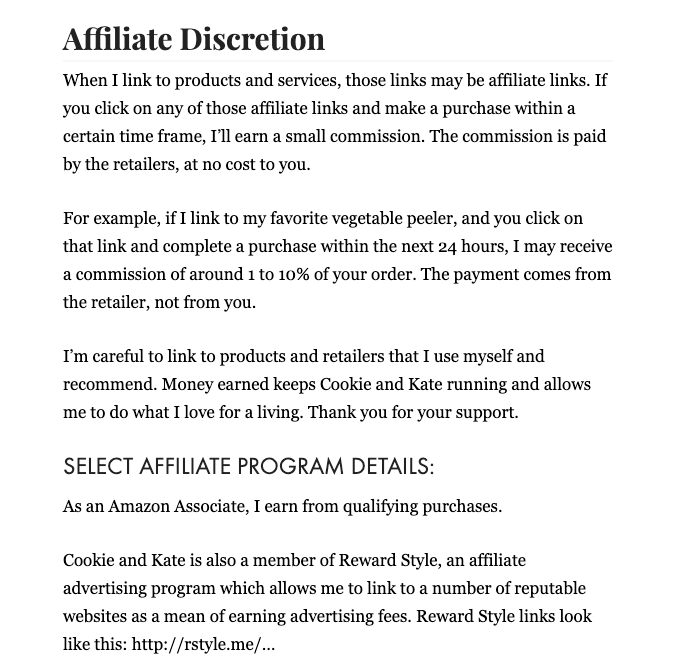 An affiliate disclosure statement is also placed before the affiliate links in the site's content, as well as in the website footer.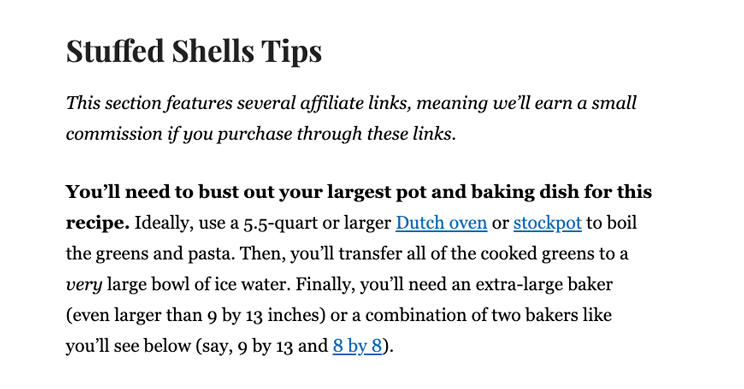 Like in this example, you can link to an affiliate disclosure page to provide a more detailed description of your affiliate relationships, in addition to your page-by-page affiliate disclosures.
Keep your language simple, and provide a clear explanation of how you're compensated through affiliate links.
The Beauty Look Book
Cosmetics review blog The Beauty Look Book's disclosure page includes an affiliate disclosure section that describes the sponsored partnerships and affiliate arrangements that the site owner is involved in.
It also goes over the purpose of affiliate links, and addresses how the honesty and quality of content is maintained.
Like this example, you should be transparent about your business partnerships with other companies, and explain the purpose of affiliate links.
This shows readers that you value honesty and that you want them to make informed judgments about your content.
The blog also features a fixed affiliate disclosure in the sidebar that shows up in every post:
Adding a fixed affiliate disclosure in the sidebar is a good way to ensure noticeability and better comply with the FTC.
Where in the World is Nina
Travel blog Where in the World is Nina includes an Amazon affiliates disclosure statement at the top and bottom of every post.
The disclosure statement links to Where in the World is Nina's privacy policy, where the Amazon affiliates disclosure shows up again.

If you participate in the Amazon Associates Program, you need to include an affiliate disclosure that identifies yourself as an Associate, as this example does.
How to Write an Affiliate Disclosure
To write an affiliate disclosure, first identify affiliate links or sponsored content on your website, then explain that you get compensation from the companies whose products or services you link to.
Here are some guidelines to follow when writing your affiliate disclosure.
Use Clear and Simple Language
Let users know in plain language that you receive compensation from companies to feature or link to their products in your content.
If you use terms that readers may not be familiar with, such as "affiliate marketing" or "affiliate links," be sure to explain them, or replace them with simpler terms, such as "ads" or "sponsorships."
Avoid being overly lengthy or wordy, to ensure your disclosure is readable.
Make Your Disclosure Prominent
In addition to displaying your disclosure prominently, the disclosure itself should be styled and formatted in a way that's noticeable to users.
For example, make sure that your text size and color stands out enough so that the disclosure is readable.
Avoid Distracting Elements
The FTC digital advertising guidelines require websites to avoid elements that obscure or reduce noticeability of your disclosure, such as extra graphics, buttons, or links.
Post Your Affiliate Disclosure In Multiple Places
To ensure that site visitors notice your affiliate disclosures, display them multiple times or in multiple locations.
For example, disclosures can be put in the website footer, sidebar, or fixed in place, so that readers see it even if they continue scrolling. If your site often features affiliate links, post an affiliate disclaimer on every page.
Next Steps
Generate a Free Customized Disclaimer Using Termly
Here's how you can use Termly's generator to create a custom and legally compliant disclaimer with an affiliates section.
Step 1: Go to Termly's disclaimer generator.
Step 2: Answer a few simple prompts and questions, and go through all of the steps until you reach "Final Details."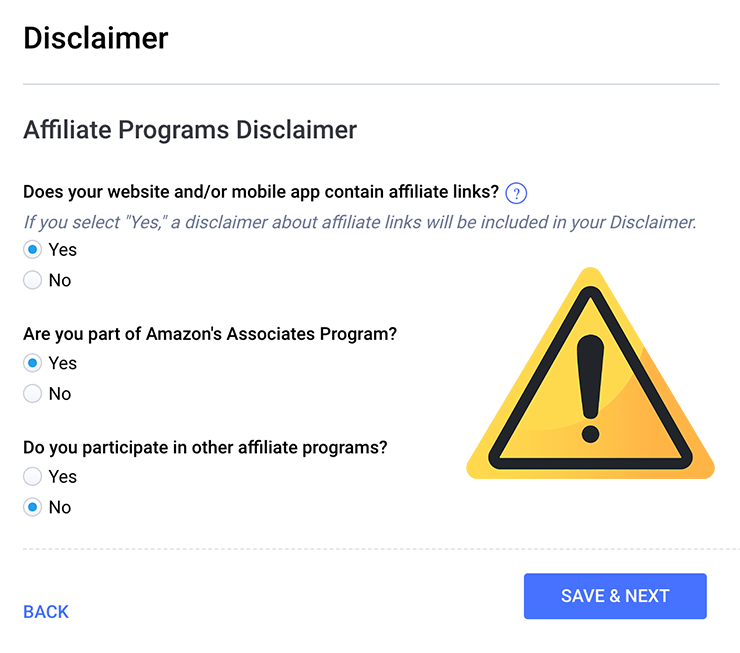 Step 3: Once you've filled in everything and you are satisfied with the preview, click "Publish." You will then be prompted to create an account on Termly so you can save and edit your legal disclaimer further.
This guide went over what an affiliate disclosure is, requirements for an affiliate disclosure, and how to write one. Let's recap the key points:
An affiliate disclosure is a statement that specifies that you get compensated by companies whose products or services you mention or link to on your site.
The FTC requires websites with endorsements to include affiliate disclosures. Affiliate marketing programs also require affiliate disclosure statements.
An affiliate disclosure should be written and displayed clearly and conspicuously.
An affiliate disclosure is both a legal requirement and a best business practice. If your site features endorsements or affiliate links, add an affiliate disclosure so your users can make informed decisions about your content.
Use Termly's free disclaimer generator, and indicate your use of affiliate deals in the builder. Once your policy is created, link it throughout your site in addition to your affiliate disclosure statements on all pages where affiliate links or products appear.
Affiliate Disclosure FAQs