Colloquially known as the Amazon affiliate program, the Amazon Associates Program is a popular way for bloggers and website owners to monetize their traffic.
Because product promotions by Amazon Associates (also known as Amazon affiliates) are a form of advertising, Amazon themselves and the US Federal Trade Commission (FTC) have made it clear that associates must disclose their participation in the program to their audience.
Below, we provide the Amazon and FTC disclosures you need to avoid getting banned from the affiliate program, or worse — having your earnings seized by law enforcement agencies.
Amazon Affiliate Disclosure Template
As an Amazon Associate, you need TWO disclaimer statements on the site that you promote affiliate links — one to satisfy Amazon's disclosure requirement, and another to comply with the FTC's endorsement guidelines.
Amazon Affiliate Disclaimer
To meet Amazon's appropriate conduct standards, you need to publish the following Amazon disclosure statement (or a substantially similar statement) on your site:
As an Amazon Associate I earn from qualifying purchases.
An alternative Amazon disclaimer you can use is:
[your name or your website name] is a participant in the Amazon Services LLC Associates Program, an affiliate advertising program designed to provide a means for sites to earn advertising fees by advertising and linking to Amazon.com.
Generate a Free Customized Disclaimer Using Termly
Here's how you can use Termly's generator to create a custom and legally compliant disclaimer with an affiliates section.
Step 1: Go to Termly's disclaimer generator.
Step 2: Answer a few simple prompts and questions, and go through all of the steps until you reach "Final Details."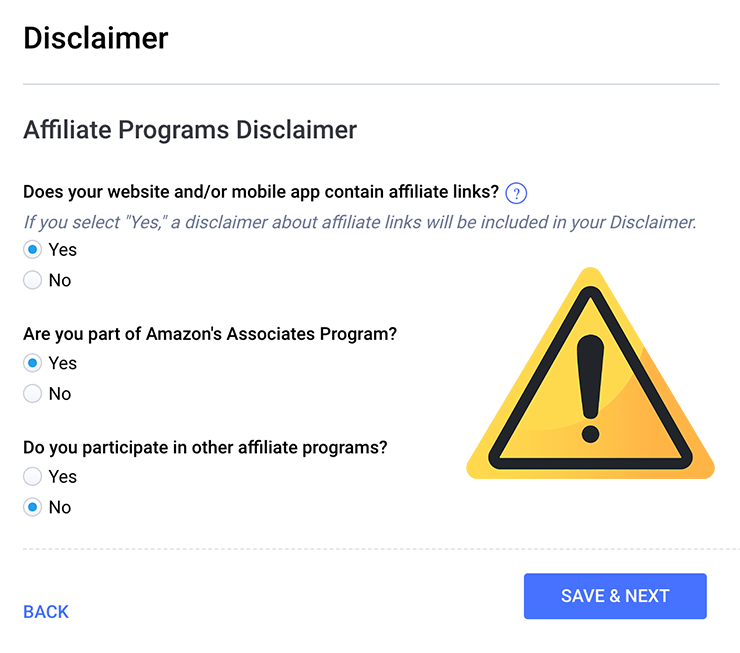 Step 3: Once you've filled in everything and you are satisfied with the preview, click "Publish." You will then be prompted to create an account on Termly so you can save and edit your legal disclaimer further.
Wondering why there are two drastically different versions of the disclaimer for amazon affiliates? The first disclaimer is Amazon's latest recommendation, whereas the second is what Amazon recommended until October 2019.
You're free to use either, as both comply with Amazon's guidelines, but given its brevity, we recommended the first disclaimer.
FTC Affiliate Disclaimer
Unlike Amazon, the FTC doesn't insist that your affiliate disclosure follow a certain template. Instead, the commission evaluates whether your disclosure is adequately clear to the average user.
We recommend that you use the following FTC affiliate disclosure statement on your website or blog:
I get commissions for purchases made through links in this post.
On social media (e.g., Twitter, Instagram, Facebook), the FTC allows you to use a hashtag or word/phrase (instead of a full statement) to indicate affiliate links in your posts.
Examples of FTC-compliant disclosure phrasing and hashtags include:
#Promotion
#Sponsored
#Ad
#PaidAd
#PaidLink
#CommissionsEarned
(promotion)
(sponsored)
(ad)
(paid ad)
(paid link)
sponsored by ___
You may have noticed that the word "affiliate" is missing from the list. This is because according to the FTC, the average user may not understand what terms like "affiliate" and "affiliate links" mean. So, tagging your posts #affiliate would not be enough to comply with the FTC's guidelines.
Where to Place Your Amazon Affiliate Disclosure
Place the Amazon affiliate disclaimer on a prominent page or area on your site. As this disclaimer is a site-level disclosure, you do not have to place it on each page of your site.
For example, you could place your site-wide Amazon disclaimer:
on the homepage
in the "About" page
in the header area
in the sidebar area
in the footer area
in an easily accessible page with a self-explanatory hyperlink text, such as:

Amazon Affiliate Disclosure
Amazon Affiliate Disclaimer
Amazon Associate Disclosure
Amazon Associate Disclaimer
Remember, even with the appropriate Amazon disclaimer text, you can still run afoul of Amazon and the FTC by displaying it inappropriately.
Where to Place Your FTC Disclosure
In contrast to the site-level Amazon disclaimer, the FTC disclosure needs to appear at the link level, meaning that it must be placed on the actual page in which you include the affiliate link.
According to the FTC, these link-level disclosures need to be:
Conspicuous (i.e., easily noticeable, not hidden using a difficult-to-read font)
Close to your affiliate link (the closer the better)
Regarding social media posts, if your post is cut off by a "read more" button, as happens on Instagram and Facebook, your disclosure statement or phrase must appear before this cut-off point.
Your audience must be able to tell that your post is promotional in nature even if they do not click on "read more" (red box in the image).
Amazon Affiliate Disclosure Examples
Now that you know what your disclosures need to state and where to place them, let's look at real-world examples.
Disclosure Example for Websites and Blogs
Territory Supply, an Amazon affiliate site that reviews and recommends hiking and camping gear, carries the affiliate disclosure in its footer. Because the footer appears on every page, including on the pages with affiliate links, so does the blog disclaimer.
Note how Territory Supply has modified the standard Amazon disclosure (by adding the word "commissions") so that it satisfies the FTC guidelines as well.
In addition, the footer area has a link to a "Disclosure Policy" page:
In their disclosure policy, Territory Supply further clarifies their relationship with Amazon, helping ease any user concerns.
Wirecutter is another site that engages in affiliate marketing:
In Wirecutter's case, the disclaimer appears in the header on the homepage as well as on all pages with affiliate links, as seen in the image above.
Disclosure Example for Social Media
Linus Tech Tips is a popular tech product review channel that posts videos on YouTube and Facebook. They indicate affiliate links with the tag (PAID LINK).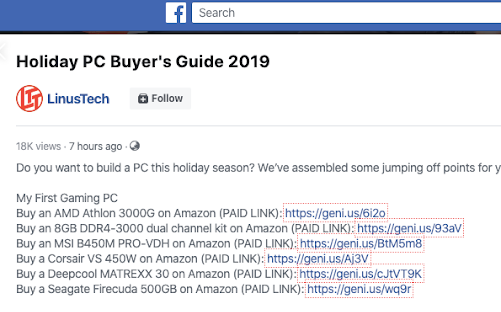 Finally, here's a promotional tweet with an affiliate link that uses the FTC-compliant hashtag #ad.
Remember, the disclosure guidelines apply even if you're using only temporary posts, such as Instagram and Facebook Stories, to promote your affiliate links.
Do I Really Need an Amazon Disclosure Statement?
You need an Amazon Disclosure Statement to satisfy the principle of Truth in Advertising, which the FTC upholds strongly:
When consumers see or hear an advertisement, whether it's on the Internet, radio or television, or anywhere else, federal law says that ad must be truthful, not misleading, and, when appropriate, backed by scientific evidence. The Federal Trade Commission enforces these truth-in-advertising laws […] no matter where an ad appears
If you intentionally or unintentionally conceal that your promotional post contains affiliate links — be it a Facebook post, a blog post, a YouTube video, or a tweet — your advertising is not entirely truthful.
Think of it this way: If your friend says, "Hey, I found a great new app that you have to try," would your feelings differ if you knew your friend was compensated in some way for giving such a strong endorsement?
This is why the Amazon Associates Program Operating Agreement (see Section 5) and the FTC's endorsement guidance both require affiliate disclosures.
Amazon & FTC Affiliate Disclaimers: Key Takeaways
Whether you're a full-time Amazon Associate or dabbling in affiliate marketing on the weekends, the onus is on you to be upfront with your audience about your relationship with Amazon. Not doing so can get you banned from the Associates program, and draw the attention of the FTC as well as law enforcement agencies.
Fortunately, complying with Amazon FTC requirements is as simple as knowing:
Apart from referring to the template and example statements above, you can also create customized disclaimers using a disclaimer generator.
While an affiliate disclaimer can protect you from punitive actions by the FTC, it alone is inadequate to fully protect your business.
Apart from disclaimers, your affiliate website needs a privacy policy and a terms of use. While a privacy policy is essential to comply with data privacy laws like the General Data Protection Regulation (GDPR) and the California Consumer Privacy Act (CCPA), a terms of use will help you enforce your rules sitewide and protect you from the actions of abusive users.
Termly's privacy policy generator and terms of use generator make legal compliance and abuse protection a breeze. Get started now.
Amazon Affiliate Disclosure FAQs