Creating a privacy policy for your ecommerce store shows customers you respect their privacy and are transparent when handling their data. It also protects you from fines and lawsuits for violating data privacy requirements.
This article will explain how to create an online store privacy policy that is comprehensive and easy to understand.
Ecommerce Privacy Policies Explained
More and more shoppers are turning to ecommerce, with sales in 2022 expected to reach $5.5 trillion and grow to $7.4 trillion by 2025. With such a high level of ecommerce traffic, businesses also collect an enormous amount of customer data.
As a result, governments require companies to be transparent about this data collection, and privacy policies are a significant component.
A privacy policy is intended to inform users of how their personal data is collected and used. Privacy policies are essential for online stores because the stores almost always collect at least basic personal information.
While privacy policies are far from a new concept, they have become increasingly important as online shopping has grown. Adding a privacy policy to your ecommerce website acts as a contract between your business and the user.
Your policy describes the data you will collect, process, and store, and customers are allowed to review and respond to the use of their data.
Why Your Online Store Needs a Privacy Policy
Every business that sells goods or services online should have a privacy policy, but it is helpful to understand precisely why it's so important.
If You Collect Data
When your business collects a customer's data, you are accessing information that can be used in a harmful manner against the customer.
For this reason, data privacy laws like the GDPR require that you must have a privacy policy informing customers of what data you are collecting and how you are using it.
Your online store may collect more data than you and your customers realize. Data is collected when your business:
Requires or allows customer registration for access
Uses live chat
Receives customer service requests via email
Connects to a customer's social media
Asks for a customer's shipping or payment information
Customers directly provide their information to your business in all of these cases. However, data is also collected indirectly through, for example, cookies.
Customers may not realize the extent to which you indirectly collect their data. Therefore, a privacy policy is a crucial — and sometimes legally required — way to keep them fully informed.
To Build Trust With Customers
Building customer trust is one of the most important reasons for having a privacy policy for your online store.
A recent survey found that 84% of customers who had strong trust in their online merchants remained with them for more than a year. Return customers are vital to a business's longevity, and trust is essential if you want to keep customers coming back.
There are many more data privacy statistics that will convince you for the need to be transparent with the way you handle data.
Privacy policies are critical to building trust with customers in the modern age.
Consumers want to work with businesses that are direct and honest about their data collection and processing, which is what a good privacy policy accomplishes.
For Protection of Minors
As the expectations and requirements for privacy policies have changed, regulators have emphasized protecting children and young people online.
The dangers of online bullying, data theft, and human trafficking have brought this issue to the forefront.
Lawmakers and business owners should prioritize minors' safety who could accidentally put themselves at risk. Including a policy on your site with a specific clause dedicated to children's privacy contributes to this effort.
If You Conduct Remarketing
If your online store uses customer remarketing or retargeting practices, you must include this in a privacy policy.
Remarketing refers to practices like reminding site visitors of what they liked, items they still have in their shopping carts, or orders that may need to refill.
Users not informed of this process may feel that you are invading their privacy by tracking their online behavior.
Third-Party Requirements
Your business may be using third-party services like payment processing and monitoring. In many cases, these third parties have their own requirements for your ecommerce store's privacy policy.
For example, Google requires that you provide an up-to-date, accurate, and comprehensive privacy policy on your online store if Google Analytics is monitoring the customer data on your site.
Data Privacy Laws That Affect Online Stores
There are many possible regulations your online store may need to follow, but those out of the European Union (EU) and California (US) are particularly noteworthy.
General Data Protection Regulation (GDPR)
The GDPR includes several requirements for data collection and processing. Among these are specific requirements for privacy policies.
If there is any possibility that EU citizens will purchase goods or services from your online store, you must comply with the GDPR. Failure to do so can result in significant fines and damage your store's reputation.
The maximum GDPR fine for a violation is 4% of a company's global revenue or $22.8 million, whichever is greater.
California Privacy Laws
California has two laws related to privacy policies.
The first is the California Consumer Protection Act (CCPA), which focuses on large businesses with revenues of $25 million or more.
The CCPA is very similar to the GDPR and requires businesses to include privacy policies with information about customers' rights, among other things.
Another law, the California Online Privacy Protection Act (CalOPPA), is narrower in scope but broader in application than the CCPA. It applies to anyone who operates a commercial website or online service that collects personal data about Californians.
The requirements in the CalOPPA are exclusively related to the information you must include in a business's online privacy policy.
What's Inside an Online Store's Privacy Policy
Your ecommerce privacy policy should have the following sections to ensure its thoroughness.
Types of Data You Collect
Telling customers that you are collecting their data is not particularly informative because the term is broad.
Instead, you must be specific about the kind of data you are processing, which might include a customer's:
First and last name
Physical or email address
Website logins
IP address
Credit card details
Social security number
Demographics — such as gender, age, race, ethnicity, religion, and sexual orientation
This information is sensitive and could be used to identify a specific individual, and some laws require its disclosure.
Why You Collect Data
In addition to knowing what data you are collecting, buyers also deserve to know why you want it and how you will use it.
Data tracking and management is a critical component of business and marketing strategies in ecommerce, but customers should understand why this particular data is necessary or relevant to your business.
For example, you might use personal data to follow up with customers who made a purchase and seek a review, provide an update on available new products, or drive targeted recommendations based on the data you collected.
In each case, you can make customers feel more comfortable with data collection by explaining how it might benefit them.
How You Protect Data
It is of the utmost importance that you treat users' personal information on your ecommerce site with respect and consideration by implementing data security strategies to avoid data breaches.
Once security measures are in place, you need to describe them in your privacy policy to assure customers that their data is protected.
Children and Age Limits
If your website is inappropriate for minors or people under a certain age, indicate that within your privacy policy. This is especially important if you sell adult or sensitive products. You should also indicate whether you are collecting data from or marketing to minors or if there are any specific rights for parents.
Use of Cookies and Other Technologies
While your business's ecommerce site will often collect information from customers directly through forms or sign-up pages, there may also be other technologies at play. Your privacy policy should inform users if you indirectly collect data using cookies or other third-party technologies.
You should also notify them how they can opt out of this kind of data collection.
Release of Data
In certain circumstances, your business may need to release data for legal purposes, such as court orders, subpoenas, and warrants. Your privacy policy should identify the situations that would lead to your releasing a customer's data.
Third Parties
If your ecommerce business sells or shares customer data with third parties, include this information in your privacy policy. Furthermore, notify users of the process to opt out of third-party data sharing or sales.
Likewise, your policy should indicate whether third parties monitor your customers' activities. These include:
Google Analytics
AdSense
AdRoll
Youtube
Most ecommerce sites have data monitoring from at least one of those companies. In addition to identifying third-party monitors, indicate how they collect and use user data.
User Rights
Some privacy laws like the GDPR require that you inform customers of their rights within your privacy policy. Specifically, there should be a simple way for all users to view, change, transfer, or delete the data you have collected or opt out of data collection entirely.
Include a clause in your policy explaining the process customers can follow to make a data request.
Furthermore, include contact information, like a specific email address or web form, that customers can use to make the request.
Business Transfers
If there is a possibility that you will sell or merge your business in the future, it is wise to include a clause in your privacy policy that explains what will happen in those circumstances. For example, your policy should expressly state whether a customer's data will get deleted, secured, or transferred during the sale or merger.
Contact Information
Many privacy regulations require that you allow customers to submit complaints about the collection or use of their data. The easiest way to achieve this is by including the contact information of the people responsible for your ecommerce site's policy procedures and practices.
Dates
Every business should indicate when its privacy policy went into effect and when it was last updated. This indication is helpful for customers and essential if a lawsuit gets filed against you.
You may also want to include a statement describing how you will inform users if you update the policy in the future.
Where To Post Your Online Store's Privacy Policy
There are many options when deciding where to include a privacy policy on your ecommerce store. However, a good rule of thumb is to link to the policy in every circumstance where you collect information directly from customers.
It's important to remember that most laws require your privacy policy to be easily spotted and read.
Website Footer
A website footer — the section at the very bottom of the page — is the most common location for a privacy policy link. It's easy and quick for users to find a policy in this area because it has become a standard placement.
Banners and Pop-Ups
If you want to ensure that users will not miss your store's privacy policy, consider adding a link to it inside a pop-up or banner when users first interact with your website.
During Sign Up
If your ecommerce site allows customers to sign up, perhaps for a newsletter or store updates, include a link to your privacy policy on the sign-up screen.
Signing up requires customers to enter personal data, such as their names and email addresses. Even if you have previously advised users of your privacy policy on other areas of your site, this is an excellent time to prompt customers to review the policy.
During Checkout
Checkout is an obvious place to include your privacy policy because a purchase cannot be completed until a customer enters personal data.
However, remember that this should not be the only place you list your policy because not every visitor to your site will follow through with buying a product from your store.
Informational Menus or Sections
Website users frequently look through menu lists and browse the sections on your website. Consider adding the privacy policy as a link within one of these places, particularly if placing it in the footer is not ideal.
Inside Other Legal Policies
Your website likely already has existing legal policies or terms and conditions. While an ecommerce privacy policy should be distinct and clearly labeled, you may want to also link to it from all of your other legal pages.
Good Examples of Ecommerce Privacy Policies
Looking at a sample privacy policy for an online store is a good practice to ensure you're on the right track. Though you should not copy and paste another business's policy, you may want to mimic the structure, style, and language.
The businesses below are an excellent place to begin looking at effective online store privacy policies.
Sam's Club
When you visit the privacy policy page on the Sam's Club website, you immediately see when the policy was last updated. There is then a summary of those updates in a bulleted list. This allows customers to quickly identify any changes that may affect their personal data.
In addition to being organized, the policy also meets two other key aspects of an effective ecommerce privacy policy.
First, each section is very clearly labeled. Second, the policy is written in clear and accessible language, which is fundamental to compliance with many privacy laws.
Costco
Costco's privacy policy is effective in that it is extremely skimmable. The bolded terms under each section make it easy to scroll through and rapidly locate the information you need.
The policy is also extremely detailed.
One good example of the level of detail is the section describing customers' privacy choices. There is an extensive list of practices, of which customers can choose to opt out, as well as an explanation of how to do so.
Costco also specifically lists the direct methods of communication, like a dedicated phone number, to make changes to customer data.
Zulily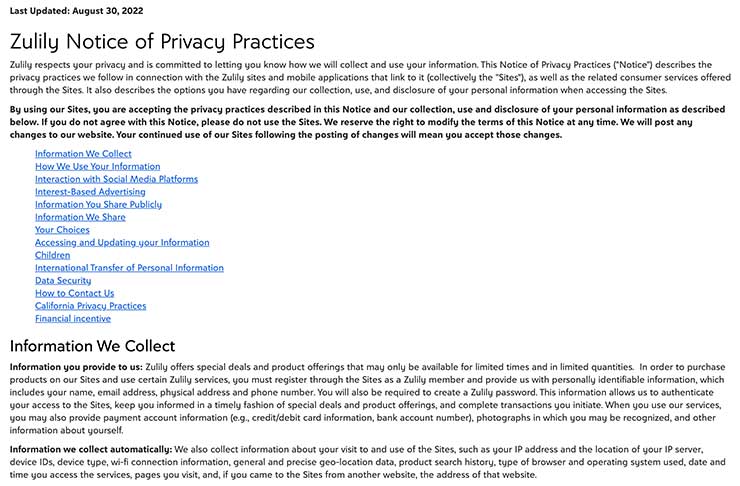 The privacy policy for Zulily is a strong example of an organized and well-written policy.
One area in which this policy succeeds where many others fail is that it directly addresses privacy concerns related to children. There is a separate clause dedicated to this issue, and Zulily provides a specific age cutoff for data collection.
Download Our Free Ecommerce Privacy Policy Template
You can download our free ecommerce privacy policy template below in Word Doc, PDF, or Google Doc format. You can also just copy & paste the HTML directly to your website.
Before using it, read through the entire ecommerce privacy policy template – fill in all of the [brackets], remove any sections that do not apply to your app, and tweak any language as needed.
Ecommerce Privacy Policy Template [Text Format]
Last updated [Date]
INTRODUCTION
[BUSINESS ENTITY NAME] ("we" or "us" or "our") respects the privacy of our users ("user" or "you"). This Privacy Policy explains how we collect, use, disclose, and safeguard your information when you visit our website [name of website.com] [and our mobile application], including any other media form, media channel, mobile website, or mobile application related or connected thereto (collectively, the "Site"). Please read this privacy policy carefully. If you do not agree with the terms of this privacy policy, please do not access the site.
We reserve the right to make
Full View

Ecommerce Privacy Policy Template HTML
You can copy our ecommerce privacy policy template HTML code or download it using the options below.
Additional Template Download Options
Summary
In 2021, there were 2.14 billion digital buyers worldwide, and each of those buyers deserves to have their data secured and privacy protected. If you run an ecommerce store, you are ethically and legally required to present your customers with a comprehensive privacy policy.