A terms of use agreement is an essential item in your suite of legal policies. Well-written terms of use protect your intellectual property and shield your website, software, or app from the activities of abusive users.
Writing a comprehensive terms of use policy from scratch is not the best use of your valuable time. Instead, download our free terms of use template and customize it for your site or app, or create terms of use in a matter of minutes.
1. Sample Terms of Use Agreement [Download Terms of Use]
To view the standard terms of use template for websites, blogs, and mobile applications, simply expand the text below. For a terms of use template in Microsoft Word format, click the download button below the text.
After customizing the terms of use text to your liking, you can copy it into the HTML of your terms of use page.
2. What Is a Terms of Use Agreement?
Terms of use serve as a legal contract between your property and its users, setting guidelines that apply while they use your website, app, or software.
Nearly every legitimate website and app has a terms of use policy or a variant, such as terms of service or terms and conditions. But why is this?
Moreover, what's the difference between terms of use and terms of service? And are terms of use enforceable?
The following sections answer these and other relevant questions.
Create Your Terms of Use With Termly
Here's how you can use Termly's generator to create comprehensive and customized terms of use for your website or app.
Step 1: Go to Termly's terms and conditions generator.
Step 2: Answer a few simple prompts and questions, and go through all of the steps until you reach "Final Details."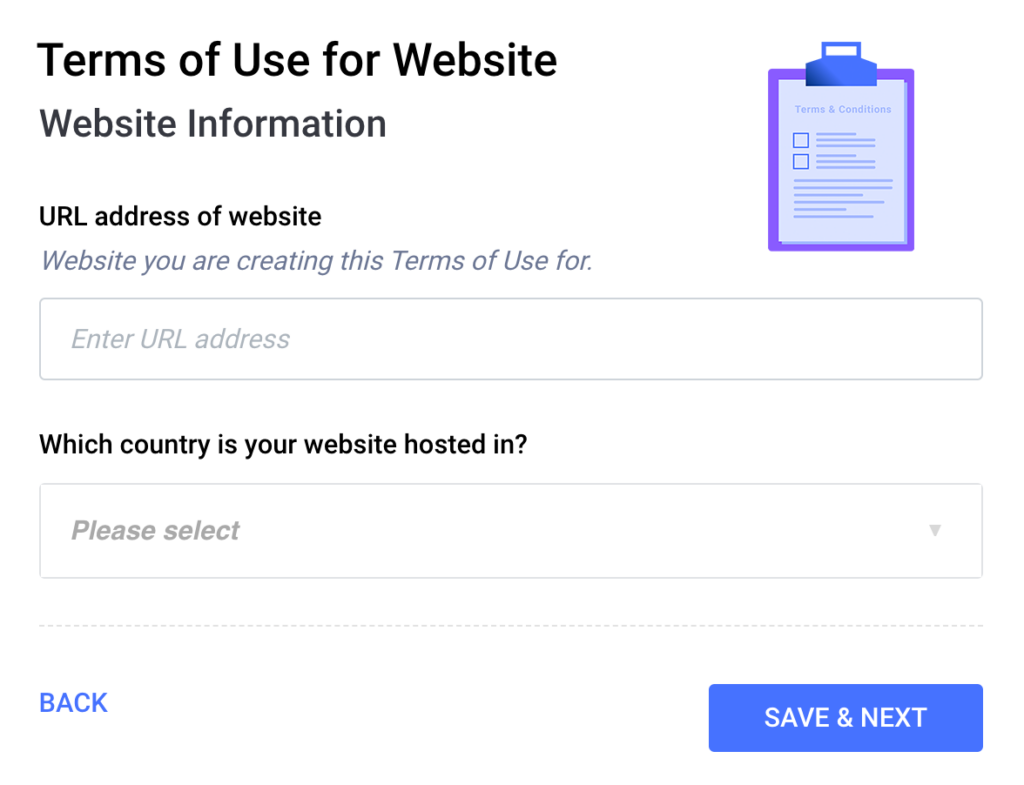 Step 3: Once you've filled in everything and you are satisfied with the preview, click "Publish." You will then be prompted to create an account on Termly so you can save and edit your terms and conditions further.
Terms of Use Defined
A terms of use document is an agreement between your property and each of its users. This agreement covers several crucial aspects of your site's relationship with the user, such as the ownership of all content on your property, and the rules that users need to follow.
Terms of Use vs Terms of Service
From a legal perspective, terms of use and terms of service are the same. It's up to you to decide what name you assign to your terms document.
Look at how these groups of similar websites name their policies differently:
Are Website Terms of Use Enforceable?
Website terms of use are legally enforceable if:
you've provided notice about your terms of use to the user
the user has agreed to your terms of use
To make sure your terms of use hold up in court in the event of a dispute, you need to ensure that your users are aware of your site's terms of use. The common methods of doing this are:
Clickwrap: Users are blocked from accessing the site/software until they consent to the terms of use, for example, by clicking an I agree to these terms of use button.
Browsewrap: Users are informed (e.g., via a banner, notice, or pop-up) that using the site/software itself counts as consent to the terms of use.
Shrinkwrap: In software products delivered offline, users are given the terms of use on paper, within the physical package.
Do I Need a Terms of Use for My Website?
Terms of use are not a legal requirement.
Nevertheless, because the benefits of having even basic terms of use far outweigh the costs of not having them, we strongly recommend that you create terms, however generic or simple they may be.
3. What to Include in Terms of Use
There are no rules or legal requirements about how to structure your terms of use, or what headings you need to use. When drafting terms of use content, your goal should be to make it as comprehensive as possible.
Whether your terms of use contract is for a website, software, API, or app, including the following sections will make it comprehensive:
Introduction and Definitions
Your terms of use document should start by explaining what the terms of use apply to (e.g., your website), and define all the key terms you use throughout the document. As an example, take a look at the first paragraph of Mailchimp's terms of use: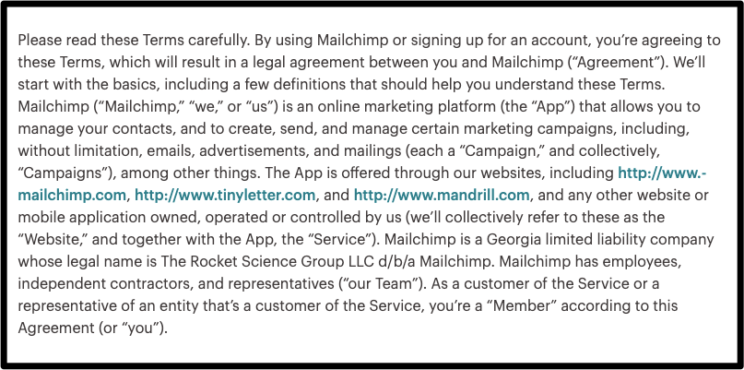 In the rest of this section, excerpts from Mailchimp's terms of use are used as examples.
Intellectual Property Rights
In your terms of use, you should assert your rights over all intellectual property (e.g., logos, photographs, text) on your website or app, legally protecting it against theft and unauthorized use.
Prohibited Activities
Be sure to include a list of activities that are prohibited on your site or app. Common examples include:
Copying content from the site/app
Hacking or phishing
Harassing users or employees
Selling or transferring user accounts
Uploading spyware
You should also list actions you can take when a user violates this clause (or any clause in your terms of use). Such actions could include suspension or deletion of user accounts, blocking access to certain features (e.g., commenting), and pursuing legal action (e.g., for copyright or trademark violations).
Disclaimer
You need to include a disclaimer stating that users access and use the site/app at their own risk. This is crucial to protect your site from liabilities.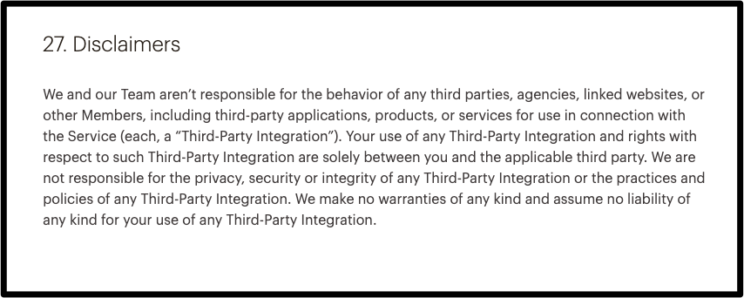 Choice of Law
Your terms of use policy is an ideal document to declare which state laws apply in the case of a legal dispute between you and your users. This declaration, known as the choice of law or governing law clause, is necessary because your users may reside in a state (or country) other than the one in which your business is registered.
This doesn't mean that you can choose any law that you find most beneficial to your business. A choice of law clause will be upheld by the courts only if your business has a reasonable legal connection with the state or country you've listed in your terms.
Additional clauses or sections may be necessary depending on the type of service you're offering. Let's take a look at the four most common types of services: software, mobile applications, discussion forums, and APIs.
Software Terms of Use
Software terms of use, also called an end-user license agreement (EULA), are terms written specifically for a software product.
Software companies don't usually sell the software itself to the user, but a license to use that software. Therefore, a key section in a EULA is the licensing information, which explains:
User limits: how many users does a single license support
Device limits: how many devices does a single license support
Activity limits: what the software can and can't be used for
This is well illustrated in the EULA of PlayerUnknown's Battlegrounds (PUBG):
App Terms of Use
Similar to a software EULA, an app may include licensing information in its terms of use. In addition, the app's terms must define the relationship between itself and the app stores/platforms that it's available on.
For example, see Goop's app terms of use:
Forum Terms of Use
If you run a forum or any service that requires user registration and hosts content written or shared by users (i.e., user-generated content), you can set rules that govern these activities in your terms of use.
Common examples include setting age restrictions and banning fake user profiles. Take a look at Reddit's user agreement:

API/Open-Source Terms of Use
The terms of use of an application program interface (API) serve as an agreement between the API owner and the developer. The terms themselves are similar to what we've discussed so far — primarily detailing what the developer can and can't do, and providing licensing and copyright information.
Here are the Twitter API terms of use, explaining what developers can't do:
4. Terms of Use Agreement Examples
Now that you have the terms of use template and know which clauses are essential for your site or app, fine-tune your terms by studying how industry giants such as Instagram and Craigslist write key sections in theirs.
Instagram Terms of Use
If you're an Instagram user, you've probably wondered who owns the content that's uploaded to the site. This question is answered in Instagram's terms of use. The user owns the content, but Instagram has a license to use the content in any way it deems fit:
If you host user-generated content (UGC), like Instagram does, you should consider adopting such a licensing policy.
Craigslist Terms of Use
Sites that carry large amounts of content generated by users, such as Craigslist, run the risk of accidentally carrying harmful, fraudulent, or misleading content.
Craigslist's terms of use protect employees and owners from being sued by users who suffer losses or negative consequences:

If your website contains UGC, a disclaimer of liability is essential to keep you from getting sued, should the content be misleading.
Netflix Terms of Use
Netflix's terms of use have a clause written specifically to stop abuse of its free trial offers.

Another key clause explains how a user can cancel their Netflix subscription.
These clauses are good to adopt if you run a subscription service. Interestingly, Netflix has a clause that precludes class-action lawsuits:
If you have a large user base, including a class-action waiver in your terms is in your best interest.
Google Maps Terms of Use
As we've discussed, a clause common in terms of use documents is a list of prohibited activities. Here's behavior prohibited on Google Maps, according to their terms:
Annoyed when Google Maps leads you astray? Well, there's not much you can do about it, as their terms absolve the company of the responsibility of providing accurate information:
Such a clause is ideal for you if your website or app provides a service whose accuracy or quality level is dependent on factors beyond your control or the scope of your technology.
Bonus: Funny Terms of Use
Although terms of use are legal and enforceable documents, almost nobody reads them.
That's likely because terms are filled with legal jargon, making them uninteresting to most readers.
Some sites break the monotony of terms of use by using humor. Here are a few funny terms of use that we've come across:
Amazon's Zombie Apocalypse Exception
Amazon's AWS terms has a clause that allows users to disregard its acceptable use policy in the case of a zombie outbreak. Does Jeff Bezos know something we don't?
Tumblr's Simplified Terms
In key sections of Tumblr's terms of service, the dense text has been made simple:
WordWeb's Licensing Terms
Finally, here's a rather unusual licensing deal from WordWeb. Do you take more than two flights each year? Well, your rich, polluting self will need to pay up to use this otherwise free software:
These examples show that terms don't need to be a boring read. While humor isn't a requirement, your terms should be written in clear English for the benefit of your users.
5. Conclusion
Every minute without a terms of use policy puts your business at increasing risk of lawsuits that you may lose.
With our terms of use generator or our template, creating a terms agreement costs you zero dollars and a few minutes. Not having one can cost you hours in arbitration and thousands of dollars in legal fees.
6. Terms of Use FAQs