The importance of having website terms of service cannot be overstated. This agreement is all that stands between your business and users who want to steal your content or abuse your services.
Our free terms of service template is the perfect starting point to protect your operations online — use it to establish the rules of your website that visitors must abide by, and cover your back in case of litigation.
You can download our sample terms of service below to start crafting your own, or keep reading to learn how this document helps you maintain control of your site.
1. General Terms of Service Template [Example Text and Download]
Expand the component below to view our general terms of service template in its entirety, or click the button to download the sample in Microsoft Word and PDF file formats. Then simply copy and paste the text into the HTML of your site.
Our standard terms of service template can be used for the following platforms:
Website
Mobile App
Software as a Service (SaaS)
Blog
Online Store
2. What is a Terms of Service Agreement?
A terms of service agreement explains the guidelines of your website. It's a contract between your site and its visitors — by explaining what users can and can't do with your services, you are legally protected if there is a dispute.
Having a terms of service agreement is not required by law, but because it's considered best business practice, you won't find a major company without one.
Terms of service are also known as terms and conditions and terms of use, and are abbreviated as ToS (or T&C and ToU, respectively).
Create Your Terms of Service Using Termly
Here's how you can use Termly's generator to create comprehensive and customized terms of service for your website or app.
Step 1: Go to Termly's terms and conditions generator.
Step 2: Answer a few simple prompts and questions, and go through all of the steps until you reach "Final Details."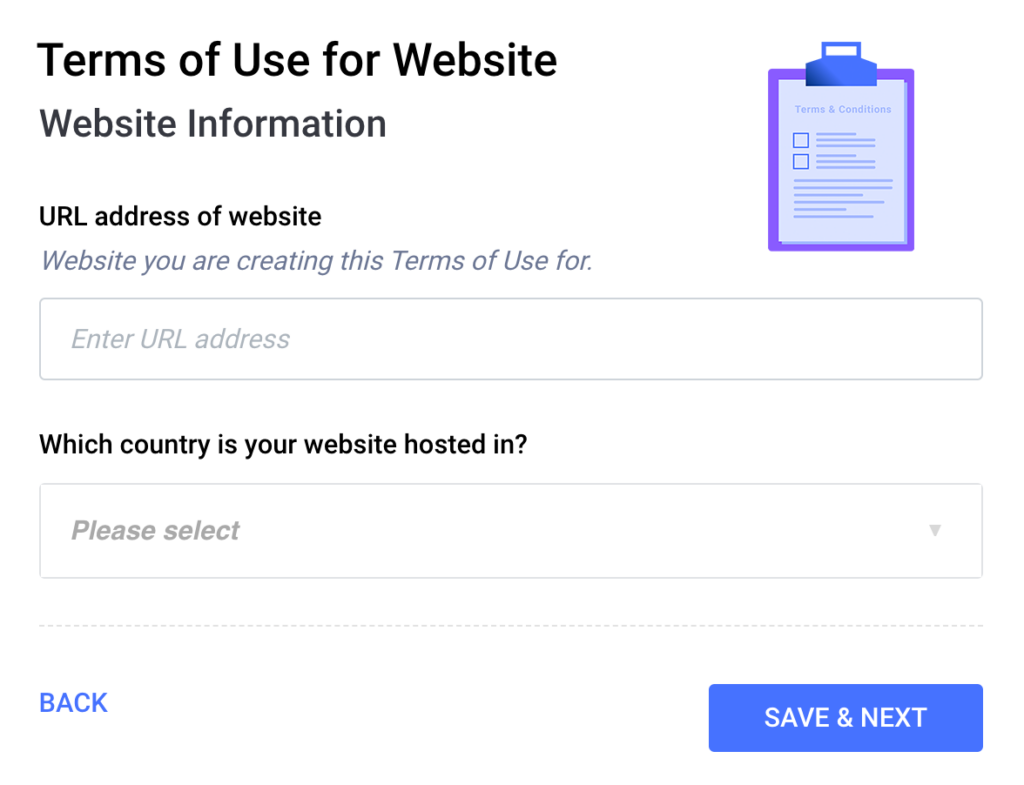 Step 3: Once you've filled in everything and you are satisfied with the preview, click "Publish." You will then be prompted to create an account on Termly so you can save and edit your terms and conditions further.
Understanding Terms and Services
Each section of a terms of service agreement explains the roles and responsibilities of the parties involved. Any well-written terms of service for a website will include certain basic provisions.
Let's break down some of the most important clauses in this document and how they can protect your business interests.
Intellectual Property Rights
Copyright infringement is a real threat for any company. The intellectual property clause of terms of service allows you to legally claim the creative assets of your site, thereby offering recourse if users copy or republish your content without permission.
Prohibited Activities
Your site was designed to offer specific functionality for users. The prohibited activities section of your terms describes user behaviour that you consider a misuse of your services. For example, making improper use of support services, posting inappropriate comments, or creating false user accounts to mislead others are commonly prohibited activities.
Modifications and Interruptions
Everyone makes mistakes, and no technology is infallible. Your website may need to undergo maintenance, or the information you provide may contain unintentional mistakes. This section explains to users that you reserve the right to make any changes to your site that you wish, and cannot guarantee that it will be available while undergoing these changes.
Governing Law
In your terms of service, you need to choose a governing law to oversee any disputes, particularly if you have users in multiple locations. Most businesses in the US simply need to select the law of a certain state as their governing law. It doesn't have to be the same as the physical location of your company, but there should be a connection.
Contact Us
The final section of your terms of service will likely be your company's contact information. All you need to do here is include a name, address, and phone number.
Enforcing Your Terms of Service
To legally enforce your terms of service, users must be able to find them on your site. The most common place to include a link to your terms of service is in the footer of your website. For example:
Most users know to look here first, but it's also helpful to include a link elsewhere on your site, such as in your FAQ section, if you have one.
To give yourself extra legal protection, you could have your terms appear in a pop up when a user visits your site for the first time. Therefore, you can prove in court that visitors are presented with your terms before they browse your site.
3. Terms of Service Examples
Although copying terms of service text from another company's agreement is a recipe for legal disaster, prudent business owners can take valuable inspiration from how major organizations present their terms, and the specific clauses they include.
Facebook Terms of Service
When Mark Zuckerberg testified to congress in 2018, one senator had some less than favorable remarks about Facebook's user agreement — criticizing the fact that it was not written in language the average American would understand.
Since then, Facebook has made several updates to its terms to make them much more straightforward. The tech giant's current terms of service are written in a consumer-friendly voice and have a clear table of contents for users to navigate.
As well as being accessible, Facebook's terms are legally sound — explaining who is eligible to use the site, and what users can and can't do on the platform. To handle an enormous community's potential for inappropriate behavior, Facebook's legal team have a provision for every eventuality.
Although Facebook continues to be in the spotlight regarding data privacy, smaller businesses can learn from this social network's audience-friendly presentation of its strict terms.
To help visitors understand your website's rules, your terms of service should be written in simple language — not confusing legal terminology. Avoiding legalese is the first major hurdle for writing an effective user agreement.
YouTube Terms of Service
With 400 hours of video uploaded to YouTube every minute, dealing with problematic content is one of the streaming site's primary concerns. As such, there are several clauses in YouTube's terms of service that allow the company to waive responsibility for what users watch.
In its limitation of liability section, the company states that it's not liable for any damages resulting from its content, essentially stating that it won't be held responsible for any negative consequences that the user suffers due to using its services.
When writing terms of service, you should include a clause that limits your liability to users. Here's a section from our standard terms of service template that fully limits your liability — protecting you from paying extortionate costs if a situation arises that wasn't your fault:
In no event will we […] be liable to you or any third party for any direct, indirect, consequential, exemplary, incidental, special, or punitive damages, including lost profit, lost revenue, loss of data, or other damages arising from your use of the site.
In the event that legal action is taken against you, this section may determine how much you have to pay in damages — if the clause is phrased correctly, as above, the amount should be zero.
4. Why Your Mobile App or Website Needs a Terms of Service
Any digital platform or software can benefit from the additional legal protection that a terms of service agreement offers.
Put simply, you cannot control who visits your website or how they act upon the information presented to them. If you don't clearly establish your terms, your users can interpret them as they wish.
For example, users may take advantage of a pricing error and place a large order for the wrongly priced good. You have the right to cancel that order if you establish guidelines for such an event in your terms of service.
A generic terms of service agreement or app terms and conditions could therefore be the difference between growing your company, and going out of business.
Does Your Website Need a Terms of Service and Privacy Policy?
In short, yes — terms of service set a website's guidelines, but a privacy policy is a legal requirement for any business that collects personal information about its users.
Both the General Data Protection Regulation (GDPR) and the California Consumer Privacy Act (CCPA) mandate that websites create a separate privacy policy outlining their data collection practices.
Here are the key differences between a terms of service agreement and a privacy policy explained:
| Terms of Service Agreement | Privacy Policy |
| --- | --- |
| Presents the rules of using your website | Explains how your site processes user data |
| Protects your business | Builds trust with users |
| Ultimately optional, but highly recommended | A legal obligation |
Once you have this document prepared, a link can be included in your terms of service. For example, Twitter's terms of service includes a separate section for its privacy policy.
Creating a privacy policy and staying out of legal trouble is as simple as filling in your site's information, if you use a GDPR privacy policy template.
Twitter also includes links to its terms of service, privacy policy, and cookie policy in its homepage footer.
5. How to Create Terms of Service
Terms of service are critical to the ongoing success of your business. However, writing a terms of service agreement from scratch typically involves a lot of back and forth with an attorney, plus a hefty legal bill.
By modifying our terms of service template, you can create a free terms of service agreement that offers equal legal protection — without the cost. If you're short on time, our free terms of service generator can handle the process for you in under 15 minutes.
Whichever approach you choose, don't put off creating this vital legal document — the security of your operations may depend on it.
6. FAQs About Terms of Service