Providing your customers with a comprehensive shipping policy is an ecommerce best business practice. Any site or store that offers deliveries or by-mail returns needs a shipping policy in order to protect their business and keep their customers happy.
If you're one of the many businesses this applies to, learn what a shipping policy is, what it includes, and how you can create one that fits your business.
1. What Is a Shipping Policy?
A shipping policy is a document that outlines the details of your ecommerce site's shipping and delivery practices. This document is sometimes referred to as a shipping information page, and includes details such as shipping costs, return shipping responsibilities, and expected delivery times.
Your shipping policy should be clear, accurate, and easy to understand. Use it as an opportunity to proactively address any questions or concerns a customer might have about your shipping practices.
Create Your Shipping Policy Using Termly
Now that you have a clearer idea of why you need a shipping policy, here's how you can use Termly's generator to easily create a comprehensive shipping policy:
Step 1: Go to Termly's shipping policy generator.
Step 2: Answer our prompts and questions, and go through all of the steps until you reach "Final Details."
Step 3: Once you've filled in everything and you are satisfied with the preview, click "Publish." You will then be prompted to create an account on Termly so you can save and edit your shipping policy further.
2. Does Your Ecommerce Business Need a Shipping Policy?
Your ecommerce business needs a shipping policy if you offer any form of shipping, delivery, or by-mail returns.
You need a shipping policy to:
Establish Your Shipping Rules
Your shipping policy establishes the rules of your shipping and delivery systems. It's important to give customers this information up front to help them decide whether or not to make a purchase.
For example, your shipping policy will let a customer know which of the following channels you use for shipping:
Standard mail
Air mail
Dropshipping (including the location of origination)
FedEx
UPS
Pick-up only
Store delivery
Understanding these options, along with their associated time and costs, can make or break a customer's decision to purchase. But not making this information available to customers who need it will likely encourage them to shop at another site.
Protect Your Business
A shipping policy protects you as a business owner.
For example, if a customer complains about how much they were charged or how long their order took to arrive, you can defend yourself using a shipping and delivery policy that clearly outlines all that information as evidence.
Not only do complaints and poor reviews hurt your business, but a customer can take that complaint to court. Pointing to a shipping policy that was clear, accurate, and easily accessible to the customer will be key in helping you win your case.
Build Trust With Customers
A shipping policy builds trust with your customers by being transparent and ensuring your clientele has easy access to all the information they need.
By providing information about details like how long it might take to ship international orders, or what your shipping cutoff times are with respect to holidays, customers can get a full picture of how your shipping and delivery systems may affect them.
A detailed and clear shipping policy lets customers know that you're willing to give them truthful and transparent information, and that you respect them and their purchasing decisions.
This will lead to a more satisfying customer experience, which is the cornerstone of a successful ecommerce business.
3. What to Include in a Shipping and Delivery Policy
Even the most generic shipping policy template will include:
Shipping Costs
Your shipping and delivery policy needs to explicitly outline how much you charge for shipping, including variations in shipping price based on location.
Customers deserve the opportunity to review and calculate the total cost of making a purchase before they make said purchase, and will appreciate this level of transparency.
Delivery Times
Let customers know how long each delivery method is expected to take.
Many businesses include a table that breaks down the shipping times associated with various methods. If you offer different methods of delivery, we recommend including such a table, so customers can easily decide which method to choose.
Shipping Restrictions
If your business doesn't ship to certain countries or won't ship items to PO boxes, for example, you need to include this information in your shipping policy.
This helps avoid confusion or disappointment for a customer who wants to make a purchase, only to find out later on that they can't.
Furthermore, plainly stating your shipping restrictions will help you avoid legal claims or customer complaints.
Missing, Lost, or Damaged Items
Use your shipping policy to inform customers how to report missing, lost, or damaged items and what they can expect from you in response.
Although shipping errors and transit mishaps are beyond your control, you need to give customers assurance of how you plan to handle such events.
International Shipping Information
If your ecommerce business offers international shipping, include information about the customs process, additional fees, dues, and other international shipping specific information that the customer needs to know.
Return Information
Finally, you'll want to include a detailed breakdown of how your store handles shipping when it comes to returns and exchanges.
These are the types of questions you need to answer in your shipping policy:
Under what circumstances are returns acceptable or unacceptable?
Who pays for return shipping?
What steps does a customer need to take to get a refund, or to exchange an item for a new one?
How long will the shipping returns and refund process take?
If you only offer shipping as part of the returns process — for example, if you have a money back guarantee — you may choose to combine these two policies into a singular shipping and return policy.
4. Shipping Policy Examples
Look to examples of shipping policies online to find inspiration for what to include in your own shipping information page and how to format it.
Here are a few shipping policy examples that can help you in creating your own:
Best Buy Shipping Policy Example
Best Buy's shipping policy sample is notably concise. However, it covers the important details, and focuses on Best Buy's free next-day delivery policy.
Note how explicitly they state their shipping restrictions, such as:
$35 minimum does not include digital downloads, e-gift cards, special orders, and any items canceled or removed from the order.
Additionally, their core policy links out to a supplementary page that addresses shipping costs and times: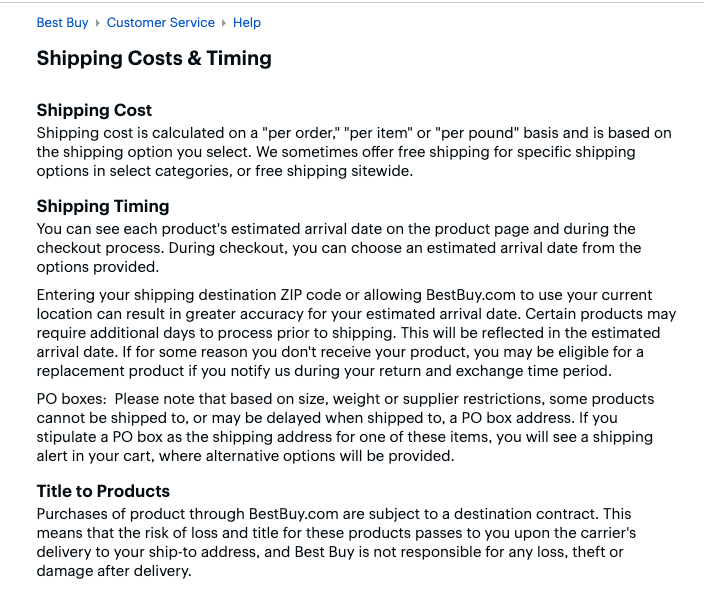 Best Buy proves that even a major ecommerce retailer doesn't need pages and pages of shipping information. Their policy is simple, clear, and gives customers the details they need.
Michaels Shipping Policy Example
Another good example comes from the Michael's shipping policy:
This sample policy details each delivery option, then has a chart further down the page that lists the prices for each method. Customers can easily choose the delivery option that best suits their needs.
FOOTACTION Shipping Policy Example
Footaction's shipping and delivery policy clearly outlines how different delivery timeframes and locations impact shipping costs:
The site even provides separate tables for distinct shipping scenarios, so users don't need to find the situation that applies to their purchase in a giant table.
In addition to making their delivery time and cost policies easy to find, they outline each price point and calculate the total.
When crafting your own shipping policy, it's important to take steps like these to ensure that customers can get maximum clarity with minimal effort.
5. How to Create Your Ecommerce Shipping Policy
Use the information above as a guide for writing a shipping policy to create a document that covers the necessary information for your business.
Keep in mind that shipping and return policies are often combined, meaning you can download and customize a return policy template to address shipping details. If products are not returnable, make it clear to customers by including a no refund policy.
Alternatively, use our free return policy generator to create a return policy with built-in shipping clauses and have a custom policy on your site in less than ten minutes.
Whether you create your own, customize a template, or generate a policy, if your ecommerce business deals with business-to-customer deliveries, you need a shipping policy to protect your store and satisfy your customers.
Or, you can also download the free template .docx file below.
However, we do recommend to use our Shipping Policy Generator right above for a much easier and faster experience. Plus, first policy is free to generate and download!
6. Shipping Policy FAQs