A shipping policy outlines your store's shipping options, costs, timelines, and procedures. If you own a business that sends goods to customers through the mail, you need to have a well-written shipping policy that answers their questions and builds their trust.
In this article, we discuss why you need a shipping policy and what goes into one — with examples — and provide you with a free shipping policy template to download.
What Is a Shipping Policy?
A shipping policy outlines all details about how your store fulfills and ships purchases to your customers and usually accounts for both international and domestic orders.
It informs your customers about:
Fulfillment speeds
Shipping and processing timelines
Costs
International shipping options
You can also include links to other relevant procedures in your shipping policy, like your:
Your online store's shipping policy should also outline your processes for missing or damaged packages and list any restrictions and exclusions.
If you don't already have one for your website, try our shipping policy template for free, linked below.
Ecommerce Shipping Stats and Facts
As a business owner, you've likely noticed that online shopping has increased significantly since 2020, and recent statistics back this up.
Just look at some of the findings from the 2021 Parcel Shipping Index by Pitney Bowes Inc:
159 billion – the number of packages shipped around the world in 2021.
5,000 parcels are shipped every second.
$491 billion – total global parcel revenue for 2021.
16% annual increase in American carrier revenue.
But despite the increase in online sales, 69% of items still get abandoned by shoppers in their digital shopping carts. (Baymard Institute)
Another study by the Baymard Institute proposes that the high cart abandonment rate could be linked to poorly designed shipping interfaces online, which typically lack clarity about a store's shipping policy. Take a look:
63% of stores do not mention in-store pickup as an option in their shipping interface
45% of websites use unnecessary jargon in the checkout process, confusing consumers
65% of websites don't prominently display 'guest checkout' options, scaring away users who might not want to create an account
To us, this suggests a growing need from consumers for businesses like yours to share links to shipping policies, which would help solve some of the issues mentioned in the study.
For example, a shipping policy for your online store should be easy for users to read and understand, with no confusing legalese or jargon. It should also outline your available delivery options, including in-store pickup and online guest checkout information.
We believe transparency makes a big difference for businesses like yours. By clearly communicating your shipping policy with your users, you can potentially help decrease cart abandonment rates and increase your conversion.
Data experts predict that the number of packages shipped globally will reach 256 billion by 2027 (Pitney Bowes Inc).
Who Needs a Shipping Policy?
If you sell goods that get shipped to a consumer, you should have a shipping policy posted on your website or app.
Even though it's not required by law, posting a shipping and delivery policy on your website helps answer customer questions, prevents misunderstandings, and keeps your consumers and customer service team informed.
We recommend creating a shipping policy for:
Retail businesses
Ecommerce stores
Specialty stores
Boutiques
Independent shops
Small businesses
Still trying to figure out where to start? Try our free shipping policy template, it's short, simple, and can be embedded directly into your website or app.
Benefits of Having a Shipping Policy
A good shipping policy benefits both your business and your consumers by:
Answering customer questions
Reducing cart abandonment
Increasing your internal organization
Building trust and transparency between you and your consumers
Let's go over these benefits together in more detail.
Shipping Policies Help Answer Customer Questions
A standard shipping policy can help conveniently answer several common customer questions for you and your users.
By posting a shipping policy, your customers can look up answers to frequently asked questions, like:
How much shipping might cost them
How long it takes for the package to arrive
If you deliver to their location
What happens to missing or damaged packages
Without a visible ecommerce shipping policy linked to your website or app, you'll be the one responsible for fielding all those questions.
Shipping Policies May Help Increase Conversion
For a customer, purchasing something from an online store that doesn't have shipping information available feels very risky. They're more likely to buy products from a store like yours that does make their shipping policy available.
Shipping Policies Help With Your Internal Organization
Along with answering many customer questions, your shipping policy also solves several internal issues your company might face.
By establishing your shipping and handling protocols in a written document, your team knows how to answer customer inquiries more accurately and what guidelines to follow to ensure all customers receive their orders promptly.
Shipping Policies Help Build Trust and Transparency
These days, customers expect to find a shipping policy somewhere on your website or app, and posting one helps you establish yourself as a legitimate, trustworthy business.
Not linking to a shipping policy on your ecommerce store might leave users feeling like your website needs to be more professional, updated, or secure.
What Your Shipping and Delivery Policy Should Include
A good shipping policy should include all details about your shipping and handling practices; that way, your consumers can find answers to their questions before they place an order.
Below, let's review the most common clauses to include in your shipping policy.
Shipping Rates and Costs
It may sound obvious, but your shipping policy should include information about your shipping rates. Try to give as much detailed information as possible, so your customers know how much it might cost them to place an order on your website.
Below, see a great shipping policy example from the clothing store brand American Eagle. They provide their customers with cost estimates organized in a neat table.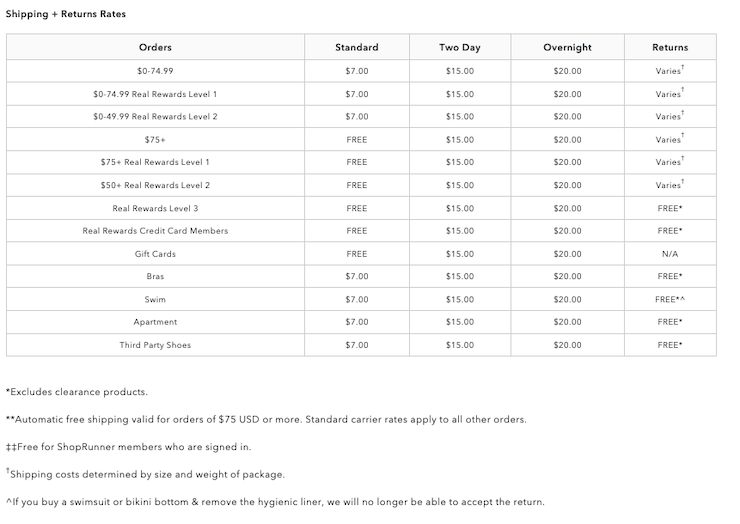 Shipping Methods
You can offer many different shipping methods to your consumers, so be sure to list all of those details in a clause in your shipping policy.
Your company might provide:
Standard shipping
Second-day shipping
Next-day shipping
Saturday delivery
Buy online, pickup in-store options
Dropshipping
You should also include details about what shipping carriers your company uses, like:
United States Postal Service (USPS)
United Parcel Service (UPS)
DHL
FedEx
Hermes Europe
Deutsche Post
Below, see a shipping policy sample from clothing retailer ASOS, who mails packages internationally.
This part of their shipping info is for their US users, who have different shipping options from their consumers living in Europe.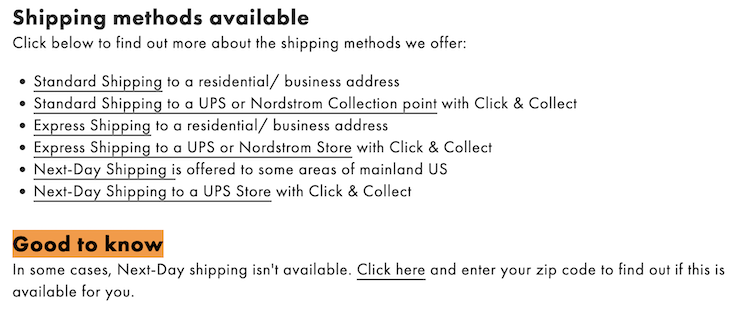 Notice the 'Good to know' note? ASOS sets their US customers' expectations by letting them know they might not qualify for next-day shipping in some locations.
Below is a screenshot of their separate shipping options for customers who live in Europe, which you can compare to their US shipping availability.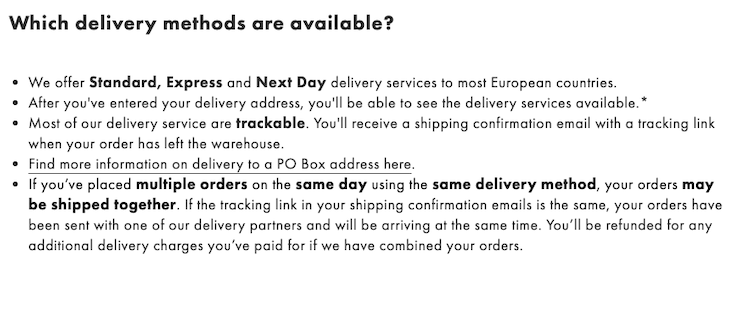 If you ship internationally, consider using ASOS as an inspiration and separate the shipping delivery methods based on your customer's location.
Delivery Estimates and Times
Your customers want to know how long it will take before their package arrives, especially if they're purchasing something for a reason, like a holiday or a birthday gift.
Include a clause in your shipping policy informing customers approximately how long it takes for you to process orders and how long it might take for them to receive their items.
Below, we're using American Eagle as our shipping policy example again because they organize this information in an easy-to-read format.

Shipping Restrictions or Exclusions
Depending on what kind of items you sell, you might need to list shipping restrictions and exclusions.
Air transport restrictions and regulations also impact what items can be shipped overnight.
Let's look at a sample shipping policy from Macy's to see how they deal with shipping restrictions.

Missing or Lost Packages
You own an ecommerce business, so you already know that things sometimes happen beyond your control after an item has been shipped to a customer.
It's in your best interest to outline your protocol for lost or missing packages — including ones that never arrive — in a clause within your shipping policy.
Doing so lets your customers know what to expect ahead of time, and this clause gives you something to point to if they have questions or concerns.
Below, we use Macy's as our example shipping policy again. The highlighted text shows how long customers have to report issues with their delivery, including missing or incorrect items.
International Shipping Information
The details surrounding international shipping can get complicated, so it's a good idea to make a specific international shipping policy clause for your users who live in other parts of the world.
In this clause, you can mention who is responsible for customs and import duties, international taxes, and other additional fees. You should also mention which carriers you use.
Below, see international shipping information from American Eagle, which they host on the international version of their website.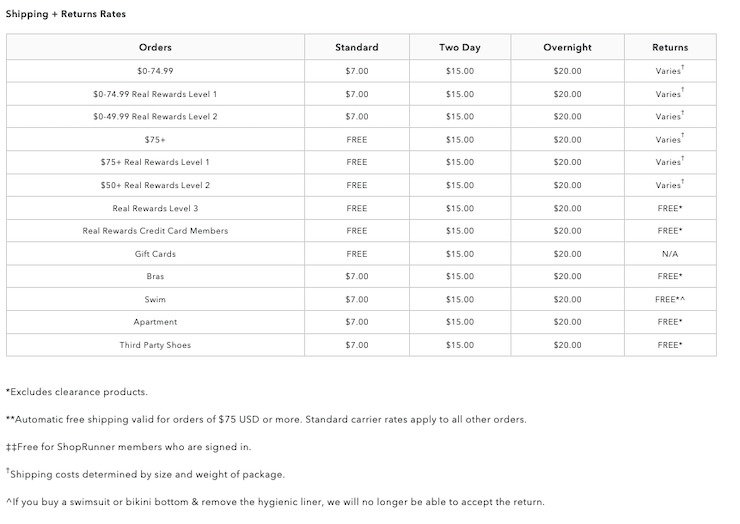 We like how quickly American Eagle answers relevant questions and their inclusion of useful contact information for customers who may have further questions.
Even if you don't ship internationally, you should still say so directly in your policy. Below, see a shipping policy sample from Darn Tough Vermont.

The sock company makes it clear that they can't ship to addresses outside of the US but still provide a way for international consumers to potentially find their products.
Return, Refund, and Exchange Policy Information
It's a good idea to include a link to your return, refund, and exchange policies within your shipping policy. Customers typically want to know about these processes before placing an order, especially if they've never purchased from you.
Below, see how ASOS includes a link to their return and refund policy in the navigation banner that appears while looking at their shipping policy.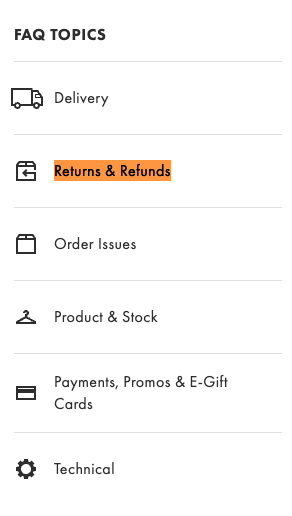 Where to Display Your Shipping Policy
You should link your shipping policy in multiple places across your website or app so your users can always easily find it.
Let's go over the most common places to put your ecommerce shipping policy in more detail in the next section.
Website Footer
Your users can see the links in your website footer no matter what part of your website they visit, so it's an ideal spot to link to your shipping policy.
The highlighted text in the example below shows where Darn Tough Vermont links to their shipping policy in their website footer.

Shipping Interface and Payment Screens
We think the most important place to link to your shipping policy is on your shipping interface and any payment screens.
Putting a link in these spots helps answer any last-minute questions your users might have before they complete a purchase.
The screenshot below shows how Apple includes a link to their shipping policy for customers during the online checkout process.
Help or Privacy Center
We also recommend creating a help center, frequently asked questions page, or privacy center that houses your shipping policy and any other relevant agreements your customers should have easy access to.
You might consider including links to the following policies and procedures in your ecommerce help center:
The screenshot below shows Macy's Help Center, which provides their users with links to a return policy, account and billing information, consumer protections, and legal notices.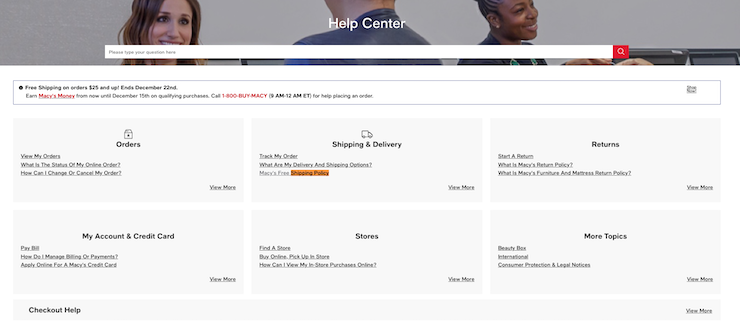 Tips to Make The Most Of Your Shipping Policy
Below, we cover how your company can make the most of your shipping policy to benefit your business and your customers.
Make your Shipping Policy Easy to Read
Try to write your shipping policy in a straightforward way because you want as many customers as possible to read and understand it.
For tips on how to do this yourself, check out our guide on how to write a shipping policy.
Or you can download our free shipping policy template, which is already designed by our legal team to be simple to read.
Offer Free Shipping or Promotions
With so many ecommerce options out there, a shipping policy can help your business stand out, especially if you offer fast shipping times or low rates compared to your competitors.
For example, you might offer temporarily cheaper shipping as a holiday promotion, which you could display in a banner or website announcement bar at the top of your webpage.
But according to data from JungleScout's Consumer Trends Report, one of the best ways to incentivize your customers to finalize a sale is to offer free shipping:
80% of online customers expect free shipping over a specified dollar amount
66% expect free shipping on all orders
If free shipping is a perk you can offer your customers, include it in your shipping policy.
Attract More Local Shoppers
You can customize your shipping policy to allow in-store pickup or drop shipping options, attracting more local customers to your business.
If you have a brick-and-mortar location, consider implementing a buy-online, pickup in-person process that you can outline in a clause in your shipping policy. You can even use resources like DoorDash to provide your local customers with yet another delivery method.
Don't Copy Someone Else's Shipping Policy
No matter what you do, you shouldn't copy another person's shipping policy as this is plagiarism, and the specific details likely won't even apply to your company or customers.
It's not worth the risk, especially since there are many free customizable shipping policy templates for you to try.
Shipping Policy Examples
Let's look at some real-life examples of shipping policies to help inspire you when you make one for your website or app.
Target's Shipping Policy
Your shipping policy must be easy to navigate through so your customers can find the answers they're looking for. The shipping information example on Target's website, pictured below, is a great example of an easy-to-navigate shipping policy and even features unique, eye-catching graphic designs.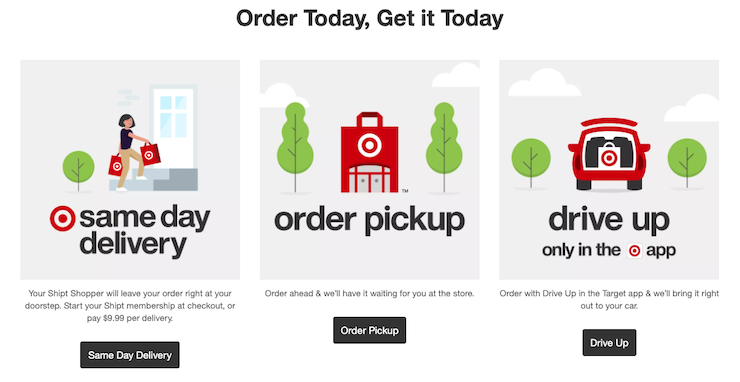 We also love how Target provides links to relevant policies directly on their shipping pages. In the example screenshot below, notice how Target includes links to their return policy, terms and conditions, and an order tracking link.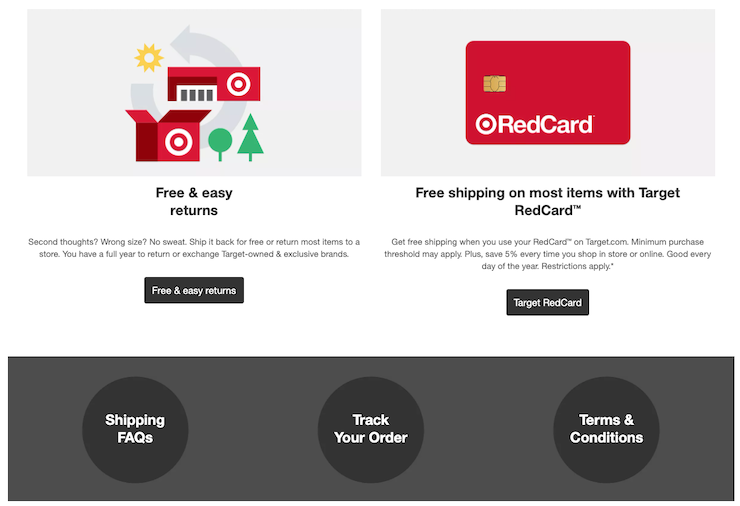 Of course, you don't have to use illustrations and designs to make your shipping policy digestible for your users.
Instead, you can format your policy using the titles of your clauses and a table of contents, and embed links directly within the text so your users can open and read your other relevant policies.
Costco's Shipping Policy
Your shipping policy should include as many details about your shipping processes as possible. A great shipping information example comes from Costco, pictured below.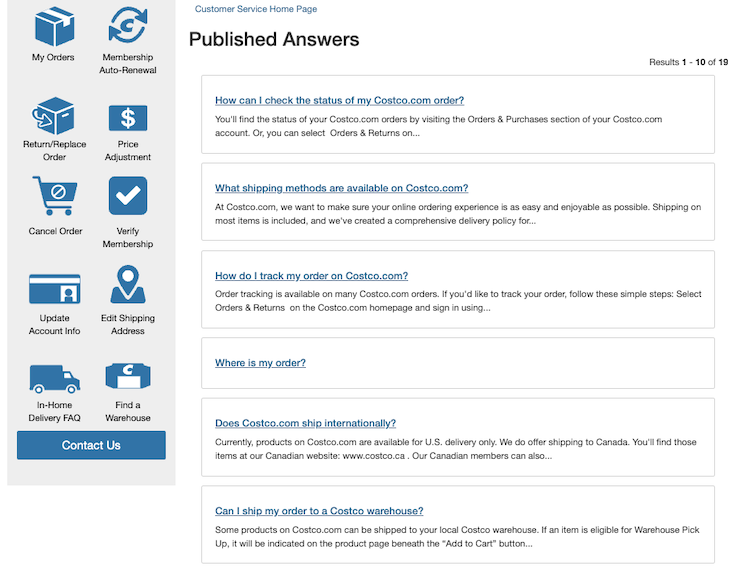 As you can see above, Costco provides links to other policies, customer services, and frequently asked questions pages in the sidebar of their shipping page.
But they also organize their clauses in the style of frequently asked questions, which is a unique approach and allows them to continue adding to their policy based on customer feedback.
In the example below, check out how Costco addresses placing an order that ships to multiple addresses.
Like Costco, you should think of an online store shipping policy as a living document that you can add to and change based on your company's needs and customer feedback.
Shipping Policy FAQ
Can you believe there's still more to learn about shipping and handling best practices? Check out some of the most frequently asked questions we get about shipping policies below.
Are shipping policies legally required?
No, shipping policies are not legally required, but it's a business best practice to have one in place if you ship goods to consumers.
Which states require shipping policies?
Shipping policies are not required by any state. But if you sell goods through the mail, you should create a shipping policy to keep your consumers adequately informed and streamline your shipping and handling processes.
Do you have to have a shipping policy?
You do not have to have a shipping policy, but you could face negative backlash as a result. Customers may be less likely to trust your business, causing you to lose sales.
Not posting a shipping policy could cause internal disorganization with your shipping and handling process.
Why Use a Shipping Policy Template?
Making your own shipping policy from start to finish can take up a lot of your time, resources, and energy. That's why we recommend you use a free shipping policy template for your online store, ecommerce shop, or small business.
Templates for shipping policies already do some of the writing and formatting for you, giving you a headstart. Plus, our shipping template presents you with the most common clauses, which saves you time but still ensures your policy is thorough.
But the best thing about our shipping policy template? It was developed by our team of legal experts, so you can trust that it's accurate and reliable.
Sample Shipping Policy Template for Online Stores [Full Text and Download]
You can download our free shipping policy template below in Word Doc, PDF, or Google Doc format. You can also just copy & paste the HTML directly to your website.
Before using it, read through the entire shipping policy template – fill in all of the [brackets], remove any sections that do not apply to your app, and tweak any language as needed.
Shipping and Delivery Policy Template [Text Format]
Last updated [Date]
---
[This Shipping & Delivery Policy is part of our Terms of Service ("Terms") and should be therefore read alongside our main Terms: [Terms URL].]
Please carefully review our Shipping & Delivery Policy when purchasing our products. This policy will apply to any order you place with us.
This template was created using Termly's Shipping Policy Generator.
WHAT ARE MY SHIPPING & DELIVERY OPTIONS?
In-Store Pickup
[In-store] and [curbside pickup] is available for [all purchases / certain purchase / other].
Full View

Shipping Policy Template HTML
You can copy our shipping policy template HTML code or download it using the options below.
Additional Template Download Options
Summary
If your store sends goods to consumers through the mail, you should have a shipping policy.
Shipping policies help set consumer expectations and streamline your business's shipping and handling processes. Sharing a link to your policy in useful locations, like your payment page, may even help increase your percentage of finalized sales.
Online shopping is only getting more popular, so why wait? You can download our free shipping policy template and customize it to fit your company and customer needs today.