Writing your own shipping policy can help you attract more customers, set proper expectations about your procedures, and streamline how you answer common inquiries, so long as you're mindful of how and what you include in the policy.
We'll cover everything you need to know about shipping policies, show you real-life examples, and teach you how to write a shipping policy of your own, so you stand out from the competition.
What Is a Shipping Policy?
A shipping policy explains how you fulfill and ship goods ordered by your customers and gives details about potential costs, delivery time estimates, international shipping options, and what happens if someone receives an incorrect or damaged item.
It can also include links to similar policies, like your return, refund, and exchange policies.
Why Is a Shipping Policy Important?
Nothing scares away customers more than the unknown — if people can't find a shipping policy on your website or app, they might choose to purchase from a competitor over you.
But you'll lose even more sales if the shipping policy they do find is confusing, missing relevant information, out-of-date, or inaccurate.
16% of shoppers chose not to finalize a purchase because they couldn't accurately calculate the total order cost up-front. (Baymard Institute)
Shipping policies are essential documents for ecommerce stores because they help:
Answer common customer questions
Prove your site is safe and reliable
Increase sales
Let's discuss all three of these benefits in more detail.
Shipping Policies Answer Common Customer Questions
Some of the most frequent questions businesses have to answer daily are about shipping and handling practices.
Rather than responding to each inquiry, post a shipping policy on your site and point customers to it to help them find the information they're looking for. This saves you time and makes your internal organization more efficient.
Shipping Policies Help Prove Your Site is Safe and Reliable
While not required by law, shipping policies are essential for ecommerce stores because customers expect to find one, and if they can't, they may assume that your website is unsafe or too risky to purchase from.
18% of consumers choose not to make a purchase because they don't trust the website with their credit card information (Baymard Institute)
Putting a shipping policy on your site in a place where consumers can easily find it builds trust and legitimizes your business.
Shipping Policies Help Increase Sales
Simply put, you're more likely to lose customers if you don't have a shipping policy on your ecommerce site.
69% of consumers abandon items in their digital shopping cart, according to a study by the Baymard Institute.
To retain some of these customers, what you write in your shipping policy matters. Check out these additional concerning statistics the Baymard Institute study recorded:
48% of consumers decide not to make an online purchase because shipping, taxes, fees, and extra costs are too high
22% of consumers don't finalize purchases because delivery is too slow
9% abandon shopping carts because there aren't enough payment methods
Decrease your cart abandonment rates and keep customers happy by writing a shipping policy that clearly explains:
All of your accepted payment methods
Several options for shipping costs
Different delivery dates to choose from
Common Questions to Answer in Your Shipping Policy
When writing your shipping policy, plan to answer some or all of the following common questions:
What shipping methods do you offer? Tell customers if you provide expedited, overnight, standard, priority mail, or flat-rate shipping options. Include details for dropshipping, local delivery, and pickups.
How long will each shipping method take? For each shipping method you offer, also tell customers approximately how many days it will take for them to get their order.
How do you define a business day, and is there a cut-off for same-day orders? To be extra thorough, clearly explain how you define a business day, and include a specific time orders should be placed for it to make the cut-off.
Do you charge handling or processing fees? Let customers know if you charge a handling fee to help maintain your profit margins.
How long is your handling time? Be transparent about when your business considers the handling time to begin, like after a customer places an order and you receive a payment. Explain how many days, on average, your handling time takes.
What are your shipping restrictions? If you have any shipping restrictions or exclusions, like no international offerings or you can't deliver to P.O. boxes, explain as much in a clause in your shipping policy.
How do you handle missing, lost, or undelivered packages? Properly set your customers' expectations about what happens if they receive the wrong item, if a parcel goes missing, or if it never gets delivered.
How do you handle shipping delays? Be transparent with your customers about what happens if there are shipping delays, and explain that it's out of your control.
Do you offer international shipping? If you offer international shipping, create a separate clause in your policy explaining where you ship to, the timeline and costs, and what carriers you use.
What are your return, refund, and exchange processes like? Your shipping policy is intrinsically related to your return, refund, and exchange policies, so link those other documents within your shipping policy to help customers find relevant information.
How can customers contact you? If customers do have questions about your shipping policy, provide them with an email address, phone number, or another way they can easily reach you.
Later in this article, we'll explain how you can turn these into distinct clauses within a shipping policy, leading to an organized, easy-to-read, and comprehensive agreement.
But before we get ahead of ourselves, let's talk about the different ways you can create a shipping policy for your website or ecommerce app.
Shipping Policy Solutions
The most common ways to create a shipping policy for your website or app include:
A managed solution
A shipping policy template
Do-it-yourself (DIY) approach
In the next sections, we compare all three methods.
Use a Shipping Policy Managed Solution
Using a managed solution is the easiest way to create a shipping policy.
A managed solution includes tools like our Shipping Policy Generator, which guides you through the entire process of creating a policy. You don't have to worry about completing lots of writing, picking the proper clauses, or accidentally leaving anything out.
All you have to do is answer questions about your business and hit publish. Our customer service team is available if you need any help along the way.
Below, see what our Shipping Policy Generator looks like.
Use a Shipping Policy Template
You could consider using a shipping policy template to write your shipping policy, which is typically free but requires some time and effort.
A significant benefit to starting with a template like ours?
It's appropriately formatted already, so you don't have to spend hours adding, removing, or fixing cells, bullet-point lists, and other details.
Our free template comes with the most common clauses and language you need to get started. You can edit, add, or remove clauses and sections based on the needs of your business.
Write Your Own Shipping Policy
You can also take a do-it-yourself or DIY approach and write a shipping policy on your own, which is the purpose of this guide.
Writing a shipping policy will take more time than using a template or generator, but a huge benefit is that you'll have complete control over every aspect of the document. Writing it yourself is ideal if you want to structure your shipping policy in a unique or creative way.
The cons of writing a policy yourself are apparent — it takes time, effort, hard work, and care.
But for many businesses, building your policy from the ground up is worthwhile and lets you fully express and embrace your company's voice, branding, and aesthetics.
In the next sections, we'll cover tips, tricks, and helpful hints you need to know when writing and formatting a thoughtful and effective shipping policy.
How To Outline and Prepare Your Shipping Policy
The first step of writing an efficient shipping policy is to outline and prepare your document, so we've put together five essential tips to help you format your agreement:
Choose your structure
Choose your style
Pick the right clauses
Make an outline
Use simple, clear language
Let's go over each of these tips in greater detail.
Step 1: Choose Your Structure
Before writing your shipping policy, pick how you want to organize and format the clauses.
You could use a traditional table of contents, an FAQ style with jump links, use tables to organize the information, or try something creative and unique.
Step 2: Choose Your Style
Next, pick fonts, colors, and a structure for your shipping policy that's easy to see and read on a digital screen.
For example, when adding links, make them pop out by changing their color and underlining them.
If you have a brand style guide, consider using it when designing the look and feel of your document.
Step 3: Pick the Right Clauses
Once you know how you want to structure and design your document, go through a list of standard shipping policy clauses and choose the ones you need in your agreement.
This is the most important step, but it varies from one business to the next, so take your time.
For example, how you write a shipping policy for an online store or Shopify site will be slightly different from writing one for a dropshipping business.
We include a huge list of the most common shipping policy clauses in the next section.
Step 4: Make An Outline
Once you know the structure and clauses you need, create a simple outline and logically organize your clauses.
For example, ensure you answer the most common customer questions — i.e., shipping options, costs, and timelines — towards the top of the document.
Step 5: Use Simple, Clear Language
Your customers come from all walks of life, so write in a way that's easy for as many people as possible to read and understand.
Your shipping policy should be straightforward, so avoid using unnecessary jargon or legalese.
What Your Shipping Policy Needs to Include
You're now ready to start choosing the necessary clauses for your shipping policy, so check out our giant list of the most common and relevant sections that appear in these agreements:
Shipping options and rates
Shipping and handling timelines
International shipping options
Subscription service information, if applicable
Shipping restrictions and exclusions
Shipping delays
Faulty, damaged, missing, or undelivered items
Returns, refunds, and exchanges
Contact information
Let's walk through how to write each of these clauses independently.
Shipping Options And Rates
Your customers want to know how much shipping is going to cost them, so the first clause you write should list out all of your available shipping methods and rates, including:
Standard shipping
Expedited shipping
Express shipping
Local deliveries
Dropshipping
In-store pickup
Not all customers may know what these terms mean, so define things like "standard" and "expedited" and list approximately how long each shipping style will take.
You might organize this clause as tables, bullet lists, or graphic charts.
Some businesses may use less traditional shipping options, like places that sell food or perishable items. In this case, you should include more specific delivery options since food can quickly expire, melt, or spoil.

Below, see how the Canadian candy store Rheo Thompson Candies explains their different delivery options depending on shipping destinations.

We like how the information is presented as both a paragraph and a chart, which helps users with different reading styles absorb the information.
Since they have a large local customer base, Rheo Thompson Candies also offers curbside pickup.
To manage customers' expectations and streamline the ordering process, they outline how customers can place orders and what to expect afterward, shown below.

Like Rheo Thompson Candies, customize the clauses within your shipping policy as much as you need so it fits your company's exact needs.
Shipping And Handling Timelines
You'll want to write a clause in your shipping policy that tells your customers how long it takes for you to process orders before shipping them out and how long it may take for the package to arrive.
This clause helps answer many common customer questions, so be extra thorough. If specific orders take longer to process, list what types and explain why they take longer.
Some common ways to format this clause include using tables, charts, graphic designs, or a simple bullet list.

Below, see how clothing brand American Eagle writes and organizes their shipping and handling clause in their shipping policy.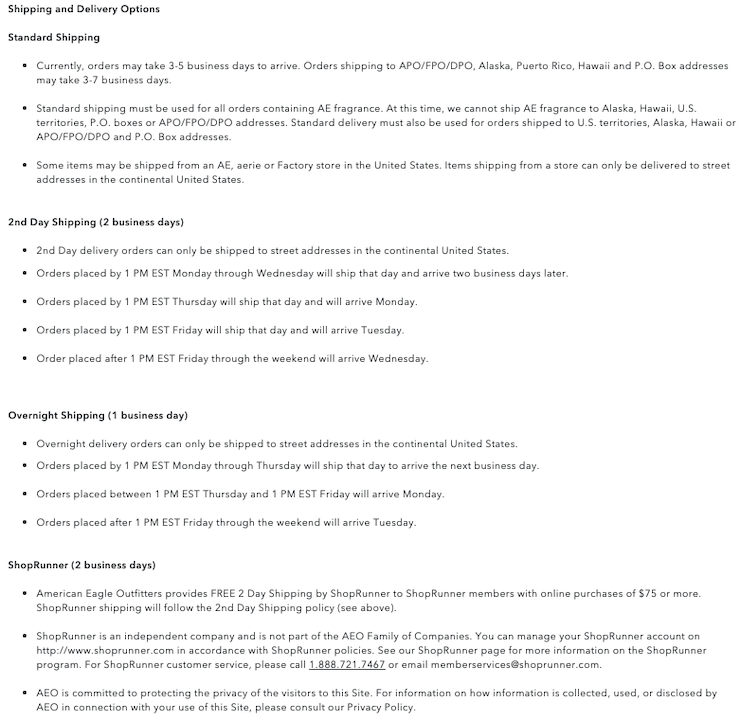 International Shipping Options
If you offer international shipping options, break down which countries you ship to and write the estimated delivery timelines for each country or region.
For example, if you ship to the European Union (EU), be sure to list out how long it takes to send goods to each country.
To help with formatting this clause, consider putting the information in a table or using a bullet point list, so it's easy to absorb.

Below, see how the paper brand Therapy Notebooks writes their international shipping clause:

We like that they mention how they calculate and collect duties and Value-Added Tax (VAT) at checkout, which many ecommerce stores often glaze over — a wise move since it shows their dedication to transparency.
You can also say you don't offer international shipping within this clause.
Subscription Service Information
If you offer subscription services, outline that information in a clause in your shipping policy.
Explain details like the days or times the subscription is delivered, how often, and any associated fees. You should also tell customers how they can cancel or suspend their subscriptions and explain if you accept returns or offer refunds.

Below, see an example of how this clause is written by meal kit delivery service Green Chef.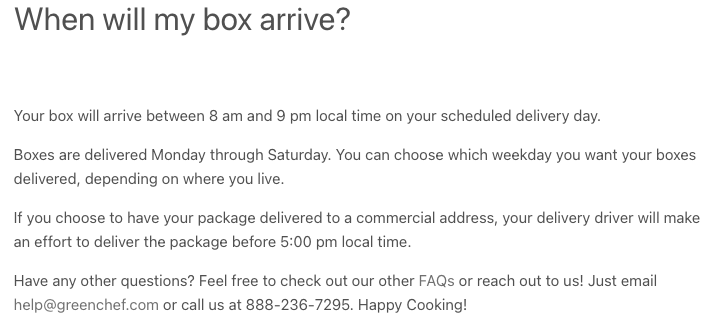 Shipping Restrictions And Exclusions
Inform customers about your shipping restrictions beyond international shipping limitations.
For instance, if you can't deliver to P.O. boxes and can't offer all shipping methods for all shipping addresses, mention it in this clause within your policy.
Below, see how the arts and crafts store Michael's writes their shipping restrictions clause.
Shipping Delays
Shipping delays are beyond your control, but you should write a clause explaining how your company deals with potential delays and service interruptions to limit your liabilities.
For example, mention how long orders may take to arrive due to factors beyond your control, like COVID-19, seasonal weather events, or global supply chain issues.
Below, see how ShelbyOutdoor, a Finnish retailer specializing in extreme outdoor gear, writes their shipping delay clause in their shipping policy.

For an example of how you can address delivery delays due to seasonal weather conditions, look below at another part of the Rheo Thompson Candies shipping policy: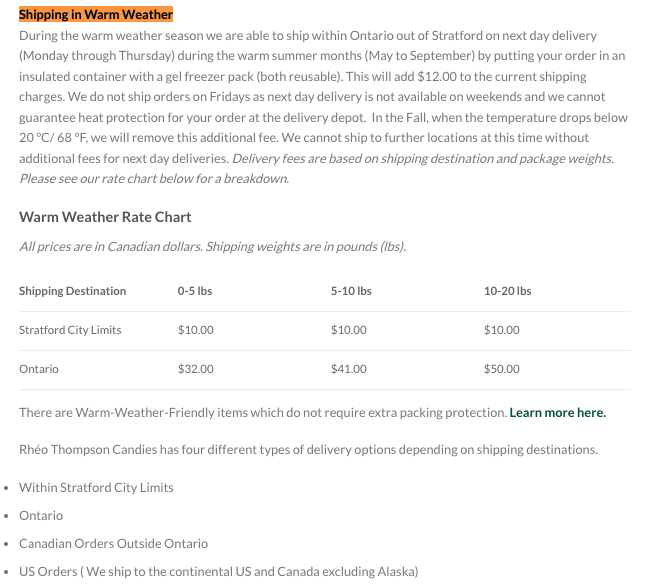 Their team carefully outlines how, why, and when orders are delayed or unavailable.
These extra details are great and show that they care about their customers. We recommend using similar language and details when writing your shipping policy.
Faulty, Damaged, Missing, or Undelivered Items
Similar to shipping delays, once a package leaves your hands, what happens to it is beyond your control. To remove some responsibilities from your plate, write how you deal with faulty, damaged, missing, or undelivered items in a clause.
You can organize this clause as a simple bullet list, but a table works for more complex information.

Below, see how simply and effectively Therapy Notebooks writes this clause in their shipping policy.
Returns, Refunds, Exchanges, and Cancellations
For convenience and efficiency, your shipping policy should explain how customers can request returns, refunds, exchanges, or cancellations.
You can achieve this by simply linking to your return and refund policy or any other relevant agreement, but feel free to go into greater detail if you prefer.
See how Therapy Notebooks writes their return, refund, and exchange clause in their shipping policy.
Contact Information
Write a clause with accurate contact information at the end of your shipping policy, so your customers know how to reach you.
Keep it very simple and include an email address, phone number, or other viable methods of communication.
This clause has the added benefit of helping you with your internal organization, as you can direct all consumer shipping questions to the proper channels.
See how American Eagle wrote this clause in their shipping policy.
What To Avoid in Your Shipping Policy
We've covered what clauses to include when you write a shipping policy, but there are some things you should avoid, like:
Don't over-promise or give inaccurate information. Give your customers actual rates and accurate time estimates — incorrect information causes customers to feel frustrated and potentially lied to, which you want to avoid.
Don't use confusing language or a difficult-to-follow structure. You don't want customers to struggle to read and understand your shipping policy, so avoid confusing language and irregular, messy formatting techniques.
Don't make your shipping policy hard to find. If customers can't see your shipping policy, it defeats the agreement's purpose, so link it in places that are easy to find.
Don't forget to go back and update your shipping policy. A shipping policy is a living document that needs to be updated every couple of months to remain accurate, and it's your responsibility to ensure the information is correct, so plan to update it regularly.
Tips for Writing a Good Shipping Policy
If you want to learn how to write a shipping policy for websites, online stores, dropshipping, and even ecommerce apps, follow these easy steps:
Make your shipping policy easy to find
Make your shipping policy easy to read
Set clear, accurate customer expectations
Match your brand voice and style
Be honest and actionable
Provide accurate contact information
Let's discuss how these tips can help you write the best shipping policy for your business.
Make Your Shipping Policy Easy to Find
Make your shipping policy incredibly easy for customers to find and access by putting it in multiple locations and limiting the number of clicks they need to take to view the policy. Don't forget to consider how the policy looks for mobile visitors.
By enabling customers to access your policy on-demand, you're building transparency between them and your brand, which helps foster trust.
We go over where to place your shipping policy in the next section.
Make Your Shipping Policy Easy to Read
To truly set your shipping policy apart from the competition, write it in a way that's concise and easy to read. We've brought this up a few times because it's one of the most important things to consider when writing your own legal policies and agreements for your business.
People need to understand your shipping information and want answers to their questions quickly.
So take advantage of simple sentences, bullet points, and tables as much as possible. You should also make your policy easy to navigate with bolded text, anchor links, clear subheadings, and links to relevant policies so customers can learn more independently.
Set Clear, Accurate Customer Expectations
The ultimate purpose of a shipping policy is to set clear customer expectations, so try to be extremely honest about your shipping options, rates, and other information.
For example, if you claim to offer free international shipping, make sure you've accounted for surprise costs such as duties or VAT during checkout.
Otherwise, if you're inaccurate in the policy, customers may not want to repurchase your products.
Match Your Brand's Voice and Style
Enhance the consistency of your company branding by writing your shipping policy in a way that matches the rest of your style and voice.
You can have some fun with this if your brand is exceptionally creative or unique, but always remember to be accurate with the information you're presenting.
Try to use the same writing style, tone, sentence length, and tempo as the copy on the other pages of your site.
Be Honest and Actionable
Don't hide behind double meanings in your shipping policy. Instead, be as honest and actionable as possible, which means being upfront about the negatives.
For example, when explaining why customers may experience shipping delays due to unforeseen circumstances, like COVID-19, be transparent and don't give any false promises.
As tempting as it may be to mention these delays in passing briefly, explaining why customers might experience potential shipping delays helps alleviate consumer doubts and gains their confidence. This, in turn, helps boost cart conversion rates and your return on investment (ROI).
Provide Accurate Contact Information
We recommend putting relevant contact information at the end of your shipping policy so customers can easily reach you if they have questions, comments, or concerns about the policy.
It may seem like a small detail, but it makes a big difference to your customers. Doing so builds trust and proves you're a reliable, responsive company with solid customer service.
Where to Display Your Shipping Policy
You've written such a great shipping policy; make sure consumers can always find it by posting it in easy-to-see places throughout your website, ecommerce app, and brick-and-mortar store, like:
Your website or app footers
On any payment screens
On any product pages
In a website or app announcement bar
On your FAQ page or legal page
Within other legal policies
Near cash registers in a brick-and-mortar store
Let's discuss why these places are ideal for your shipping policy and look at real-world examples.
Website or App Footers
Your website and app footers are some of the best places to link to your shipping policy because these are usually static, meaning they stay the same.
Putting your shipping policy in the footer of your website or app gives your customers constant access to the policy so they can find answers to any questions they may have on demand.
Below, see an example of a shipping policy in the footer of Nordstrom's website.

Nordstrom also sells goods through a mobile app, and they've linked to their shipping policy through the Account tab in the static footer of their app, shown below.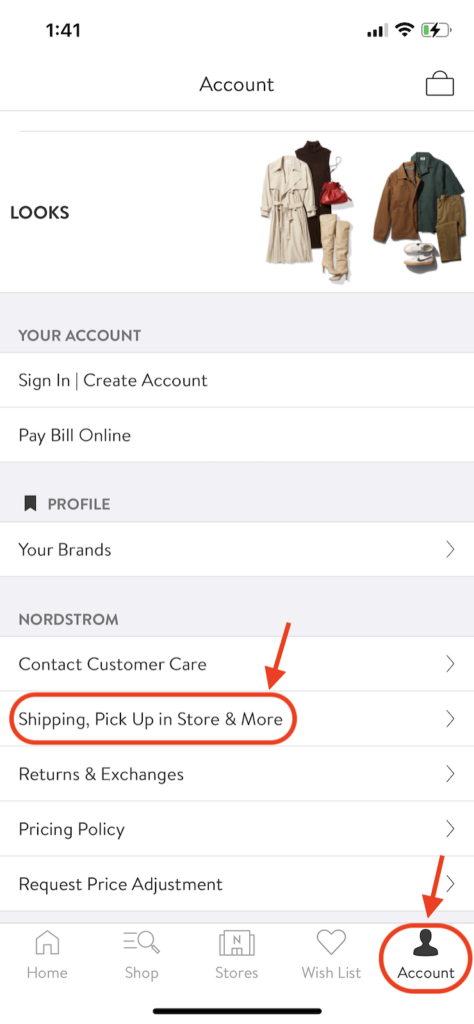 Payment Screens
You should include a link to your shipping policy on any payment screens and during checkout, which encourages customers to read and understand the policy before finalizing a purchase.
Including a link to your shipping policy on payment screens is recommended for both ecommerce websites and mobile apps.

Below, see an example of a shipping policy posted on a checkout page on American Eagle's website. A link to the policy appears if you hover your cursor over the ? symbol.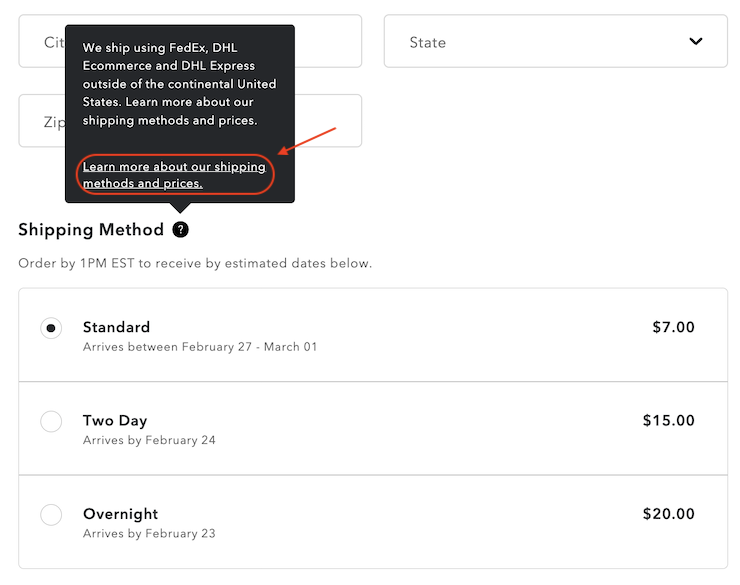 American Eagle also sells products through a mobile app and includes a link to their shipping policy on the app's payment screen, pictured below. To access the policy, click on the ⓘ symbol, which opens it in a web browser.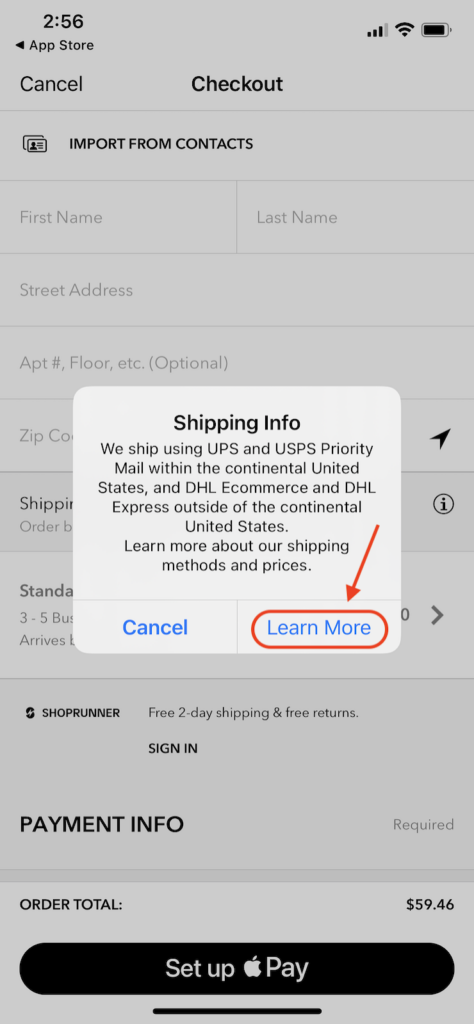 Product Pages
Another key place to post your shipping policy is on website product pages, so customers can read your policy while browsing your site.
Not only does this promote transparency, but it also ensures that their expectations about your shipping costs, options, and timelines are adequately set.

Below, see an example of a shipping policy posted on the product page for the clothing brand ASOS.
If you click on the highlighted text, the shipping policy opens in a new tab.

You can also put a similar shipping policy link on the product pages within a mobile app.
Website or App Announcement Bars
Another ideal place to link to your shipping policy is in a website announcement bar, which you can recreate in an app.
The announcement bar typically lives at the top or bottom of the screen. It can be used to inform visitors about promotions, like free shipping on orders over a certain amount or the final date to submit orders to receive something in time for major holidays.

Below, see an example of a shipping policy linked to the announcement bar on the website of Zalando, a popular European clothing company. If you click on the bar, it takes you to an information page featuring their shipping policy.

In Your Website or App FAQ, Legal, or Help Page
Along with your shipping policy, your business probably has several different policies and agreements you want your customers to access easily, so consider hosting them all in a specific section of your website or app, like a:
Legal page
Help page
Frequently asked questions (FAQ) page
You can also link to other relevant policies in this section of your site or app, like your privacy policy, return and refund policy, and terms and conditions agreement.

Below, see an example of the Help Page from the outdoor clothing brand Patagonia, which features their shipping information and policy.

In Other Legal Policies
You should include a link to your shipping policy in other legal documents, like your privacy policy and terms and conditions. You can quickly achieve this by making a shipping policy clause.
Because shipping policies are usually associated with return policies, money-back guarantees, no refund policies, and all sales are final policies, you can also include links to it in these places, depending on what your business implements.
Near Cash Registers at a Brick-and-Mortar Store
If you run a website or app with a brick-and-mortar storefront, remember to put your shipping policy in your physical store, not just online.
Usually, shipping policies appear near cash registers, but you might consider posting it near the entrance and exit.
You can print your shipping policy or use a QR code that customers can access with a mobile device.
How Often Do You Need to Update Your Shipping Policy?
Your shipping policy is a living document that should be reviewed and updated regularly to reflect shipping costs and delivery times accurately, so plan to make changes every three to four months.
Other reasons to update your shipping policy include if you:
Anticipate any delays
Add new shipping carriers or options
Change the way you fulfill deliveries
Accept new payment methods
Summary
There's no doubt about it – every ecommerce business needs a well-written shipping policy that lets customers know how you process, handle, and ship orders. With this handy guide in your toolbox, you're more than ready to write a shipping policy for your:
Website
Ecommerce app
Online store
Dropshipping company
Shopify store
When writing a shipping policy, ensure it's straightforward to read, easy to find, and sets and manages realistic customer expectations.
At the end of the day, writing a detailed shipping policy shows that you genuinely care about your customers' shopping experiences, helping you gain and maintain their hard-earned trust.