Now that the General Data Protection Regulation (GDPR) has been in effect for over half a decade, several plugins exist to help WordPress websites meet the law's strict requirements.
But which WordPress plugins are the best for GDPR compliance?
Below, we've created a list of the five best plugin tools that help bolster your GDPR compliance efforts without causing any major headaches or financial burdens.
Top 5 WordPress Plugins for GDPR Compliance
Here's a list of the top WordPress plugins to help you with your GDPR compliance:
Termly
Moove Agency
TechAstha
Hu-manity.co
Scrbit
Websites under the GDPR must meet specific standards to collect, process, and use personal information from website visitors, especially if consent is your legal basis.
Alongside useful GDPR consent form tools, these plugins take care of some necessary modifications to your site as mandated by Europe's leading data privacy law, like data storage and processing functions.
The GDPR compliance plugins highlighted in the article help businesses implement tools and solutions to comply with those guidelines, such as:
Obtaining active, opt-in consent from European users for data collection through cookies or other trackers
Providing users with a way to change their minds at any time
Keeping a log of user consent choices and preferences
Let's take a closer look at each plugin.
1. Termly's WordPress Plugin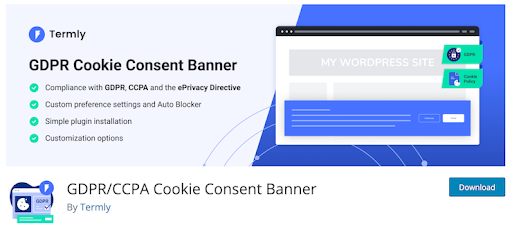 Overview
The best all-around WordPress plugin for GDPR compliance is Termly's!
Backed by our legal team and data privacy experts, it's configurable to meet the conditions for consent described by the regulation.
Our cookie consent banner is one of the easiest, most effective offerings on the market today.
Your users will have access to a preference center, where they can easily change their minds and opt back into or out of consent at any time.
Features
If you use Termly's WordPress GPDR plugin, you'll have access to all of the following features:
Automatic cookie scans
Unique cookie consent banner with customizable features
Up to 10,000 monthly unique visitors for free
Multi-language support
Automatic cookie configuration based on an extensive cookie database
Auto-blocking of scripts and other tracking mechanisms
Custom cookie policy
Access to additional policies and generators
And more!
Price
Termly's GDPR WordPress plugin is free for up to 10,000 unique visitors per month.
For sites with more users, you can upgrade to the Starter plan for $10 per month or the Pro+ plan for $15 per month.
Upgrading your plan unlocks access to all of our legal and website policy generators, like our privacy policy generator, compliant with 14 different data privacy laws (including the GDPR!).
2. Moove Agency WordPress Plugin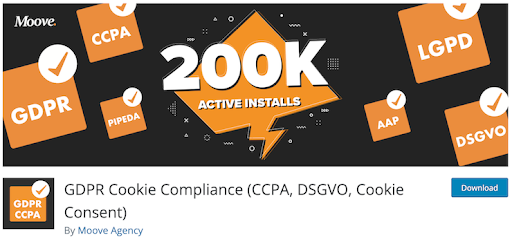 Overview
Another good WordPress plugin that helps with GDPR compliance comes from Moove Agency.
Their GDPR Cookie Compliance tool is easy to set up and gives your users full control over the cookies that get placed on their browsers.
Features
Some of the features you get by using Moove Agency's WordPress plugin include:
Local data storage
Easy to use and set up
Ability to link to a privacy policy page
Two unique layouts
Customizable design
Multi-language supports
Price
Using Moove Agency's plugin is free, but you have to pay extra to access their premium features. They offer the Single plan for £59 (~$72) per year and the Developer plan for £159 (~$195) per year.
3. TechAstha WordPress Plugin
Overview
Another WordPress plugin to help with GDPR compliance comes from TechAstha, called the Awesome GDPR Compliant Cookie Consent and Notice.
It helps obtain and log consent from website visitors for your use of cookies and other trackers.
Features
TechAstha's WordPress plugin has the following features:
Responsive, customizable design
Multiple position choices
Redirect support to a specified cookie information page
Multi-language supports
Option to show or hide the cookie message
Price
TechAstha's Awesome GDPR Compliant Cookie Consent and Notice plugin is open source, and you can use it for free.
4. Hu-manity.co WordPress Plugin
Overview
For a plugin developed in collaboration, check out Hu-manity.co's Cookie Notice & Compliance for GDPR/CCPA plugin.
Cookie Notice and Cookie Compliance partnered with Hu-manity.co to make a plugin that provides a configurable consent banner to help you obtain proper user consent following the requirements of the GDPR.
Features
If you use the GDPR compliance WordPress plugin from Hu-manity.co, you'll have access to the following features:
Custom consent banner message
Multiple options for cookie expiry
Consent options for click, scroll, or close
Price
You can use the GDPR compliance WordPress plugin for free or pay for access to more compliance tools and solutions.
5. Scribit WordPress Plugin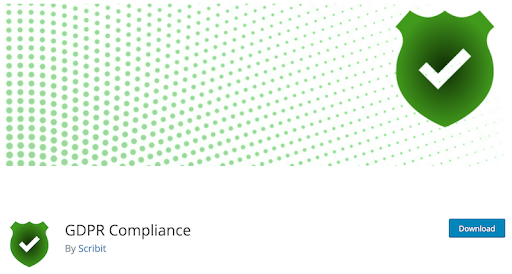 Overview
For those interested in an open-source GDPR-compliance plugin, look into GDPR Compliance by Scribit.
Their plugin is simple but requires some knowledge and extra work to achieve full compliance.
Features
Scribit plugin users have access to the following features:
Easy to install
Customizable labels
Two available language options
Price
Because Scribit focuses on developing open source plugins, using their GDPR compliance WordPress plugin is completely free,
Summary
If you own a WordPress website, consider using one of the highly qualified plugins to help with GDPR compliance.
While you'll have to take a few extra steps to ensure full compliance, you can save yourself time and effort by downloading and applying one of these ready-made plugins for your WordPress site today.
Keep Reading: WordPress GDPR and CCPA Compliance Guide for Beginners
Disclaimer: The state of GDPR compliance of the proposed solutions/tools was checked at the time this article was written. Please remember to do your own due diligence when choosing GDPR-compliant vendors/tools, and always sign a Data Processing Agreement ("DPA") with your processors/sub-processors.