If your company is one of millions that must comply with the General Data Protection Regulation (GDPR), then you need a GDPR-compliant privacy policy.
Without this policy, you're at risk of noncompliance fines that could put you out of business.
Read on to download our free GDPR privacy policy template, and learn how to customize it so your website meets the requirements of the world's strictest data privacy law.
1. GDPR Privacy Policy Template
[Free Download]
Expand the text to view our GDPR privacy policy template, or click the button below to download the example in Microsoft Word and PDF formats.
Our GDPR privacy policy template is suitable for:
Small businesses
Websites (including WordPress)
Blogs
Ecommerce platforms (e.g., Shopify, Woocommerce)
For more template options, check out our full library of privacy policies and GDPR templates.
2. What is a GDPR Privacy Policy?
A GDPR privacy policy is a notice on your website that clearly explains how you process the personal data of European Economic Area (EEA) users.
You'll also see a GDPR privacy policy referred to as a privacy notice or a privacy statement.
Having a GDPR privacy policy is a legal requirement for any company worldwide that targets residents of the EEA and/or Switzerland. A GDPR policy must contain specific clauses and provisions to be compliant.
What is the GDPR?
Here's a brief GDPR overview:
The GDPR is a global data privacy law in effect since May 25, 2018. Passed by the EU, it gives users more rights over the personal information they share with businesses, and penalizes companies that are negligent with this data.
Fines for noncompliance are huge — up to $23 million, or 4% of your annual global turnover.
Do I Need a Privacy Policy to Comply with the GDPR?
Yes, you need a privacy policy to comply with the GDPR.
Increased digital transparency is at the heart of the GDPR, so companies must clearly explain how they process user data. Three articles within the law address this requirement:
Article 12 — Information about data collection, storage, and transfer must be presented to users in writing.
Article 13 — If you collect users' data, you need to provide them with certain information, such as your contact details and data-processing purposes.
Article 14 — When data is not directly collected from the user, you need to provide details about relevant partners, affiliates, or third parties.
According to Recital 58, the above articles can be satisfied by providing information in electronic form through a website — that is, including a privacy policy/notice on your website.
3. How Do You Make Your Privacy Policy GDPR-Compliant?
To comply with the GDPR, your privacy policy must be transparent in language and content, and contain specific clauses regarding how you collect, store, and process data.
The average user needs to understand how you handle their personal information in order to give you permission to do so. Without a transparent privacy policy, your data collection may be unlawful.
GDPR Privacy Policy Requirements
Let's break down exactly what transparency means, and how it shapes even the most basic GDPR privacy policy.
According to Article 12 of the GDPR, information about data processing must be presented:
…in a concise, transparent, intelligible and easily accessible form, using clear and plain language.
Although the use of technical terms is inevitable in a privacy policy, the information should be succinct, and not hidden in dense paragraphs. Complicated legalese and unnecessary fine print are unacceptable.
The GDPR's official transparency guidelines explain that a compliant privacy policy should be structured intuitively, with logical menus and clickable navigation.
Your policy should be written to help users make informed choices about sharing their personal data — not deceive or confuse them.
Users must be able to:
"…determine in advance what the scope and consequences of the processing entails and that they should not be taken by surprise at a later point about the ways in which their personal data has been used."
To appreciate the importance of transparency, look at the recent Google GDPR fine. The tech giant was penalized for excessively spreading vital information across many of its policy documents, and misleading users.
Put simply, a transparent privacy policy should be user-centric — featuring simple language, appropriate visual elements, and a navigable layout.
Also, if you market to children, be especially careful with the language of your privacy policy. Clearly outline all child-related data practices, and advise the policy be reviewed by a parent or guardian.
What to Include in a GDPR Privacy Policy
In addition to meeting the GDPR's transparency provisions, a compliant privacy policy should contain several specific clauses.
If you already have a standard privacy policy, simply adding "GDPR" to some paragraphs won't be enough — you need a new statement that details what data you collect and how you keep it safe.
A GDPR-compliant privacy policy will contain the following sections:
Appropriate contact details
The contact details of the following individuals need to be included in your privacy policy:
Data controllers
Data processors
EU representatives (if applicable)
Data protection officers (if applicable)
If you collect user data, then your company is the data controller. A data processor is any company you hire to process data on your behalf. Large organizations may hire a data protection officer to monitor their compliance, and an EU representative if they are not based in the EU.
The basis on which data is being processed
Article 6 of the GDPR establishes the following six legal bases on which data can be lawfully processed:
With consent of the data subject
For the performance of a contract
To comply with a legal obligation
To protect the vital interests of the data subject
In public interest
A standard GDPR privacy policy must include which of these bases applies next to each data-processing activity. As seen in the example below, companies must clearly explain how they process user information.
Our free template includes the section above, which introduces a data policy based on a variety of business purposes.
Automated decision-making and/or auto-profiling
Article 22 of the GDPR explains that individuals have the right not to be subject to a decision made solely by automated processing (without any human involvement). This is a unique requirement of the GDPR, as specifying such decision-making activity was not previously mandated by any privacy law.
If you implement an automated profiling system, it's important to outline in your privacy policy how and why you conduct this type of decision making or profiling.
To whom data may be transferred
The GDPR requires companies to say who is involved in data processing. You need to list all categories of third-parties, partners, and affiliates with whom data may be shared.
As seen above, if such data sharing could occur as part of a merger or acquisition, you need to state this too.
To which countries data may be transferred
Your privacy policy needs to state which countries data is transferred to, and what systems facilitate these international transfers — such as the EU–US Privacy Shield.
If cookies and other tracking technologies are used
Under the GDPR, information collected from cookies and other tracking technologies (such as pixel tags) is considered personal data.
Therefore, cookies should be listed as a data-collection method, and treated with the same considerations as other methods.
How long data may be stored
The GDPR requires you to state how long data will be stored, and advises you to include the reasoning behind these time periods.
What rights users have under the GDPR
GDPR Articles 12–22 establish the eight fundamental rights of data subjects:
The right to be informed
The right to access
The right to rectification (correction)
The right to erasure (to be forgotten)
The right to restriction of processing
The right to data portability
The right to object
The right to not be subject to automated decision making
Your privacy policy should include a section which lists these basic rights granted by the GDPR.
How users can act on those rights
The list of data subject rights needs to include directions on how users can act upon those rights. GDPR privacy policies should give directions, information, and appropriate links to assist users who wish to act upon any of the rights listed above.
4. GDPR Privacy Policy Examples
Now that you know what a GDPR privacy policy should contain, let's look at how well-known companies have accomplished this.
These are all good examples of GDPR privacy policies, but remember that although it's useful to draw inspiration from such policies, they aren't templates for GDPR compliance. Copying another company's clauses without modification will confuse users, and lead to legal trouble.
Example #1: Information Commissioner's Office (ICO) GDPR Privacy Policy
The UK's ICO has a model example of a GDPR privacy policy, with a navigational list on the left to allow users easy accessibility.
As you can see, the ICO's privacy policy clearly lists out user rights under the GDPR, includes a brief explanation of each, and even provides links for users to learn how they can act on their rights.
Example #2: Etsy GDPR Privacy Policy
Etsy's privacy policy was written with GDPR compliance in mind. It follows a standard ecommerce template layout, and begins with an easily navigable menu.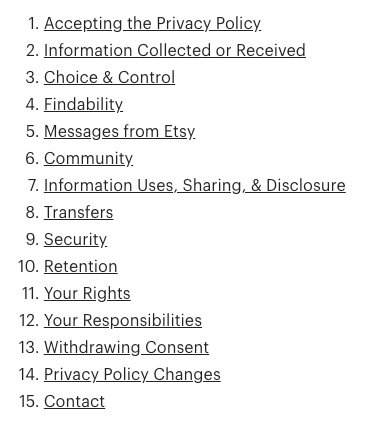 Contact information for Etsy's data protection officer is displayed prominently, as are details for its data protection authority.
If users are skeptical about Etsy's data collection practices — or if they have a complaints — they know exactly who to reach.
Example #3: LinkedIn GDPR Privacy Policy
LinkedIn's privacy policy is another good example of a GDPR privacy statement. As well as explaining all necessary information, the policy provides brief summaries for readability.
The networking site also includes a video version of its privacy policy. While this is overkill for small businesses, it's worth noting the effort prominent companies are taking to make their policies accessible and GDPR compliant.
Example #4: Quickbooks GDPR Privacy Policy
Quickbooks' privacy policy is another great example of a user-centric GDPR privacy statement. It offers various controls through its GDPR centre, and includes links to its privacy policy and other relevant documents.
Having a dedicated GDPR privacy page on your site allows you to house all relevant policies together — such as your terms of use, cookie policy, and legal disclaimer. Although only a privacy notice is required by the GDPR, these other policies provide critical legal protection. You won't find a prominent online business without them.
5. Key Takeaways & How to Write a GDPR Privacy Policy
You should now have a good idea of what a privacy statement is, and all the key clauses and characteristics it must include to be compliant under the GDPR.
Let's recap:
Without a privacy policy, you're at risk of a huge non-compliance fine
Your policy should maximize transparency by using clear language
It's important to fully detail your GDPR privacy policy — including how and why you collect, process, and store information
To write a GDPR privacy policy, simply download our template, and customize each section for your website and the specific needs of your business.
Alternatively, use our free privacy policy generator to create a compliant GDPR privacy notice in under 10 minutes.
Not the template you need? Download and edit one of our other privacy policy templates: