Navigating GDPR cookie consent rules is challenging. Not only do you need a cookie policy, but you also need a cookie consent notice that allows users to give GDPR-friendly consent to your use of cookies.
Find out how to create these essential compliance features by checking out different examples of GDPR cookie consent.
1. What's a Cookie Consent Notice?
A cookie consent notice is a screen, pop-up, box, or banner on your site that presents to users your cookie policy and allows them to consent to, deny, or set preferences for your use of cookies.
This notification should appear when a user first visits your site, and include three primary components:
1. Your Cookie Policy — A cookie policy outlines the cookies you use, their category (e.g., advertising, social media), and how users can manage their cookie settings.
2. "Consent to Cookies" Option — Your cookie consent notice needs to give users a way to consent to your use of cookies (e.g., a button).
3. Cookie Preferences — To comply with the GDPR, your cookie consent notice needs to allow users to consent to or deny certain categories of cookies.
2. GDPR Cookie Consent Language Examples
To be GDPR compliant, your cookie consent wording needs to be clear, specific, and easy to understand.
Take a look at this cookie consent text example from the New York Times:
The language of the consent banner is clear, easy to understand, and covers the necessary details. Not only does the notice briefly explain how the site uses cookies, but it also links to the site's cookie policy, and explains how users can set their cookie preferences.
Now let's look at a cookie consent message that allows users to set their preferences more directly. Here's a cookie banner example from Airbnb:
Like the New York Times's banner text, the language of Airbnb's consent notice is clear and instructive, giving users the details they need to consent to or establish preferences for the site's cookie use.
3. Cookie Consent Examples
Once you compile the three elements of your cookie consent notice and make your cookie banner text GDPR-friendly, you need to decide how to display it on your site.
Your cookie consent notice can appear in any number of ways on your site — like as a banner, pop-up, or full-screen page.
Here are some cookie consent examples that meet GDPR guidelines.
1. Adidas's Full-Screen Pop-up
When users first visit the Adidas UK site, they're met with a full-screen pop-up that blocks site interaction until users consent to or manage cookies.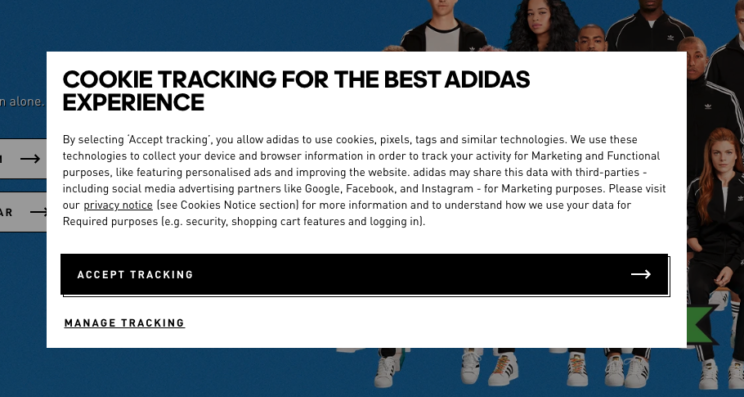 If users select "Manage Tracking," they're shown the following cookie preference center, where they can adjust their cookie settings.
Displaying a cookie consent form this way forces users to affirmatively consent to your cookie use, or otherwise manage their tracking preferences.
In other words, the full-screen cookie consent notice is beneficial because it can't be ignored.
2. The Guardian's Bottom Banner
The Guardian UK uses a consent banner that appears at the bottom of its webpage.
While it's not a full-screen notice like Adidas's, this consent banner example is still hard to miss.
The Guardian also takes a casual approach to the language of their cookie consent, embracing a friendly tone with "I'm OK with that" as their button text.
3. Invision's Left-Side Tooltip
If you want a consent notice even less intrusive than the banners and pop-ups, opt for a tooltip-style notice in the left- or right-hand corner of your site.
Check out how Invision notifies users of cookies:
They take care to match the style of the tooltip to the site's aesthetic, and keep it as a minimal — but still noticeable — intrusion off to the side.
If a user clicks "Edit Settings," they're taken to the following screen:
Like the other cookie consent examples, GDPR guidelines are clearly kept in mind here by sorting cookies into distinct categories.
These categories are based on the purposes of the cookies — like remembering shopping cart preferences, or collecting data for targeted advertising.
4. Implied Consent
If your business is subject to the GDPR, consent should be given explicitly (meaning users take a distinct action to indicate consent), like in the examples above.
However, if you are not subject to comply with the GDPR, you can get implied consent to cookies.
Implied consent is when users are made aware of your cookie use and continue using your site, but don't directly consent to your cookies. For example, if you have a banner that notifies users of cookies on your site, but disappears when a user scrolls down the page, this is considered implied consent.
Here's an example of implied cookie consent from Marsh Commercial:
Users can continue to navigate the site with minimal intrusion, and there's no immediate option to consent to cookies or set preferences.
Once again, this method of getting cookie consent should not be used if your business needs to comply with the GDPR.
4. Create Your Own Cookie Consent Banner
Now that you understand what goes into a cookie consent notice, and have seen examples of how other companies display them, it's time for you to create your own.
Although there's a lot to consider when establishing your GDPR cookie consent solution, services like Termly's Cookie Consent Manager can help.
To get started on your own GDPR cookie banner, simply enter your website's information. We'll scan your site for cookies, sort them into their appropriate categories, create a custom cookie policy, and generate a cookie consent banner for you to display on your site.
Once the banner is live, your users will see a banner, tooltip, or screen like the examples above. Your site's visitors can then consent to your use of cookies, or set their preferences.
5. FAQs About GDPR Cookie Consent