If you use Google Analytics, you must publish a privacy policy that explains how you process data because GA tracks user behavior in ways that legally qualify as personal information.
Read on to learn the specific requirements of a Google Analytics privacy policy and why having one is a legal necessity for all online business owners who rely on this software.
Why You Need a Privacy Policy When Using Google Analytics
Google requires you to disclose your use of Google Analytics and how you collect and process personal data via a privacy policy in their Terms of Service.
Your privacy policy must comply with all applicable laws, policies, and regulations relating to the collection of information from the users concerned.
The disclosure should also contain elements about if and how your company shares user data with third parties.
Let's look at how some of Google's Analytics policies explain the key requirements of a privacy policy and the data privacy legislation that might impact your business.
It's Required By Google Analytics' Terms of Service
Google clearly states in clause 7 of their Analytics Terms of Service that you must provide a privacy policy to users to legally use their software and its tracking features.
See a screenshot below.

According to Google:
"You will have and abide by an appropriate Privacy Policy and will comply with all applicable laws, policies, and regulations relating to the collection of information from Users."
Additionally, Google requires you to include information about the types of cookies or other trackers your website uses in your privacy policy.
According to Google's Privacy Disclosure Policy, you must also disclose your use of Google Analytics and explain how it collects and processes information.
By signing up for Google Analytics, you agree to their terms and must abide by their requirements.
It's Required By Applicable Data Privacy Laws
Several privacy laws worldwide require businesses to disclose how they collect user data — and, by extension, describe their use of Google Analytics — in a privacy policy.
The following laws could apply to your business and outline requirements for providing information to users via a privacy policy in a transparent manner:
To meet the essential privacy policy requirements of these laws when using the standard features of Google Analytics, you must disclose the following in your privacy policy:
Disclose that you use Google Analytics to track user behavior
Explain how you store and process the data you collect and for what purpose(s)
Inform users that you deploy analytics cookies
Describe how they can control them and follow through on their given rights
Provide your contact information in case users have questions or concerns
What To Include in Your Privacy Policy if You Use Google Analytics
If you use the advertising features of Google Analytics, you need to include specific clauses in your privacy policy to explain how they collect additional data from advertising cookies.
Google provides this information in their Policy Requirements for Google Analytics Advertising Features support document.
The most common Google Analytics advertising features and the insights they provide include:
Remarketing: This uses behavior, demographic, and interest data to identify users who are likely to convert and then allows you to target those users with remarketing campaigns through Google Ads.
Demographics and Interests Reporting: This provides insight into the age, gender, and purchase interests of users, which you can use to target your advertisements better.
Google Display Network (GDN) Impression Reporting: This measures the impact of unclicked GDN Display ad impressions on conversions and site behavior.
If you use these features, Google's policy requirements state that you are the sole controller under all applicable data protection legislation, and you must notify users about the additional data collection by saying:
Which advertising features you implemented
How you or any other third party use additional cookies and provide details about it
How visitors can opt out of this advertising.
Read more in the screenshot below.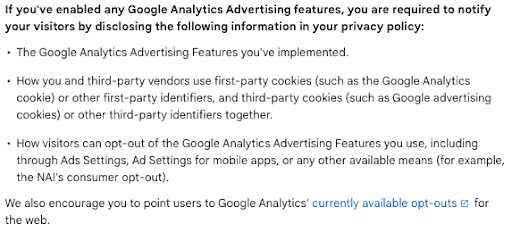 If you serve ads to European Union residents, you must also abide by the Google EU User Consent Policy. It requires you to provide EU users with a proper privacy disclosure and obtain their consent per the GDPR.
You can read more in the following screenshot.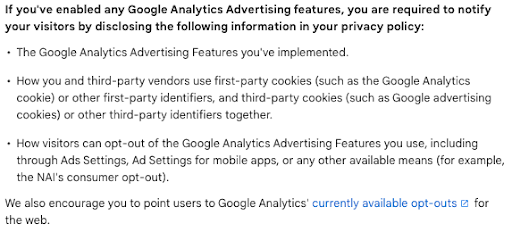 Good Example of a Google Analytics Privacy Policy
A strong example of a privacy policy that meets all of the Google Analytics requirements comes from the Guardian, a journalism website.
They disclose their use of Google Analytics very clearly and in a way that the average reader can easily understand, as shown in the screenshot below.

Later in their policy, they explain more specific details about the cookies used through Google Analytics and how users can control them.
Read more in the following screenshot.

When adding the relevant clauses in your policy to explain your use of Google Analytics, it's a good idea to be as straightforward as the Guardian.
Just ensure you're tailoring it to your specific business.
How To Allow Users To Opt Out of Google Analytics Tracking
Along with disclosing how Google's ad features collect user data and affect their experience online, you need to allow users to opt out of data collection and explain how they can do this in your privacy policy.
You can achieve this by providing a link in your privacy policy to the various opt-out options that users can use, such as the Google Analytics Opt-out Browser Add-on.
When users install this add-on in their browser, it prevents the Javascript code on a company's site from sharing information about user behavior with Google Analytics.
Additionally, you can use a consent management platform compatible with Google Consent Mode — like Termly's CMP, a certified Google CMP Partner.
How To Make a Google Analytics Privacy Policy + Free Template Download
Let's discuss the three most common ways to make a privacy policy so you can choose the best method for your business.
Use Our Free Generator
The easiest way to make a Google Analytics-compliant privacy policy is to use our Free Privacy Policy Generator.
Our generator creates the clauses and information required by Google Analytics, plus it can help you comply with 14 different data privacy laws worldwide.
You simply answer a few easy questions about your business and its data processing activities, and our generator makes you a unique document based on your answers, which you can link directly to your website and update anytime in your Termly Dashboard.
See an example of what it looks like below.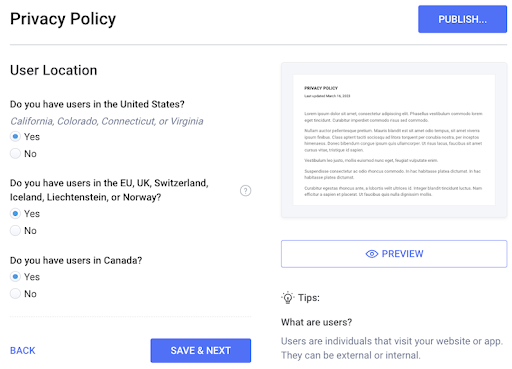 Use Our Free Template
Businesses that rely on Google Analytics can also use our free privacy policy template to make a unique agreement for their website.
Our template is already properly formatted, features standard clauses, and includes necessary information in those clauses; it does most of the hard work for you.
Download the template below and fill in the blank sections of the document with relevant details about your business.
Website Privacy Policy Template [Text Format]
PRIVACY NOTICE
Last updated [Date]
This privacy notice for [Company Name] (doing business as [Company Short Name]) ("Company," "we," "us," or "our"), describes how and why we might collect, store, use, and/or share ("process") your information when you use our services ("Services"), such as when you:
Visit our website at

[Website URL]

, or any website of ours that links to this privacy notice

[Download and use our application(s), such as our mobile application — [Mobile App Name], our Facebook application — [Facebook App Name], or any other application of
Full View

Privacy Policy Template HTML
You can copy our privacy policy template HTML code or download it using the options below.
Additional Template Download Options
DIY
You can also write a privacy policy yourself, but this is only recommended if you have extensive knowledge about data privacy laws.
Otherwise, you're putting your business at risk of receiving fines for accidentally violating a privacy regulation.
If you take this route, ensure you're thorough, but write in a way that's easy for readers of all levels to understand.
FAQ About Google Analytics and Privacy Policies
Read through some of the most frequently asked questions we get about Google Analytics and privacy policies.
What is Google Analytics?
Google Analytics is a free software tool created by Google that helps digital professionals monitor and analyze website traffic or the behavior of website visitors.
How does Google Analytics collect data?
GA's tracking process involves collecting data such as page views, what users clicked on, and how long they remained on your site.
These essential statistics about how your users interact with a website or platform can assist with site optimization, increased sales, and other goals.
The current version is called Google Analytics 4 or GA4, but there have been different iterations of this Google service.
According to Google, the current version collects the following information when set to the default settings:
Number of users
Session statistics
Approximate geolocation
Browser information
GA4 uses a client ID with two different first-party cookies to distinguish unique users and unique sessions:
_ga distinguishes users and expires after two years by default;
_ga<container-id> distinguishes session state and expires after two years by default.
However, you can turn off certain data collection on a "per region basis," which helps websites use GA4 if they fall under data privacy laws like the General Data Protection Regulation (GDPR).
Do you need a privacy policy if you use Google Analytics?
Yes, Google requires you to have a privacy policy if you use Google Analytics. Posting a privacy policy is also required by several data privacy laws across the world.
What goes into a Google Analytics privacy policy?
Google states that you must disclose your use of Google Analytics in your privacy policy, describe the cookies and trackers it uses, and explain how your consumers can control them.
If you use Google's advertising features to serve ads in the UK or EU, you must obtain user consent before placing cookies on their browsers.
Where should you post your Google Analytics privacy policy?
Post your privacy policy in the footer of your website and at or before any place where data collection occurs, like:
Payment screens
New user account creation pages
Email marketing forms
On a pop-up consent banner
Does Google Analytics require cookie consent?
Yes, Google Analytics requires you to obtain proper consent for cookies from consumers protected by data privacy laws like the GDPR that grant them this right.
Other laws, like the CCPA, require you to provide a means for users to opt out of cookies used for targeted advertising and analytics.
Google also requires you to provide ways for those individuals to follow through on those opt-out rights.
Does Google Analytics impact your cookie policy?
Yes, using Google Analytics impacts your cookie policy because this service uses cookies and other tracking technology to collect user data.
To follow Google's policies and comply with laws like the GDPR, you must disclose your use of cookies, list each one and its purpose, and obtain valid user consent.
Disclose your use of cookies in your privacy policy
If you use Google Analytics cookies to collect personal information from your users, you need to disclose that in your privacy policy.
It's a best practice to use an external cookie policy and link it to the proper clause in your privacy policy, like in the example from our privacy policy below.

What goes in your Cookie Policy
To prevent your privacy policy from becoming too long, generate a separate cookie policy that explains the following information about your use of Google Analytics:
What types of cookies (e.g., analytics, advertising, social media) you use and why you use them
What is the retention period of each cookie
With whom are these cookies shared later on, if that is the case
If you use additional tracking technologies (e.g., web beacons)
How users can set their cookie preferences
Below, see an example of how we explain our use of Google Analytics in our cookie policy.
As you can see in the example, Google Analytics cookies and their details are listed under "Analytics" in the cookie policy.
Allow users to consent to cookies
Once you've created a cookie policy that describes your use of Google Analytics cookies, you need to notify users of this policy and get their consent to use cookies.
One way to do this is through a cookie consent banner, which should include:
A link to a cookie policy
An explanation of cookie practices in clear and easy language to understand
A specific mention of how cookies are used for Google Analytics tracking
An opt-in mechanism (e.g., a toggle) allowing users to consent to cookies and the possibility to withdraw their consent at any time.
How can I keep track of Google Analytics updates?
Google provides updates to its products and services in the Google Analytics Help Center, which you can easily browse and check for any changes to its products or services.
Can you use Google Analytics in Europe?
To use Google Analytics in Europe, which the GDPR protects, you must first obtain consumer consent and provide them with a clear privacy notice explaining how Google Analytics collects and processes their data.
Summary
If you're using Google Analytics, Google requires you to use a privacy policy.
Posting one on your site also helps ensure you follow all applicable data privacy laws that impact your business.
Remove the hassle by using Termly's Privacy Policy Generator or free privacy policy template to build a policy that meets Google's Analytics requirements and covers 15 different laws (and counting!).