If you track visitor behavior on your site using Google Analytics, you need to present users with a clear and detailed privacy policy that explains how you process their data.
Read on to learn the specific requirements of a Google Analytics privacy policy — and why having one is a legal necessity for all online business owners who use this software to understand their users.
1. What Is Google Analytics and How Does it Collect Data?
Google Analytics is a free software tool created by Google that helps digital professionals monitor and analyze website traffic.
It collects data by placing a cookie on a user's browser when they visit your site, thereby providing insights such as how many users you have, where they are from, and which pages they click on.
2. Google Analytics and Privacy Policy Requirements
Because Google Analytics tracks users and collects data about their behavior, website owners must disclose this data processing activity to their visitors. Such a disclosure can be achieved by providing a comprehensive privacy policy.
A privacy policy (or privacy statement/notice) is a document that describes how a company collects, stores, and potentially sells user data. Under many new privacy laws around the world, privacy policies are a legal requirement for businesses, with significant fines for failing to provide a suitably detailed policy.
Let's look at how Google's Analytics policies explain the key requirements of a Google Analytics privacy policy, and how these relate to data privacy legislation worldwide.
Google Analytics Terms of Service
Google's Marketing Platform Terms of Service includes a specific clause explaining that you must provide a privacy policy to users in order to legally use the software and its tracking features.
Clause 7 states:
You will have and abide by an appropriate Privacy Policy and will comply with all applicable laws, policies, and regulations relating to the collection of information from Users.
By signing up for Google Analytics, you agree to these terms, and therefore need to abide by their requirements when you use the software.
Google Analytics and Complying With Privacy Laws
There are several privacy laws worldwide that require businesses to disclose how they collect user data — and by extension, describe their use of Google Analytics in a privacy policy.
Here's an overview of the main privacy laws that affect US companies:
To meet the essential requirements of these privacy laws when using the standard features of Google Analytics, you need to include the following information in your privacy policy:
Disclose that you use Google Analytics to track user behavior
Explain how you store and process the data you collect
Inform users that you deploy analytics cookies
Your privacy policy URL should be displayed prominently on your site — for example, by including a link in your footer.
3. Privacy Policy for Google Analytics Advertising Features
If you use the advertising features of Google Analytics, you need to include specific clauses in your privacy policy to explain how these features collect additional data from advertising cookies.
Here are three of the most common Google Analytics advertising features, and the insights they provide:
AdWords Remarketing — uses behavior, demographic, and interest data to identify users who are likely to convert, and then allows you to target those users with remarketing campaigns through Google Ads
Demographics and Interests Reporting — provides insight into the age, gender, and purchase interests of users, which you can use to better target your advertisements
Google Display Network (GDN) Impression Reporting — measures the impact of unclicked GDN Display ad impressions on conversions and site behavior
If you use these features, Google's policy requirements state that you must notify users about the additional data collection by saying which advertising features you implemented, how you use additional cookies, and how visitors can opt out of this advertising.
You need to explicitly state which Google advertising features you use, and what the effect is on users, in your privacy policy. For example, if you use the remarketing service, you should explain how users can expect to see ads for your business on other sites.
When writing this section, it's important that you use clear language rather than legalese, so the average user can understand your policy.
Google Analytics Privacy Policy Example
The Guardian's privacy policy is a great example of how to explain Google Analytics retargeting in a way the average user will understand.

Of course, although it's valuable to take inspiration from how prominent sites phrase their policies, it's always best to keep your clauses specific to your business and its unique practices.
Allowing Users to Opt Out of Google Analytics Tracking
Along with making users aware of how Google's ad features are collecting their data and affecting their experience online, you need to allow users to opt out of data collection.
This can be achieved by providing a link in your privacy policy to the various opt-out options that users can use, such as the Google Analytics Opt-out Browser Add-on.
When users install this add-on in their browser, it prevents the Javascript code on a company's site from sharing information with Google Analytics about user behavior.
SoundCloud's policies include a detailed section on opting out of data collection, with a list of options and external links for users to follow in order to act on their preferences.
As you can see, the first option is a link to Google's browser add-on.
Both the standard and advertising features of Google Analytics rely on placing cookies on the user's browser, which we will discuss in the next section.
4. Google Analytics and Cookies
If you use Google Analytics, you're using cookies to collect user data. In order to comply with the GDPR, you need to disclose your use of cookies in your privacy policy, detail that use in your cookie policy, and get user consent to cookies.
Disclose Your Use of Cookies in Your Privacy Policy
If you use website cookies of any kind (including Google Analytics cookies) to collect personal information from your users, you need to disclose that in your privacy policy.
The image above shows an excerpt from Termly's privacy policy. You'll notice that it links out to a dedicated cookie policy.
Create a Cookie Policy
In addition to disclosing your use of cookies in your privacy policy, write a dedicated GDPR cookie policy to detail your cookie use and help satisfy GDPR requirements.
Your cookie policy should explain the following:
What types of cookies (e.g., analytics, advertising, social media) you use and why you use them
If you use additional tracking technologies (e.g., web beacons)
How users can set their cookie preferences
Here's an example of how Google Analytics cookies are explained in Termly's cookie policy:
As you can see in the example, Google Analytics cookies and their details are listed under "Analytics" in the cookie policy. This section begins with a short explanation of what analytics cookies do, making the policy more user-friendly.
Allow Users to Consent to Cookies
Once you've created a cookie policy that describes your use of Google Analytics cookies, you need to notify users of this policy and get their consent to use cookies. One way to do this is through a cookie consent banner.
The UK Information Commissioner's Office has a good example of an effective Google Analytics cookie consent banner.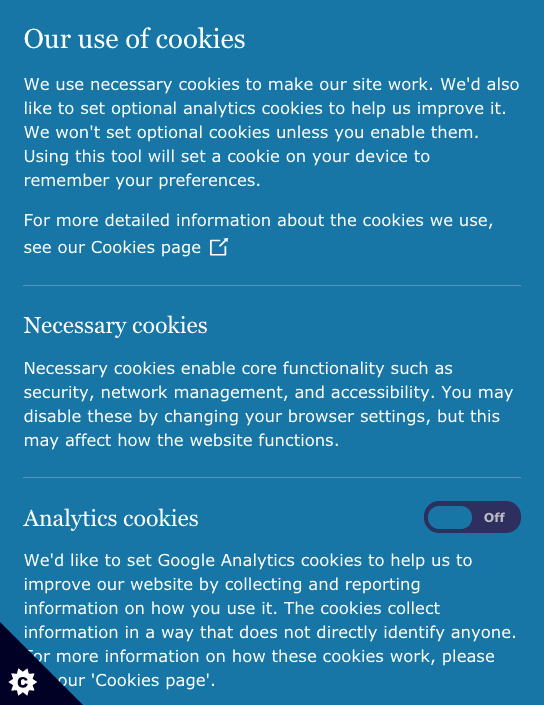 The banner appears when users first visit the site, and includes:
A link to a cookie policy
An explanation of cookie practices in clear language
A specific mention of how cookies are used for Google Analytics tracking
An opt-in mechanism (e.g., a toggle) that allows users to consent to cookies
Follow this or other cookie consent examples and you'll build trust with your users as well as obtain valid cookie consent to your use of Google Analytics.
5. Your Privacy Policy for Google Analytics [Free Template]
Google Analytics is a powerful tool for online businesses, but to use its features legally, you must disclose your data processing practices in a privacy policy.
Let's recap how to create a compliant Google Analytics privacy policy for your website:
Understand how Google Analytics collects data via cookies
Find out which privacy laws you need to comply with
Disclose your use of Google Analytics in your privacy policy, and include a link to your policy in your website footer
Explain in clear language how you use additional advertising features
Describe your cookie practices in your privacy policy (and in your dedicated cookie policy)
Obtain valid cookie consent if necessary
Here's a sample Google Analytics clause from Termly's privacy policy template.
To create your own policy, simply download the template, and customize it to the requirements of your business.
Alternatively, use Termly's privacy policy generator by clicking the button below to create a tailored privacy policy in under 15 minutes.
Create a Privacy Policy in Minutes Using Termly
‌Here's how you can use Termly's generator to create a comprehensive and compliant privacy policy.‌
Step 1: Go to Termly's privacy policy generator.
Step 2: Answer a few simple prompts and questions, and go through all of the steps until you reach "Final Details."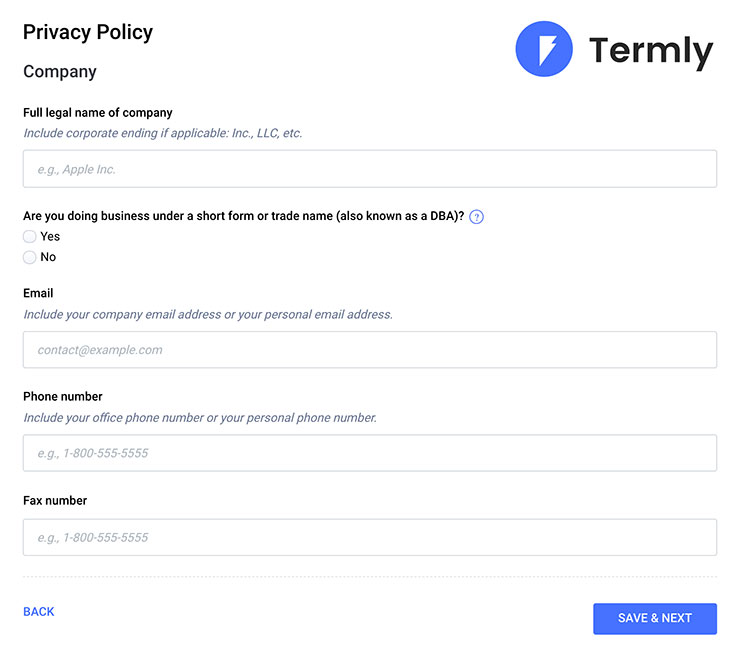 Step 3: Once you've filled in everything and you are satisfied with the preview, click "Publish." You will then be prompted to create an account on Termly so you can save and edit your privacy policy further.
FAQs About Google Analytics Privacy Policies