Not only are privacy policies a legal requirement under privacy laws worldwide, but many major platforms also require businesses to offer these critical documents.
For example, if you operate a website, or are publishing a Facebook app, you need a privacy policy — and with it, a specific privacy policy URL so users can find and read your policy.
Keep reading to learn what a privacy policy URL is, and how to create one for a Facebook app or website.
1. What Is a Privacy Policy?
A privacy policy is a legal document that explains to users how you collect, manage, and — if applicable — sell their personal data.
Personal data includes details such as: name, IP address, phone number, and credit card information.
Numerous privacy laws around the world require app and website owners to create a privacy policy for their operations. The following laws include this requirement, and threaten significant fines for businesses that don't comply:
Remember: a privacy policy is commonly referred to online as a privacy notice, privacy statement, or privacy policy agreement.
What Is a Privacy Policy URL?
A privacy policy URL is the web address of your privacy policy. Once you've created a privacy policy, you need to host it online so users can read about how you handle their data.
Termly's Privacy Policy is an example of a dedicated privacy policy page. Users can go to the URL below in their browser and easily access the full policy:
Because a privacy policy is a legal requirement for online businesses, many platforms require developers to enter a privacy policy URL when publishing applications on their app stores.
2. Facebook's Privacy Policy URL Requirements
Facebook requires any app created for its platform to include a privacy policy — and the URL of the policy must be submitted to Facebook before the app can go live.
Section 4 of Facebook's Platform Policy explains the principles that shape the need for a privacy policy. Developers should focus on giving users control over their data, and apps must obtain users' consent before using their personal information.
The fourth item in this section explains how the principle of user control can be met by providing users with a privacy policy:
To publish their app, Facebook app developers must supply a privacy policy by logging in to the Facebook for Developers Dashboard and entering their privacy policy's URL. Submitting this URL enables the privacy policy to be publicly available for users to read before they download or use the app.
All third-party services that rely on Facebook's tools or data must enter a privacy policy URL, from games listed on the Facebook App Center, to any app that includes the "sign in with Facebook" option.
As seen above, the Facebook App Dashboard illustrates the variety of apps that must meet this requirement, and provides individual guides for different types of app functionalities.
What to Include in Your Facebook App Privacy Policy
The exact terms of your Facebook app's privacy policy depend on several factors, such as the way you use personal data, the functionality you offer, and the goal of publishing the app.
Here are some elements that an effective and accessible privacy policy for a Facebook app should cover:
Explain the type of data you collect and how your app uses it
Mention how the data is displayed in the app
Cover what data — if any — is shared
Discuss how the data gets transferred to the app
Talk about the method you use to delete user data if someone requests removal, if the app is deactivated by Facebook, or if you discontinue the app
State how long you intend to save user data, and how you store the data
Disclose what you do with financial data stored on your app
Include how your app uses platforms such as GitHub, Google Analytics, and AdSense (if applicable)
All privacy policies need to be comprehensive to comply with privacy laws. You can achieve this by describing the unique data collection processes of your app.
3. Entering Your Facebook App Privacy Policy URL
Once you've written your privacy policy, it's time to publish it online and submit the URL to Facebook through the Developer Dashboard.
The process includes four steps:
1) Publish Your Privacy Policy
First, publish your policy somewhere users can easily find it. A simple option is Google Docs, but your users may not consider this professional.
Instead, publish your privacy policy on a dedicated page on your website, or use a privacy policy generator that hosts your policy online for free. One advantage of using a hosted service is that your policy will be automatically updated as global privacy laws evolve.
2) Change Your Facebook Developer Settings
Log in to the Facebook for Developers Dashboard, and go to the settings menu on the left.
Click "Basic" to find the essential legal policy settings.
3) Enter Your Information
At the next screen, you'll have the option to enter your display name (or company name), contact information, and the URLs of two legal policies — your privacy policy and terms of service.
In the highlighted privacy policy URL field, enter a valid privacy policy URL — that is, the web address of your published privacy policy.
If you enter an invalid privacy policy URL, the following message will appear:
Please make sure to enter the full privacy policy link and watch out for typos.
Facebook Privacy Policy URL Sample
Here's an example of a valid privacy policy URL, using Termly's privacy policy page:
Remember: the URL that you enter must be where users can read your privacy policy.
What Is a Privacy Policy Link on Facebook?
Apps published on Facebook's App Center include a link to their privacy policy on the "play now" page. The link takes users to the webpage specified in their privacy policy URL.
Here's a Facebook privacy policy example link in the App Center: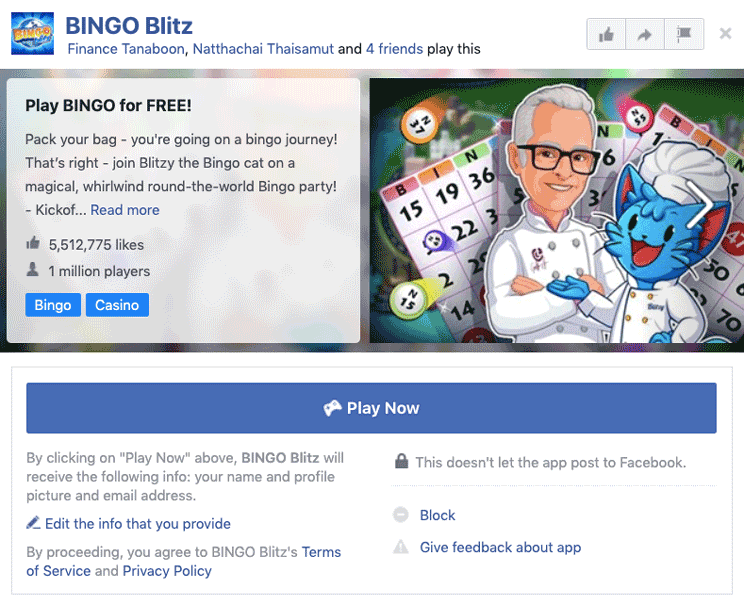 As shown in the image above, if users connect their Facebook account and play the game, they are agreeing to the app's privacy policy and terms of service.
4. Adding a Privacy Policy Link to Your Website
In addition to having a dedicated webpage for your privacy policy, you need to include a link to your privacy policy on your site's homepage.
Global privacy laws have different requirements for privacy policies, but one thing they all have in common is that users should easily be able to access this document.
Here are the essential requirements of three laws that apply to privacy policy URLs:
The General Data Protection Regulation (GDPR) — The GDPR requires all companies worldwide (including those in the United States) that target users in the European Union to clearly disclose how they process these users' data. These strict transparency requirements can be satisfied by publishing a thorough privacy policy.
California Online Privacy Protection Act (CalOPPA) — Under CalOPPA, any US-based business that collects personally identifiable information (PII) must outline its data practices in a privacy policy.
California Consumer Privacy Act (CCPA) — Businesses subject to the CCPA need to create a privacy policy that includes a conspicuous link reading "Do Not Sell My Personal Information." Residents of California should be able to click this link to refuse the sale of their data.
Accessibility and transparency are key concepts in today's era of digital regulation — users have the right to know how their data is used without navigating pages of confusing legalese or getting lost in a maze of documentation.
A clear and easily navigable privacy policy link satisfies the requirements of global privacy laws by allowing users to quickly find out how you handle their data.
Most websites place their privacy policy link in their footer. Here's how it looks on the homepage of Amazon's Alexa software:
This link in Alexa's homepage footer goes to the following privacy URL: https://www.alexa.com/help/privacy.
Make sure you link to the appropriate privacy policy for your website or app. For example, build your policy using a privacy policy template for email marketing if you operate in the digital outreach sphere. Alternatively, if you run an online business, take advantage of an ecommerce privacy policy template to create the right policy for your company.
5. Key Takeaways for Your Facebook App Policy or Website
Now that we've walked through how to create a privacy policy URL for a Facebook app and add a link to your website, let's recap the main points:
A privacy policy explains how you process users' personal information
Privacy policies are a legal requirement under many countries' privacy laws
A privacy policy URL is the web address of your privacy policy
Facebook requires all apps that use its platform to submit a privacy policy URL
It's best practice to include a link to your privacy policy in your website footer
If you need to create a privacy policy from scratch, customize our Facebook app privacy policy template.
Alternatively, click the button below to get an attorney-drafted document in under 15 minutes.
6. Privacy Policy URL FAQs