If you sell software, you need an End-user license agreement (EULA) to maintain ownership and control over your technology and explain what consumers can and can't do with it.
In this guide we'll teach you how to write a EULA for your app, game, or other software. We'll cover what clauses to include, why they're important, and show you real-life examples to inspire you.
What is the Purpose of a EULA?
The purpose of an end-user license agreement — or EULA — is to maintain control and ownership over your software and stipulate what end-users can and can't do to your platform.
This legally binding agreement does all of the following:
Permits consumers to use your services
Allows you to limit some potential liabilities
Lays out the scope of the license
Covers issues that address the use and licensing of the software
Explains when you may terminate end-user access
Outlines governing laws and dispute resolutions
EULAs are essential — and different from other web policies like your terms and conditions — because when you sell an app or program, the consumer doesn't own the software but pays for a license to use your application.
For this reason, it's typical to require end-users to agree to the EULA before downloading, purchasing, or using a copy of your work.
Can You Legally Write Your Own EULA?
Yes, you can legally write your own end-user license agreement for your video game, app, or other software.
However, remember that you're responsible for ensuring it follows all applicable laws and includes the proper clauses to protect your software adequately.
For your EULA to become legally enforceable, both the licensor (you) and the licensee (your end-user) must mutually agree to it.
It also must be written clearly and fairly — you can't just put any rules you want and expect it to hold up in court. Both parties must act within their rights based on applicable laws.
Writing a EULA yourself gives you more control over the document, but it can also be time-consuming and complicated.
Let's consider some standard solutions for creating a EULA in the next section.
EULA Solutions
There are several available solutions to help you make an effective EULA for your app, like:
Using a managed solution
Trying out a free template
Writing one yourself
Let's discuss these in greater detail to help you determine which direction is right for you.
Managed Solution
The easiest and fastest way to make an effective EULA for your app is to use a managed solution, like our EULA Generator.
Our generator is backed by our legal team and data privacy experts, plus it's super simple to use. All you do is answer a few questions about your platform, and it generates a comprehensive mobile app EULA explicitly formulated for your software.
See an example of what it looks like in the screenshot below.
Our tool walks you through all necessary clauses, covers each contingency, and protects your ownership interests.
Template
Alternatively, you can use our free EULA template. These sample documents take a little more time than managed solutions, as they require you to alter parts of the template to fit the needs of your software.
But they complete much of the initial writing and formatting for you, and a good template should also feature the most common clauses, like ours does.
See a sample of what our EULA template looks like below.
Templates are great solutions for simple apps that only need a basic EULA. It can also give you a headstart and act as your outline if you still want to write most of it yourself.
Do-It-Yourself (DIY)
Of course, you can also write your own EULA, which is why you're reading this guide in the first place.
This method can be confusing and daunting, especially if you lack legal knowledge, but we're here to help make it as easy as possible.
As the software owner, you're in a unique position to understand what your licensing agreement needs now and what it may need in the future — this sets you up for success when creating your own EULA.
The rest of this guide will offer you plenty of help along the way.
Step-by-Step Guide To Writing Your EULA
Before you start writing your EULA, follow these easy steps to help save time and make the entire process more efficient:
How to Outline and Prepare Your EULA
Before you start writing any clauses, take the time to make an outline for your end-user license agreement to ensure it follows a logical structure and includes all relevant pieces of information.
This will also help with efficiency and save you time on the writing process in the long run.
First, determine what structure you want to use for the agreement, like:
A table of contents
Frequently-asked-questions (FAQ) style
Tables or charts
Jump links
Then, prepare the clauses of your EULA by examining your software package and determining what restrictions or permissions are needed when outlining the parameters for its use.
For example, consider whether you need to:
Maintain control of your images or content
Limit or prevent the use of your app across other platforms
Restrict materials an end-user can upload
Limit your liabilities
Link to third-party content
Create a process for the termination of users
Explain warranty information and other disclaimers
You can turn all of these into clauses, and we will teach you how in the next section of this guide.
Use your outline to consider the unique nature of your software, and be sure to prepare your EULA with these in mind.
What Clauses Your EULA Should Contain
The specific clauses you include in your EULA depend on your needs as a software developer, so we've provided a massive list of the most common sections for you to consider.
Let's get started.
Definitions
When writing your EULA, create a section at the beginning that clearly outlines standard terms used throughout the agreement and provides definitions for each one.
This helps clear up consumer confusion and leaves little room for interpretation.
Below, see how succinctly the gaming company Nintendo writes definitions for terms in their EULA.

Introduction
The first actual clause you should write in your EULA is the introductory paragraph.
Use this space to indicate that the EULA is an agreement between the end user and the software developer. Include the names of affiliates or any other operating titles used to identify the licensor or the related software.
Here, put language stating that the end-user must agree to the EULA before purchasing, installing, downloading, or using the software. You might even claim that using your system without accepting the end-user license agreement is prohibited.
Below, see an example of how Veeam, a backup software company, writes this clause in their EULA.
Opt-out Provision
You might also want to write an opt-out provision clause to inform end-users that they're not automatically bound to your EULA if they decide not to use, copy, download, or install the software.
Check out how gaming platform Steam writes this clause in their EULA.
Licensor Information
Licensor information is related to the licensor who developed the software, including name, address, and contact information. The variable names of the software should also be listed.
This clause is also often contained in the general introduction.
Below, read how gaming company SEGA writes about their information as the licensor in their EULA.

Grant of License
In all cases, an end-user is granted a license to use the software and nothing more, so write as much in a clause in your EULA.
For example, you might write a limited "non-exclusive, non-transferable, non-sublicensable license" that permits users to download the software only on their device and for personal use.
Below, see how Veeam writes about the license they grant to users in their EULA.
Version of License
Because different end-users may need different versions of the licensing agreement, you should put that information somewhere in your EULA.
For example, you may want one specifically for individual end-users and one for business entities, governments, or large corporations.
See how Foresight Sports, a golf performance and enhancement company, writes about their three different licenses in their EULA below.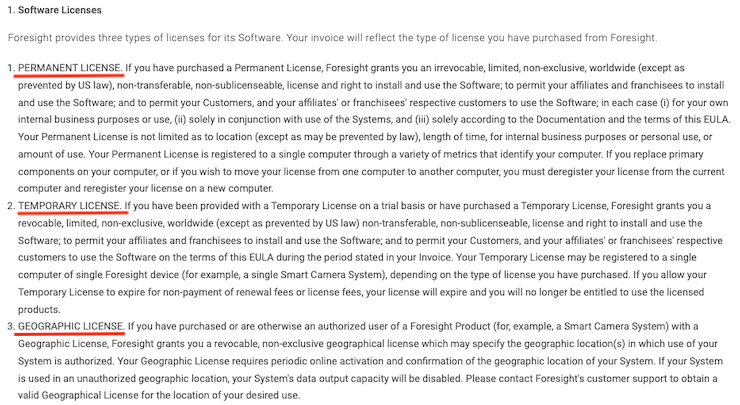 Limitations of Liability
A EULA should limit your liability if your software crashes an end user's device and they attempt to blame you as the developer, so write this clause clearly in your agreement.
By doing as much, you're protecting yourself as the licensor because you're no longer responsible for negative results experienced by the end-user.
See how the information technology company Hewlett Packard (HP) writes this clause in their EULA in the screenshot below.

License for Use Only
To affirm that your software is your property, write a license-for-use-only clause that formally grants permission for the use of the software by the licensee or end-user only.
This prevents people from trying to convert your software for their own commercial benefit and potentially claiming ownership of it.
See an example of how SEGA writes a license for use only in their EULA below.
Ownership
Write a clause in your EULA explaining the ownership of your software.
This is critical because end-users may mistakenly feel they own a copy of your software when a purchase occurs. However, this is not the case.
The end-user simply has a functioning copy of your software and no ownership rights to it.
This clause reiterates and clarifies that the software is licensed, not sold, to the end user. The owner continues to own all rights, titles, and interests in the software, including all copyright, patent, trade secrets, and other intellectual property rights.
See an example of how the interactive video game Minecraft writes this clause in their EULA below.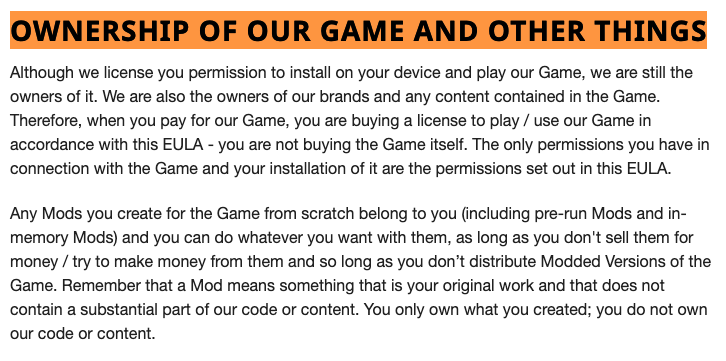 Restrictions of Use
You should write a clause in your EULA that limits how the end user can legally use your application.
For example, write that they can't use your software for illegal activities, like hacking or spamming.
Many sites spell out all prohibited activities in their EULA, which is what the live transcription service TypeWell does in their clause, shown below.

Site Licenses
Determine if you want your users to be able to download and install your software on multiple devices, and write a site licenses clause outlining your decision in your EULA.
Typically, the licensed rights are granted to identified devices. However, it's up to you as the software developer whether multiple devices are authorized.
See an example of how tech company Sony writes this clause in their EULA below.

Third-party EULAs
If your software links to any third parties, include a clause in your EULA to limit your liabilities based on what might appear on those external sites and to separate yourself from their EULA.
Encourage users to be mindful when reading a third party's agreement, as it may limit what the original site provides.
Below, see a sample of how SEGA writes this clause in their EULA.
File-Sharing
If your software permits or requires a file-sharing program, your EULA should detail how that program operates within the context of your software.
Make the end user aware that you are not responsible for any negative results that may occur from using a file-sharing program.
See a sample of how the data analytics company LexisNexis writes this clause in their EULA below.

Terms and Termination of Use
Under the terms of your EULA, you have the right to cancel the end-user agreement at any time and for any reason.
For certain software, the license to use the software is limited to a particular term. Explain if a timeline like this exists for your platform in a clause in your EULA.
Below, see an example of how to write this clause as it appears in Steam's EULA.
Warranty Disclaimers
Write a warranty disclaimer clause in your EULA explaining that you aren't responsible if the software you developed causes problems for the end user.
This helps manage your consumers' expectations and ensures that your company and its licensors have no liability for the use or inability to use the software. This includes damage to the end-users' files, computers, or devices as a direct result of downloading the software.
A warranty disclaimer helps absolve you of legal responsibilities. Both parties acknowledge that the software is provided as-is and may be subject to glitches, viruses, bugs, errors, or other defects.
Below, see an example of this clause as it appears in TypeWell's EULA.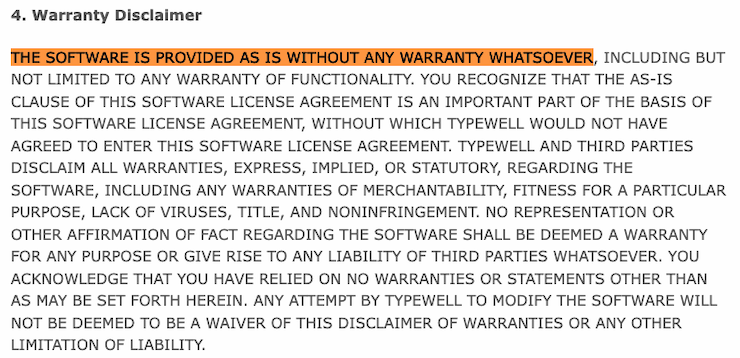 Copyright Information
To remind users that copyright laws protect your content, write a clause explaining the relevant copyright information and your ownership rights in your EULA.
This clause states that the end-user will be held liable for any violation of copyright law.
See a sample of how to write this clause below as it appears in Steam's EULA.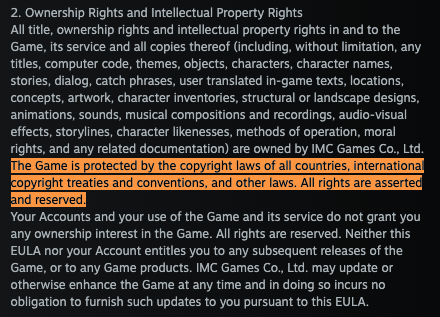 Billing and Payment
Write a clause in your EULA explaining the billing and payment processes your software requires, and include details about what forms of payment are accepted.
If you provide subscription services, outline those details here.
Below, see an example of this clause as written by Nintendo in their EULA.
Related Agreements
You want your users to access several legal policies and agreements at any given time, so include links to those documents within your EULA.
You can also use phrasing in your agreements that link acceptance of your EULA to the approval of other contracts, like your terms and conditions.
Below, see an example of how Minecraft includes links to additional documents in their EULA.

Privacy
It's a good idea to explain in a clause in your EULA that you only collect, use, or disclose an end user's personal information as described in your privacy policy and provide a live link to the document.
Remember that specific data privacy laws dictate how you obtain consent for personal data collection.
Below, see an example of how SEGA puts a link to their privacy policy within their EULA.
Use of Information
When writing your EULA, include a clause that explains if your software collects personal data that may get used by you or a vendor to solicit business, if you resell the data, or if it contributes to carrying out personalized market research.
Data collected may include internet search queries, websites visited, time spent on websites, products purchased, and other forms of personal information.
See how HP writes this clause in their EULA in the example below.

It's important to note that this clause is not a replacement for your privacy policy, especially if you fall under the jurisdiction of any data privacy laws.
Governing Law
Write a clause in your EULA outlining the governing and applicable laws that apply should a conflict ever arise between your company and a user or another third party.
Clearly explain what regulations apply. Usually, companies choose the region in which they're located or where they do the most business.
Below, see how simply Minecraft writes this clause in their EULA.

Dispute Resolutions
You should also write a dispute resolution clause in your EULA, which helps explain how you'll handle disputes against you.
Consider specifying mediation, binding arbitration, or another form of conflict resolution, like a waiver of class action suits.
Below is an example of how Foresight Sports wrote this clause in their EULA.

Indemnification
Add an indemnification clause to your EULA to limit your liabilities and explain that end-users cannot hold you or members of your company responsible for harm or any claims related to the use of your software.
Using technical legal phrases like "hold harmless" or "save harmless" within this clause is standard.
Below, see how Foresight Sports handles indemnification in their EULA for some inspiration.
Severability
Write a severability clause in your EULA to explain that the remaining parts of your agreement remain in full effect even if a single clause or other portions of the policy are determined to be unenforceable by an arbitrator or court.
This helps protect your software if something you write in your EULA is deemed unacceptable.
Below, see an example of how to write this part of your clause as it appears in Sony's EULA.
Support and Maintenance
In your EULA, write a clause explaining how you perform software support or maintenance.
You might deliver support via email, phone, chat, text, or in person at a service center. If you release software maintenance updates, consider outlining a schedule in this clause.
This helps set users' expectations and prepares them for ongoing maintenance your software may require.
See an example of this clause from Veeam's EULA below.
Automatic Software Updates
Like the support and maintenance clause, if you periodically provide software updates, write a clause in your EULA explaining how those updates occur and give a schedule if possible.
However, it's up to you if you want to provide a notice beforehand or automatically install these updates for all end-users. Just be honest in your EULA about what process you follow.
Mention that the updates could include patches, bug fixes, updates, or upgrades.
Below, see a great sample of this clause as it appears in Sony's EULA.

EULA Revision Date
Keep your users informed about how recent your EULA is by providing the last revised date somewhere on your policy.
You can also write a clause explaining how you'll update or replace the existing EULA whenever changes occur.
See an example of where Veeam puts their last updated date in their EULA below.
Contact Information
You should provide your users with a way to contact you if they have any questions or concerns regarding your EULA.
Put the name of your company, its address, and other possible points of contact.
See how simply Sony writes this clause in their EULA below.
What to Avoid Putting in a EULA
Now that you know what clauses to add to your EULA, let's discuss what you should avoid putting in this agreement. Here are our EULA don'ts:
Avoid commitments or guarantees about your software
Avoid making acceptance to your EULA optional
Avoid copying and pasting someone else's EULA
Avoid revising your EULA to seek access to personal information
Avoid using harsh language, legalese, and unnecessary jargon
Let's go over each of these EULA don'ts in greater detail.
Avoid Commitments or Guarantees
When writing your EULA, be careful not to make any commitments or guarantees that may inadvertently circumvent your warranty disclaimers.
You don't want to contradict yourself or leave yourself open to liabilities beyond your control.
If you do choose to provide a warranty, be clear about the timeframe and be extremely specific about what the warranty covers. Use phrasing to give yourself wiggle room to withdraw the warranty, just in case.
Avoid Making Acceptance of Your EULA Optional
For your EULA to potentially hold up in court, you need to prove your users read and agreed to the document, so don't make this part optional.
Protect your ownership rights and be clear that the software will not function without the software licensing agreement in place.
Include language in the introduction of your agreement to stipulate that using the software means the user agrees to the terms of your EULA.
Avoid Copying and Pasting Someone Else's EULA
Copying and pasting another person's EULA is considered plagiarism, and copyright laws protect these documents, so don't do it.
It also won't adequately protect or even apply to your software.
At the very least, download and use a free template instead. They're super easy to complete and will protect your app.
Avoid Revising Your EULA To Seek Access To Personal Information
Avoid having to issue revised EULAs that seek access to personal information or the specific monitoring of internet activity.
End-users may not be pleased with this type of invasive use of their system resources.
Avoid harsh language
When writing the clauses of your EULA, try to avoid using language that readers may perceive as harsh or severe.
If a dispute arises, the contents of your EULA may be considered, so you want to ensure the language is diplomatic, unbiased, and straightforward. Otherwise, it may not hold up in a court of law.
Tips for Writing a Good EULA
We've covered the don'ts, so now, let's discuss helpful tips to follow while writing your EULA to create a good agreement that adequately protects your software.
Our recommended EULA do's include:
Do make your EULA easy to find and accept
Do make it easy to read
Do set clear guidelines and expectations
Do match your brand's voice
Do be honest and actionable
Do inform users how you'll update them about changes to the EULA
Do be careful when writing clauses about file-sharing programs
Let's cover each of these tips in more detail.
Make it Easy to See and Accept
The goal of your EULA is to have your users agree to the rules of use and acknowledge your ownership rights over the software, so make sure your end-users see your policy before they use your platform.
Make it easy for users to accept your EULA by integrating it into the natural process of starting your software. This can also help your agreement have a better chance of holding up in court should a dispute occur.
Make it Easy to Read & Understand
You should write your EULA in a way that is easy to read and understand, which helps ensure that your users comprehend the agreement and know what they're consenting to.
Use simple, straightforward language and avoid using large walls of text, which tends to confuse consumers.
Additional methods that make a EULA easier to read include highlighting or capitalizing portions of the text that are critical to your software licensing agreement or listing out the sections with related links to make them more accessible for the end user to locate.
Set Clear Guidelines & Expectations
Managing expectations is an essential part of the software licensor and licensee relationship, so clearly outline the responsibilities for both parties in your EULA.
What you expect from customers
You have certain expectations of your customers, so explain those rules, stipulations, and guidelines clearly and unambiguously.
Your clauses should leave no room for interpretation regarding what end users can and cannot do with your software.
What customers can expect from you
Similarly, you should inform your customers about what they can expect from you if they agree to your EULA.
For example, state if you allow returns or refunds based on aspects of your software.
You should also explicitly explain to end-users that you aren't liable for their use or inability to use the software. This is one of the best methods of managing their expectations.
In addition, clearly state that these limitations include damage to computers or mobile devices due to downloading the software.
Match Your Brand's Voice
Since you're writing your EULA yourself, use language that matches the rest of your platform's tone, style, and branding.
Just be mindful about keeping things professional in your EULA, especially if your software is playful and filled with color and graphics.
You can still use the same color schemes and voice, but make it more businesslike and professional since a court could scrutinize this agreement if a dispute occurs.
Be Honest and Actionable
When writing your EULA, ensure you're honest about your policies and procedures, and provide actionable ways users can follow up on those promises.
For example, if your software requires purchasing, be upfront about it by explaining the billing costs and consequences of nonpayment. Provide a procedure for notifying users if prices change, and allow for an actionable method of ending subscriptions to your software.
Being honest about these and other transactions can prove to your end-users that you respect them, fostering trust and integrity.
Provide Updates
Your EULA may need to be updated throughout the software's lifespan with new information and details, so inform users about how you'll notify them about such changes.
Providing updates is an excellent method of proving to your end-users that you care about the continued viability of the original software.
Be Careful When Writing Clauses About File-Sharing Programs
If your EULA requires clauses related to file-sharing programs, be extra cautious with how you write the language in this clause to limit your responsibilities.
Explaining the potential risks of receiving viruses or monitoring software that may seize control of an end-user's system is essential. But clarify that such instances are beyond your control, and you're not liable for such damage.
Displaying Your EULA and Getting Consent
After you write your EULA, you want to display it in appropriate places throughout your software and get proper affirmative acceptance from your users. This increases the chances of your EULA holding up in court.
Displaying Your EULA
You should post a link to your EULA in the following locations:
On the download page to access your software: This allows users to read the EULA and decide if they agree to it before actually accessing or using your software.
On any account creation or login pages: To set proper user expectations, present them with the EULA and ask for their agreement before creating a user account or logging in.
On any checkout or payment screens: Putting a link to your EULA on payment screens ensures your users can access and read the agreement before finalizing a monetary transaction.
On static menus within your software: Static menus, like a website or app footer, don't change no matter where your users end up, so putting your EULA there gives them constant, verifiable access to the agreement.
In your privacy center: Since most businesses have several policies and legal agreements they need users to access and agree to, consider following our guide to make a privacy center on your site and link your EULA there, along with other relevant policies.
Getting Consent for your EULA
For your EULA to hold up in court, you must prove that your users consented to the terms outlined in the contract.
There are two common ways to achieve this:
Clickwrap method: This involves asking your users to actively select a checkbox to acknowledge that they've read and agree to your EULA.
Browsewrap method: This involves using specific language in your EULA stating that by simply using your services, the user agrees to follow the terms outlined in your agreement.
Note that providing a link to your EULA without overt affirmative acceptance — like clicking a button — is less enforceable than a license agreement receiving active consent.
Therefore, we recommend implementing both methods to help your agreement have a better chance of holding up in court.
Summary
Anyone distributing software, video games, mobile apps, or other similar products should write an end-user license agreement or EULA to protect and maintain ownership rights over the technology.
A EULA is ultimately meant to protect you, the owner and licensor, from the misuse of the software.
So take the time to write a comprehensive EULA, try not to leave anything out, obtain consent, and post it in multiple spots throughout your platform.