If you run a blog, you must consider your readers' data privacy and their rights to it. The law treats simple blogs like any other website when it comes to data privacy.
You need a privacy policy for your blog to collect information from your visitors.
Here's what you need to know about who needs a privacy policy for their blog, how to create them, and examples of good blog privacy policies.
What Is Blogging?
The original purpose of blogging was for individuals to post updates (usually text-based) about their life or put creative works up for everyone to see.
Today, blogs are used by everyone — from solo creators to major companies — to accomplish several goals. They have also become one of the best ways for websites to improve their search engine optimization (SEO).
Blogging is an excellent way to provide free content to your users and keep them returning to your site. Posting high-quality information can help you encourage people to sign up for email lists, make affiliate purchases, or return to your site and allow you to generate ad revenue.
What Is a Blog Privacy Policy?
A blog privacy policy is a legal page on your blog that explains to users how your site collects and uses personal information and what rights users have over that data.
It's crucial to ensure that your privacy policy meets the requirements of applicable state, federal, or global privacy laws, which depend on where you and your readers reside.
Personal information is any information that can be directly or indirectly linked to an individual. Some examples of personal information that blogs collect include:
Names
Email addresses
Account sign-up information
IP addresses
Transactional data (e.g., billing information, payment details)
You may also need a blog disclaimer to cover other activities and content on your blog.
Does Your Blog Need a Privacy Policy?
In many cases, yes, blogs require privacy policies.
According to state and international laws, any website that collects personal information from visitors needs to have a privacy policy.
For example, if your blog has a "subscribe" feature, if you collect user emails, or if your blog otherwise gathers information about visitors, you need a privacy policy for it.
Furthermore, even if you don't directly collect information, the technology that powers your blog or the 3rd party software that enhances it might. In that case, you still need to provide a policy or risk legal consequences.
Some examples of platforms and services that would lead to you needing a privacy policy include:
WordPress: WordPress sites are globally accessible and make it easy to collect visitor data. If you use this feature, you need a privacy policy for your WordPress site.
AdSense:

If you monetize your blog through ad platforms like AdSense, it's guaranteed the ad provider is collecting user information. You need to provide a clear policy explaining to users how and why AdSense is gathering that data.

Google Analytics: Even if you're just curious about who visits your blog, Google Analytics collects user information in ways that trigger privacy laws. You need to include a privacy policy that explains how and why Google Analytics gathers and uses their data.
Finally, adding a privacy policy to your blog is simply the right thing to do. If you respect your readers, you should ensure they understand why and how their personal data is collected and used.
Which Privacy Laws Affect Your Blog?
Depending on where you live and what audiences you target, there are a variety of privacy laws that may affect your blog. These include:
Blog Privacy Policy Solutions
If your blog, like many, needs a privacy policy, you have several options. Depending on how much work you want to put into it yourself, you can choose between using a managed solution, starting with a template, or writing your policy yourself.
Here's how each option works and when they might work best for you.
Use a Managed Solution
A managed solution is a service that does the hard work for you. All you need to do is answer a few simple questions, and you will get a customized privacy policy generated for your blog.
Termly's privacy policy generator is an excellent option if this hands-off technique appeals to you.
Our generator is compliant with the GDPR, CCPA, CalOPPA, PIPEDA, and other data privacy laws. It's easy to connect to your site, supports a wide range of customization, and it will automatically update your policy as laws change.
Create a Blog Privacy Policy in Minutes Using Termly
‌Here's how you can use Termly's generator to create a comprehensive and compliant privacy policy for your blog.‌
Step 1: Go to Termly's privacy policy generator.
Step 2: Answer a few simple prompts and questions, and go through all of the steps until you reach "Final Details."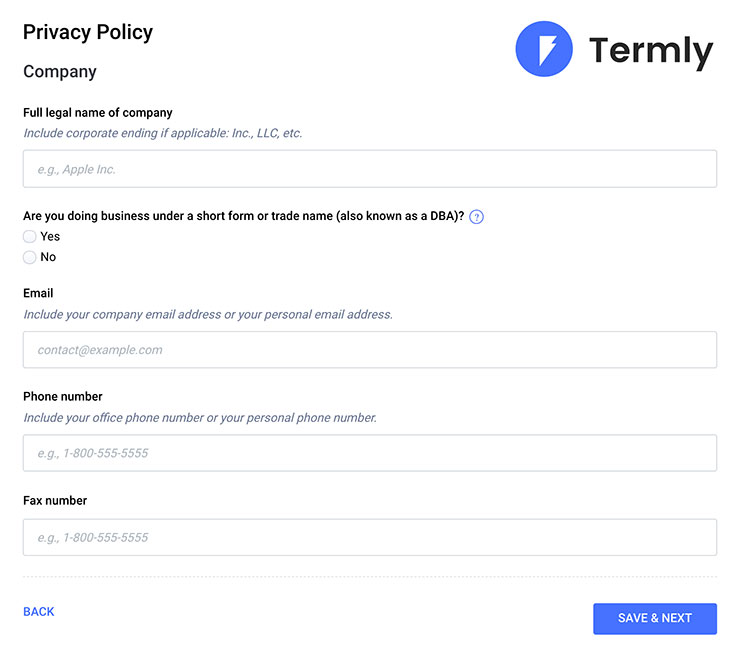 Step 3: Once you've filled in everything and you are satisfied with the preview, click "Publish." You will then be prompted to create an account on Termly so you can save and edit your privacy policy further.
Use a Template
If you want to be a little more hands-on, you can use a blog privacy policy template instead. Template
You can use our privacy policy template as a foundation for your blog's privacy policy to ensure that you don't leave out any clauses required by law.
Unfortunately, templates take a little more work than a managed solution since you need to keep the policy up-to-date on your own.
Write It Yourself
The final and most work-intensive option is to write your privacy policy for your blog yourself without a template or a managed solution.
We don't recommend this option unless you have legal experience; however, if you choose to go this route, here are some tips for writing a good blog privacy policy.
Tips for Writing a Blog Privacy Policy
Writing a privacy policy for your blog on your own takes some serious research. Here are some tips to help you along the way.
Determine which laws apply to you.

You want to make sure your policy follows the rules and regulations of the laws that actually apply to you. When in doubt, it's better to comply with more laws rather than fewer.

Review how your site gathers and uses data.

Your privacy policy has to be accurate. You need to audit your blog to learn what kind of information it collects and how.

Make sure you include all relevant sections.

Once you understand what data your blog collects, you need to include all that information in your privacy policy. Most data privacy laws require you to

Regularly check in to make sure your policy is still in compliance with current laws.

The most critical step when writing a privacy policy is revision. New data privacy laws and revisions come out every year. Therefore, you should review your privacy policy at least once a month to ensure no new rules have been enacted that will impact how your policy should be written and make updates as necessary.

Be thorough:

Before you can start creating your privacy policy, you need a clear idea of how personal data moves through your blog, from its collection to the time you delete it. You need to know all social media plugins, include in your policy, have a list of all plugins, third-party integrations etc. When communicating to individuals, keep it simple but accurate.

Use simple language:

You need to write in clear, easy-to-understand language. That means no

legalese

or complicated terms. Instead, write the policy so the average person can understand it. It's important to match the categories of data collected with the purpose and the legal basis. For example, take a look at

Bumble's lawful basis section

.

Layered Approach

:Include dashboards, icons, just in-time notices to make it easy to understand and navigate your privacy policy.
What To Include in Your Blog's Privacy Policy
A comprehensive privacy policy for blogs like yours will consist of the following sections:
List the Information You Collect
What does the GDPR require?
Under the GDPR, there are different disclosure requirements depending on how you obtained the personal data of individuals:
What should you include if individuals voluntarily provided their personal data to you? (Article 13 of the GDPR)
If individuals directly provided their data, you don't need to list this types of data in your privacy policy. For example, if you have a newsletter sign-up form and people provide their email addresses voluntarily, you don't need to address this in your privacy policy. In other words, you don't have to inform individuals about the personal data that they already know you have.
What if you obtained individuals' data indirectly? (Article 14 of the GDPR)
This article applies if you used technologies such as google analytics or you bought their data from data brokers.
In this case, you need to disclose the categories of data you collected. For example, if you used Google Analytics to learn about your website visitors's browser language or their country of residence, you must list these categories of information in the privacy policy.
Additional requirement under CCPA
Unlike GDPR, the CCPA does not distinguish between data directly provided by individuals vs. data obtained indirectly. Therefore, you need to list categories of personal data individuals directly provide.

You also need to specifically name the following categories of information:
The categories of personal information collected/sold/disclosed for business purposes in the previous 12 months.
Of all the sections in your privacy policy, this should be one of the longest and most thorough.
Explain How the Data Will Be Used
The next section should explain how you will use the information you collect.
For instance, you may use visitor emails to send newsletters or post updates, while you may use demographic information to deliver personalized ads.
This section should also be thorough. Leaving out one of the ways you use personal data, even by accident, can leave you at risk of legal action.
Auditing your site will help ensure you don't miss any of the ways your blog uses data.
Describe How You Protect Personal Data
The personal data you collect needs to be carefully protected to avoid data breaches. In this section, describe how you protect the information you gather, including security measures like:
Encryption

Access limits

Firewalls
The specific security measures you need will depend on what data you gather and store. For example, if your blog includes a store, you'll need extra protection to guard your visitors' payment details.
While it is good practice to have a security clause within your privacy policy, it is not mandatory under major privacy laws such as GDPR and CCPA.
Discuss If and How You Share Data With Third Parties
Your blog's privacy policy should also explain whether you share any data with third parties. For example, if you work with an ad network, use an email delivery service, or otherwise outsource any part of the blog-running process, you share data.
Name the third parties you work with and why.
It's also a good idea to link to the privacy policies of your most important partners, so visitors can quickly check how these third parties are using their data.
Describe Your Cookie and Tracking Technology Usage
Explaining your cookie usage is a fundamental part of a good blog privacy policy. In addition, the GDPR and other privacy laws require you to cover your use of cookies and tracking technology in your policy.
If you already have a separate cookie policy for your blog, this section can be brief and link to the other policy.
Explain How Users Can See and Control Their Data
Transparency is a fundamental part of modern data privacy laws. Therefore, your policy should include a section informing users how they can see all the information your blog has collected about them.
The policy should also explain explain your users' rights under applicable privacy laws and describe how they can exercise their rights:
First, under the GDPR, CCPA and other major privacy laws, users have the right to access, delete, and rectify their personal data.
Secondly, your privacy policy should describe how users can exercise their rights. For example, by sending you a Data Subject Access Request, either by email or through a dedicated DSAR form.
Additional Information You Need to Include:
Blog owner information and contact details:

You need to disclose who owns the website and how to get in contact with them.

How individuals can file complaints:

You need to inform user how they can file complaints with the proper data protection authorities.

Data storage practices:

You need to disclose how long you will keep data and how you will dispose of it.

International data transfers: Disclose how you handle international data transfers.
Sample Blog Privacy Policies
If you're unsure what your blog's privacy policy should look like, don't worry, we've gathered some good examples of blog privacy policies below.
Wit&Delight Privacy Policy
This fashion and lifestyle blog's privacy policy is an excellent example of a short and sweet privacy policy for a blog that doesn't collect much personal data.
It's clear what information is collected, how it's used, and where users can find more information about third-party privacy policies.
Serious Eats Privacy Policy
The Serious Eats blog policy is a little more in-depth. It includes much more information because the blog directly gathers a lot of personal data.
The above clause shows how you can communicate how you use all the information you collect and why you need it.
Umami Girl Privacy Policy
Umami Girl's privacy policy and disclosure page describes how the site collects information directly through contact forms and indirectly through third-party services. There's also a section that details the site's use of cookies and how users can set cookie preferences.
In the affiliate disclosure section, the blog includes an Amazon Affiliate disclosure, and outlines their relationship with other third-party advertisers.
Nomadic Matt's Blog Privacy Policy
Nomadic Matt's privacy policy has a section dedicated to the GDPR, as the blog has visitors from the EU (even though the blog operates from the US).
As a travel blog, it needs a blog privacy policy that complies with the GDPR, PIPEDA, and other international laws. A clause like this is a simple way to ensure that the essential details are covered and easy to find.
Summary
A privacy policy is essential for blog owners who want to build their audience or earn money from their writing. Adding a privacy policy to your blog is vital to comply with the law and respect your users' privacy. You can write your own or work with Termly to set up a customized privacy policy for your blog and never worry about an out-of-date privacy policy again.