Disclaimers are common defense measures used by companies and small business owners to protect themselves from legal claims that may be made against them. If you need one for your website or online business, see our free downloadable templates, or create your own with our fast and easy disclaimer generator.
1. Disclaimer Templates for Download
Click the following image to view the documents.
2. What Is A Disclaimer?
A disclaimer is an official statement that protects you from legal liability. When users visit your blog or site, it functions as a warning sign that notifies readers that your advice, product, or service could possibly harm them in some way if they act upon it, and that you cannot be held responsible.
Because disclaimers operate as a legal safeguard, it's important that they are visible and accessible to users; if they are not easy to find, or are deceptively placed on a webpage, there could be legal repercussions. This is why many online businesses include theirs on a homepage, or in their terms and conditions section.
But do you really need one for your own site? If you sell products or offer users advice, then yes. Having one, in addition to privacy policy and terms and conditions sections, is the only way to fully protect yourself from liabilities.
How is it different from a Terms and Conditions agreement and a Privacy Policy?
A terms and conditions agreement explains rules, regulations, and user guidelines, and a privacy policy discloses how a site manages an individual's personal data. You should include both of these in addition to a disclaimer to make sure your online business is protected.
Note, having a disclaimer, in addition to a privacy policy and a terms and conditions, is the only way to fully protect your site from liabilities.
3. Do I Need One On My Website?
If your online business offers advice, products, or a particular service to users, then you should have one. There are many types out there, and they all serve a different purpose when it comes to proofing your site. To help you determine which one is appropriate for you, read through our list of the 4 most common ones used on the internet:
1. Affiliate & Testimonial
In 2009, the Federal Trade Commission (FTC) released its Guides Concerning the Use of Endorsements and Testimonials in Advertising, which declares that any affiliate using reviews, rankings, or testimonials to promote or endorse products must disclose that they receive compensation to do so. These are designed to inform users of an affiliate's relationship to a business; you should use this one if you pay someone to review or endorse your products.
This includes the Amazon affiliate disclosure, which is required by the Amazon Associates program, one of the most popular affiliate programs on the internet.
2. Legal Advice
According to Legal Marketing & Technology Blog, There are 6 important disclaimers all legal sites should have on their webpages to make sure they are conforming to the law and protecting themselves from liabilities or misconceptions:
No Attorney-Client Privilege: This states that contacting an attorney via their blog does not create an attorney-client privilege. In other words, attorneys should inform clients that any emails, contact forms, or chats submitted through a lawyer's site are not confidential.
Attorney Advertising: Lawyers must include the phrase "Attorney Advertising" on a prominent page on their site. Some jurisdictions have different requirements; to make sure your site is in accordance with the law, you should check your state's regulations.
Misleading Information: Your attorney advertising cannot contain false or misleading information that would deceive clients. Advertising must be based in fact, and shouldn't promise specific results or make claims that would lead a client to have unreasonable expectations concerning a case's outcome.
Specializations: Don't claim or use language indicating you're an expert in any areas of the law on your legal site unless you are certified by the regulating body in your jurisdiction.
Identify Attorneys: Most states require you to identify which attorneys are responsible for the site. This implies that you should also include your firm's name and address.
Liability for Costs: Are your clients responsible for costs no matter the outcome of their case? Whether or not payment is contingent on a case's outcome is up to you; but you need to clarify on your website what your policy is.
3. Medical Advice
Online businesses or apps that offer medical advice need to notify their users that information contained on their pages is intended for educational purposes only, and should not be substituted for medical advice from a doctor or healthcare provider. They should also clarify that the use of their site or application does not establish a doctor-patient relationship.
4. Professional Blogs/Professional Services
Professional blogs or professional service platforms need to clarify that advice and information on their pages is for educational purposes only.
To prevent liabilities, make sure your disclaimer is visible and easy for users to find. If you're not sure where it should go, most websites include theirs either on their homepage, or as a part of their terms and conditions.
4. How to Write One: What Should I Cover?
The information, products, or services that you make available will determine what elements you need to include. While there is no specified list of elements that must be mentioned, these particular features are worth considering:
Accuracy: This states that a business or company is not responsible for the accuracy of the information provided on their pages and cannot be held liable for third-party claims or losses.

Comments: This means that a website or application is not responsible for the comments, views, or opinions made by site visitors, and that the site itself reserves the right to use its own discretion when determining whether or not to remove offensive comments or images.

Compensation Limitations: Include a statement that limits the amount of compensation that can be claimed against them or an affiliated party.

Multiple Content Providers: This is appropriate for sites or blogs that publish articles, guest posts, feature pieces, or opinions from third party contributors. These state that an owner is not responsible for the thoughts or opinions of its authors or third party contributors.

Easily Readable: Disclaimers should always be 'easily readable,' which means that they should be written in clear, detailed language that is easily understood. They should also be conveniently placed on a main page that is easy for users to find.

International: These claim that owner is not responsible for the translation or interpretation of content.

Modification: This defines how the content of a web domain or application may be used. In other words, if a third party would like to reuse content, data, or any other information found on a site in any way, they must abide by the terms specified.

Section Divisions: For companies that find it necessary to list several types of disclaimers, it is essential to divide them into sections so that they are more accessible for users.

Third Party: These discuss images or content that do not belong to the site publisher, and state that it may publish third party content without necessarily endorsing it or being affiliated with it in any way.
Having trouble figuring out what to say in your disclaimer? The information, products, and services available on your website will determine what elements you need to include.
5. Website Disclaimer Examples
Here are some good examples from other online businesses and applications:
Sample #1: AIMSICD
AIMSICD is a mobile application that is designed to detect IMSI-Catchers, which are false mobile towers—or base stations–that interfere with a target mobile phone and its actual service provider. Because this is an experimental app that is still in development, AIMSICD states below that they will not be held responsible if their product fails, for whatever reason, to protect its users.

Sample #2: Ebay
Ebay's statements are accessible through a link on the site's main page, but can also be found under the photos and product descriptions of auctioned items. This particular example states that all descriptions of items "should be strictly regarded as an opinion only, with no warranty given nor implied against error or omission." This protects Ebay from complaints or claims concerning the condition of the products auctioned on their website.
Sample #3: iHerb
iHerb is an online marketplace for consumers to purchase vitamins and natural supplements. The site's statement is included in its terms of use, which is found on the homepage. Notice how it explicitly says that, "the products and claims made about specific products on or through the Site… are not approved to diagnose, treat, cure or prevent disease." Anyone that sells medicinal products should legally protect themselves from users that expect a certain result by using a product, but are by no means guaranteed that result.
Sample #4: Lexblog
Because Lexblog is a platform that hosts legal sites, each site must have a disclaimer. This is a measure taken to prevent clients from misconstruing information provided on any of the Lexblog sites as actual legal advice, or from falsely assuming that contact with a legal professional via their website is considered confidential.
Sample #5: Wikipedia
Wikipedia's rich online database relies on the knowledge and expertise of its users to provide information on a vast array of topics. Because Wikipedia gives users access to such a wide range of information–and because there is no way to fact check every piece of submitted content or data–it has one of the most comprehensive disclaimer pages.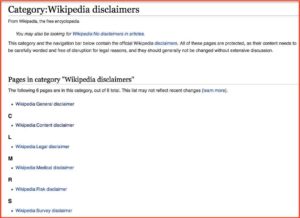 Sample #6: WebMD
WebMD is a site that provides medical information to users. This statement is included as part of WebMD's terms and conditions, and specifically states that information obtained in the website is for "informational purposes only."