When it comes to running an online business, adhering to data privacy laws and regulations is essential for your success. At the forefront of many of those regulations are stringent guidelines for the use of cookies.
In May of 2018, the General Data Protection Regulation (GDPR) took effect, kickstarting a conversation about the use of cookies with respect to data privacy and GDPR compliance.
Although cookie use has been monitored for years through the ePrivacy Directive (commonly referred to as the EU Cookie Law), the growing demand for tighter privacy standards involving browser cookies has catapulted cookie-deployment and consent requirements into a new era of digital rights.
In fact, the ePrivacy Directive, itself, is in the process of being amended and expanded upon, and is set to be released and rebranded as the ePrivacy Regulation. Between this and the GDPR, there are a lot of new rules to follow if you're a business who uses cookies.
At the heart of those new rules is user consent.
That's why we created a one-stop cookie solution for you to properly obtain user consent for your use of cookies, and stay on the right side of laws like the GDPR and the EU Cookie Law. Read on to learn what exactly this tool does, how it works, and why you need it.
1. What is the Cookie Consent Manager?
The cookie consent manager is an all-in-one solution for organizing your cookies, detailing their use in a cookie policy, gathering user consent and preferences to your cookie use, and recording those user responses.
The cookie consent manager will help you complete four essential tasks:
1. Scan your website for cookies
The first component of the cookie consent manager is the cookie scan. Once you've entered the URL that you want to be scanned, we'll send robots to crawl each page of that domain.
These robots will log the details of all the cookies your site uses — including delayed cookies, such as those used by Google Tag Manager (GTM).
Once the scan is complete, a report will be compiled that details the cookies found on your site, and automatically classifies them into the following categories:
Essential
Performance and functionality
Analytics and customization
Advertising
Social networking
Uncategorized
2. Generate a custom cookie policy
We then take the cookie information unique to your site and use it to compose a GDPR cookie policy. This policy will disclose to your users which cookies you use, how you use them, and what rights users have regarding those cookies.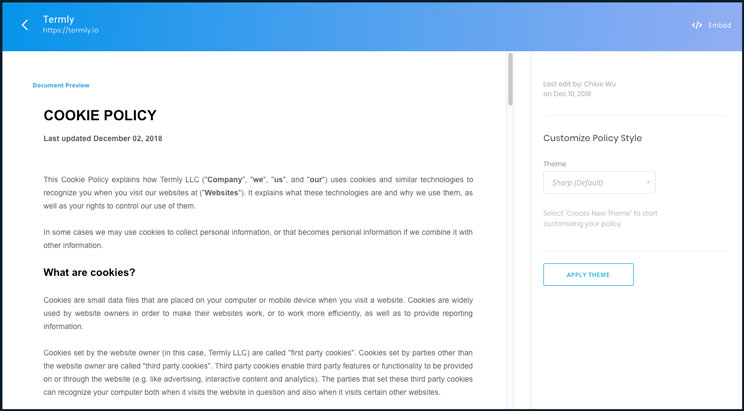 3. Configure a cookie consent banner
After your website has been scanned and your cookies appropriately categorized, we work with you to create a custom cookie consent banner that you can embed on your website, so users can offer their consent to your use of cookies. This banner will accomplish the following:
Display your cookie policy to users and link to its dedicated page
Ask if users agree to your use of cookies, and whether they would like to customize their cookie preferences
Present users with the categories of cookies you employ, asking them to check those which they consent to the use of (this option will only appear to users who choose to customize their preferences rather than agreeing to all cookies)
4. Track and record user consents
As users enter your site and consent to your cookies through the consent banner, the cookie consent manager will log those consents and track the preferences that users designate.
A log of these details is available to Pro+ plan members through the Termly dashboard.
2. How to Get Started
Step #1: Scan
Hit the "Scan Now" button to begin the cookie consent manager setup process. Once you enter the URL of the site you wish to scan, our robots will crawl your site and start gathering information about your cookie use.
The initial scan will take less than five minutes, but our robots will continue scanning for the next 24 hours to ensure that all of your cookies are discovered.
Step #2: Enter business information
While we scan your site, you can go ahead and enter your business information.
This information will help us fill in the details of your custom cookie policy.
Step #3: Review the cookie scan results
Once our scan is complete, we'll notify you of the results and ask that you review our findings.
Although we will try to classify your cookies using our extensive database of over 2000 recognizable cookies, if we find ones that are not yet classified, we'll ask you to do so here.
These cookies will be listed as "uncategorized" until you sort them into one of the other five categories listed above, which will ensure that your cookie policy and cookie consent banner are both as thorough and accurate as possible.
Step #4: Customize your consent banner
Now comes the fun part! Once we've compiled all your site's cookie information into a cookie policy and corresponding consent banner, you get the chance to customize that banner to fit your website's unique look and feel.
The first step in configuring your consent banner is choosing how and where you would like it to appear to your customers. For example, you may choose to have your cookie consent agreement displayed as a bar, modal, or tooltip.
Not sure what each of these looks like? Don't worry! We'll give you previews of each customization option you choose, so you can see exactly how it will look on your site.
Next, you'll get to customize your agreement even further to match your brand by adjusting its unique style. You can play around with the following elements of your consent banner:
Theme
Background color
Text style
Button color
Button text color
Step #5: Install the consent banner on your site
Now that you've finished perfecting your consent banner, it's time to install it on your site.
We'll give you a code snippet that you can easily embed on your site, so your cookie consent banner will be displayed to all of your users.
After you've embedded the link on your site, we'll check your URL to ensure that the banner has been installed properly.
And just like that, you have a cookie consent banner!