If you're a small business owner wondering whether you need a privacy policy, the answer is probably yes.
A privacy policy for your small business helps you comply with privacy laws while also protecting the rights of your users.
A small business privacy policy template that you customize to your business and industry can ensure you include all the proper legal clauses and help you decide how much information you really need to request or store.
Read on to find out what a small business privacy policy is and why you need one.
Privacy Policies Explained for Small Businesses
A privacy policy is a legal statement that tells your customers how, when, and why you gather their information and what you do with it. It lets them know whether you keep their information confidential, share with anyone, or sell it to other businesses.
Beyond providing transparency, a privacy policy keeps your business compliant with the patchwork of privacy laws in the US and around the world.
Does My Small Business Need A Privacy Policy?
You are not exempt from the need for a privacy policy because your business is small.
Any business that shares and uses information needs to have a privacy policy.
If you share personal information without your customers' knowledge, you could infringe on local laws. A data breach or the mishandling of information can bring serious legal consequences.
Laws That Require Your Small Business To Have a Privacy Policy
Penalties for Violating a Privacy Regulation
Violating a data privacy regulation can be expensive:
A business can receive up to $2,500 in fines each time a state resident downloads a non-compliant mobile application in California.
COPPA levies fines of up to $40,000 for each child whose information was collected improperly.
The GDPR allows penalties for non-compliance up to 4% of a company's revenues.
Your small business could be on the hook for a bundle without a privacy policy.
What's Inside a Small Business Privacy Policy Template?
A small business privacy policy contains multiple legal clauses covering the type of data collected, how it's protected and used, and a procedure to allow customers to either opt in or opt out of sharing their data.
If you're a small business, your privacy policy must describe what information you collect, including names, addresses, email addresses, and payment information.
What Should You Include in Your Privacy Policy?
Include the following information in your privacy policy:
The legal basis for collecting the information
Your legal business name
The business location
Your contact information
The type of information you collect
How you gather the information
How you keep the data secure and protected
How a user can opt in or out of sharing information
Whether or not you sell the information to a third party and how they will use the information
Consider all the ways you collect personal data, including contact forms, payment applications, email newsletter registration, affiliate websites, advertising networks — including cookies — and buttons for social media sharing.
How Do You Share or Disclose the Information?
Report if you share the information for any of these reasons:
When required by law
When you obtain consent to share the information
If you sell the business
Be sure to tell customers when and under what circumstances you share the information.
How Can Customers Update Their Information?
If customers create an account with you or consent to storing their information with you, they may need to update it for various reasons.
The policy should state that you allow your customers access and provide contact information for making corrections and updates.
How Do You Protect the Data?
Telling customers how you plan to protect their data reassures them that it's safe with you. Some laws require you to communicate how you protect customer information. You shouldn't be too vague but keep to general steps.
How Can Customers Opt in or Out?
Some privacy laws require you to provide customers with a way to opt out of communications, information collection, or data storage. It's a method of reducing unwanted or unsolicited emails and spam.
Provide a phone number or email address where the customer can contact you to opt out of communications. While it's not part of a privacy policy, any email or text you send to a customer should indicate how they can opt-out of future communications, typically by an unsubscribe button or link or a specific text response like the word stop.
Other regulations require you to allow a customer to deliberately opt in before you can ask for information, which is more proactive than opting out. In this case, the customer agrees to provide the information before any is entered instead of asking people to look up your privacy policy or wait for the first communication to opt out.
What Makes a Good Small Business Privacy Policy?
Having a Strategy for Determining the Type of Information To Request or Retain
Before you ask, think about whether you need that information. Only collect the information you absolutely need and nothing more.
Keep privacy and security at the top of your mind anytime you purchase new computer equipment, software, or cloud services. Also, consider the type of information you collect, why you collect it, and where you intend to keep it.
Understand the privacy implications anytime you use personal information, including tracking cookies, Google Analytics, and other personalization or metric gathering service. Ensure you don't discriminate against anyone who chooses not to share their data, including offering discounts or promotions to those who opt in that aren't available for customers who opt out.
Not Copying a Privacy Policy From Another Website
Your privacy policy should fit your business. Copying a policy from someone else's website is unlikely to cover your specific company or industry. It's okay to start with a template or look at a borrowed policy but make it relevant to your business and the information you collect.
Writing in Clear Language and Avoiding Jargon or Legalese
Providing a page full of legal terms can turn people off because they feel like you're hiding something. Use language like that which you use when speaking to your customers and explaining your business.
Experiment with different structures or add a table of contents to make the policy easier to read.
Seeking Legal Advice From an Attorney
If you run a complex business or expect a global audience, speak to a business lawyer who can help you avoid pitfalls. An expert attorney will understand the most current versions of any regulations you must follow, ensuring your compliance with standards.
Are you expecting minors to use your service or visit your website? An attorney can help you navigate any laws regarding information gathering from children or teenagers.
Asking Only for the Information You Need
Never ask for more data than necessary. The less you gather, the less you assume responsibility for. If you don't need a date of birth, don't ask for it.
If you minimize the amount of data you request, you have less liability for exposing sensitive information in cases of a data breach.
Implementing Good Information Practices
Don't stop with a privacy policy. While it's an excellent first step, you need to install the proper security and virus protection for your systems. Do everything you can to keep the data from exposure to bad actors.
Where To Post Your Business's Privacy Policy
There are plenty of places to post your privacy policy on your website. Just don't hide it; make it easy to find as well as easy to read.
Legal Policies
Create a menu item or page for legal policies, especially if you operate a complex or highly regulated business. Place access to your privacy policy under that menu item or header and put the policy with the rest of your legal documents.
Informational Section
Make "privacy policy" a link from a home page menu and put the policy on an informational page linked closely to your information gathering forms.
Website Footer
The footer at the bottom of your website or home page is an obvious place for a link to your privacy policy.
Banners and Pop-ups
People generally consider banners and pop-ups annoying, but you can limit their appearance by allowing form entries or payment sites to trigger them to open before a customer discloses any information.
Sign-up
Are you asking customers to register for promotions or open accounts? Put your privacy policy link or the policy itself at the top of the form.
Checkout
Customers appreciate learning that their financial information is safe. Place a link or the privacy policy at the top of the checkout page or create a banner or pop-up to trigger when they open the payment page.
Top-level Navigation
Put a link to your privacy policy right at the top of your website or home page. It can go next to your phone number or other legal information you need to share with customers.
Landing Page
If you expect people to enter your site from a link from an email or social media post to a landing page instead of your home page, put the privacy policy on the page or create a pop-up or banner to explain your privacy policy before the customer continues to the landing page.
Good Examples of a Small Company Privacy Policy
Here are some examples of small business privacy policies that check the appropriate boxes.
Ruiz Financial Solutions
Ruiz Financial Solutions used a table of contents to simplify its privacy policy. The business also opens its policy page by thanking the customer for doing business with them and explaining the terms.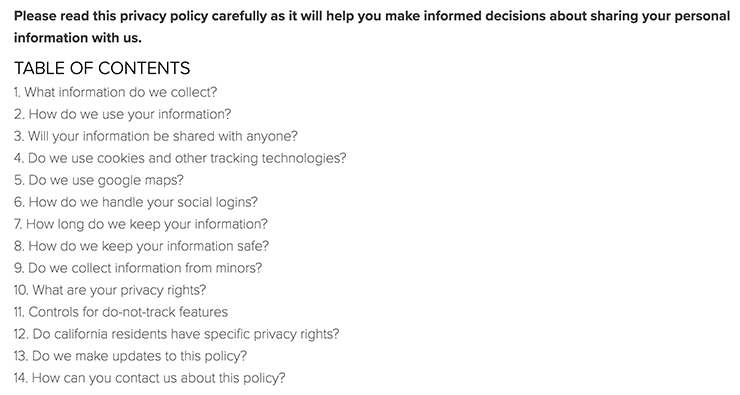 The table of contents is arranged like a frequently asked questions (FAQ) page, with headings in the form of questions like "How do we use your information?"
Junkyard Dog
The Junkyard Dog privacy policy carefully explains concepts like "cookies" and how they get on a computer, the type of information they can gather, and why the company is asking for the data. It also lists examples of the data their web server logs might capture.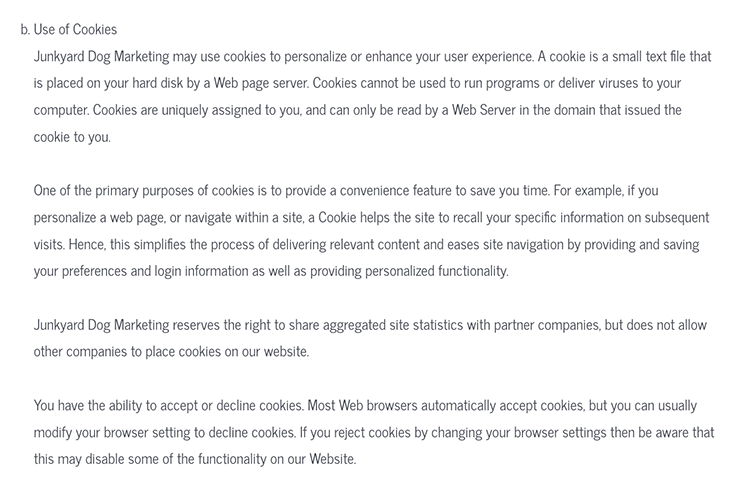 KEM Business Solutions
KEM Business Solutions takes pains to point out that the site is not meant for use by anyone under the age of 18 and explains that it's because they are complying with COPPA. They also announce their compliance with the GDPR for European users.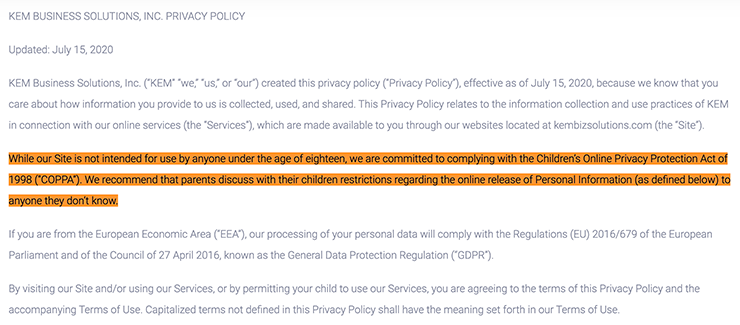 They also keep paragraphs short and use bulleted lists to make the policy more readable.
Small Business Privacy Policy Template [Free Download]
You can download our free small business privacy policy template below in Word Doc, PDF, or Google Doc format. You can also just copy & paste the HTML directly to your website.
Before using it, read through the entire small business privacy policy template – fill in all of the [brackets], remove any sections that do not apply to your app, and tweak any language as needed.
Website Privacy Policy Template [Text Format]
PRIVACY NOTICE
Last updated [Date]
This privacy notice for [Company Name] (doing business as [Company Short Name]) ("Company," "we," "us," or "our"), describes how and why we might collect, store, use, and/or share ("process") your information when you use our services ("Services"), such as when you:
Visit our website at

[Website URL]

, or any website of ours that links to this privacy notice

[Download and use our application(s), such as our mobile application — [Mobile App Name], our Facebook application — [Facebook App Name], or any other application of
Full View

Privacy Policy Template HTML
You can copy our privacy policy template HTML code or download it using the options below.
Additional Template Download Options
Summary
A privacy policy for a small business website is essential for any size business that collects information from its customers. The privacy policy should be easy for your customers to find and read and include what you collect, why you collect it, how your store it, and what you do with it.
Show people the precise compliance standards you follow and how they can opt in before collecting your data. Make your privacy policy easy to find, and consider using a template to ensure your policy checks all the right boxes.
Protect your customers' private information from exposure and yourself from liability with a privacy policy.