Some website policies, like your terms and conditions agreement, can get long and complicated. But that doesn't mean it also needs to cost you an arm and a leg in legal fees.
In the guide below, we go over everything you need to know about terms and conditions and determine if and when it might benefit you to have a lawyer vet yours.
What Is a Terms and Conditions Agreement?
For websites and mobile apps, a terms and conditions agreement outlines rules for your website visitors and lists prohibited activities for access to and use of your website. It also includes a liability clause that foresees the consequences of breaches of terms and conditions.
While not legally required, having a terms and conditions is a business best practice, as it helps protect your website or app, and users often assume they'll find one somewhere on your platform.
Here are some examples of what your terms can outline:
You should also disclose any legal disclaimers within your terms and conditions, as different laws require businesses to post specific written statements, like if you fall under the:
Children's Online Protection Act (COPPA)
Digital Millennium Copyright Act (DMCA)
Health Insurance Portability and Accountability Act (HIPAA)
In the event of a legal dispute, your terms may be considered by the courts and could help your case, especially if you:
Prove users read and actively agreed to the document
Post it in multiple easy-to-find locations
Write it in simple, straightforward language
Why You Don't Need a Lawyer To Make a Terms and Conditions
There are several reasons why a business might choose to make a terms and conditions without consulting a lawyer, for example:
You're not required to use a lawyer: There are no laws or regulations obligating businesses to use a lawyer for their terms and conditions agreement.
Legal fees are expensive: Lawyers typically charge by the hour, and the costs add up fast, especially if they look over such a long policy like a terms and conditions.
Managed solutions exist and cost much less: Our Terms and Conditions Generator was created with the help of lawyers and costs significantly less than legal fees.
Plenty of free resources exist: For websites or apps that require very basic terms and conditions, free resources and templates exist and are very easy to use.
It's unnecessary for some websites and apps: Unless your business targets minors under the age of 18 or is in a sensitive industry like healthcare, it may be unnecessary to have a lawyer look over your terms — this is especially true if you only need a basic policy.
When You MIGHT Need a Lawyer
Some websites or mobile apps should have a lawyer vet their terms and conditions agreement, including:
Businesses that target children: If you market to minors or collect personal information from children under the age of 18, you must follow strict laws like the Children's Online Privacy Protection Act (COPPA) and should consult a lawyer
Businesses in sensitive industries: If your websites or app deals with things like medical information, healthcare, personal finances, or other sensitive and highly regulated industries, consider getting legal counsel
Websites or apps that require complex terms: If your platform is unique or complex and you need many non-standard clauses in your terms and conditions, it might benefit you to work with a lawyer
Businesses that face complex intellectual property law issues: If your website hosts user-generated content or your content is of high importance, it's wise to consult an expert lawyer to protect your intellectual property rights.
Alternatively, you might request advice from your lawyer when building your dispute resolution and governing law clause, as these are technical parts of your terms that deal with potential litigation between your company and consumers.
Our money-saving tip?
Make a draft of your terms and conditions beforehand using a generator or template to present to your lawyer. This way it reduces how much time they have to spend on the document, but they can still tell you if anything important is missing.
How Much Do Lawyers Charge for Terms and Conditions?
It can cost anywhere from $300 to $2,000 to have a lawyer help you with your terms and conditions agreement, but it depends on where you're located and how complicated your terms are.
For example, in the US, the mean rate for layers is $71.17 per hour (US Bureau of Labor Statistics).
In the UK, the recommended hourly rate for a solicitor with four years of experience is £180 — about 216.61 USD. (Gov.uk)
For comparison, signing up for our Pro+ plan, which gives you access to our Terms and Conditions Generator plus an entire suite of website policies and compliance solutions, only costs $180 for a whole year!
Making a Terms and Conditions Without a Lawyer
There are several ways you can make a terms and conditions without relying on a lawyer, including:
Managed solutions
Free templates
Do-it-yourself (DIY)
To help you choose the best solution for your business, let's discuss each of these methods in greater detail.
Managed solution
Hands down, the quickest and easiest way to make a terms and conditions without a lawyer is to use a managed solution, like our Terms and Conditions Generator.
This is a great option for:
Any ecommerce website or mobile app
Business owners who require many website policies
Complex websites and apps that allow users to interact with one another
Platforms that enable user-generated content
Businesses that implement subscription services
Our policy builder tool takes all the hassles, guesswork, and confusion from making a terms and conditions for your website or app. You just answer a few easy questions about your business, and it creates the document for you.
See what our generator looks like in the screenshot below.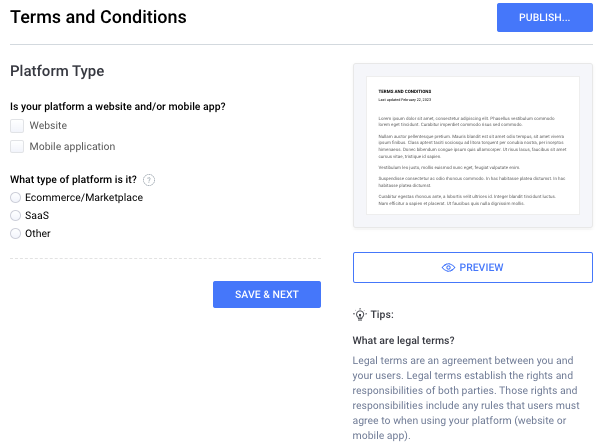 Within our Terms and Conditions Generator, you'll find the most common clauses presented straightforwardly, including necessary legal disclaimers like:
Limits of liability
Warranties
DMCA notice
Copyright information
It's all vetted by our legal team and data privacy experts, who also added helpful tooltips and answers to frequently asked questions. Plus, our customer service team is available if you require assistance along the way.
Templates
If your business wants to make terms and conditions without a lawyer, consider using a free, downloadable terms and conditions template.
This is a great option for:
Simple apps or websites
Any store that requires basic terms
Ecommerce stores that allow minimal user-generated content
Websites or apps that don't provide a means for users to interact with one another
Anyone on a tight budget
Using a free template requires a little more of your time and effort, as you'll need to manually replace parts of the text with information about your website or app.
See a sample of what our template looks like in the screenshot below.
Like with our generators, our legal team and data privacy experts vetted all of our policy templates. It includes the same legally-necessary disclaimers listed previously in the article in accordance with applicable laws.
DIY
You can also take the do-it-yourself approach and write your terms and conditions without a lawyer. We recommend this option for the following types of businesses:
Simple websites or apps that don't allow users to publicly post, comment, or generate content
Ecommerce-only websites that allow users to submit payment information and nothing else
Generic blogs, even ones that use affiliate links
Just remember that what you include in your terms is only enforceable if it falls under the scope of applicable laws — in other words, you can't just write any rules you want and expect them to be legally binding.
But a big don't?
Don't copy someone else's terms and conditions agreement.
Not only are these policies protected by copyright laws, but doing so is considered plagiarism. It also won't effectively cover all aspects of your business. Trust us, it's not worth the risks.
Is Termly's Solution Vetted By Lawyers?
Yes, our legal team and data privacy experts vet all of our website policy generators, free templates, and compliance solutions, including our Terms and Conditions products.
Plus, multiple members of our team are certified by the International Association of Privacy Professionals (IAPP) and have earned all of the following:
Certified Information Privacy Professional (CIPP)
Certified Information Privacy Manager (CIPM)
Certified Information Privacy Technologists (CIPT)
Fellow of Information Privacy (FIP)
As a small team of privacy compliance specialists, our legal department collaborates with our product developers and engineers to verify that every one of our resources is reliable, high-quality, and compliant with various global data privacy regulations.
Of course, we also need to disclaim some liabilities. Our website policies and tools don't equate to actual legal advice. Termly Inc. is not a lawyer or law firm, and neither is this article.
We don't practice law, provide legal advice or offer legal representation. As much as we stand behind our tools, the information, materials, services, comments, and resources we provide are for informational purposes only.
We're your privacy compliance partners, but we're not a substitute for professional legal advice.
Summary
Whether you run a mobile app, website, or both, most businesses don't need a lawyer to make a terms and conditions agreement.
There are plenty of more affordable options out there you can use to make your policy, many of which were created with the help of a legal team, like our Terms and Conditions Generator.
For folks needing a basic agreement, you're better off using reputable free templates and skipping the fees altogether.
But if your business targets children, you work in a sensitive field like medicine or healthcare, or if you require a complex terms and conditions agreement, you should seek legal counsel.