Wix is one of the easiest ways to create your website. It's a codeless, click-and-drag web building solution that has a shallow learning curve and plenty of tutorials to guide you along the way.
Although Wix itself doesn't explicitly require its users to have privacy policies for their sites, the law often requires it. In this post, you'll learn how to create a privacy policy for your Wix website and how to link to it.
Is a Wix Website Privacy Policy Required?
Yes, you need to have a privacy policy for Wix websites. It's a legal requirement for companies with users in many regions, countries, and states, such as the European Union, the United Kingdom, and California.
Laws such as the EU's General Data Protection Regulation and the California Consumer Privacy Act require websites with users residing in specific regions and states to provide legally compliant privacy policies — as well as cookie policies.
Unlike some other sites, such as Squarespace and Shopify, Wix doesn't explicitly require you to create a privacy policy for Wix sites. However, the Wix team has written multiple times about its commitment to protecting users and their data.
In its own privacy policy, the Wix team goes into detail about how customers are responsible for the integrity, security, and authorized use of users' personal information. Wix's terms of use also require you to follow relevant regulations, according to your geographic location as well as the locations of your users:
There are other reasons to have a privacy policy for you Wix sites:
To build a culture of trust: Having a comprehensive privacy policy that complies with the relevant legislation will show that you care about protecting users' privacy rights. It will also show that you're dedicated to transparency and the customer experience.
To limit legal liability: If you don't have a privacy policy on your Wix site, you can get in big trouble with authorities around the world, which can result in fines and other messy legal problems.
Because it's the right thing to do: Last but not least, having a privacy policy is the right thing to do. Every user of your website has the right to know how their personal information will be used and how they can delete or modify the information they've already given you.
How To Generate a Wix Privacy Policy
Here are three ways to create a privacy policy for Wix websites.
Use a Managed Solution (Recommended)
A managed solution is the quickest way to generate a privacy policy for Wix sites. All you have to do is answer questions about your business and how you handle your users' data. We will then use your answers to generate a complete privacy policy for you to use on your Wix website.
Create a Privacy Policy for Wix With Termly
‌Here's how you can use Termly's generator to create a comprehensive privacy policy for your Wix site:‌
Step 1: Go to Termly's privacy policy generator.
Step 2: Answer a few simple prompts and questions, and go through all of the steps until you reach "Final Details."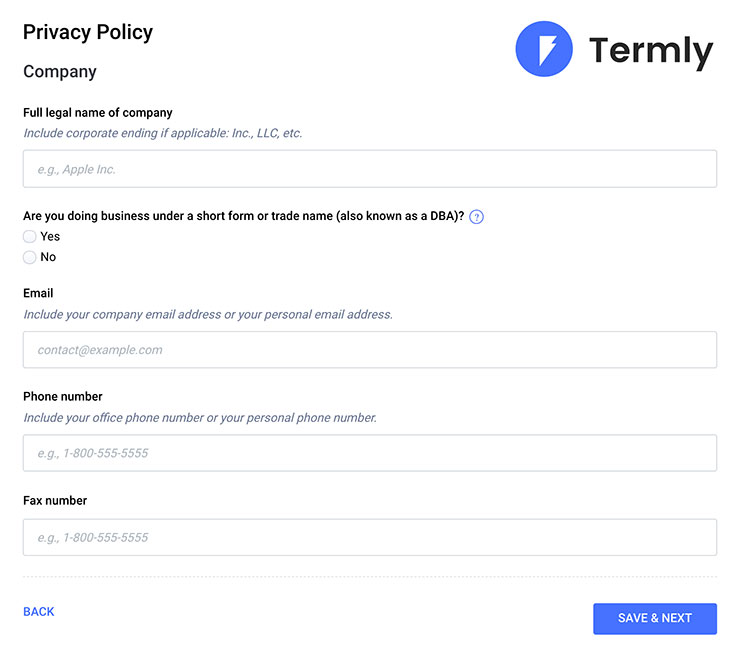 Step 3: Once you've filled in everything and you are satisfied with the preview, click "Publish." You will then be prompted to create an account on Termly so you can save and edit your privacy policy further.
After you've answered everything, you will get a copy of your privacy policy to put on your Wix site. We also offer a hosted version where you would just need to link to it from your website.
Use a Template
If you want more control over the privacy policy creation process, consider using our privacy policy template. You can add and modify existing clauses and language in Google Docs or Microsoft Word. You are free to change as much or as little of the template as you want.
Do It Yourself (Not Recommended)
If you want complete control over the writing process, you can choose to make your own privacy policy from scratch. However, writing it yourself takes more time than using a template or managed solution and is only recommended if you know what you're doing.
If you choose to write your Wix privacy policy from scratch, we have some tips for you below.
What To Include in Your Wix Site's Privacy Policy
What you should include in your privacy policy for Wix depends on the location of your users. However, because anyone from around the world can access your site, you need to consider a variety of privacy laws.
Here are some regulations you should consider when writing your privacy policy for Wix.
General Data Protection Regulation (GDPR)
The GDPR is the strictest privacy regulation in the world. It applies to any business or website that deals with the personal data of EU residents — regardless of the business or website's location.
To write a GDPR-compliant privacy policy for Wix, you need to include the following:
Your website's contact details: List the name and contact information of your website's representative.
Why and how you're collecting and using users' data: Outline what data you're collecting from users, why you're collecting this data, and how you will be using this data.
Users' privacy rights: Talk about users' right to withdraw consent at any time, right to privacy, and right to file complaints with authorities as needed.
Your data protection officer's contact details: If the GDPR requires you to appoint a DPO, include their name and contact details.
Your EU representative's contact details: You may need to appoint such a representative if you're a data controller and your company isn't in the EU.
How you're using an automated decision-making system: If you have such a system, talk about how you set it up and the possible consequences of using this system.
California Consumer Privacy Act (CCPA)
If your company meets one or more of the following thresholds, you must comply with the CCPA, even if you're not located in California:
You annually buy, sell, receive, or share for commercial purposes the personal information of more than 50,000 consumers, devices, or households in California.
You have annual gross revenues of $25 million or more.
You make at least 50% of your annual revenues from selling Californian consumers' personal information.
For the most part, the CCPA has the same requirements as the GDPR. As such, writing a CCPA-compliant privacy policy for Wix is a lot like writing a GDPR-compliant one.
The main difference is that the CCPA is less strict and doesn't require you to appoint an EU representative.
California Online Privacy Protection Act (CalOPPA)
The California Online Privacy Protection Act is similar to the GDPR and CCPA. However, it has two specific requirements that you should pay attention to.
First, you need to tell users whenever you update your privacy policy. You should include the last effective date of your privacy policy at the top of the page, so people know whether they're caught up or not. You should also include a section in your policy that tells users how they can receive updates about your privacy policy.
Second, you need to link your Wix privacy policy in a conspicuous area. CalOPPA standards for "conspicuousness" are pretty strict:
According to Section 22577, the link to your privacy policy for Wix must have the word "privacy" in it. You also need to make your link stand out from the rest of the text using a different font, size, or color.
Children's Online Privacy Protection Act (COPPA)
Finally, if your website collects information from minors under the age of 13, you need to ensure that your privacy policy for Wix complies with the Children's Online Privacy Protection Act.
To make your policy COPPA compliant, you should include a section that explains how you handle children's personal data, and the rights parents have over their children's data. Be sure to use child-friendly language and syntax so younger users of your website can understand their rights.
How To Add a Privacy Policy to Your Wix Site
Now that you have a solid privacy policy created, it's time to actually put it on your Wix site.
Here's how you can add a privacy policy to your Wix website step-by-step:
Step 1: Log in to your account and go to the "Editor Page." Add a new page to your Wix site by clicking the "Menu & Pages" icon on the left side.
Step 2: Click "Add Page."
Step 3: You can then choose to add a blank page by clicking "+ Blank Page" on the top left-hand corner or pick a page template for your privacy policy. Either way, make sure your privacy policy page has the same look and feel as the rest of your website.
Step 4: After creating your new page, it will appear under the site menu. Type "Privacy Policy" into the title field and click "Done." It will now appear in your site directory.
Step 5: Click out of the sidebar editor and you should be inside your new blank "Privacy Policy" page (double check in the top left corner to make sure you are). Then click the blue "plus" sign in the blank space and use the "Text" insert to paste in your privacy policy.
How To Link to Your Wix Site's Privacy Policy
The best place to link to your privacy policy on your Wix site is in your footer. You can also consider adding it to any sub-navigation menus, top menus, sidebar menus, your "About Us" page, and even your contact page. Linking to it from your other legal documents such as Terms and Conditions is also a good idea.
Good Examples of Wix Website Privacy Policies
Here are some great examples of Wix websites with well-written privacy policies and well-placed links in their footers:
Loom.ai
Loom.ai, an AI-powered company hosted on Wix, has a simple footer with a clickable link to its privacy policy.
Its privacy policy is detailed and well-organized. Although it's comprehensive, it's not overwhelming because it sorts everything into easily digestible sections. It also has a list of definitions:
Cuts & Bruises
Cuts & Bruises is a London-based barbershop with an eye-catching website hosted on Wix. It has a simplistic footer with a conspicuous link to its privacy policy.
The privacy policy is also minimalistic. Like Loom.ai's, it's divided into easy-to-read sections that users can quickly scan. At the very end of the policy, there is also a section informing users how to contact the company's data controller.
Summary
If you have a Wix site, check to see whether you have a valid privacy policy for it. If you don't, you need to create one as soon as possible. This will show your users that you care about their rights and that you're a transparent company. It will also help you avoid legal liability.
Although having a privacy policy isn't explicitly required by Wix, Wix's terms of use suggest that you need to comply with all relevant laws that apply to you and your users. Having one is also required by data privacy laws.