Looking to safeguard your website, mobile app, or Facebook app? Download a FREE privacy policy template and tailor it to give your online ventures complete legal protection. Read our comprehensive guide to learn why you need one, what to include, and how to stay compliant with state, federal, and international laws. If you want to save time, our privacy policy generator will help you create one in minutes.
Downloadable Privacy Policy Templates
1. What is a Privacy Policy?
A privacy policy is a legal agreement that tells a website's visitors what information the site collects from them and how it uses that information. Websites and apps must make sure to disclose specific data collection methods they use in their policies in order to ensure that users are aware of how their information is being collected, stored, and used.
Caution! If a website collects any kind of user information at all, no matter how much, it must have a privacy policy.
Failure to disclose this information on your website can create significant issues for your company with domestic and international laws, in addition to upsetting various watch groups.
Some companies falsely believe that simply because they do not knowingly collect information from users, this policy is not needed. However, many companies who don't intentionally collect data through sign-up forms or marketing campaigns may still employ services – like Google Analytics – or use tracking technologies – such as cookies – which require specification in a privacy policy.
The bottom line is that you can't be too safe when it comes to protecting your business and putting your customers' minds at ease. If you operate online, chances are that you need to disclose how you interact with consumers and their information in a privacy policy.
2. Why Do You Need One?
There are several reasons why an individual, a company, or an organization might need a privacy policy document. Some of the most common reasons include the following:
You collect personal data: If you gather, store, or use the personal information of your users then you must disclose this in a privacy policy. As we discuss in the next section, there are numerous state, federal laws, and international laws that require you to have one.
You have customers in the EU: The General Data Protection Regulation (GDPR) is currently the most comprehensive legal framework surrounding data privacy. If you target residents or citizens of the European Union (EU), you're subject to comply with this regulation and provide your users with a privacy policy that aligns with the requirements of the GDPR.
You use third-party service providers: There are a variety of third-party services that require privacy policies be placed on a company's website, such as Amazon Associates, Google AdSense, and Google Analytics. Not only are you responsible for ensuring the third-party service providers you employ are appropriately handling data acquired through your site, but you are also obligated to disclose your use of these services to consumers, and how it may affect their data.
You want to reassure users: A survey conducted by Pew Research Center found that over 90% of Americans value controlling the information that is collected from them. In some situations, a company might not collect or use personal information from site visitors or users, but might still decide to use one anyway. These types of policies will put users at ease, knowing that their personal information is safe.
3. What Laws Affect Your Privacy Policy?
Keeping your document compliant in the United States is difficult because there is no specific federal law dictating what a website policy needs to include, and the relevant state laws addressing these policies tend to differ between jurisdictions. Although there are no comprehensive laws in the United States regarding these website documents, there are various federal, state, and international laws that govern particular situations:
1. The General Data Protection Regulation (GDPR) applies to any business that targets consumers in the EU – including businesses located in the United States. Failure to comply with this regulation can result in lofty penalties, with potential infringement fines of up to 20 million euros or 4% of a company's annual revenue. Under the GDPR, businesses must provide their users with clear, comprehensive privacy policies.
2. The Children's Online Privacy Protection Act (COPPA) is directed at websites that knowingly collect information about or target children under the age of 13. If a website collects such information, it is required by law to post a privacy policy and is limited in its ability to share that information.
3. The California Online Privacy Act of 2003 (CalOPPA) requires any website that collects personally identifiable information from California consumers to clearly disclose their data collection methods in a policy on their homepage.
4. The California Consumer Privacy Act of 2018 (CCPA) goes into effect on January 1st of 2020. It sets the highest privacy standards ever issued to American consumers, granting stronger rights to California citizens. Although the official language of the act is subject to change before its 2020 institution, it covers three main areas of consumer rights and data protection: transparency, accountability, and user control. Your privacy policy will primarily be impacted by the transparency aspect of the law, which necessitates extensive data-handling disclosures, and for businesses to include a section on California consumer rights in their policies.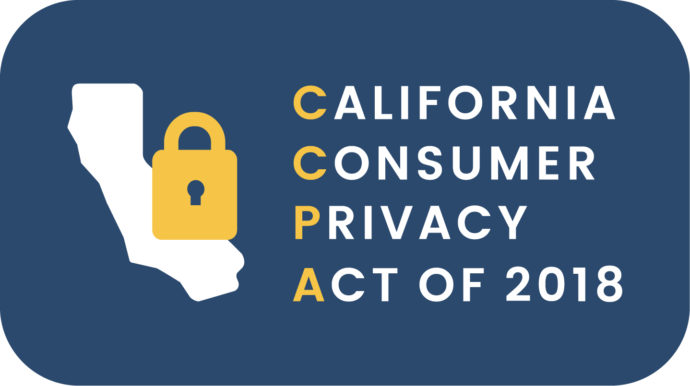 5. The Gramm-Leach-Bliley Act concerns institutions that are "significantly engaged" in financial activities and requires them to give "clear, conspicuous and accurate statements" regarding information collection and sharing practices.
6. The Health Insurance Portability and Accountability Act, better known as HIPAA, requires that any health care provider give notice in writing of the privacy practices used, especially when health information is shared electronically.
7. The Fair Credit Reporting Act (FCRA) limits the extent to which businesses can gather and disseminate a consumer's credit reports.
Companies that participate in affiliate relationships such as the Amazon Associates program are also required to post comprehensive policies that detail their data collection methods and usages.
As previously mentioned, many states have their own laws that mandate businesses operating within that state or targeting users located in that state post privacy policies. For example, Pennsylvania has enacted laws to curb the use of misleading statements in website policies, as they constitute fraudulent business practices. Even if your business is not located in a one of the many states with such privacy laws, if you collect information from their residents, then you must comply with their regulations.
For companies engaging in transatlantic commerce, the EU-US Privacy Shield was put in place as an agreement between the US and EU to ensure that data is safely transferred between the two. The shield is a joint program developed by American, European, and Swiss legislative bodies, and enforced by the International Trade Administration. Companies certified under the Shield are deemed as having adequate data protection laws in place to be able to transfer data between the US and EU – a necessary distinction to boast in order to comply with the GDPR.
Other Laws Outside of the U.S.
If you do business internationally, you must also be aware of the privacy laws in other countries. Unlike the United States, data protection laws in other countries are more unified and extensive. Here are some laws you may want to be aware of if you do business with any of the following areas:
1. Australia: Australia's federal law on privacy is the Privacy Act of 1988. This act grants individuals a number of protected rights.
The act applies to government agencies, private organizations in contracts with Australia's government, and companies that provide medical care.
Information is only permitted to be collected if it is relevant to the role of an organization. Australians are also required to know how the information in question is used and what parties will see the information.
2. Canada: There are various federal privacy laws in Canada that are laid out in Canada's Personal Information and Electronic Documents Act.
This act dictates how personal information is disclosed to and used by commercial organizations. The act also established the Privacy Commission of Canada, an entity that is tasked with addressing any complaints that are filed against organizations for the violation of the act.
3. The European Union (EU): The aforementioned GDPR is the primary legislation regarding data protection and user privacy in the EU. This regulation outlines a broad set of requirements, including mandating that businesses thoroughly disclose their privacy practices through privacy notices, obtain user consent to those notices before collecting data, and allow users to take control of the data that is collected from them (through requests to view, edit, transfer, or delete their data).
4. How to Write a Privacy Policy
While some business owners choose to write their own privacy policies, we strongly advise that you use professional assistance when creating legal documents to ensure adequate protection and legal validity. If you want to make a policy more customized than what a generator can offer, we recommend you consult with an attorney to make sure your privacy policy enjoys maximum legality.
However, it is possible to create your own policy. For an easy start, you can download one of our generic privacy policy templates above. Then, detail every interaction your business may have with user data. The key to a good privacy policy is to be as comprehensive as possible.
Below are the essential components that should be included in your final privacy policy statement.
What Should a Privacy Policy Include?
In order to be compliant with most of the previously-mentioned laws and regulations, valid policies must cover the following areas:
Access: You must inform users or site visitors about how data gathered from the site can be accessed. Users must be given the opportunity to change or delete any information, if they desire to do so. Sample text:
To request to review, update, or delete your personal information, please submit a request form by clicking here.
Accountability: You must include information about the steps that can be taken by users to correct inaccuracies in their personal information. It should also list contact details about the organization or people who are responsible for providing oversight of the policy and its implementation. In the event that a company has a compliance member or group, they must list the name, email address, phone number, and address of this entity. Sample text:
If you have questions or comments about this policy, you may contact our Data Protection Officer (DPO) at: [DPO Contact Information]
Basic Details: You should include the address and contact information for the company, any descriptions of third parties with whom the company shares information (including banks, delivery services, and site hosting companies), and a clear reference of the state in which the business is physically located.
Cookies: You should include a clear mention of whether the site includes any cookies. A cookie refers to a small piece of data that is sent from a website and stored on a user's computer. Sample text:
We may use cookies and similar tracking technologies (like web beacons and pixels) to access or store information. Specific information about how we use such technologies and how you can refuse certain cookies is set out in our Cookie Policy.
Consent: You must inform visitors that their data will not be sold or transferred in any way without first obtaining the prior consent of the user. There must be available options for users to opt out of providing information to third parties. Sample text:
We only share information with your consent, to comply with laws, to protect your rights, or to fulfill business obligations.
Disclosure: You must list all the entities that will collect or receive the information that a user provides.
Effective Date: You must clearly identify the effective dates for revisions or updates to the document itself.
Links: You must inform users that some of the pages on the website will likely take the user away from the company's website.
Mailing List: Companies must disclose whether any information gathered from a site will be given to any mailing lists.
Notice: Your policy must be posted on your company or organization's website in an easy-to-find location. Many companies choose to utilize a direct link that is located in the footer of their website. This must be readily available to all visitors to the website rather than just to visitors who have already submitted information or had data collected.
Personal Information: You must indicate what personal information will be gathered by the company's website and how this information will be used. Personal information includes any data that can be used to identify a specific person, such as their name, address, email, date of birth, or financial and medical records. Sample text:
We collect personal information that you voluntarily provide to us when registering at the expressing an interest in obtaining information about us or our products and services, when participating in activities on the (such as posting messages in our online forums or entering competitions, contests or giveaways) or otherwise contacting us.
Purpose: You must explain in detail why the company or organization collects certain data from its users. This section must explain why the data is needed and how it will be used. Sample text:
We process your information for purposes based on legitimate business interests, the fulfillment of our contract with you, compliance with our legal obligations, and/or your consent.
Security: You must address the data security concerns of site visitors. The site must unequivocally reveal a dedication to safeguarding information that is provided by its users. You should also include language that emphasizes that the company or organization will take all reasonable efforts to ensure that the security measures are upheld. Sample text:
We aim to protect your personal information through a system of organizational and technical security measures.
5. How Can You Make Your Policy User-Friendly?
Two researchers at Carnegie Mellon found that if the average American were to read every privacy policy they encounter in a year, it would take a total of 76 days. While privacy policies were once long, dense, and difficult to understand, companies are opting for more user-friendly privacy statements in order to better quell customer concerns over data.
If you want to make your policy more user-friendly, here are a few steps you can take:
Implement a table of contents so users can easily navigate your policy
Make your section headings clear – we recommend using an FAQ format so customers know what section to visit to get their most pressing questions answered
Add section summaries – give users the tl;dr on each section of your policy so they don't have to cut through the legal jargon on their own
Use clear and plain language – loading up your policy with legalese could be harmful to your legal compliance efforts and your customer relations. Instead, use plain language and be as clear as possible.
6. Helpful Examples From Fortune 500s
There are almost as many different types of privacy documents as there are types of companies. Below are five privacy policy examples from some of the largest companies on the web:
Example #1 Google
Google's privacy policy is extensive, but does a good job of being straightforward and simple enough for the user to understand. As you'll notice from the image below, Google uses a table of contents in the sidebar to help users easily navigate the policy.
Example #2 Shopify
What's great about Shopify's policy is that they clearly address the most common questions that users have in a way that's easy to navigate and understand. As you can see in the image below, they break down their policy into easily-digestible sections to maximize readability:
Example #3 Facebook
While Facebook's policy includes numerous pages describing the site's unique approach towards security, there is a hub page that allows users to both navigate to their most pressing privacy questions and take action with their data and sharing preferences. As you can see below, Facebook's privacy hub employs a menu which provides FAQs and data controls for users to navigate accordingly:
Example #4 Github
The Github site links to its "privacy statement" from the footer of its main page. Unlike many sites, Github includes a 'short version' for users who want a quick overview of the policy.
Example #5 Snapchat
Not only does Snapchat offer a comprehensive privacy policy, but they include it in their extensive privacy center. Through this center, users can access the policy itself, accompanying information, and user controls that allow them to view, edit, and/or delete their personal data.
Final Thoughts
Whether by way of popular demand or legal requirement, it's clear that if you run an online business in this day and age, you need to protect that business through a privacy policy. Use our free templates as a jumping off point to create your own, or take advantage of our custom generator to craft a privacy policy built by attorneys with legal compliance in mind.