I'll start with a bold statement: All businesses of any size operating online that collect customer data need a privacy policy, including website owners, app owners, and anyone in between.
A privacy policy is required by law for many businesses, but it also shows consumers that you're honest about your data processing activities.
So, let me proudly present you with the ultimate privacy policy requirements checklist — I'll walk you through what goes into a privacy policy to what laws require them to where you need to post them on your site, and so much more.
Legal Requirements for Privacy Policies
This table covers which laws require a privacy policy and their expectations of businesses.
Data Privacy Law
Privacy Policy Requirements
🇪🇺 General Data Protection Regulation (GDPR)

Your company's name and contact details
Contact details for your Data Protection Officer, if you have one.
What personal data you collect
How you collect data
Why you collect the data (aka, your legal basis)
Who you share the data with
Details of any transfers of data outside the EU/EEA
How long you'll store the data for
Explain how consumers can access their data, request that it be erased or rectified, and object to it being processed
Explain your consumers' right to lodge complaints with their local regulator
Explain how consumers can withdraw their consent
Explain when the data isn't collected from the individual
Explain if you use automated decision-making or profiling

🇬🇧 The Data Protection Act (UK GDPR)

Your company's name and contact details
Contact details for your Data Protection Officer, if you have one.
What personal data you collect
How you collect data
Why you collect the data (aka, your legal basis)
Who you share the data with
Details of any transfers of data outside the EU/EEA
How long you'll store the data for
Explain how consumers can access their data, request that it be erased or rectified, and how they can object to it being used
Explain your consumers' right to lodge complaints with their local regulator
Explain how consumers can withdraw their consent
Explain when the data isn't collected from the individual
Explain if you use automated decision-making or profiling

🇺🇸 Amended California Consumer Privacy Rights Act (CCPA/CPRA)

A description of consumer rights
Two or more methods for submitting verifiable consumer requests to act on their rights
Categories of personal information collected about consumers
The sources where you collect the personal data
Your business or commercial purpose for collecting the data
The categories of or third parties whom you share the data with (or if you don't share any data)
A list of the categories of personal information shared or sold to any third-party entities
A separate list of the categories of data disclosed to others for business purposes

🇺🇸 California Online Privacy Protection Act (CalOPPA)

State the effective date
List the types of personally identifiable information you collect and how users can opt out of data collection
Explain how users can request to review or delete their information
Explain how you will communicate changes and updates to the privacy policy
Say whether you will share the information will be shared with any third parties
Say whether Do Not Track "DNT" requests will be honored or not

🇺🇸 Virginia Consumer Data Privacy Act (VCDPA)

Disclose the purpose of processing personal data
Categories of data processed
Categories of data shared with or sold to third parties
Disclose the categories of third parties themselves
Explain how consumers can submit requests
Provide a mechanism for appeal of decisions related to consumer requests
Clearly disclose the processing of personal data for targeted advertising
Provide the right to opt out of processing data

🇺🇸 Connecticut Data Protection Act (CTDPA)

The categories of personal data processed
The purpose of processing personal data
How consumers can exercise their rights, including their right to appeal
The types of personal data shared with third parties
Information about the third parties
A way the consumer can contact the data controller online

🇺🇸 Colorado Privacy Act (CPA)

What personal data you collect or process
Your purpose for collecting and processing the data
An explanation of users' rights and how they can act on them
Details about how a user can appeal your choice regarding their request
Your company contact information
Categories of data shared with third parties, if any
The categories of third parties the data gets shared with, if any
If the personal data is sold to third parties for targeted advertising
How users can opt out of the processing of their data for targeted advertising

🇺🇸 Children's Online Privacy Protection Act (COPPA)

Name, address, and phone number of the company
The types of information collected
How the information is collected
How you use the collected information
If you disclose the information to third parties and how those parties use it
A description of a legal guardian's option to consent to the collection of their children's information without agreeing to the disclosure of that information to third parties
An explanation of parental rights to avoid disclosure of more information about children under the age of 13 than is necessary, refuse to provide information about a child and review the information that has been submitted to the operator about the child in question

🇨🇦 Personal Information Protection and Electronic Documents Act (PIPEDA)

Disclose your purposes for data collection
Explain and implement security measures to protect personal data
Explain transparent, open details about data handling practices
Say how you meet the ten fair information principles outlined by the law

🇦🇺 Australia's Privacy Act of 1988

Your company name and contact details
What personal information you collect and store
How you collect the information, and where you store it
Reasons why you need to collect the information
How you use and disclose the information
How users can access their personal information or ask for a correction
How users can lodge a complaint if they think their data is mishandled, and how you respond to these complaints
If you're likely to disclose user data outside of Australia, and if so, to what countries

🇳🇿 New Zealand's Privacy Act of 2020

Explain why the data is collected
Disclose who receives the data
Say if giving the data is compulsory or voluntary
State what happens if users don't share their data
Explain users' right to request to access or correct their data

🇿🇦 South Africa's Protection of Personal Information Act (PoPIA)

Your company's full name and address
The categories of data you collect or process
If data is not collected from the user, explain the source from which it's collected
The purpose for why you collect and process the data
If giving the information is compulsory or voluntary
The consequences if a user does not share their data
A list of other relevant laws authorizing (or requiring) the collection of data
State if you plan to transfer the data outside of South Africa
Who you share the data with
Explain your users' rights to access and rectify their personal data
Explain your users' right to object to the processing of their data
Explain your users' right to submit a complaint to the Information Regulator
Privacy Policy Checklist
My checklist includes a breakdown of the legally necessary clauses for your privacy policy, the details you must have within those clauses, and a list of the regulations that require it.
Privacy Policy Clause
To-do
Required By The…

State your company name
Explain who the policy applies to
Define relevant terms to be used throughout the policy
Link to other relevant documents (like your terms and conditions or cookie policy)
Include a 'last updated' date and version number near the top of your policy

What personal data you collect

List all categories of personal information
List all categories of sensitive personal information
State if you collect neither

Explain your purpose for collecting the data as well as the legal basis you are relying upon (under the GDPR)

Marketing and research purposes
Business purposes
Targeted ads or analytics
Enhancing the user experience
To create logins or profiles
To complete orders

How you collect the personal data

Explain how you are gathering the data from the consumer:

Voluntarily given by the individual
Through payment screens or checkout pages
Through online forms
By creating an account or user login
By placing cookies on users' browsers
In-person (or in-store) recordings
NB: Where the personal data you process is not provided by your customer, you have additional requirements under the GDPR

If you share the data with any third parties

List what categories of third parties you share or sell personal information to
Explain why you share or sell the information
State how the information gets shared (i.e., logging in using a social media account)

An explanation of your users' legal rights

The rights provided by each law vary, but most of them give users the right to:

Access their personal data
Request to amend or correct their data
Request to delete their data
Withdraw their consent to processing
Object to, or restrict, the use of their data
Obtain a portable copy of their data
Opt into or opt out of certain data processing activities

A method or explanation for how users can follow through on those data privacy rights

A link to a functioning Data Subject Access Request (DSAR or SAR) form
State if you honor "Do Not Track" requests and/or Global Privacy Controls (GPC)
Provide proper, working contact information
A "Do Not Sell or Share my Personal Information" link (under the CCPA/CPRA)
A "Limit the Use of my Sensitive Personal Information" link (under the CCPA/CPRA)

Explain if sharing the data is voluntary or compulsory, and the consequences for not sharing

Clearly inform users if sharing information is required or voluntary
State what happens if users choose not to share their personal data
A list of applicable laws authorizing or requiring the collection of data (if under PoPIA)

Details regarding financial incentives or offers

Explain if you provide an incentive (promotion, discount, or other deal) to users who choose to share their information voluntarily
Ensure the incentive is equal to the value of the data the user shares with you

Information about international data transfers

State if you plan to transfer the data internationally
Explain what countries the data may get transferred to
If necessary, explain that an adequacy decision exists (if under the GDPR)
If no adequacy decision exists, explain what safeguards are in place to guarantee the data is safe and how they may obtain a copy of these safeguards

Your data retention policy

State how long you store personal user data for
OR state the process for how you determine how long to retain data to achieve the purposes you explained in your privacy policy
Do NOT keep data for longer than necessary

Your security measures to protect the personal data

Pseudonymisation of the data
Encryption of the data
Ensure ongoing confidentiality, integrity, resilience, and availability of your processing system and service
Have a way to restore the availability or access to personal data, should an event occur
Have a process in place for regularly testing, assessing, and evaluating the effectiveness of your security protocols

Details about how you make privacy policy updates and inform consumers

Update your privacy policy whenever you change your data processing or collection activities
Update your privacy policy at least once every 12 months (under the CCPA/CPRA)
Re-obtain consent from users whenever appropriate
Explain how you'll update users about the changes to your policy
Post a 'Last Updated' date clearly on your policy

Inform website users they have the right to make a complaint

Explain which consumers under which law have the right to submit a complaint about you if they think you're violating their privacy rights
Provide the contact information for the appropriate person or entity to submit those complaints

Information about Data Processing Impact Assessments (DPIAs/DPAs/PIAs)

Plan to conduct a DPIA/DPA/PIA and explain the process in your privacy policy if you:

Use new technologies
Track people's location or behavior
Systematically monitor on a large scale a publicly accessible place
Process data considered "sensitive personal information"
Use the data to make automated decisions that could have legal or significant effects
Process children's data
Process data that could result in physical harm to the individuals if it gets leaked

Company contact information

Full name of company or entity
Physical address
Working email address and/or phone number
Contact Details of your Data Protection Officer, if you have appointed one
Privacy Policy Requirements Explained
In this section, I'll explain the required clauses from above in more detail.
Personal Data Collection
Every data privacy law gives individuals the right to know what personal data is being collected or processed about them, making this one of the most critical clauses in your privacy policy.
To comply with these laws, you must clearly list all categories of personal data you collect, including sensitive personal information, which is subject to stricter guidelines under the GDPR, the amended CCPA, and the VCDPA.
While the precise definition of personal data varies depending on what legislation you look into, it typically refers to any information that could reasonably be linked to an individual or household, directly or indirectly.
Along with what data you collect, you also need to state:
Why you collect the data, including your legal basis if you must comply with laws like the GDPR
How you collect the personal data — for example, you might gather the information voluntarily from the user, through web forms, by placing cookies on users' browsers, or when they sign up for accounts or make purchases, etc.
What you do with the data, like using it for marketing or research purposes, to enhance the user experience on your website, or to provide consumers with targeted ads and more specific product recommendations.
Many companies put this information into tables or bullet lists in their privacy policy, with titles representing each specific legal requirement.
This is how the music streaming service Spotify does it, which you can see in the screenshot below showing what data they collect.
In this next screenshot, you can see Spotify's table explaining their purpose for using that data.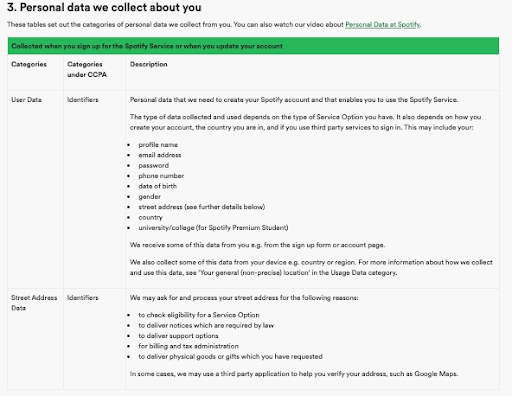 Selling or Sharing of Personal Data
If you share or sell the personal data you collect to any third parties, you must disclose it in your privacy policy. Laws, including the GDPR, the amended CCPA, and others, legally require this.
To comply, you must also list all categories of third parties you share information with or sell the data to directly. For formatting, consider using a table or a bullet list.
Below, see another example of how Spotify writes this clause in its privacy policy.
Privacy Rights for Consumers
Several data protection laws require you to list individuals' rights in your privacy policy. A few also stipulate that you must provide instructions or means for following through on those rights.
You can achieve this by creating clauses specific to the users in those regions. For example, if you fall under both the VCDPA and the amended CCPA, make a clause outlining users' rights in Virginia and another for users in California.
This is how the general merchandise retailer Target does it in their privacy policy, pictured below are their rights pertaining to Californians.
Next, see their rights pertaining to Virginia residents.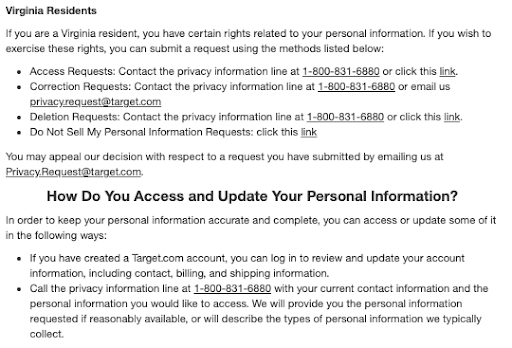 Alternatively, you can provide links to completely separate privacy policies based on the unique region of your users.
Whatever method you choose, ensure you follow the specifications outlined by all laws that apply to your business, be it a "Do Not Sell or Share My Personal Information" link as described by the CCPA or a generic Data Subject Access Request (DSAR or SAR) form as recommended for the GDPR.
International Data Transfers
You may be subject to international transfer requirements, particularly by the GDPR and the UK GDPR, if you transfer personal data from users who live in a different country than where your business is located.
Under the GDPR, if an adequacy decision is in place, international data transfer from an EU/EEA nation can occur without other authorizations or assessments.
But if there is no decision in place, as is the case with the US, you must ensure the international transfer meets all requirements outlined by Chapter 5, Articles 44 – 50 of the Regulation.
You also must put a clause in your privacy policy explaining if and where you transfer the data and what protections are in place to ensure the information is appropriately protected and that individuals can follow through on their rights.
See how internet search engine Google writes about international data transfers in their privacy policy below.

Data Retention Limits
Laws like the GDPR, Canada's PIPEDA, and others mandate that you can only keep personal data for as long as necessary based on the purposes you outlined in your privacy policy. But you must also describe your data limitation process in a clause within the policy.
If the purpose for collecting personal data doesn't have a clear end or time limit, explain how you'll determine when you've achieved your goal and no longer need to retain the information.
See how Google writes their data limitation clause in their privacy policy below.
Security Measures to Protect Personal Data
Data protection laws like the GDPR and the CCPA hold businesses accountable if personal information gets breached or leaked. You must explain in a clause in your privacy policy what security measures you have in place to prevent this type of cybercrime or error from occurring.
You might consider:
Anonymizing the data
Encrypting the data
Pseudonymization the data
This clause can be short and sweet, but it is legally necessary. Below, see a great example of how the supermarket and general store chain Woolworths phrases the security portion of their privacy policy.
Privacy Policy Updates
Legally, your privacy policy must always remain current, so include a clause explaining when you'll make changes to the policy, why the changes may be necessary, and how you'll update your users.
The amended CCPA requires you to update your privacy policy at least once every 12 months.
But many of these laws, including the GDPR and the VCDPA, state that you can only use personal data based on what you put in your privacy policy. So you also need to update your policy, inform your users, and sometimes even re-obtain their opt-in consent if you want to change your data collection and processing activities.
See an excellent example of this type of clause from Woolworths' privacy policy in the screenshot below.

Remember, this is a living document. It should change as often as you need it to.
Just ensure you properly inform your consumers every time, fix the 'Last Updated' date on your policy, and tell your users what exactly is different about your policy.
Submitting Complaints
Laws, including the GDPR, PoPIA, and others, grant individuals the right to submit complaints if they think you violate their data privacy rights.
You must include a clause within your privacy policy explaining this right and giving the proper contact information based on the applicable law.
If you fall under multiple laws, you should consider using a separate clause for each relevant regulator or supervisory authority so your users from those locations can easily find the proper contact information.
Once again, see how Woolworths does it in their privacy policy, shown below.
For comparison's sake, this is how simply the popular South African grocery chain Shoprite does it in their privacy policy, highlighted in the screenshot below, to comply with PoPIA.
Data Processing Impact Assessments (DPIAs)
Where you intend to perform certain types of processing that carry a 'high risk' to your consumers, data privacy laws, including the GDPR and the CTDPA, require you to perform DPIAs, and you should explain this process within a clause in your privacy policy to keep your consumers adequately informed.
You must explain that you performed an appropriate DPIA to assess the risks associated with the processing and to identify suitable protections for your users.
Your users also have the right to limit how their sensitive personal data gets used, so give them a way to follow through on their rights regarding this information.
Below, see how higher education group Study.Iceland handles this clause in their privacy policy.
Company Contact Information
Several data privacy laws require you to include appropriate contact information within your privacy policy so your users can submit a complaint, ask questions, or request to follow through on their rights to access, amend, or delete their data.
Under the GDPR, if you have appointed a Data Protection Officer, you must also identify them and provide their contact details.
Under laws like COPPA, which protects minors, you must include correct contact information within your privacy policy so legal guardians can protect their children's privacy rights.
Below, see an example of where the department store Harrods puts their contact details within their privacy policy.
10 Tips for Complying With Privacy Policy Requirements
Before we get to the actual privacy policy checklist, I have a few tips to help you comply with the various privacy policy requirements outlined by the different data privacy laws.
Trust me, I've helped many businesses and marketing agencies create privacy policies, and following these tips will make the entire process easier for you.
Penalties for Not Complying With Privacy Policy Laws
I've mentioned that violating data privacy laws could lead to hefty fines and a lot of public scrutiny — well, this is where I put my money where my mouth is.
In the table below, read through the financial consequences of violating the data protection laws and regulations I mentioned in the privacy policy checklist.
Data Privacy Law
Penalties for Violating the Law
General Data Protection Regulation (GDPR)

Maximum penalty of €20 million ($23 million) or 4% of their annual global turnover (whichever is higher)
Less severe infractions top out at €10 million ($12 million) or 2% of annual global turnover (whichever is higher)

The Data Protection Act (UK GDPR)

Up to £17.5 million or 4% of the global revenue, whichever is greater
Or up to £8.7 million or 2% of the worldwide turnover, whichever is greater

Amended California Consumer Privacy Rights Act (CCPA/CPRA)

$2,500 per non-intentional violation
$7,500 per intentional violation or for offenses involving the personal information of minors under age 16
Consumers can pursue private action against a business for the following reasons:

Nonencrypted and non-redacted personal information is compromised
Email addresses in combination with a password or other details permitting access into an account are breached

California Online Privacy Protection Act (CalOPPA)
Virginia Consumer Data Privacy Act (VCDPA)

Up to $7,500 per violation

Connecticut Data Protection Act (CTDPA)

Up to $5,000 per willful violation
Plus equitable remedies, including restitution, disgorgement, and injunctive relief

Colorado Privacy Act (CPA)

A range from $2,000 to $20,000 per violation plus possible criminal liabilities

Children's Online Privacy Protection Act (COPPA)

Up to $40,654 per violation

Personal Information Protection and Electronic Documents Act (PIPEDA)

Up to $100,000 (CAD) per violation

Australia's Privacy Act of 1988

$50 million;
Three times the value of any benefit obtained through the misuse of information;
30 per cent of a company's adjusted turnover in the relevant period.

New Zealand's Privacy Act of 2020
South Africa's Protection of Personal Information Act (PoPIA)

Up to R10 million (about $549,000), up to 10 years in jail, or both.
Depending on the size of your business, not complying with these laws, even by accident, could lead to fines large enough to put your company under.
But beyond losing money, you'd also face public backlash that is arguably just as damaging to your brand as a fine.
Just check out these data privacy statistics suggesting that customers aren't afraid to end their relationship with you if you don't treat their personal information with respect:
63% of Internet users believe most companies aren't transparent about how their data is used, and 48% have stopped shopping with a company because of privacy concerns. (Tableau)
33% of users have terminated relationships with companies over data. They left social media companies, ISPs, retailers, credit card providers, and banks or financial institutions. (Cisco)
The consequences just aren't worth it. Retain more customers and avoid legal fines and bad press by publishing an honest, compliant privacy policy on your platform.
How Termly Helps Your Business Create a Privacy Policy
By this point, I've hopefully convinced you of how essential privacy policies are for businesses operating online.
But don't worry, you don't need to make your own — Termly can help do the hard work for you if you use our privacy policy generator or free template.
Termly's Privacy Policy Generator
Let me take a second to brag about Termly's privacy policy generator — it's pretty great.
Our team updates it whenever new regulations enter into force (or if old ones get amended).
Whenever this happens, our customers get emailed with instructions if anything is necessary to ensure compliance with the relevant data privacy laws.
To use it, you just answer easy questions about your business, and it creates a compliant policy based on your answers that's ready to publish on your website or app.
See a screenshot of it below.
Termly's Privacy Policy Templates
Besides our generator, we also offer a privacy policy template that you can customize to fit any business need you can think of.
Templates require more work on your end because you have to manually fill in the blank sections with details about your business. But it's already formatted for you and includes clauses that follow the privacy laws I've covered in this guide.
Below, see a screenshot of what it looks like.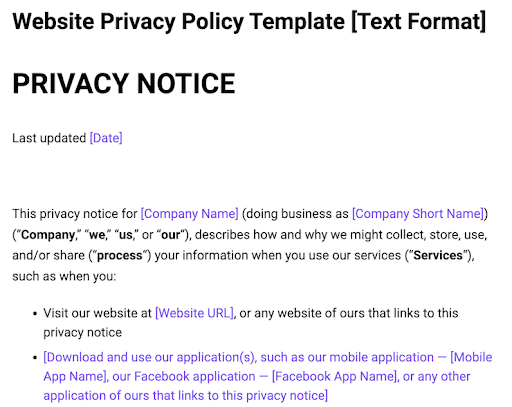 Check out this massive table of guides and templates that you can rely on depending on your industry, what platform you use, or the laws relevant to your business.
| | |
| --- | --- |
| Templates by Industry or Privacy Law | Templates by Platform or Service |
| | |
Summary
Privacy policies are essential documents that help businesses comply with applicable laws and build trust by transparently informing users about what you do with their personal information.
With this guide in your toolbox, you're ready to create a compliant privacy policy that's extensive enough to follow some of the most significant data privacy laws worldwide.
Pair this information with Termly's privacy policy generator, and, wow, looks like you've just made your privacy compliance process super easy. Nice!