Wondering if such an agreement is right for your online business? Check out our comprehensive guide to learn what they are, why you should have one, and what to include in yours. You can also download one of our FREE templates or use our terms and conditions generator to create one in minutes.
Downloadable Terms & Conditions Templates
Click the following image to view the documents.
1. What is a Terms and Conditions?
A Terms and Conditions agreement, also called Terms of Service (ToS) or Terms of Use (ToU), is a set of rules for your website or app that you, the business owner, decide. It outlines your requirements regarding user behavior and also provides information about your own actions and involvement. The document serves as a legal agreement between your company and the user.
You can (and should) have one for both your websites and your applications, but they don't need to be separate. In fact, it is recommended that they are consistent across all platforms.
They can be used with the following platforms:
Websites
Mobile Apps
Ecommerce Marketplaces
Facebook Apps
Ecommerce Mobile Apps
Desktop Apps
SaaS Apps
Some apps have an EULA (End User License Agreement) in place of a terms of service, but it is not uncommon to have both. Many desktop apps, as well as applications with online service components, include both agreements.
2. Is a Terms and Conditions Required?
A terms and conditions is not required by law. Despite its importance in maintaining your rights and protecting your investment, you are not legally required to provide one. This is unlike privacy policies, which are required by law.
Having one is important, however, because it gives you the right to deal with abusive users and content in ways that you decide. It also allows for the resolution of disputes based on your own discretion.
Although having one is not required by law, many platforms, including Facebook, recommend and may ask that integrated applications include them.
3. Why Should You Use One?
A T&C agreement allows you, the business owner, to maintain your rights, protect your investments, and limit your liability.
Below, we've outlined four reasons why you should use one:
1. Maintain your rights
As the owner of the website or application, you have rights. However, in order to guarantee that they are enforceable and respected, you must have a legal document that is visible to the user.
You may not think of it this way, but your company logo, the content you've created, the images you've used, your website designs, and the features you've implemented are all your property. In fact, this is called intellectual property.
Inserting an intellectual property clause in your agreement will allow you to prevent copyright infringement and maintain ownership rights over your content.
The theft of intellectual property represents a serious threat to American businesses.
It will also allow you to prevent abuses to your website or app. In the event that a user posts inappropriate content or abuses the website or app in some other way, you reserve the right to remove the content and prevent the user from accessing your content further. Additionally, if your site displays user content, you have the right to use that content on your site in any way that you decide.
2. Establish certainty and authority
Let's assume for a moment that your site or application does not have a terms page. If users have questions, what are they to do? They will likely email you or your customer service team. The correspondence would take place over several emails, and the user would get an answer – but what happens the next time a user has the same question?
More emails, but the conversation would certainly go differently, thus allowing for a slightly different interpretation of the answer. This makes for not only a lack of certainty in the rules of your site or app, but also a burden on you or your customer service team.
Eventually, regardless of what kind of site or app you operate, users will have questions regarding the "fine print." They will want to know things like what happens in the event of a pricing discrepancy, whether your products come with warranties, or if your company supports the third party links found on your site.
This is where a terms and conditions is essential. The pertinent information about your website or app is centralized and available for users to consult at all times. Issues that may arise are covered in the agreement – directly or indirectly. Although users may not always read it, its presence adds to the authority, and thus, the legitimacy of your site.
Having such an agreement will also help to manage user expectations, which will increase their confidence in your site. If, for example, your company provides a service that the user expects immediately, yet it takes a few days to initiate, you could have a dispute on your hands. However, if the timeline in which the service is provided is clearly outlined, you will have fewer disgruntled customers.
3. Legal challenge protection
ToS agreements containing pages of text and thousands of words are ubiquitous on the internet. Every major site and application out there has one, and there is good reason for this.
A clear T&C provides your company with protection in the event of legal challenges. Users that want to legally dispute an aspect of your site, application, or business will be met with resistance from their own lawyers, as they will advise against pursuing the claims in court. They know that the presence of clear, accessible provisions minimizes the chances of the legal challenge being successful in court.
Additionally, as you consider the business related aspects to your site or app — pricing, shipping, costs, customer service — as a non-lawyer, you may not think about the legal side of running such a business. Limiting or disclaiming your liability in the event of disruptions or delays caused by force majeure may not come to mind. However, these things and more are very important to cover, and a legal agreement will protect your position.
It is also where you designate the governing law for your site or application. Governing law refers to which country or state's laws will be used to interpret the agreement. Generally, you will choose the country/state in which your company resides and/or operates. Designating a governing law further protects your investments, as there will be less room for contention in the interpretation of the agreement.
4. Comply with laws and regulations
There are laws that govern all types of business. Depending on your particular industry, there may be certain laws or regulations that should be referenced in your terms of use.
Some regulations require that a site which provides what could be considered professional advice state that the content is informational only – that is, not the recommendations of an actual professional. Providing information like this will keep you on the right side of the law, and allow you to stay in business.
4. What to Include in a Terms & Conditions
A T&C includes a variety of rules and guidelines for how users access and use your website or mobile application. Here are some of the most common elements:
Contact Information
Many such agreements contain contact details to inform users how to contact companies with questions regarding policies or operations. This contact information is often different from that found on contact pages.
Contribution Clause
A Contribution Clause tells users about what rights they have to content that is created through the use of the website or application. These sections are only necessary if your website or application allows users to create content.
Dispute Resolution Clause
These agreements frequently contain arbitration clauses that specify how disputes will be resolved. Generally, these provisions include information about arbitration. Many companies also decide to include class action waivers, which prevent users of the company's site or app to later become involved in class action lawsuits against the business.
DMCA Notice
If third parties are allowed to post content on your website or app in any form, you should include a Digital Millennium Copyright Act (DMCA) notice and information about the company's registration with the DMCA. The DMCA allows companies to minimize liability if the company or an end-user accidentally posts infringing or offensive material on your website.
Future Changes Clause
Your agreement should mention that changes may be made to the provisions. The method by which users will be notified of such changes and the period of notice that will be provided before these changes occur should also be discussed.
Governing Law
This section informs users about which country, state, and federal laws govern the agreement. In many cases, companies select the law of the state or country in which the company is located, or the country in which users operate the company's website or application. A typical example of a governing law clause is "These terms and conditions are governed by the laws of the United States of America and the laws of the state of California".
Intellectual Property Disclosure
These disclosures inform users of your intellectual property rights, including copyrights and trademarks of content, logos, and other protected marks and ideas. These clauses can be brief and simply state that the materials are owned by the company, as well as in what context future changes may occur.
Limitations Clause
A Limitations Clause informs users that by agreeing to use the services offered by your company, they also agree not to do certain things. This section is where you outline acceptable and unacceptable user behavior. Some companies use complex limitations to prevent all harmful activity that could potentially occur on the site. In many cases, companies choose to use limitation clauses that limit liability for direct damages and state that individual parties (user and company) will not be liable for any indirect damages that may occur.
Pricing Disclosure
Your company should clearly state the prices of any products or services that are sold on the site, or where users can find these prices. Many companies will also use phrasing such as "as is" for items, and "as available" for services, as this will minimizes the chances of a dispute. You should also list any appropriate shipping costs, acceptable payment methods, and how transactions will be handled.
Pricing disclosures may also include a clause that states what will happen in the event of a pricing discrepancy – such as one caused by an exploit or malfunction.
Prohibited Activity Policy
Your agreement should contain information prohibiting unlawful use of your website or application. These terms frequently list particular types of unlawful behavior as well as broadly prohibiting illegal activity. In order to minimize liability, companies also often expressly state that the company is not responsible for content published through the platform by third parties.
Site Management Clause
Many companies include a Site Management Clause in order to place information about how the company operates a website or application so that users are aware of these functions. Many companies choose to use lengthy site management sections with descriptions of how long the company can monitor a website, as well as situations where the company can refuse access to individuals or existing users.
Termination Clause
Termination provisions contain the various types of behavior for which the access of users to a site can be terminated. Decisions to terminate a user's account are usually left at the sole discretion of the company that owns the website or application. A vital part of many agreements, termination clauses help businesses prevent abuse of a site or application.
Third Party Clause
This clause informs users that your company is not responsible for any third party websites to which your website or application links. In many cases, these provisions also notify users that they are solely responsible for reading the policies of third parties and third party websites.
User Registration Clause
An increasing number of applications and websites allow users to create or register profiles. For companies that offer this service, it is critical to include a section in the agreement about user registration. Two of the most common components of this clause state that a user must register with the site or application, and users are responsible for preventing unauthorized use in order to limit liability for the company.
Warranty Clause
Some companies that manufacture or distribute products choose to place warranty clauses within their agreements. Companies who decide to do so should make sure to describe what exactly is warrantied and what type of replacement, repair, or refund the company offers for products under such warranties.
5. Special Considerations for Mobile Applications
There are many types of mobile applications that particularly benefit from Terms and Conditions agreements, including those that involve user-generated content and applications that are part of ecommerce stores. Other applications find that limiting undesired user activity can help control abuse of the application. The goal of these agreements for mobile applications should be to legally bind a user to these guidelines.
While some mobile applications use complex ToS agreements, other mobile applications utilize simpler ones. One of the deciding factors in how complicated an application's agreement will be is the requirement of the online store through which the application is sold.
These agreements for mobile applications usually include clauses regarding:
Limitations of Liability
Intellectual Property Retention
Ownership and Use of Content
Prohibited Activity on the Application
Retention of Ownership Rights
Retention of Rights to Change the Application at Any Time
Retention of the Right to Filter Content
6. Clickwrap vs Browsewrap
Many companies that place a terms and conditions on their websites, and especially in their mobile applications, utilize the "clickwrap method" where a user must manually accept the agreement in some way. Acceptance can be given in the form of a checkbox, button, user registration, or other means. Below, we can see Facebook's use of the clickwrap method.
In a number of cases, courts have demonstrated a willingness to enforce clickwrap policies on the basis that users are directly presented with the company's terms. In cases involving Google and Microsoft, courts have found that their clickwrap agreements were enforceable. In 2007, however, a case involving Linden Research Incorporated's clickwrap policy found that certain provisions were not enforceable because they were unconscionable.
Another typical method, referred to as the "browsewrap method," assumes that users agree to the policies by merely browsing the website or application. These agreements are usually hyperlinked to the main web page. Customers are not required to click anything to consent to these agreements. Below is an image of Yahoo!'s browsewrap policy.
Courts have revealed a reluctance to enforce browsewrap policies. To enforce one, the business owner must show that the user had actual or constructive notice of the policy. In a 2005 case involving the Dell Corporation, the court enforced a browsewrap agreement because the user had notice of the company's legal documents. In a 2014 case, however, the court ruled that a browsewrap policy used by Barnes & Noble was not enforceable because the user did not have adequate notice.
Finally, there's an option somewhere between clickwrap and browsewrap, known as a consent banner. With a consent banner, you get all the enforcement benefits of clickwrap – as users need to take action to check a box and offer consent – without the intrusiveness of a clickwrap modal. A consent banner can appear at the top, bottom, or either side of your website, and disappear after a user has agreed to your terms and conditions.
The decision whether to utilize browsewrap, clickwrap, or a consent banner for your policy rests solely with the business owner. As with all decisions regarding your business, this is one that should be made with careful consideration.
7. Examples of Terms and Conditions Agreements of Popular Companies
Any company that owns or operates a website or application should consider creating a terms of service agreement. Because these agreements contain so many different components, many businesses utilize unique elements within their legal pages.
Apple
Apple's legal page, which is referred to as the ToU, can be found in the footer of the website.
It contains a limitation clause and uses standard language concerning products sold through iTunes. Apple has received significant attention because the company's Terms of Use states that the company may change the agreement at any time without notifying users. An individual's continued use of Apple's site supposedly constitutes acceptance of shifts in the provisions.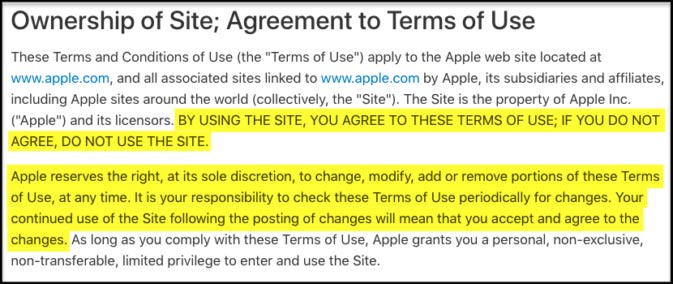 The agreement also contains lengthy sections outlining its content and intellectual property ownership, user behavior, and its right to terminate user access.
BBC
The BBC's Terms of Use page can also be accessed from every page via the footer.
The company's approach to the agreement is much more accessible than most, as it utilizes a very user-friendly, Q&A format. A full PDF version of the agreement can also be downloaded.
The BBC's termination clause is particularly thorough and lists a variety of reasons for which a user's relationship with the business may be brought to an end.
Google
Located at the bottom right of the main search page, Google's Terms of Service agreement notes that it is constantly changing and improving its services and may add, remove, or even suspend one of its services at any time.
The company's policy states that it will post notice of modification to the agreement 14 days before changes occur on the website.
Google's legal policies are notoriously vague, allowing for a much shorter agreement than most on the web. This also allows for more wiggle room in the legal interpretation of the agreement.
Instagram
Instagram uses the clickwrap method of terms of use acceptance. To use the application, users must first create an account, and in doing so acknowledge that they agree to the provisions.
Instagram's agreement includes many elements that are unique to mobile applications, and can be found at the bottom of the homepage, and as part of the site's Help Center.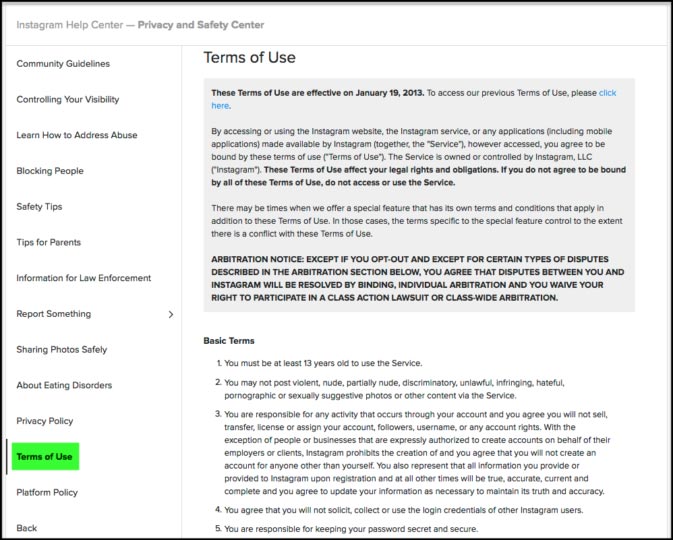 In 2012, Instagram changed its policy to allow the site to sell content created by users without any compensation to the user. As a result of public outcry, this language has since been updated. Instagram's policy also notes that users agree to not bring any claim against the company by using the site.
Spotify
This company's terms of service page is located at the bottom of the main page of Spotify's website under the umbrella page "Legal".
Spotify's agreement contains a specific section regarding user guidelines. This section prohibits users from using Spotify to transfer a file when a user does not have the legal right to do so, selling a user account or playlist, and violating any applicable local restrictions on how Spotify may be used.
According to these clauses, Spotify is also allowed to terminate accounts without notice or refund to the user.
Twitter
Twitter has separate Terms of Service agreements for users in the United States and users elsewhere. Both documents can be found in the website's Help Center.
The company also utilizes a clickwrap method, requiring users to accept its agreement before creating an account.
Twitter notes that the company is permitted to change its policies at any time. In 2009, it considerably changed the sections regarding its copyright license, but provided users only a few hours of notice before the modification occurred.
YouTube
Youtube's Terms and Conditions agreement states that by using any of its services you signify your agreement to its policies. It also retains the right to modify its documents at any time without guarantee of user notification.
The agreement contains many unique intellectual property clauses. Interestingly, it also grants a worldwide, non-exclusive, royalty-free license that can be used without limitation in any media format through media channels connected to Youtube.
It also states that the company may retain but not display, distribute, or perform copies of content that users either delete or have removed by Youtube.